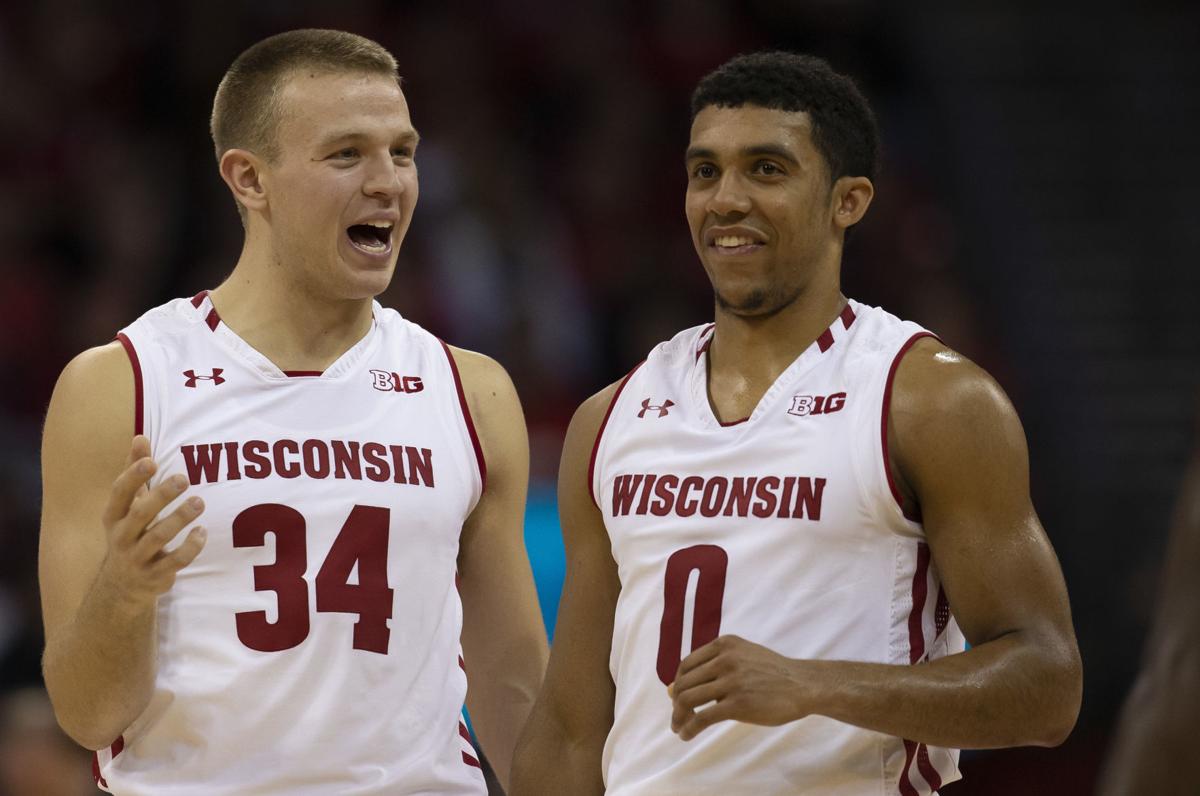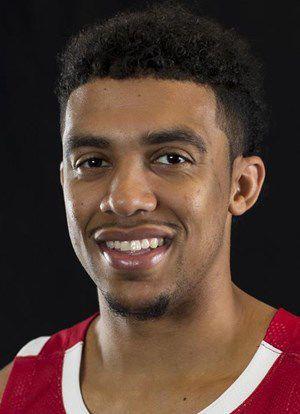 D'Mitrik Trice and Brad Davison understand the deal.
As the two most experienced players on the University of Wisconsin men's basketball team — Davison has played 2,376 minutes in his career, Trice is at 2,361 — the junior guards have a lot on their shoulders. Both say they embrace that responsibility, especially now as the Badgers try to navigate through hard times.
"Obviously, in situations like this," Trice said, "it falls back onto the people that have the most experience."
Here's the situation UW finds itself in a month into the 2019-20 season: The Badgers (4-4) have lost three consecutive games — mainly due to an unproductive offense — as they open Big Ten Conference play Saturday against red-hot Indiana (8-0) at the Kohl Center.
There's plenty of blame to go around for defeats against Richmond, New Mexico and North Carolina State, hardly a murderer's row in the college basketball world. Players haven't performed to their capabilities, and the coaching staff hasn't done a good enough job solving UW's issues on offense.
Now, more than ever, is when the team needs its leaders to step up to the plate. In other words, the Badgers need their veteran backcourt — their two captains, Trice and Davison — to do everything they can do to right the ship.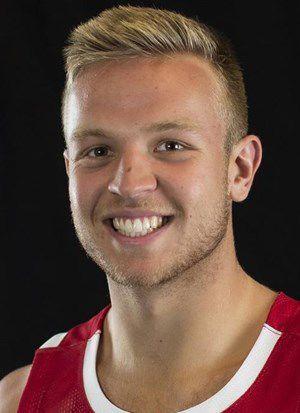 "A lot of people can see losing three games in a row as a big challenge to overcome, but it's also a huge opportunity for growth for us," Davison said. "It's an opportunity for us to have that internal mirror check early in the season, before conference play, before we really get started here. I look at that as a big opportunity that we have."
UW has scored 52, 50 and 54 points during its skid. Shooting poorly from 3-point range — the Badgers are 14 of 76 (18.4 percent) over three games — has a lot to do with those low scoring totals.
What's baffling is all six of UW's top scorers have gone cold at once from beyond the arc. Trice, at 4 of 21 during the losing streak, has the highest percentage (19.0) in that group. The others: Brevin Pritzl (2 of 11), Davison (2 of 14), Kobe King (1 of 8), Aleem Ford (1 of 9) and Nate Reuvers (1 of 9).
A decent portion of those misses have come on good looks, but not all of them. At times, the Badgers have forced up 3-pointers when a better shot likely would have been available later in the shot clock.
You have free articles remaining.
"There's a little bit of frustration that's showing on the court as far as patience," UW assistant coach Dean Oliver said. "Not making the extra pass at certain times, taking tougher shots and that's what you've got to look at. It's always about quality shots. Guys put the reps in, we put the work in. If you take better shots and are patient enough and work hard enough to get the better shots, they're going to fall."
A State Journal video review of UW's game against North Carolina State — a subjective exercise, to be clear — revealed at least 15 possessions likely would have received a non-passing grade in a classroom. That's a lot in a game with 58 possessions, particularly when a team is struggling to knock down shots even when its execution is nearly flawless.
The Badgers' issues included forcing bad shots, sloppy turnovers (six in 30 possessions in the first half), possessions without post touches and, at times, stagnancy.
"We're still trying to figure out who we are as a team and get people in the right areas and see where roles change and things like that," Trice said. "I think we're still in that building process, but obviously we've got to figure it out fast because Big Ten play is coming up and the Big Ten is really, really good."
UW viewed its balance in a post-Ethan Happ system as a strength, and that certainly was the case when its top six scorers all reached double figures in wins over Marquette and UW-Green Bay. The problem with not having a go-to scorer, per se, is there's no obvious candidate to turn to during cold stretches filled with empty possession after empty possession.
Trice has posted a solid assist-to-turnover ratio this season — 26-to-10 overall and 10-to-2 during the losing streak — but he's gotten off to a cold start in the shooting department. A late-game hero in a handful of games as a sophomore, Trice is at 34.8 percent overall and 30.2 percent from beyond the arc this season.
"Yeah, we're sharing the ball well, but we're not knocking down shots," he said. "Who are we going to give the ball to at the end of the shot clock, at the end of the game? At times when we need a bucket, who are we going to rely on?
"I think that we're trying to figure that out as we go. I think that's going to come down to me and Brad dominating that role to where everybody needs to know that those people are going to make plays."
Davison is in the midst of a horrid slump — 3 of 20 during UW's skid — but his struggles run deeper than missed shots. The team's vocal and emotional leader, Davison hasn't provided the same energy he typically brings to the court during a stretch when the Badgers need it the most.
"I think there's always things you can do more," Davison said. "No one's harder on me than I am. There are always things I think I can do better and that's at the offensive end and defensive end."
It doesn't get any easier for UW with Indiana coming to town. This will be the first road game this season for the Hoosiers, who are coming off an 80-64 win over No. 17 Florida State on Tuesday night.
"We know what we need to fix," Davison said. "Nothing where it says we need to jump higher or run faster, we just need to make better decisions, make more shots and stick together.
"It's very early, no one in our locker room is panicked or freaking out. We're very confident in the players that we have."
<&rdpStrong>Preview: Badgers vs. Indiana</&rdpStrong>
UW VS. INDIANA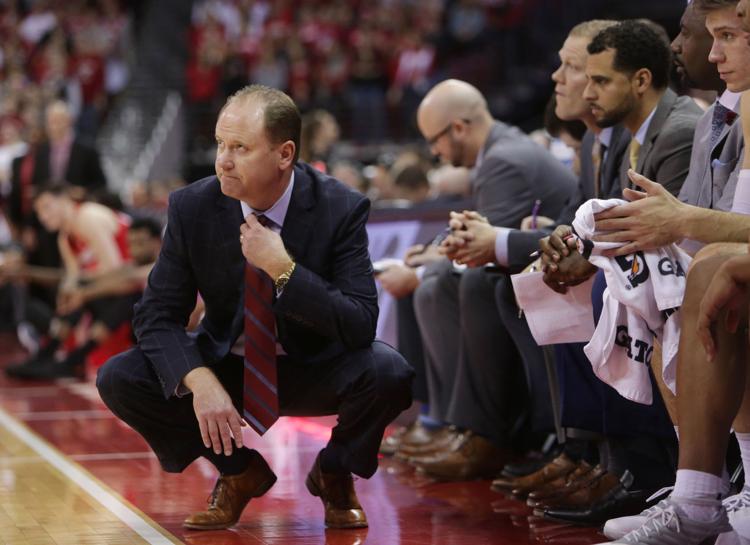 What: Big Ten Conference opener.
When: 3:30 p.m. Saturday.
Radio: 101.5 FM, with Lane Grindle and Andy North.
BADGERS (4-4)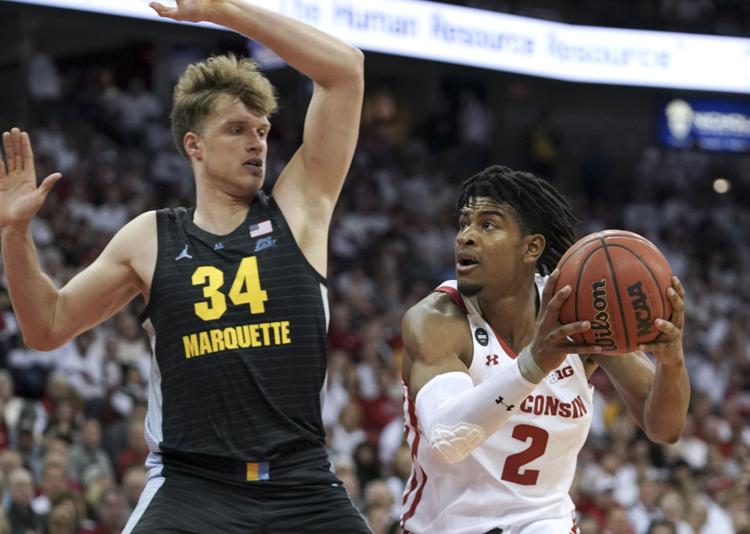 Coach: Greg Gard, 84-51 in his fifth season at UW.
Player to watch: Junior forward Aleem Ford (above) finished with a team-high 13 points in UW's 69-54 loss at North Carolina State on Wednesday. Ford had scored a combined 10 points on 2-of-12 shooting in his previous two games.
PROBABLE UW STARTERS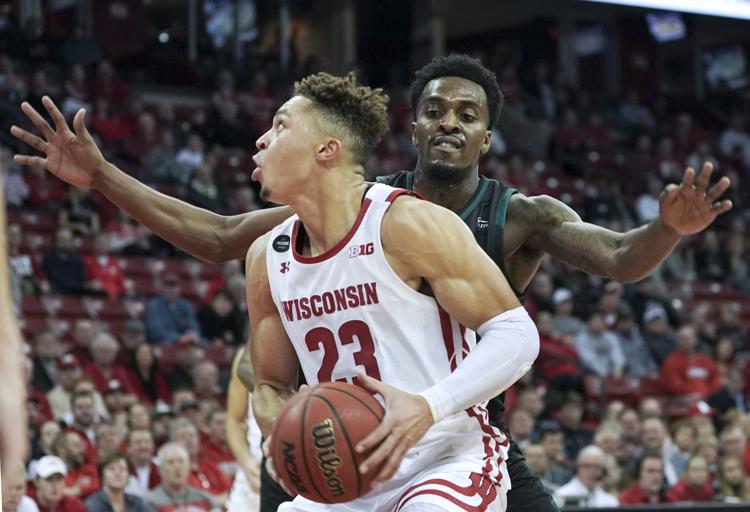 | | | | | |
| --- | --- | --- | --- | --- |
| No.    | Name     | Ht.    | Year    | PPG    |
| 2  | Aleem Ford    | 6-8  | Jr.  | 10.1  |
| 23  | Kobe King (above)   | 6-4  | So.  | 10.4  |
| 35  | Nate Reuvers    | 6-11  | Jr.  | 14.9  |
| 0  | D'Mitrik Trice     | 6-0  | Jr.  | 8.4  |
| 34  | Brad Davison    | 6-4  | Jr.  | 11.0  |
KEY BADGERS RESERVES
| | | | | |
| --- | --- | --- | --- | --- |
| No.    | Name    | Ht.   | Year   | PPG   |
| 1  | Brevin Pritzl (above)   | 6-3  | Sr.  | 7.3  |
| 5  | Tyler Wahl   | 6-7  | Fr.  | 3.1  |
| 12  | Trevor Anderson   | 6-2  | Jr.  | 1.0  |
YOU SHOULD KNOW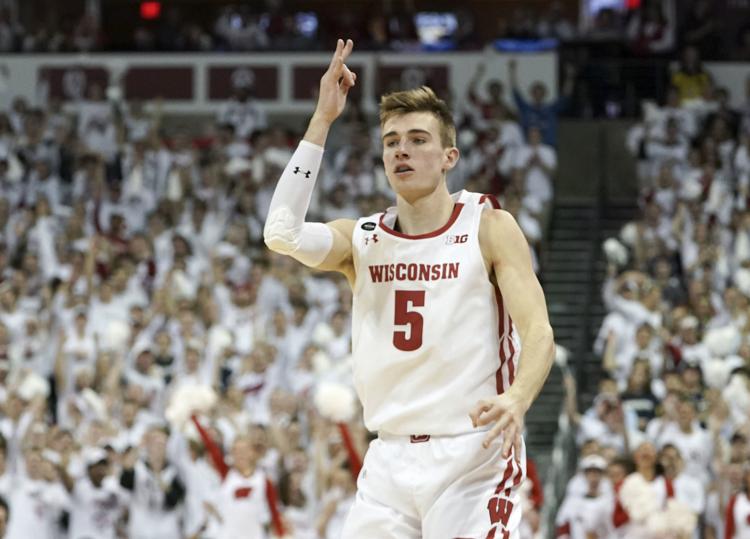 UW has beaten Indiana at home 16 consecutive times. The Hoosiers' only win at the Kohl Center was a 69-59 decision on Jan. 25, 1998, the same month the building opened. … North Carolina State averaged 1.17 points per possession, the most by a UW opponent this season and only the second time an opponent has reached 1.0 against the Badgers. … Tyler Wahl (above) finished with a career-high eight rebounds vs. the Wolfpack.
HOOSIERS (8-0)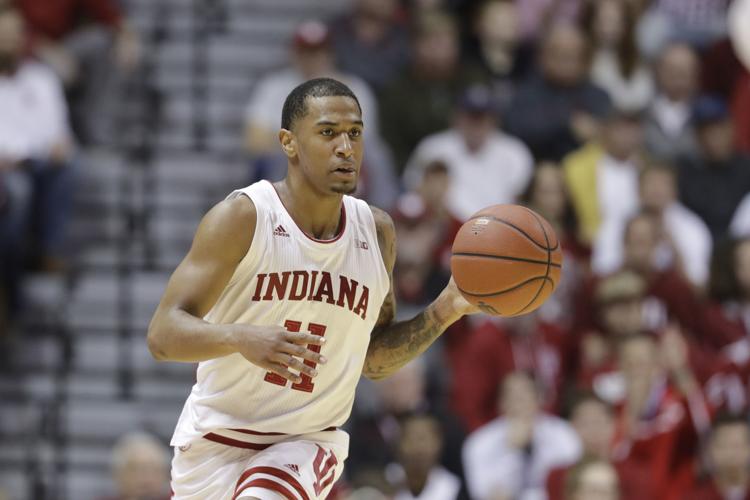 Coach: Archie Miller, 43-31 in his third season at Indiana.
Player to watch: Senior guard Devonte Green (above) scored a game-high 30 points off the bench in Indiana's 80-64 victory over Florida State on Tuesday. Green went 5 of 7 from 3-point range and is 14 of 27 (51.9 percent) from beyond the arc on the season.
PROBABLE INDIANA STARTERS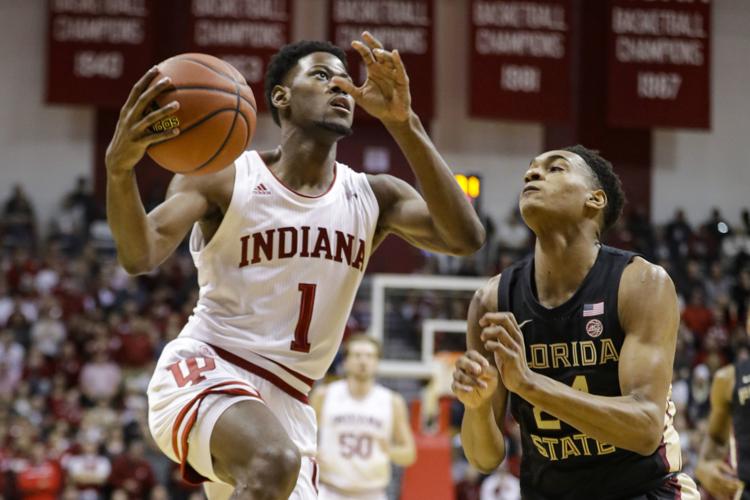 | | | | | |
| --- | --- | --- | --- | --- |
| No.     | Name       | Ht.     | Year    | PPG   |
| 4  | Trayce Jackson-Davis   | 6-9  | Fr.  | 15.5  |
| 3  | Justin Smith  | 6-7  | Jr.  | 14.3  |
| 50  | Joey Brunk  | 6-11  | Jr.  | 7.9  |
| 1  | Aljami Durham (above)   | 6-4  | Jr.  | 12.6  |
| 2  | Armaan Franklin   | 6-4  | Fr.  | 5.0  |
KEY HOOSIERS RESERVES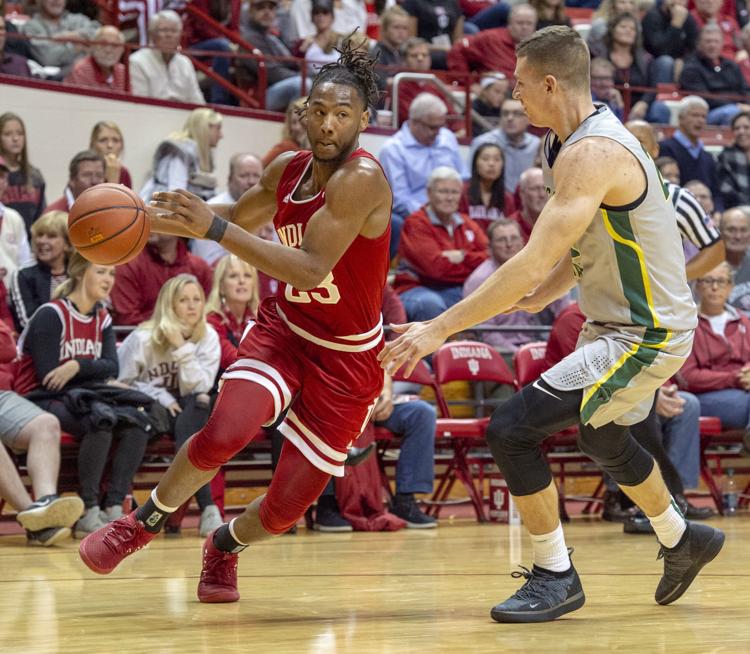 | | | | | |
| --- | --- | --- | --- | --- |
| No.    | Name      | Ht.     | Year    | PPG    |
| 11  | Devonte Green    | 6-3  | Sr.  | 15.8  |
| 23  | Damezi Anderson (above)   | 6-7  | So.  | 5.6  |
| 25  | Race Thompson   | 6-8  | So.  | 4.6  |
| 21  | Jerome Hunter   | 6-7  | Fr.  | 4.6  |
| 20  | De'Ron Davis  | 6-10  | Sr.  | 1.7  |
YOU SHOULD KNOW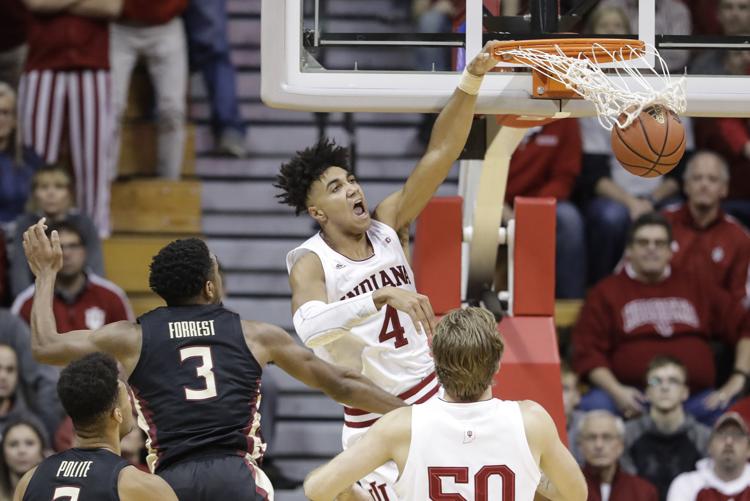 Trayce Jackson-Davis (above), a McDonald's All-American, leads the Hoosiers with 9.4 rebounds and 2.3 blocks per game. … Indiana is averaging over 30 free throw attempts per game. Jackson-Davis already has attempted 60. … Sophomore guard Rob Phinisee (9.0 ppg) has appeared in only four games this season due to injuries. … The Hoosiers are top 20 nationally in offensive rebounding percentage. Jackson-Davis and Justin Smith have combined for 49 offensive boards.