His team was off Saturday so, naturally, University of Wisconsin men's basketball coach Greg Gard found other games to watch.
Indiana's shocking upset win at Michigan State? Nope.
"I was at my fifth-grade daughter's basketball tournament playing Dad," Gard said.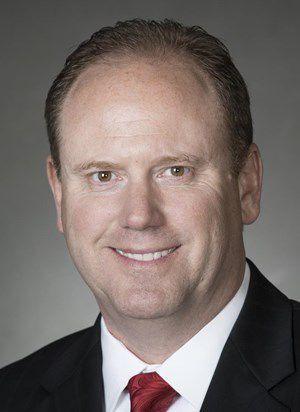 Gard did acknowledge he was following the Indiana-Michigan State game "very closely." Nobody could have blamed him for letting out a cheer when the Hoosiers finished off their 79-75 overtime victory over the Spartans. Similar shouts of approval probably could be heard in Ann Arbor, Michigan; West La Fayette, Indiana; and College Park, Maryland.
The loss dropped Michigan State into a three-way tie with Michigan and Purdue for first place in the Big Ten Conference. The Badgers, who are riding a five-game winning streak and moved up five spots to No. 19 in this week's Associated Press Top 25 poll, are a game off the lead. There are only 1½ games separating that first-place triumvirate with fifth-place Maryland, which lost to the Badgers 69-61 at the Kohl Center on Friday night.
"The race got a little tighter over the weekend," Gard said. "It's an exciting time."
Gard could have fibbed at his news conference on Monday and said he's too focused on the week ahead — a huge week, mind you — to get caught up on where UW stands in the title race.
Instead, he told the truth.
"You're human," Gard said, "so you're always looking at standings and understanding where teams are."
The Badgers are back in the hunt after rallying from a slump in early January that included three losses in four games. That stretch included home losses to Minnesota and Purdue and a defeat at Maryland.
Flip the result of Purdue's 84-80 overtime win over UW at the Kohl Center on Jan. 11, and it'd be the Badgers and not the Boilermakers in the three-way tie atop the conference standings. The loss to Minnesota eight days earlier was even more disappointing.
It's no wonder the Badgers are still kicking themselves a bit for that rough patch.
"That's a hole that we dug ourselves," UW sophomore guard Brad Davison said. "Those are games that we should have won, possessions that we'd love to have back. But at the same time you can't control it. All of our goals are still in front of us. We're still in contention."
As Gard pointed out Monday, UW is just past the midway point of conference play. There are still five weeks remaining in the regular season, so buckle up.
"You'd think (after) Indiana loses seven in a row, the last place they'd go to break that streak is Michigan State, but they went in and played really well," Gard said. "I don't think anybody's safe at home or on the road against anybody.
"It's just any night, anything can happen. That's cliché, but I think this year it's really proven true."
Here's a closer look at what the top five contenders for the Big Ten title have in front of them heading into the stretch run of conference play.
No. 7 Michigan (20-2, 9-2): The Wolverines have the most difficult remaining schedule of the top five teams in the Big Ten. Their remaining opponents have a combined winning percentage of .554 (56-45) and they have five road games remaining, including trips to Minnesota, Maryland and Michigan State. Michigan also has home games against UW, Maryland and Michigan State.
No. 9 Michigan State (18-4, 9-2): The Spartans' remaining opponents have a combined winning percentage of .510 (50-48). They play at UW next week and have to go to Michigan later this month. Michigan State also closes the regular season with a home game against the Wolverines.
No. 15 Purdue (16-6, 9-2): The Boilermakers have the easiest closing stretch of the contenders, and it's not even close. The combined winning percentage of their remaining opponents is .354 (35-64) and they don't have any games against Michigan, Michigan State or UW. Purdue's toughest remaining games are at Maryland, at Indiana and at Minnesota.
No. 19 UW (16-6, 8-3): The Badgers have the second-easiest remaining schedule of the top five teams. The combined winning percentage of their remaining opponents is .459 (45-53). But it's a front-loaded stretch run for UW, which returns to action Wednesday night with a game at Minnesota (16-6, 6-5) and closes the week on Saturday at Michigan. After a visit from Michigan State early next week, the Badgers' final six games of the regular season are against opponents with a combined conference record of 21-44.
No. 24 Maryland (17-6, 8-4): The Terrapins have a tough closing stretch, but they can make up some ground with three games against teams ahead of them in the standings. The combined winning percentage of their remaining opponents is .540 (47-40). Maryland's toughest games are at Michigan and Iowa, and the Terrapins also host the Wolverines in the final week of the regular season.