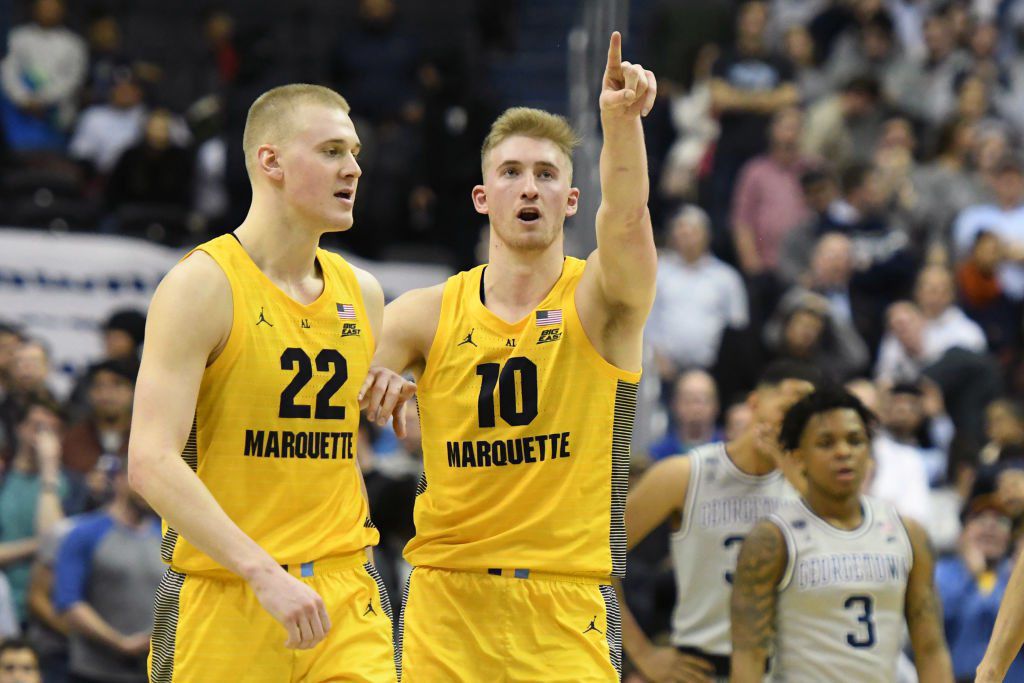 It appears the University of Wisconsin men's basketball team came up empty in its pursuit of sibling transfers Sam and Joey Hauser, a big blow to the program for multiple reasons.
Sources close to the UW program said Saturday night that Sam Hauser has decided he's headed to Virginia and Joey has selected Michigan State. The brothers had intended to continue playing together after announcing last month that they were leaving Marquette, but they have decided to split up.
That's bad news for the Badgers, who had hoped to land both Hausers. Doing so would have not only bolstered their roster, particularly when the brothers become eligible for the 2020-2021 season, it would have ended UW's in-state recruiting drought.
This is the second time Joey Hauser has turned down Badgers coach Greg Gard. He was one of their primary targets in the 2018 recruiting class but decided to follow his older brother to Marquette.
UW's decision to not recruit Sam Hauser back in the 2016 recruiting class – Bo Ryan was still in charge of the program at the time – has haunted the Badgers and may have played a role in the brothers' decision to go separate ways despite the chance to play together in Madison.
Ever since the Hausers announced on April 15 that they were leaving Marquette — that move came a few days after standout guard Markus Howard decided to return to the Golden Eagles for his senior season — UW has been considered a logical landing spot for the brothers.
One huge advantage the Badgers had over Michigan State and Virginia was roster space. UW has four open scholarships for next season, while the Cavaliers and Spartans don't have nearly as much roster freedom.
Another positive for the Badgers: personal connections.
In Madison, they would have been reunited with Badgers guard Trevor Anderson, who combined with the Hausers to help Stevens Point go 55-1 and win WIAA Division 1 state titles in 2015 and '16. Joey Hauser helped the Panthers make it a three-peat in 2017 after Anderson and Sam Hauser had left for college.
The Hauser family is also close with the family of UW guard Brad Davison, whose father Jim was a teammate of the Hausers' father, Dave, at Minnesota-Duluth.
Another noteworthy connection is that Sam Hauser's girlfriend, M.E. Dodge, is a member of the UW volleyball team.
That still wasn't enough for the Badgers, who have had difficulty attracting high-end talent from inside the Wisconsin border in recent years.
The list of top-50 players who were recruited by the Badgers but chose other programs for various reasons over the past five years includes Kevon Looney (UCLA), Diamond Stone (Maryland), Henry Ellenson (Marquette), Tyler Herro (Kentucky) and Joey Hauser.
The additions of Sam and Joey Hauser the second time around could have helped swing momentum in UW's favor in regards to its pursuit of two in-state players from the 2020 class: Glendale Nicolet standout Jalen Johnson, a former Sun Prairie athlete who has the Badgers in his final four along with Duke, Kentucky and Arizona; and La Crosse Central standout Johnny Davis.
Not only did UW lose out on Joey Hauser, it was beaten by a Big Ten rival and will have to go against him on an annual basis starting in 2020-21. The 6-foot-9 forward started 30 games as a true freshman for the Golden Eagles, averaging 9.8 points and 5.2 rebounds on a team that placed second in the Big East and finished 24-10 following a loss to Murray State in an NCAA tournament opener.
Sam Hauser, who will have one season of eligibility remaining after sitting out next season, appeared in 101 games at Marquette, including 97 starts. The 6-8 forward earned second-team All-Big East honors as a junior in 2018-19 after averaging 15.1 points and 7.2 rebounds. He'll join a Virginia program, coached by former UW assistant Tony Bennett, that is fresh off winning a national title in April.
Joey shot 42.3 percent from 3-point range as a freshman, while Sam shot 40.2 percent as a junior and connected 246 times from beyond the arc while scoring 1,282 points over three seasons at Marquette.
The brothers played a big role in the Golden Eagles' 74-69 overtime victory over the Badgers last December. Joey Hauser finished with 15 points, while Sam had 13 points and 14 rebounds.
As of now, UW has only nine players on scholarship after losing two members of its 2018 class to transfers since the season ended with a 72-54 loss to Oregon in the opening round of the NCAA tournament. Point guard Tai Strickland left in April and landed at Temple, while forward Taylor Currie left earlier this month and will spend next season at Mott Community College in Flint, Michigan.
The core of the Badgers' 2019-20 lineup will include Davison and two other returning starters, point guard D'Mitrik Trice and forward Nate Reuvers. The rotation also figures to include guard Brevin Pritzl, wing Kobe King, forward Micah Potter, forward Aleem Ford, incoming freshman forward Tyler Wahl and Anderson, who's coming off a major knee injury.
With the exception of Pritzl, who will be a senior, all of those players will have at least a season of eligibility remaining after the 2019-20 campaign. That still has the potential to be a deep, experienced and talented team, just not nearly as deep, experienced and talented as it would have been with Sam and Joey Hauser in the fold.
Be the first to know
Get local news delivered to your inbox!