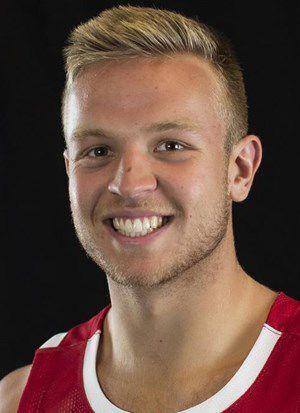 The Badgers also aren't disputing that foul was ruled a Flagrant 1, which effectively ended their chances to come back against the Hawkeyes.
"I don't agree with it. Was it a foul Monday night at Iowa? Yes. The rule was adjudicated appropriately, it was assessed a Flagrant 1. I feel at that point in time it should've ended and dropped. Obviously, it didn't," Gard said Thursday.
"My problem with this is where are we going with the Flagrant 1s now? Are they all subject to review and suspension? We've really painted with a very broad brush, opened Pandora's box in terms of where this can go. It's a very dangerous slope if we're trying to legislate intent. Anytime there's a legislature process that tries to dictate intent, it really bothers me when that crosses the line into an intention of malice or what he was trying to do."
Davison was assessed a Flagrant 1 foul with 35.5 seconds remaining after he made contact with Iowa's Connor McCaffery while chasing Joe Wieskamp around a screen. One replay appeared to show Davison wrapping his left arm around McCaffery's thigh; another made it appear as if Davison made contact with McCaffery's groin.
In the news release announcing Davison's suspension, Big Ten commissioner Kevin Warren said: "We will not tolerate behavior that compromises the health and safety of our student-athletes or crosses the line of aggressive, competitive play, especially when a pattern of similar behavior has been previously established."
Gard learned the Big Ten was looking into the play and considering a suspension while the Badgers practiced Wednesday night. He was notified of the suspension about an hour before the release was made public, he said. Davison's suspension comes during a troubling week for UW; redshirt sophomore Kobe King announced on Wednesday that he has left the program.
According to a UW official, Davison wanted to speak with the media but had class during Thursday's availability.
UW cannot appeal Davison's suspension because Warren has the authority to issue suspensions of up to two games without an appeal. He has already used that power this season, suspending Illinois' Alan Griffin for two games after he stepped on an opponent against Purdue. Illinois coach Brad Underwood called that penalty "excessive."
Gard said he didn't agree with the conference's statement about Davison's pattern of behavior, which may have been a reference to a play during Davison's freshman season against Marquette when he made contact with Joey Hauser's groin area while working around a screen.
"I've known Brad Davison since he was in eighth grade,'' Gard said. "I will vouch for his character until the day I die, just like I will for anybody else, my guys in my locker room. I will go to bat for them, I've got their back completely. I do not agree with this punishment that was handed down."
"That's a dangerous slope that we navigate on. Whenever there was any question that came up, I talked to the conference office. … They were all viewed as there was not any suspension or any penalty that should be handed down. So for him to be made an example in this regard, that's where I say that's a very dangerous slope for college basketball and our league. Where's this going? That's the question I asked last night and I didn't get answers for."
Without Davison and King against Michigan State, a team UW lost to 67-55 earlier this month, those minutes will likely be distributed between senior Brevin Pritzl and redshirt juniors D'Mitrik Trice and Trevor Anderson in the backcourt. Pritzl said Davison ran the scout team during Thursday's practice.
"No one has greater pride in representing this university and putting on that uniform," Gard said of Davison, who battled through a hip injury to play against Iowa.
"His passion for this place and his passion to put on that uniform and represent that 'W,' just like those guys in that locker room, is second to none. He's hurt. I think we all are. He cherishes every opportunity to compete and to be with his teammates and to wear that 'W.' He takes great pride in that. So it's hurtful."
<&rdpStrong>Fans react on Twitter after the Badgers' collapse against Iowa</&rdpStrong>