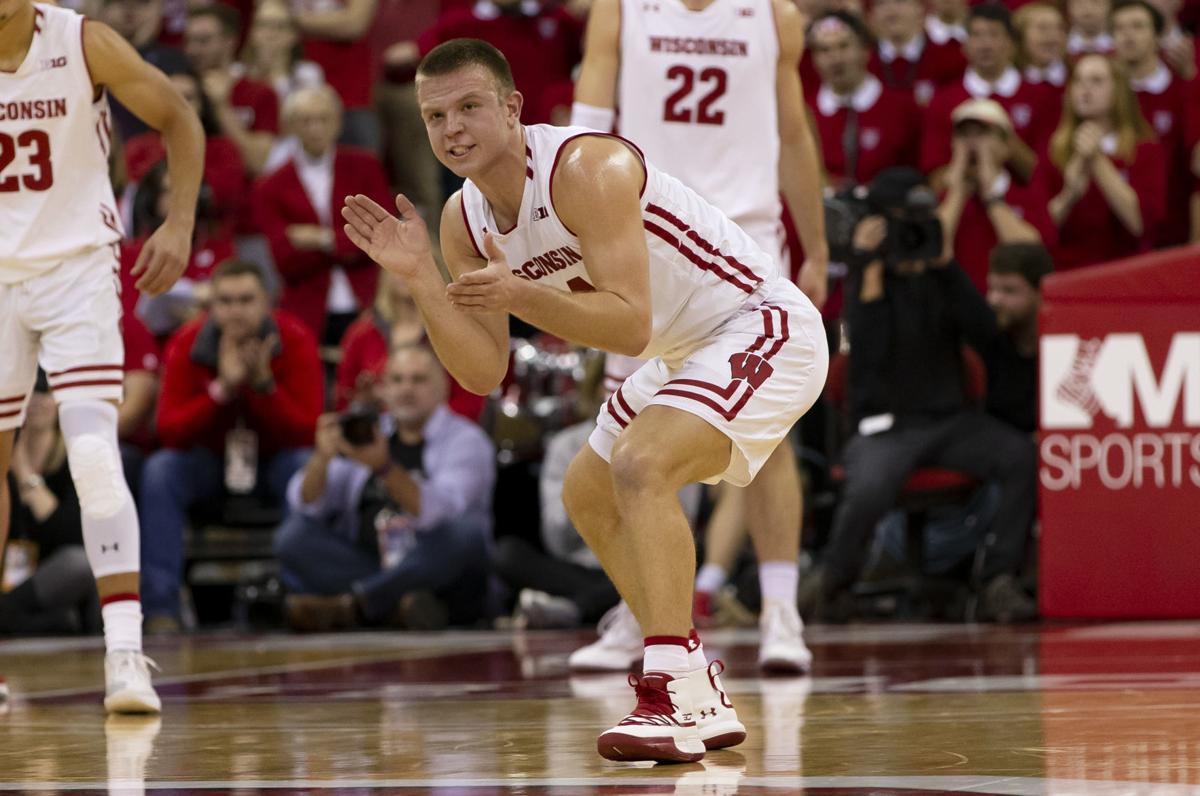 RALEIGH, N.C. — Officially, it's 4-10.1.C.4 in the 2019-20 NCAA men's basketball rules book.
Some people might have another name for it: The Brad Davison Rule.
The University of Wisconsin junior guard even admitted earlier this week he's heard it called that "from numerous people." He also wondered aloud if the genesis of the rule — an attempt to eliminate flopping from the game — can be traced to the fallout from one night in November last season.
When the Badgers (4-3) face North Carolina State (5-2) on Wednesday night at PNC Arena, it will be a rematch of the programs' Big Ten/ACC Challenge game from Nov. 27, 2018. That game was memorable for UW because the Badgers rallied from a 12-point deficit in the second half to record a 79-75 victory over the Wolfpack.
Davison finished with 12 points, one of four UW players in double figures. But it was the four charges he took — including one with 17.9 seconds remaining and the Badgers clinging to a three-point lead — that drew praise from some and scorn from others, including some national media members.
It's unclear how much that game played a role in the men's basketball rules committee — a group that includes veteran coaches such as Tennessee's Rick Barnes and West Virginia's Bob Huggins — deciding to address flopping in the offseason. But while it didn't generate as much publicity as the move to a longer 3-point line heading into the 2019-20 season, Rule 4-10.1.C.4 has put players such as Davison under a microscope while also adding another subjective element for officials to consider in a fast-moving, physical sport.
Davison, who was issued a pair of warnings for flopping last week in New York, chose his words carefully while discussing the rule. The last thing he wants is a bigger target on his back.
"Some people call it flopping, some people call it gamesmanship and other people just call it playing basketball," he said.
Delay of game
Rick Boyages, the Big Ten's associate commissioner for men's basketball, attended both UW games at the Legends Classic last week at the Barclays Center. Prior to that tournament, Boyages said he'd have a better idea after the Thanksgiving holiday of how flopping was being policed during the early stages of the season.
Boyages, who evaluates and grades Big Ten officials, said flopping "leads to drama and it makes it even tougher on referees. So let's see if we can address this (issue) in some way as opposed to how the NBA deals with it."
The NBA fines players for breaking its anti-flopping rules. The NCAA doesn't have that option, so the rules committee decided to treat it as a delay of game issue under Section 10 of the rule book.
Flopping became the fourth player delay. Officially, the rule reads: "Faking being fouled (flopping) on block/charge plays or attempted tries for goal or using any other tactics such as a "head bob" which might lead an official to believe that a foul has been committed."
Davison was issued a warning for flopping while attempting to take a charge against Richmond. He was told by an official — and replays appeared to confirm — that he began falling backward prior to contact with the opposing player.
A day later against New Mexico, Davison went to the ground while setting a screen against a much-bigger player. Davison was assessed a warning for flopping because, he was told by the official, there wasn't enough contact on the play to warrant a fall to the ground.
Other player delay warnings include preventing the ball from being promptly put into play, interfering with the ball after a made basket and failing to provide space along the out of bounds line. There are also sections for administrative delays and those caused by coaches.
You have free articles remaining.
Had UW received a second delay warning after Davison was issued one for flopping, it would have resulted in a Class B technical foul and the opponent would have been awarded one free throw attempt.
Richmond's Blake Francis was also issued a warning for flopping after falling to the ground on a made 3-pointer against the Badgers.
Meanwhile, during UW's victory over Marquette on Nov. 17, Golden Eagles guard Kobe McEwen could have been issued a warning for flopping after falling on a 3-point attempt in the second half. Davison was called for a foul on that play, but replays showed that there was no contact with McEwen. Officials are not allowed to use replay to determine whether or not a player flopped.
One other clarification Boyages offered was that a play can involve both a foul and a flop. One example includes a defensive player being whistled for a hand check and an offensive player being assessed a flop warning for using a "head bob" to try to get the official to blow his whistle. A defensive player also could be called for a foul in a block/charge situation while also being assessed a flop warning for embellishing on the play.
"Some players do these things — they use these tactics — and some don't," Boyages said. "And the reason why they've used the tactics in the past is because either it's worked. ... And the frustration for referees is such that in all these plays when players fake, if we could just referee two more seconds of the play, we would probably more often than not make the right decision on whether it's a foul or not.
"The problem is when a player immediately goes to the ground, it's as if he's telling the ref you have to decide right this second. 'I'm forcing you to decide right now whether this is an offensive or a defensive foul or nothing or whatever.' It's just gotten worse."
'Hard guy to ref'
UW coaches have praised Davison's effort and toughness during his two-plus seasons on campus. They vigorously defend him when the issue of flopping is raised.
How do officials feel about Davison? Let's just say it's probably not a love fest because the block/charge call is one of the toughest to make, and he typically puts officials in that situation multiple times per game.
"He's a hard guy to ref, there's no doubt about it," said UW assistant coach Joe Krabbenhoft, who sometimes officiates during practice and also goes head-to-head with Davison at times as a member of the scout team. "He's willing to put his face in front of a large, moving object. At times, he's moving, at times is he going before the contact (occurs).
"But Brad's as tough as they come. He's never been one to fake contact, I promise you that. The guy puts ice on every part of his body after the game because he gets hit hard."
What Davison — and others — don't like about the flopping rule is it forces officials to climb inside the mind of the player. Now, officials not only have to make bang-bang calls — block or charge, for example — they have to determine whether a player was attempting to deceive them.
"Look, it's a great idea to try to police flopping and try to eliminate it if possible," Richmond coach Chris Mooney said after his team beat UW in a Legends Classic semifinal. "But there are also natural basketball plays where guys fall down. I think that's another burdensome call that officials have to make. That's not an easy one to make."
Davison's primary focus, meanwhile, is trying to get his offensive game back on track. He went 2 of 15 from the field in the two defeats last week, including 1 of 10 from 3-point range.
As for the flopping warnings — or any extra attention he might receive from officials or what figures to be a bitter North Carolina State crowd — Davison said he'll continue to play the game the way he's always played.
"You've got to adapt to the referees, adapt to how they're calling the game," he said. "They're trying to do their job like we are. When it comes down to it, it's something that you can't really control."
---
Preview: Badgers vs. North Carolina State
UW VS. NORTH CAROLINA STATE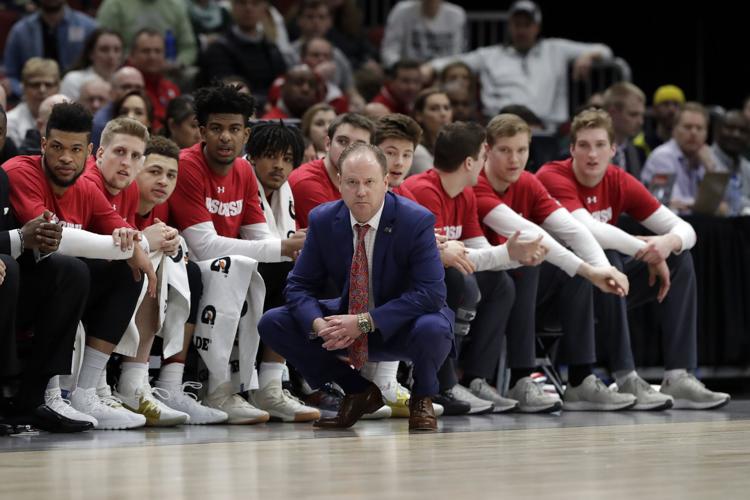 What: Big Ten/ACC Challenge
When: 8:15 p.m. Wednesday
Where: PNC Arena in Raleigh, North Carolina
Radio: 1310 AM and 101.5 FM, with Matt Lepay and Mike Lucas
BADGERS (4-3)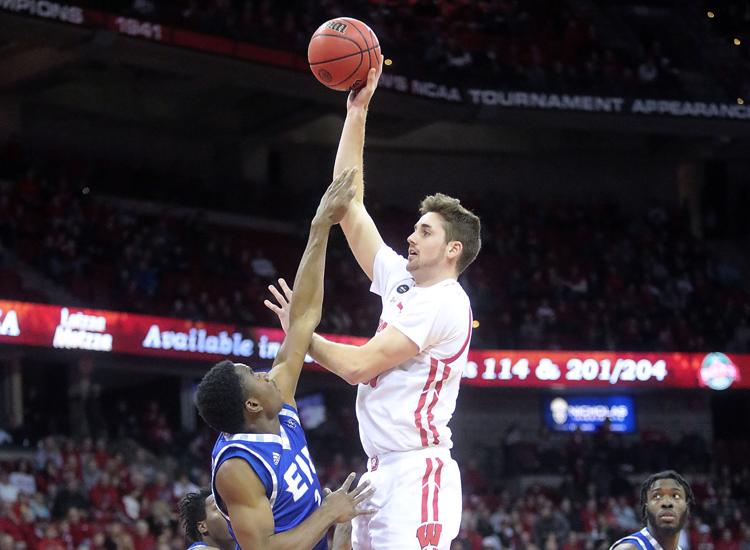 Coach: Greg Gard, 84-50 in his fifth season at UW.
Player to watch: Junior forward Nate Reuvers (above) has reached double figures in all seven games this season. Reuvers accounted for 32.3 percent of UW's points (33 of 102) during its two games in New York last week.
PROBABLE UW STARTERS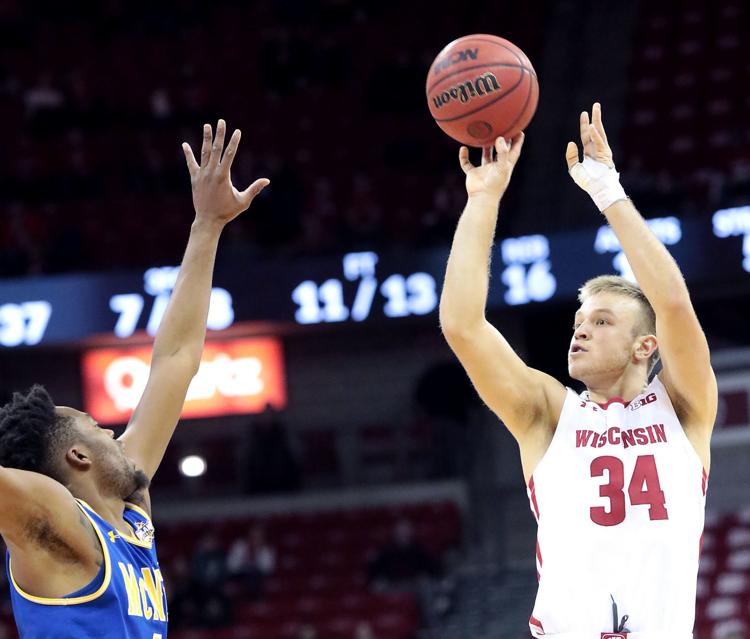 | | | | | |
| --- | --- | --- | --- | --- |
| No.   | Name   | Ht.   | Year    | PPG   |
| 2  | Aleem Ford    | 6-8  | Jr.  | 9.7  |
| 23  | Kobe King    | 6-4  | So.  | 10.3  |
| 35  | Nate Reuvers    | 6-11  | Jr.  | 15.4  |
| 0  | D'Mitrik Trice     | 6-0  | Jr.  | 8.4  |
| 34  | Brad Davison (above)  | 6-4  | Jr.  | 12.1  |
KEY BADGERS RESERVES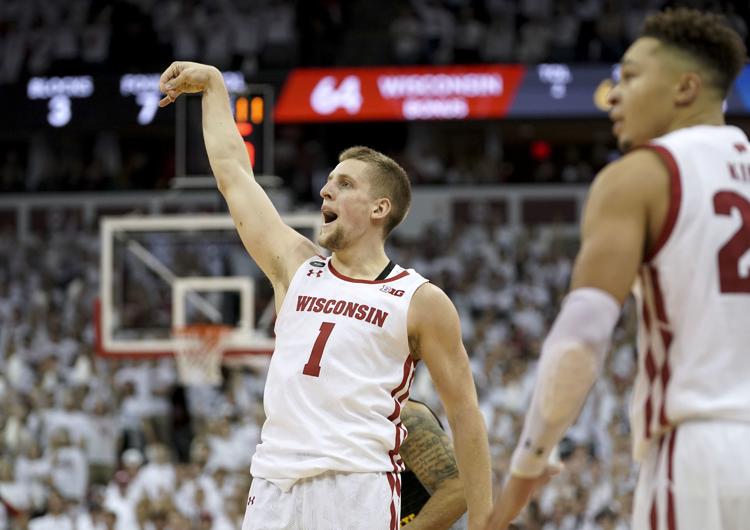 | | | | | |
| --- | --- | --- | --- | --- |
| No.   | Name    | Ht.   | Year    | PPG   |
| 1  | Brevin Pritzl (above)   | 6-3  | Sr.  | 8.3  |
| 5  | Tyler Wahl   | 6-7  | Fr.  | 2.9  |
| 12  | Trevor Anderson   | 6-2  | Jr.  | 0.7  |
| 32  | Joe Hedstrom   | 7-0  | Fr.  | 0.4  |
YOU SHOULD KNOW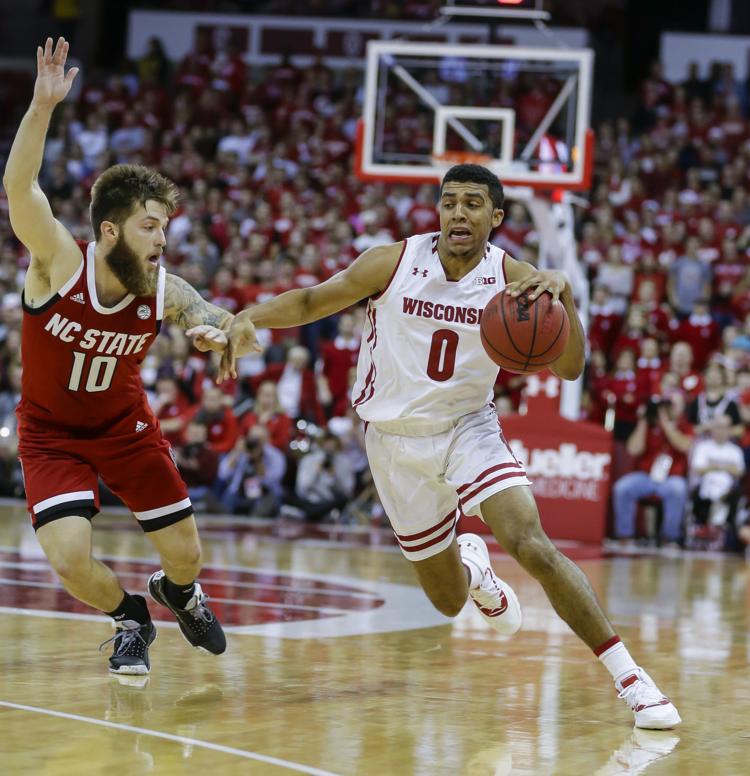 UW is 3-0 all-time vs. North Carolina State. D'Mitrik Trice (above) finished with 18 points and six assists to help the Badgers rally from a 12-point deficit in the second half and beat the Wolfpack 79-75 last season at the Kohl Center. … The Badgers are 10-10 in the Big Ten/ACC Challenge. … UW is shooting 30.8 percent from 3-point range after going a combined 9 of 53 in losses to Richmond and New Mexico last week.
WOLFPACK (5-2)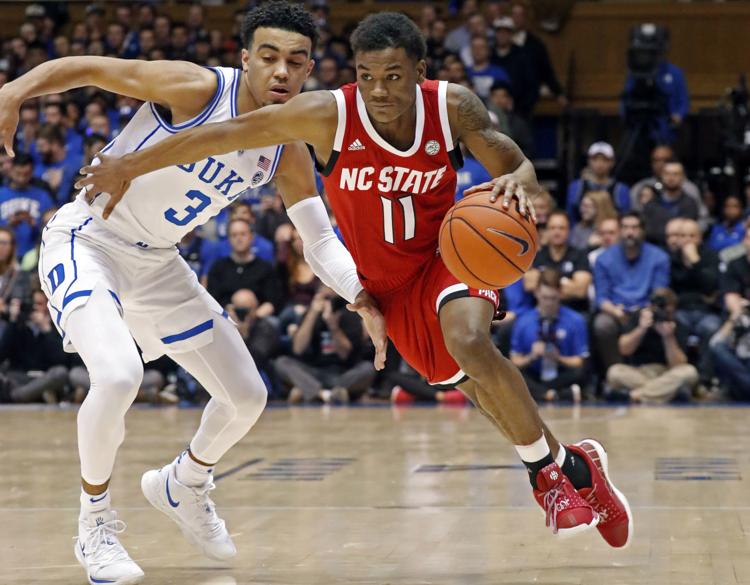 Coach: Kevin Keatts, 50-26 in his third season at North Carolina State.
Player to watch: Senior guard Markell Johnson (above) scored a game-high 22 points in North Carolina State's 83-78 loss to Memphis. Johnson leads the Wolfpack with 6.7 assists per game.
PROBABLE N.C. STATE STARTERS
| | | | | |
| --- | --- | --- | --- | --- |
| No.    | Name     | Ht.   | Year   | PPG   |
| 4  | Jericole Hellems (above left)   | 6-7  | So.  | 10.7  |
| 15  | Manny Bates   | 6-11  | Fr.  | 7.1  |
| 11  | Markell Johnson     | 6-1  | Sr.  | 12.0  |
| 10  | Braxton Beverly   | 6-0  | Jr.  | 9.1  |
| 13  | C.J. Bryce   | 6-5  | Sr.  | 16.1   |
KEY WOLFPACK RESERVES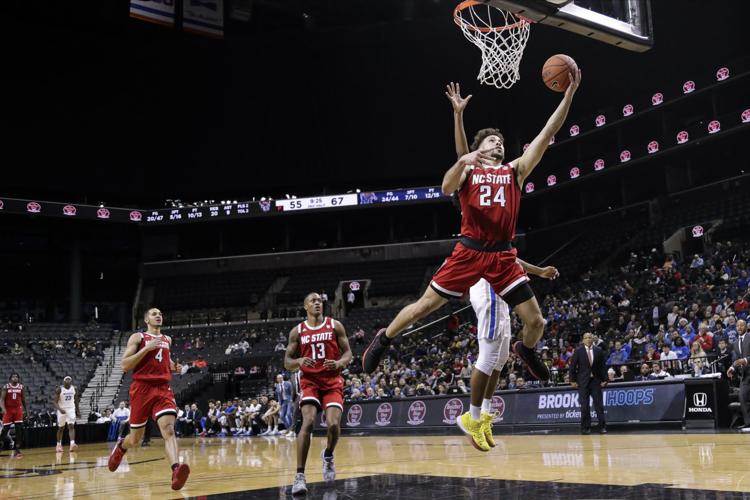 | | | | | |
| --- | --- | --- | --- | --- |
| No.    | Name     | Ht.    | Year    | PPG   |
| 24  | Devon Daniels (above)    | 6-5  | Jr.  | 12.7  |
| 0  | D.J. Fuderburk    | 6-10   | Jr.  | 12.0  |
| 31  | Pat Andree   | 6-8  | Sr.  | 8.0  |
| 21  | Danny Dixon   | 6-10   | Sr.  | 1.3  |
YOU SHOULD KNOW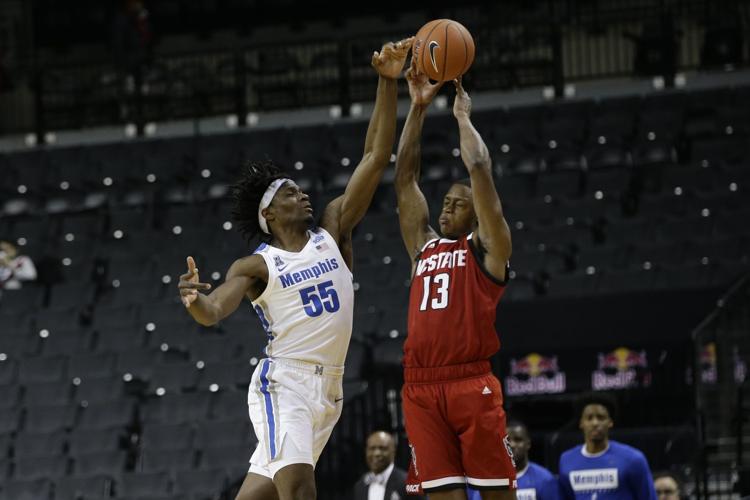 C.J. Bryce (above) leads the Wolfpack with 7.3 rebounds and 1.9 steals per game. … Manny Bates is averaging 3.4 blocks per game. … Pat Andree, a graduate transfer from Lehigh, is shooting 48.3 percent from 3-point range (14 of 29). … North Carolina State is ranked No. 15 nationally in adjusted offensive efficiency, per KenPom.