Micah Potter had been in Wisconsin less than a week in December 2018 and felt somewhat like a fish out of water.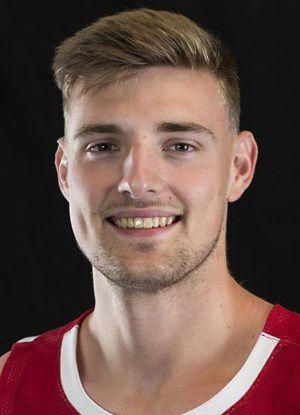 After joining the University of Wisconsin men's basketball program as a transfer from Ohio State, Potter was navigating unfamiliar surroundings. He was getting used to new coaches, new teammates and a new campus.
In the midst of it all came something else that was new: a relationship with someone he'd quickly discover was the woman of his dreams.
"In a situation that was so unsure," Potter says now, some 20 months later, "something came out of it that was so sure."
As far as Potter is concerned, the same can be said about what's been a bizarre five months since his junior season with the Badgers ended abruptly due to the COVID-19 pandemic. Most of the team finally reconvened in Madison last week to begin offseason workouts, but there's no guarantee a veteran group that includes Potter and five other seniors will get a chance to take the court for the 2020-21 season.
But there was one thing Potter could be sure of during this offseason of uncertainty: He was going to ask Elle Van Grinsven to marry him.
Potter says he knew that day was coming within 72 hours of meeting Van Grinsven, who was a star volleyball player at Wisconsin Lutheran High School and now plays at Loyola in Chicago. A mutual friend at Ohio State had set up the two, and they immediately clicked shortly after Potter arrived at UW.
"The biggest thing is our faith," Potter said. "We grew up in very similar situations, we had very similar lifestyles and you could tell that her faith was genuine and just her maturity in that was the biggest thing that stood out to me.
"And then, obviously, I thought she was absolutely gorgeous. I'd only seen pictures at that point, but she was stunning" in person.
Little did Van Grinsven know it at the time, but Potter was already plotting a future that included her.
His first step? Saving money to purchase a ring. The advantage to living alone in a studio apartment that first season on campus at UW was that he could control the utilities: He went without heat in the winter and air conditioning in the summer to cut costs.
During breaks between watching movies with Brevin Pritzl over that first winter break, Potter would giddily tell his teammate that Van Grinsven was "the one." Even though Pritzl was no stranger to commitment — his high school girlfriend, Joelle Stewart, is now his fiancée — he encouraged his new friend to pump the brakes just a tad.
"He was like, 'Whoa, man, I'm happy for you, but don't make that decision too quickly,' " Potter said. "But it was just funny because three days (into the relationship), I pretty much knew."
The plan
Potter had plenty of time on his hands after the season came to a shocking end in March, right after the Badgers had clinched a share of the Big Ten regular-season title and just as they were set to begin play in the conference tournament. Soon after, UW courses were moved online and Potter left campus to return home to Ohio.
At that point, Potter knew it was only a matter of time before he'd propose to Van Grinsven. It was just a matter of finding the right time and place.
By early spring, Potter had decided on both. His family was planning a trip to Utah to celebrate his aunt's 50th birthday and, with her permission and help, Potter began work on an elaborate scheme that he managed to keep a secret from Van Grinsven.
During a trip to Wisconsin to visit his girlfriend for a week in the spring, Potter took advantage of Van Grinsven leaving her home in Franklin for a physical-therapy session by pulling aside her parents to ask for their blessing. He also invited them to Utah so they could be there when he proposed to their daughter.
The day finally arrived June 26, and Potter spent the first part of that Friday with Van Grinsven and his family at a reservoir outside Park City. Surrounded by mountains, the group relaxed on a pontoon boat and rode Jet Skis.
That evening, they went out to dinner. Afterward, Potter bought some time by taking Van Grinsven to a chocolate shoppe while the rest of the group returned to the home in which they were staying.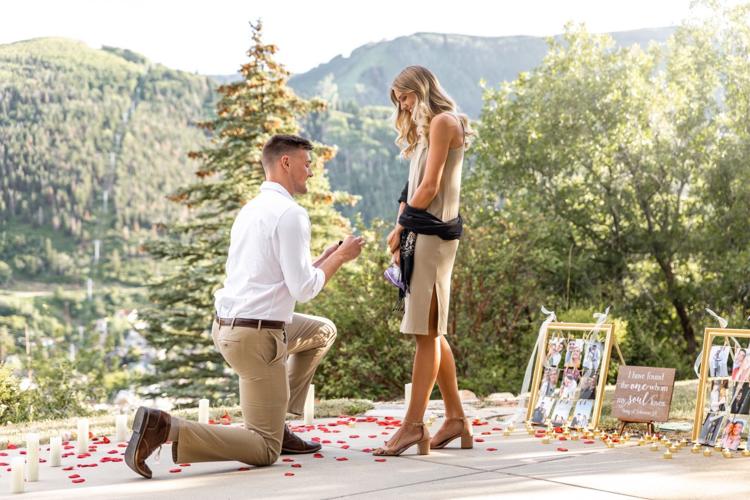 When Potter and Van Grinsven got back, he walked her down the side of the house to a patio with a picturesque view. There were pictures of the couple set up and flower petals on the ground. Potter had arranged for a photographer and videographer to document the moment he got down on one knee and proposed to Van Grinsven, who said yes.
Van Grinsven was so caught up in the moment that she didn't notice there was a crowd watching from the balcony above. Potter had to point out to her that the group included her parents, who had arrived in Utah that day without their daughter knowing.
Six weeks later, Potter is still amazed he was able to pull everything off without a hitch.
"Something is always bound to go wrong with those things, and nothing did," he said. "She had no idea. It was just perfect."
Next step
These days, Potter finds himself in a somewhat helpless situation. He can plan for his final season with the Badgers, but ultimately the outcome is out of his control as the pandemic rolls on.
UW returns almost its entire rotation from a team that won its final eight games to finish 21-10. It's considered not only a favorite in the Big Ten but potentially a top-10 team nationally.
But will the Badgers, deep and experienced, get a chance to finish what they started last season?
Potter is keeping a close eye on what happens with the college football season. Beyond that, there's not much he can do but get ready for a season he hopes takes place.
"Right now, we're working as if there's going to be a season," said Potter, who earned his undergraduate degree in May. "We'll just have to be prepared for the worst. It's kind of a hope for the best, expect the worst situation. Because you're hoping for the best, you're working like there's going to be a season. We're going to be ready for the season."
For Potter, that means doing what he can to improve his game and build off last season. The Badgers went 16-5 after he became eligible, with Potter averaging 10.1 points and a team-high 6.2 rebounds per game during that run.
The 6-foot-10 forward started only three games but nevertheless had a major impact, particularly for an offense that had struggled with consistency. Potter added a spark by shooting 45.1% from 3-point range and 86.0% from the free throw line, and his toughness helped UW in another area of need.
While he struggled initially on the defensive end, Potter got better with more reps. His presence helped reduce the workload of Nate Reuvers, who had spent the first 10 games of the season as the only true big in the Badgers' lineup.
"The biggest thing for me was just experience," Potter said. "I had never played in the Wisconsin system defensively and offensively, so it was just getting used to all of that."
Much was made early in the season about Potter's battle with the NCAA. The organization denied multiple appeals filed on Potter's behalf by UW, which argued that his case was unique and he shouldn't have had to sit out the two semesters typically required per NCAA transfer rules.
In the end, the NCAA never budged. But UW coach Greg Gard said over and over that he was impressed how Potter handled the situation, both publicly and privately.
Potter gives part of the credit to the woman he loves, the person who entered his life during a period of transition and has been a rock ever since. It's why he's convinced he wants to spend the rest of his life with Van Grinsven.
"She was a big part of why I was able to handle it the way that I did just because she's so encouraging," Potter said. "She just makes me happy all the time, whenever I'm around her."
---
Get to know the Wisconsin Badgers' 2020 basketball scholarship recipients
Lorne Bowman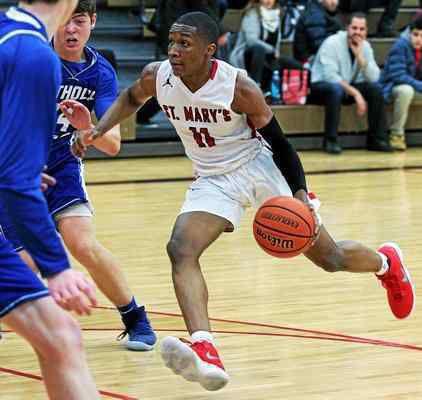 Detroit, Mich. (St. Mary's)
Four-star recruit by ESPN … ranked No. 94 in the ESPN 100 for 2020 … standout at St. Mary's High School is a two-time Class A All-State honoree in Michigan, earning first team honors in 2019 and honorable mention in 2018 … averaged 23.1 points and 5.1 assists per game during his junior season … averaged 22.5 points and 4.9 assists per game as a sophomore ... in AAU, member of EYBL where he excelled at the Nike circuit, averaging 13.5 points and 3.6 assists through his first six games.
Gard: "We are ecstatic to have Lorne join our Badger family. He's the ultimate competitor, both on the court and in the classroom, and we can't wait to begin working with him. It was evident early on that Lorne is exactly what we look for and he's only continued to improve. Lorne plays at his own pace, always under control, giving his team whatever it needs in the right moments with a skillset that can turn from scoring guard to playmaker in an instant. He has a great ability to get the ball where it needs to be and can also create shots with his tremendous pull-up game. Lorne displays natural leadership, both by his extreme work ethic and also through his communication on and off the court. Lorne and his family are a pleasure to be around and represent everything that being a Badger is about."
Ben Carlson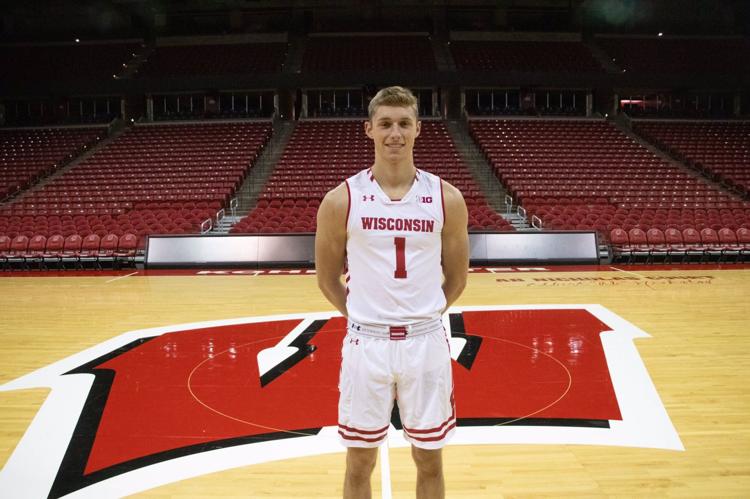 Woodbury, Minn. (East Ridge)
Four-star recruit by ESPN, 247Sports and Rivals … ranked No. 88 in the ESPN 100 for 2020 … Carlson currently has 1,299 career points, 745 career rebounds, 109 career blocks, 115 career assists and 83 career steals, making him the top rebounder and shot blocker in East Ridge High School history … as a junior, led East Ridge to the Minnesota Class AA state tournament while averaging a double-double (16 ppg, 11.3 rpg) … two-time all-SEC conference player … an AP scholar with honor, Carlson is a member of National Honors Society with a 4.1 GPA.
Gard: "We are very excited to add Ben to our program. His commitment to academic excellence is extremely impressive, even on a national level. He has challenged himself year in and year out to become as well rounded a student as possible and he's looking forward to continuing to develop at our prestigious university. On the court, Ben has a tremendously diverse skillset that should ultimately allow him to be effective in the post, off the dribble and from the perimeter as a shooter. His skills, combined with his great athletic ability, has us excited to begin working with Ben to help him reach his goals as a Badger."
Steven Crowl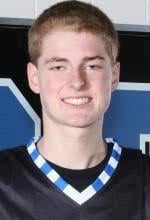 Eagan, Minn. (Eastview)
Three-star recruit by 247Sports and Rivals … his junior season, led Eastview High School to the Minnesota Class 4A state tournament while averaging 19.7 points, 8.1 rebounds and 1.6 blocks per game, shooting 39% 3FG from beyond the arc … scored 630 points as a junior and 470 points as a sophomore giving him 1,100 career points entering his senior season … first-team South Suburban All-Conference in 2019 and second-team in 2018 … plays travel basketball for D1 Minnesota, the same program as current Badgers Nate Reuvers and Tyler Wahl.
Gard: "Steven has so many of the characteristics that we look for, both on and off the basketball court. He has excelled at a high level both on the court and in the classroom. From the first time we saw him, Steven has continued to grow and develop as a player. He has a great feel for the game and he will be able to utilize all those skills as he continues to develop. Steven has the ability to score both inside and out, which will add him to a long list of big men who have come through this program over the years. We are excited to add Steven to the Badger basketball family."
Jonathan Davis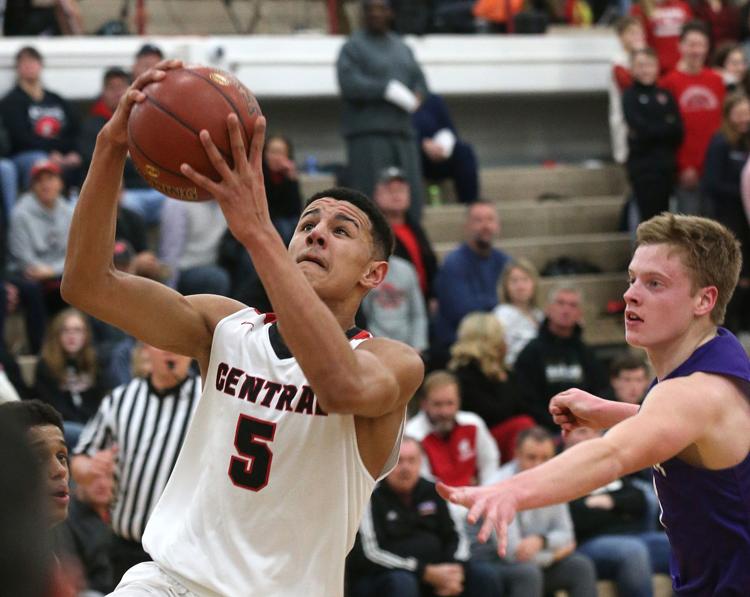 La Crosse, Wis. (Central)
Four-star recruit by Rivals … conference player of the year averaged 23 points, 9 rebounds and 3 assists per game as a junior for La Crosse Central, earning unanimous first-team all-state selection and first-team all-conference honors … La Crosse Tribune Coulee Region Player of the Year in 2018-19 … as a sophomore, averaged 22.7 points, 7 rebounds and 2 assists per game and earned first-team all-conference and first-team all-state honors … along with brother, Jordan, helped lead Central to the WIAA Division 2 state tournament each of their three years on the varsity team, winning the state title in 2017 with current Badger Kobe King … on the football field, Davis is also a standout three-year starter at quarterback, passing for 6,572 yards and 56 touchdowns, while rushing for more than 2,000 yards and scoring another 34 touchdowns on the ground.
Gard: "Johnny is the ultimate competitor. He's proven that on the basketball court, on the football field and in the classroom. Johnny's ability to play and guard multiple positions is extremely valuable in today's game. He brings a tremendous toughness and competitive spirit to both ends of the floor. His experiences as a high school quarterback will serve him well as he makes the transition to a collegiate basketball player. He has grown up watching Wisconsin Basketball and takes pride in wearing our colors. We're excited to get to work with him and to help him reach his potential as a Badger in the years to come."
Jordan Davis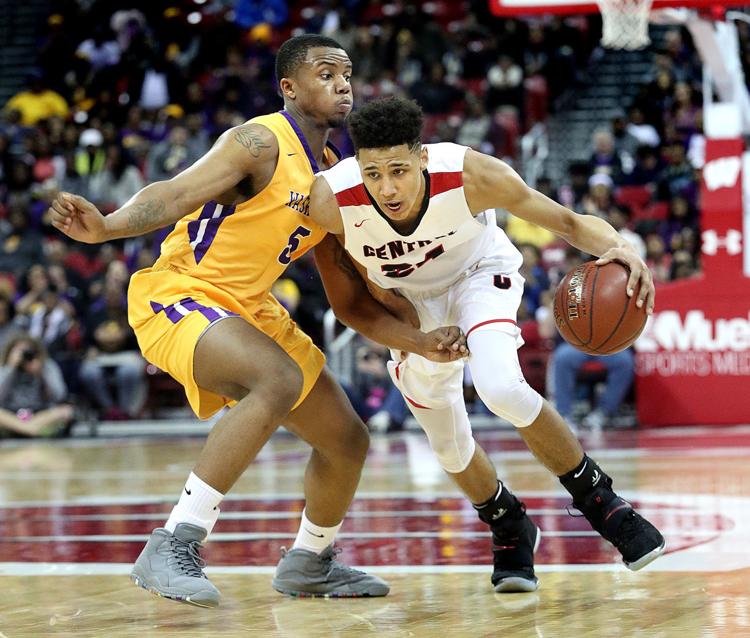 La Crosse, Wis. (Central)
Three-star recruit by 247Sports and Rivals … as a junior, averaged 12 points, 5 rebounds and 3 steals per game at La Crosse Central, earning first-team all-conference honors and named the team's defensive player of the year … his sophomore season, averaged 10 points, 4 rebounds and 2 steals per game, garnering first-team all-conference honors … along with brother, Johnny, helped lead Central to the WIAA Division 2 state tournament each of their three years on the varsity team, including a title in 2017 with current Badger Kobe King … on the football field, Davis is also an impressive wide receiver for the Red Raiders, posting 358 receiving yards with 5 TDs through three games before suffering a season-ending injury … hauled in 49 receptions for 873 yards and 10 touchdowns as a junior.
Gard: "We are thrilled to welcome Jordan to our program. His commitment and work ethic on the basketball court and in the classroom is exactly what we look for in a Wisconsin student-athlete. Jordan brings a certain level of toughness to the basketball court that has been developed on the football field as a star receiver. He comes from a winning culture at La Crosse Central and knows what it takes to compete for championships. He has known Badger Basketball his entire life and his commitment shows how much pride he has in representing Wisconsin."
Badgers coach Greg Gard discusses 2020 recruits