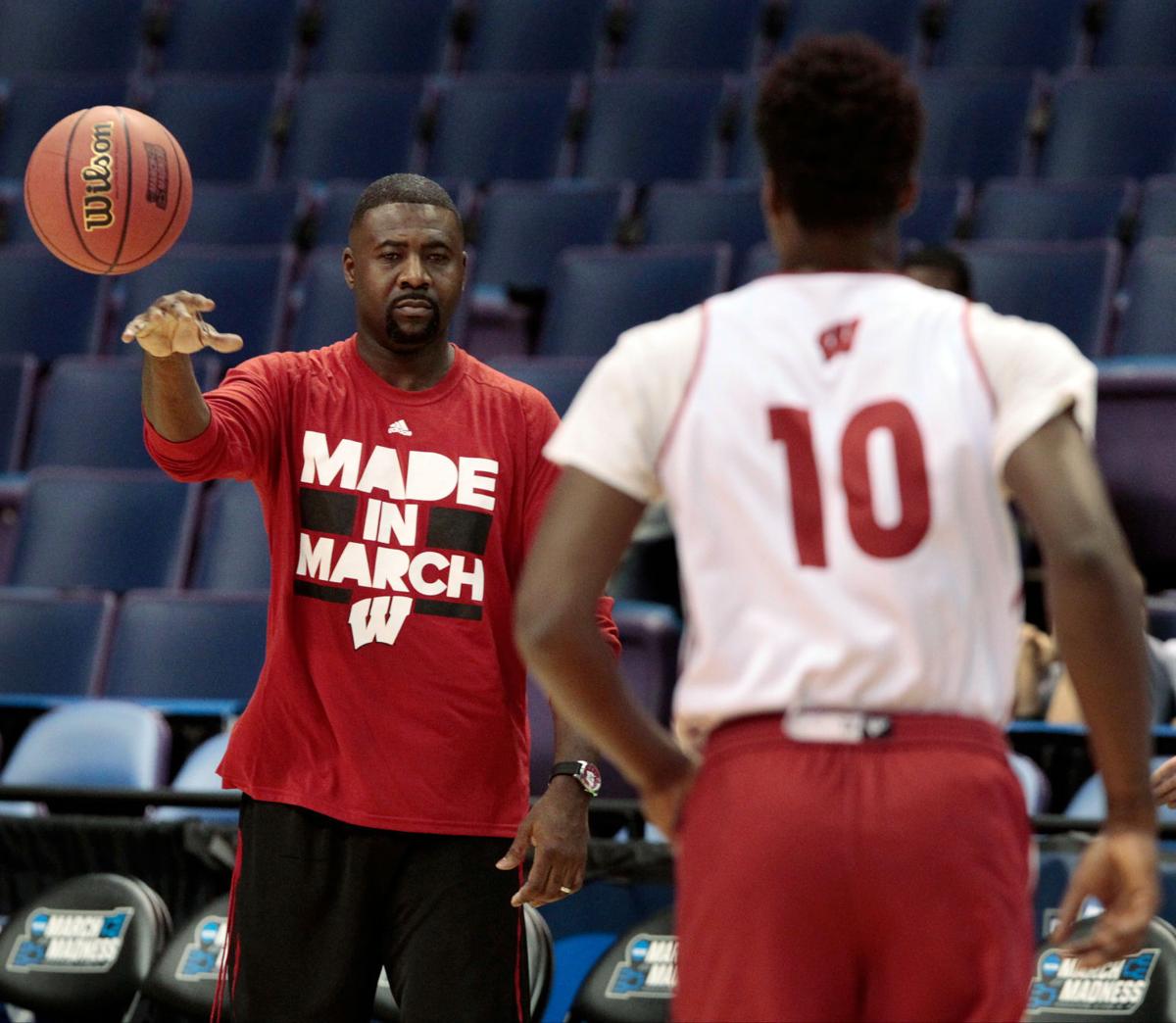 University of Wisconsin men's basketball assistant coach Howard Moore was involved in a multiple-vehicle crash early Saturday morning in Michigan that included three fatalities, including two members of Moore's family.
Moore's daughter Jaidyn, age 9, died on the scene and his wife Jennifer, 46, died later at the hospital after being taken off life support. Moore was seriously injured, while his son Jerell, 13, escaped with minor injuries.
According to the Michigan State Police, 23-year-old Samantha Winchester of Ann Arbor was driving the wrong way on a highway northeast of Ann Arbor and caused the accident at 2:04 a.m. The female driver was pronounced dead at the scene, as was the minor in the vehicle that was hit.
Brian Kinross told The Detroit News that he dodged the wrong-way driver just moments before the impact with the Moore vehicle, which was being driven by Jennifer according to the Michigan State Police. Kinross told the paper that the wrong-way driver was traveling at a high rate of speed.
"I witnessed the collision into the cars behind me a quarter mile or two in my rear and side-view mirrors," Kinross told The News. "A large fireball erupted as the driver collided into the car it struck head-on."
Kinross called 911 after the crash.
"Howard's family, man, they exude joy everywhere it was that they went," said Matt Metzger, a pastor at Blackhawk Church, which the Moore family attended. "When you were around Howard, you knew the two most important things to him were faith and family."
Metzger said one of the things that always impressed him about the Moore family was how they never appeared stressed despite being so busy.
"For anyone who is in the coaching world, their schedule is just crazy," Metzger said. "And yet there was never an element to them that ever seemed stressed or bothered. They were just about other people and they loved people well.
"When Howard talks about faith and family, it wasn't just something that he said, it was something that he lived.
"You always saw them together. They would have to tag-team it in order to make it to Jerell's basketball and Jaidyn's volleyball, but they loved being together as a family and they just exuded the love of Jesus with everything it was that they did. You couldn't be around them and not feel loved and accepted."
UW issued statements from coach Greg Gard and athletic director Barry Alvarez on Sunday morning.
"There are no words to describe how devastated we are for Howard and his family," Gard said. "Our basketball program is an extremely close family and we are all grieving for the Moore and Barnes families. Howard is so much more than a colleague and coach. He and Jen and their children are dear friends to everyone they meet. Their positivity and energy lift up those around them. We will miss Jen and Jaidyn dearly and we will put our arms around Howard and Jerell and the entire family, giving them love and support during this unspeakable time."
Moore, 46, was hired by Gard in December 2015, his second stint as an assistant coach at his alma mater. He played at UW from 1990-95, appearing in 47 games.
Moore was a member of UW's 1993-94 team that helped the Badgers return to the NCAA tournament for the first time since 1947. A native of Chicago, Moore graduated from UW with a Bachelor's Degree in African-American Studies in 1995.
Moore served as an assistant coach with the Badgers under Bo Ryan from 2005-09 before being hired as a head coach at Illinois-Chicago. He was working at Big Ten Network late in 2015 when Ryan abruptly retired and was replaced by Gard, who quickly hired Moore to fill out his staff.
"I've known Howard ever since he was a student-athlete at Wisconsin and gotten to know his wonderful family through the years," Alvarez said in a statement. "He has always been an incredible representative of our athletic department and a positive influence on everyone around him. We are truly heartbroken for his family and will be doing everything possible to help him through this tragic time. Our prayers, love and support go out to the Moore and Barnes family."
The Moore's dog was also killed in the crash, according to the state police. 
There was an outpouring of support for Moore and his family on Twitter throughout the day Saturday.
"Thoughts and prayers are with the Moore family," former UW standout Frank Kaminsky, who was recruited by Moore, said on his Twitter account. "Can't even imagine the pain they are going through. Please everyone take a moment and pray for Coach Moore and his family."