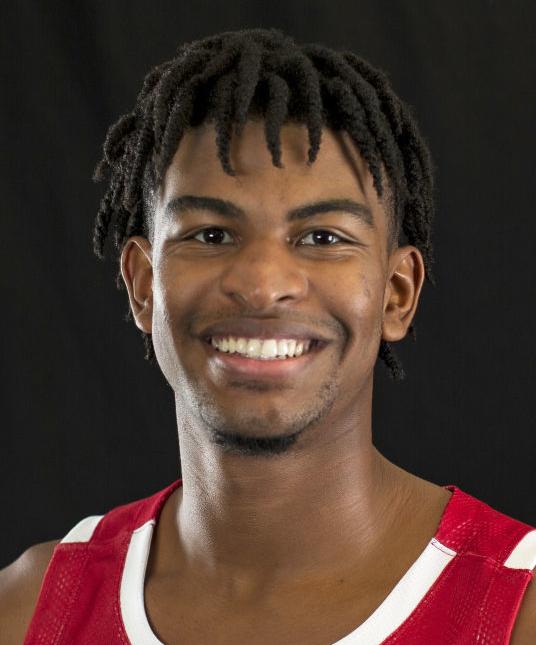 Alando Tucker quickly found someone to take under his wing after being hired as an interim assistant coach for the University of Wisconsin men's basketball program over the summer.
Tucker had watched the Badgers closely while working in the UW athletic department last year. One player in particular — Aleem Ford — piqued the curiosity of the program's all-time scoring leader.
When Tucker took over for Howard Moore, who is on medical leave, he viewed it as a chance to make an impact in many ways. That list included trying to get more out of Ford, a 6-foot-8 junior forward who is entering his fourth year at UW.
"He's been my project," Tucker said of Ford. "I see natural abilities in him that he may not have seen."
Tucker isn't alone. UW coach Greg Gard and other assistants stressed to Ford during a series of meetings last spring that it was time for him to take a significant step forward. Complementary pieces such as Ford needed to be ready for expanded roles after the departure of seniors Ethan Happ and Khalil Iverson left a lot of minutes available in the frontcourt.
"They know I can take that step," Ford said, "and they were just trying to give me a nudge in the right direction."
The buzz around the program is Ford is poised for a breakout season. He offered glimpses of his strides during the Red/White Scrimmage three weeks ago, reportedly played well in a closed scrimmage against Iowa State over the weekend and will try to build on those performances Friday night when the Badgers host UW-La Crosse in an exhibition game at the Kohl Center.
Ford and his teammates describe a confidence level that has skyrocketed since the end of his sophomore season. It shows on the court and even during multiple interviews over the past month.
"We'll continue to push it because we think it's the right thing to do," says Badgers coach Greg Gard.
The process of unleashing Aleem Ford 2.0 began during the offseason with changing his body in the weight room. Ford is at 220 pounds entering the season, which isn't a big jump from the 216 he played at last season, but he's noticeably stronger and says he feels more athletic and explosive.
When Gard would check in with Erik Helland over the summer, Ford's name was one that kept popping up when the UW strength and conditioning coach delivered positive news.
"I think with strength comes confidence," Gard said, "and with confidence comes a swagger."
You have free articles remaining.
Thanks for visiting our newly updated site!
njoy unlimited articles FREE for a limited time by signing up or logging in. No credit card required.
That swagger has been missing for the most part during Ford's career at UW. He's averaged 4.5 points and 2.3 rebounds in 64 games, including 20 starts, and saw his playing time essentially cut in half as a sophomore.
Tucker steps in for Howard Moore, who was seriously injured in a car crash in May that took the life of his wife and daughter.
If there's a heard-this-before sentiment regarding Ford, that's fair. A year ago at this time, there were glowing reports about his offseason development and the potential he flashed behind closed doors. But Ford was never the same after sustaining a knee injury during the preseason, even after he was completely healthy.
A couple of numbers jump out as Ford reaches the halfway point of his UW career: More than 75 percent of his field goal attempts have come from 3-point range, his percentage from beyond the arc dropped from 40.9 percent as a redshirt freshman to 28.8 percent last season and he only attempted four free throws in 2018-19.
The Ford 2.0 version promises to be in attack mode rather than float around the perimeter.
"My main mindset right now is to get to the basket and try to get to the free throw line," he said, "and then work my way out."
Junior guard Brad Davison said Ford's game has changed in other ways, namely that he's been doing more of the dirty work: diving for loose balls, being physical while rebounding. Gard pointed out that, during a recent practice, Ford was a standout in a ball-screen defense drill.
"He's a lot bigger, a lot stronger, a lot faster when you look at his numbers and times and that will help him immensely," Davison said. "But at the same time, that mental barrier that he's hopped over with his confidence will make him tough to stop."
Tucker, for one, believes Ford has a high ceiling. The project isn't complete, but Ford has made enough progress in a few months that Tucker isn't afraid to make some bold statements heading into the 2019-20 season.
"He could be the most improved player in the Big Ten," Tucker said. "I think he can definitely earn that. It's just, he has to understand you have to be consistent. You can't just start and stop and start and stop, you have to raise the bar to the level of consistency that it's every night, every practice, every day.
"If he continues on this path, unlocking that beast inside of him, I think he has that potential to be somebody the Big Ten is going to be talking about and recognizing."
<&rdpStrong>Preview: Badgers vs. UW-La Crosse</&rdpStrong>
WISCONSIN VS. UW-LA CROSSE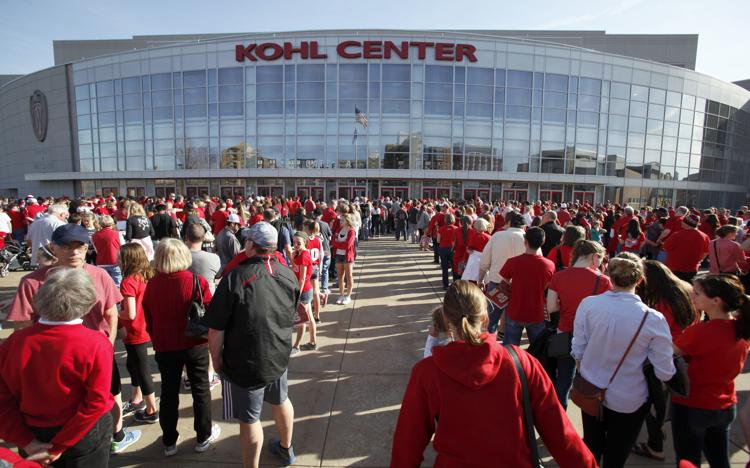 Radio: 1070 AM, 101.5 FM with Matt Lepay and Mike Lucas.
BADGERS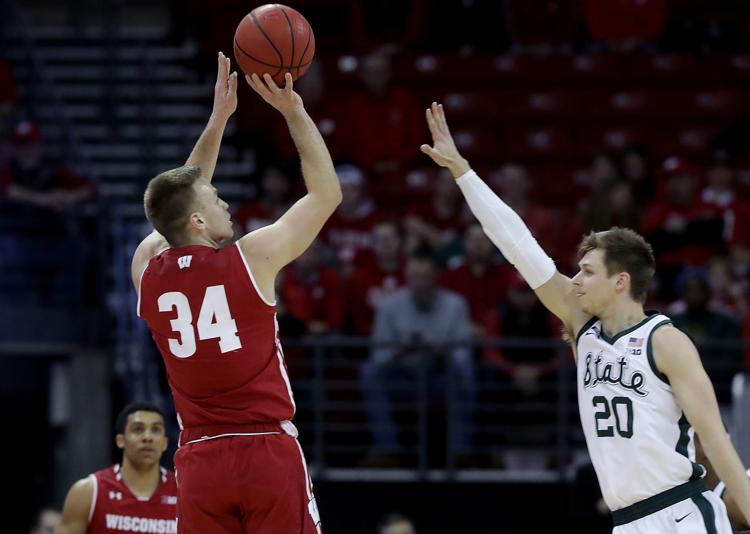 Coach: Greg Gard, 80-47 in his fifth season at UW.
Player to watch: Brad Davison (above left) enters his junior season needing 244 points to reach 1,000 for his career. Davison was third on the team in scoring in 2018-19 and shot 34.9 percent from 3-point range after a cold stretch to end the season.
PROBABLE UW STARTERS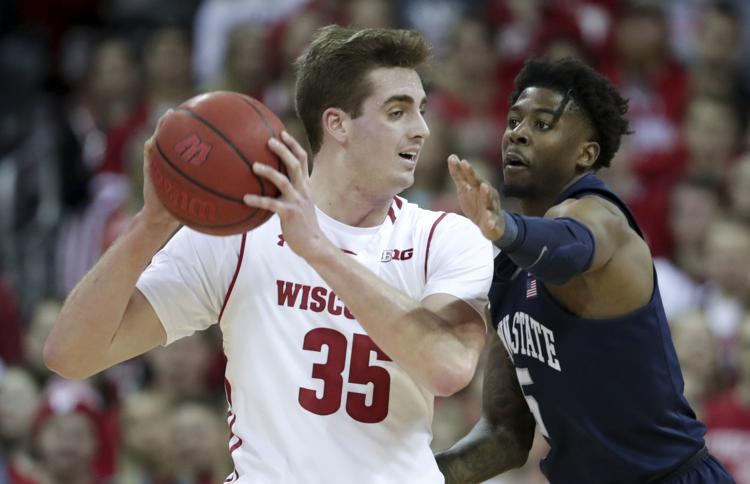 | | | | | |
| --- | --- | --- | --- | --- |
| No.   | Name   | Ht.   | Year   | PPG   |
| 2  | Aleem Ford   | 6-8  | Jr.  | 3.1  |
| 23  | Kobe King  | 6-4  | So.  | 4.2  |
| 35  | Nate Reuvers (above)   | 6-11   | Jr.  | 7.9  |
| 0  | D'Mitrik Trice   | 6-0  | Jr.  | 11.6  |
| 34  | Brad Davison     | 6-4  | Jr.  | 10.5   |
KEY RESERVES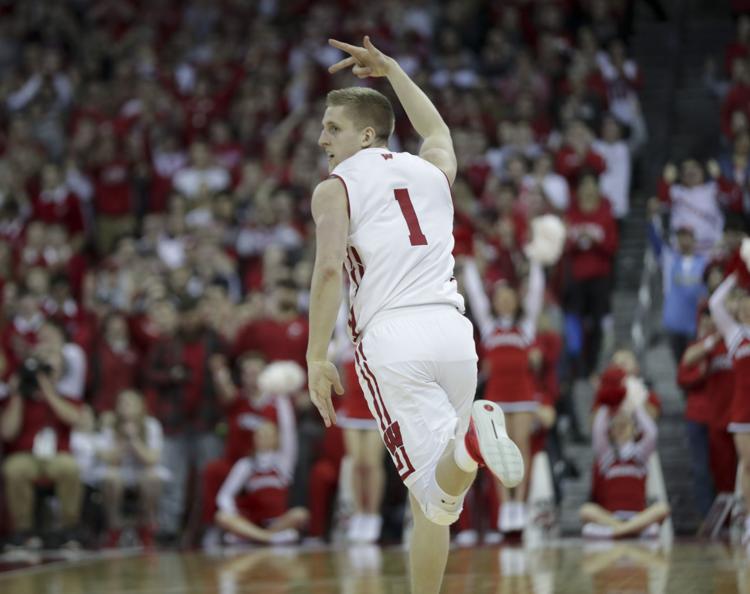 | | | | | |
| --- | --- | --- | --- | --- |
| No.   | Name   | Ht.   | Year   | PPG   |
| 1  | Brevin Pritzl (above)   | 6-3  | Sr.  | 4.8  |
| 5  | Tyler Wahl   | 6-7  | Fr.  | NA  |
| 12  | Trevor Anderson   | 6-2  | Jr.  | 1.6  |
| 32  | Joe Hedstrom   | 7-0  | Fr.  | NA  |
YOU SHOULD KNOW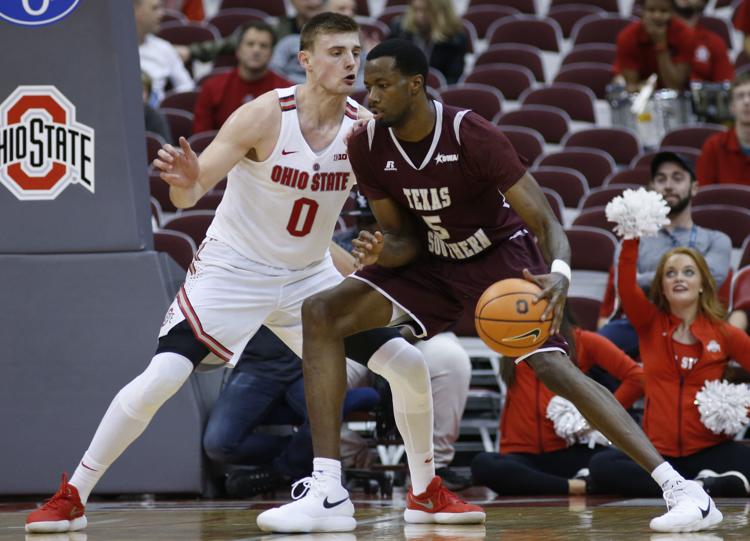 Junior forward Micah Potter (above left) isn't allowed to play against outside competition — even in exhibition games — until the end of first semester. The NCAA denied a waiver filed on Potter's behalf by UW to make him eligible at the start of the season, but UW has asked the organization to reconsider that decision. … According to UW, Kobe King attempted 15 free throws in a closed scrimmage against Iowa State last weekend. … Trevor Anderson isn't back to 100 percent after missing most of last season with a torn ACL in his right knee.
EAGLES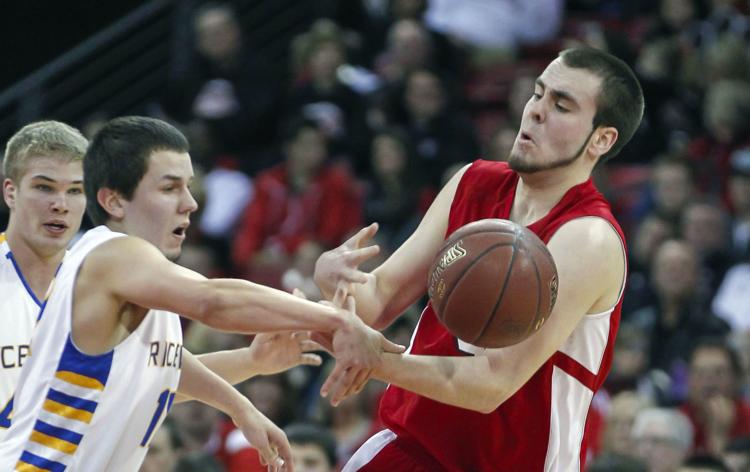 Coach: Kent Dernbach, 30-23 in his third season at UW-La Crosse.
Player to watch: Senior forward Terek Nesheim (above right), who started 19 games last season, is the Eagles' leading returning scorer. Nesheim was a junior starter at Mount Horeb when the Vikings won the 2015 WIAA Division 2 state title, and he was a captain the following season.
PROBABLE UW-LA CROSSE STARTERS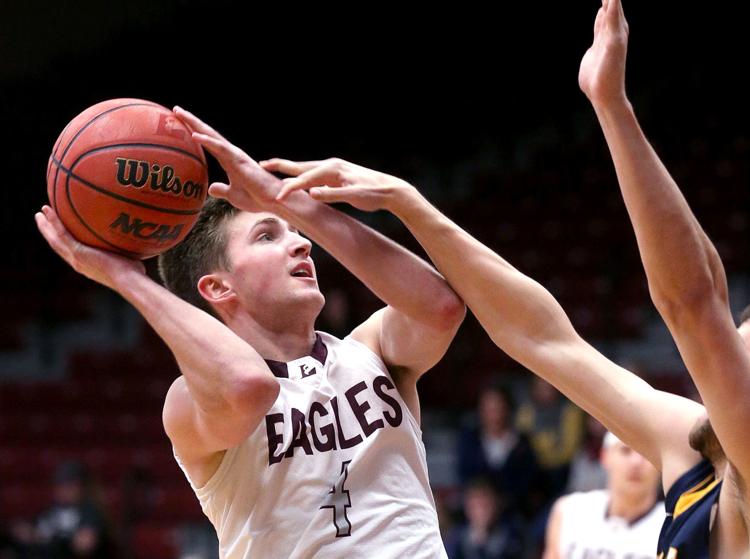 | | | | | |
| --- | --- | --- | --- | --- |
| No.   | Name   | Ht.   | Year   | PPG   |
| 24  | Terek Nesheim   | 6-6  | Sr.  | 6.7   |
| 0  | Wyatt Cook   | 6-6  | Jr.   | 1.7  |
| 10  | Luke Norcia   | 6-1  | Sr.  | 0.8  |
| 4  | Ethan Anderson (above)   | 6-3  | So.   | 6.2  |
| 25  | Zac Haese   | 6-3  | Sr.   | 2.5  |
KEY RESERVES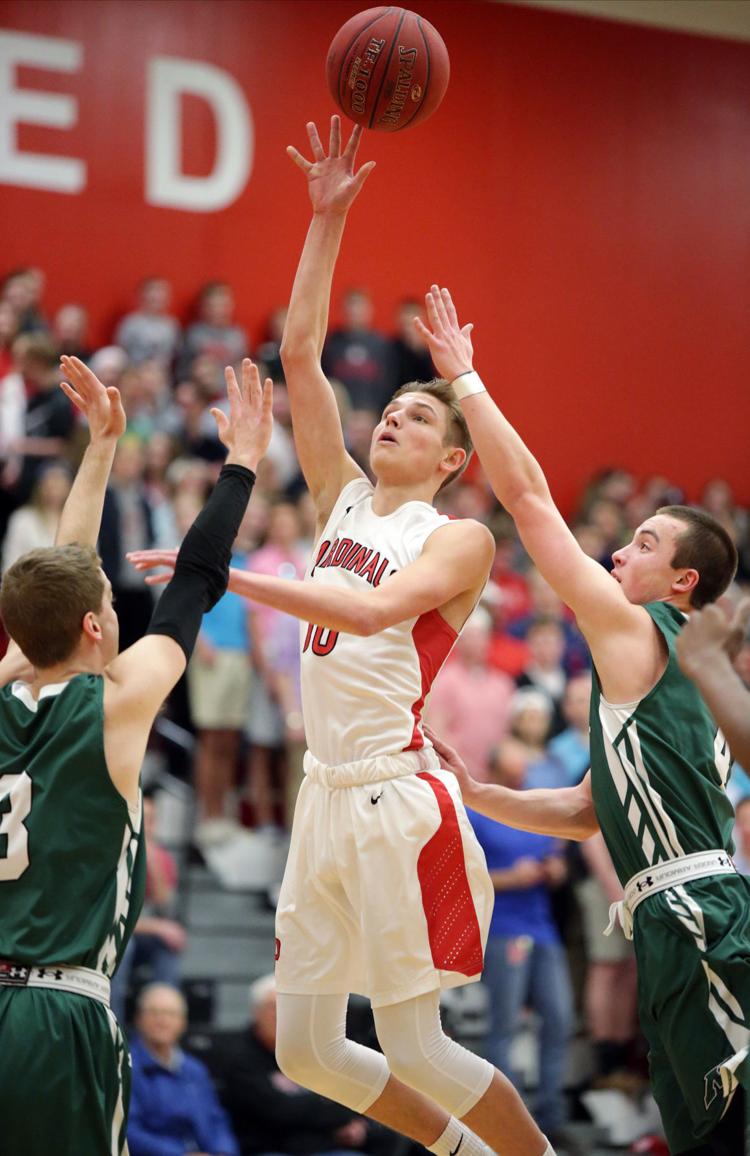 | | | | | |
| --- | --- | --- | --- | --- |
| No.   | Name   | Ht.   | Year   | PPG   |
| 2  | Henry Noone   | 6-1  | Fr.   | NA  |
| 20   | Zion Turner   | 5-9  | Fr.   | NA  |
| 23  | Austin Westra   | 6-6  | Fr.   | NA  |
| 11  | Seth Anderson   | 6-5  | So.  | 1.1  |
| 15  | Sean Suchomel (right)   | 6-1  | Jr.  | NA  |
YOU SHOULD KNOW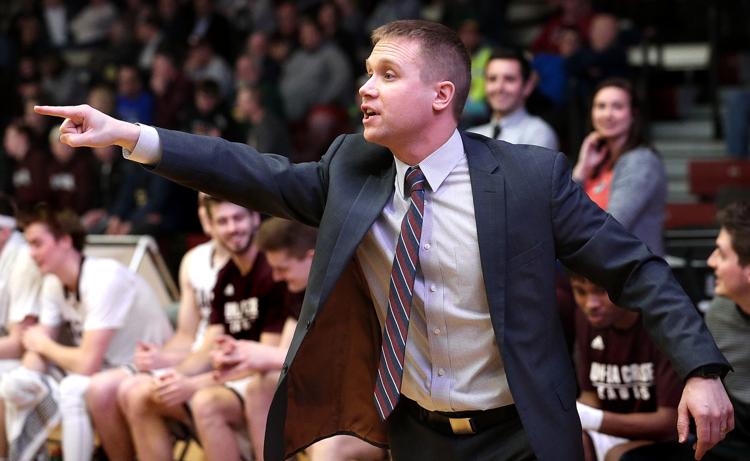 Kent Dernbach (above) led the Eagles to their second NCAA Division III tournament appearance ever last season. They dropped an 80-66 decision to St. Thomas (Minn.) in the opening round. … UW-La Crosse lost its top three scorers from last season, including All-WIAC first-team selections Ben Meinholz and Brendon Manning. … Austin Westra was a WBCA Division 2 first-team all-state selection after averaging 17.3 points last season at DeForest. … Sean Suchomel, a Sun Prairie native, averaged 10.7 points, 5.2 rebounds and 3.5 assists last season at Madison College.