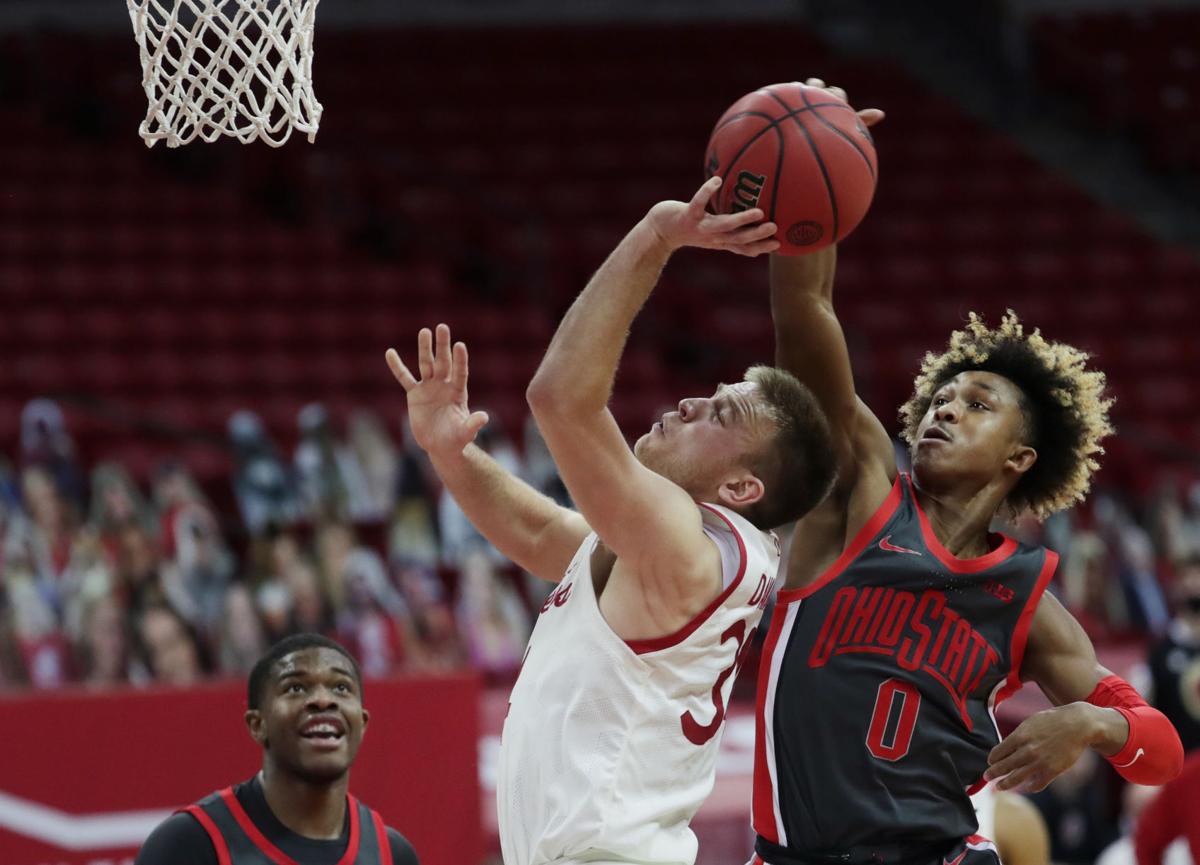 It was more than just shots not falling that led to a home defeat for the University of Wisconsin men's basketball team, though that certainly didn't help.
The fact of the matter is it's nearly impossible for the No. 10 Badgers to win while shooting 25% from 3-point range, as they did Saturday afternoon in a 74-62 loss to No. 15 Ohio State at the Kohl Center.
Could UW had done a better job of attacking the paint? Sure. But were most of the shot attempts from beyond the arc acceptable for a team that entered the game shooting just shy of 40% from that area? Absolutely.
Greg Gard distributed his share of criticism toward his team after its second home loss of the season, but shot selection wasn't high on the list after the Badgers went 7 of 28 from 3-point range.
"I thought the vast majority of the 3s we had were really good looks — we had some wide-open ones — other than two or three that come to mind initially," Gard said. "I'll look through and go back through those. We talked about touching the paint a lot. I thought when we did do it, we had a lot of good things happen. But again, we did have some extremely good looks that we have to take at that point in time.
"We'll look and see if we could go in the paint more, which I know we can. But with how this team shoots it and how this team is built, we have to take advantage of those 3s when the good ones present themselves and we had plenty of good ones early."
The Badgers missed 17 of their first 21 attempts from beyond the arc until senior forward Aleem Ford got hot down the stretch. Ford scored 13 points to lead the Badgers (12-4, 6-3 Big Ten), who also got 12 from senior point guard D'Mitrik Trice and 11 apiece from senior big men Micah Potter and Nate Reuvers.
Ford went 4 of 8 from 3-point range and Trice was 2 of 5, while their teammates were a combined 1 of 15. Potter missed all four of his attempts and Reuvers went 0 of 3.
"You can't rely on that," Reuvers said of the 3-point shot, "but it's obviously tough when you're not hitting good looks."
UW senior guard Brad Davison, who went 1 of 6 from beyond the arc and 1 of 7 overall, had a made 3-pointer wiped out early in the game when official Bo Boroski called an offensive foul on him for kicking out his leg on the shot attempt.
When asked about the rare call and whether it affected Davison's play the rest of the way, Gard half-addressed the first question and ignored the second one.
"I'll have to look at the film," Gard said. "The official explained what he saw and what he called. I didn't see it (live). It was obviously big because it took away a 3 and it ended up being a foul on Brad. In the moment, that's a big play. I'll look at the film and see if he really did stick his leg out or how it all happened. He must have; hopefully, he wouldn't call it if it didn't happen."
Gard was much more displeased with his team's defensive performance.
Ohio State shot 51% for the game and 56% after halftime. Seven players scored at least eight points for the Buckeyes (12-4, 6-4), who got a game-high 20 points from sophomore forward E.J. Liddell.
Gard had raved about Ohio State's offense, which is ranked No. 5 nationally in efficiency, while pointing out how little the Buckeyes rely on mid-range shots that are frowned upon in today's analytics.
So what did Ohio State do Saturday? Pick part the Badgers with an array of mid-range jumpers, of course.
Liddell made two in the opening possessions of the game, while Seth Towns, Justice Sueing and C.J. Walker also had success in that area. Towns finished with 10 of Ohio State's 20 bench points, while Walker, back after missing four games with a hand injury, added eight points and three assists.
UW did a good job defending guard Duane Washington Jr. — Ohio State's leading scorer went 1 of 9 from the field — but it also had plenty of breakdowns. That list included leaving sniper Justin Ahrens open, and the junior wing made the Badgers pay by making three 3-pointers.
"If we're going to win these games, we've got to lock them up defensively," Reuvers said. "They just got too comfortable and that's kind of how they got going."
UW never led in the game and trailed by as many as 13 points in the second half, but it would creep within striking range at times only to give up a basket on the other end.
Ford made three 3-pointers over a span of four possessions to help UW pull within 62-58 with 4 minutes, 35 seconds remaining. He had a chance to cut into the deficit even more but missed a decent look from the left wing that would have cut Ohio State's lead to one.
Instead, Washington made two free throws and Walker made a jumper in the lane and the Buckeyes' cushion was back to eight with 3:03 to go.
"We never set the tone defensively for how we have been," Gard said, "and who we need to be."
---
Photos: Badgers can't keep pace with Buckeyes