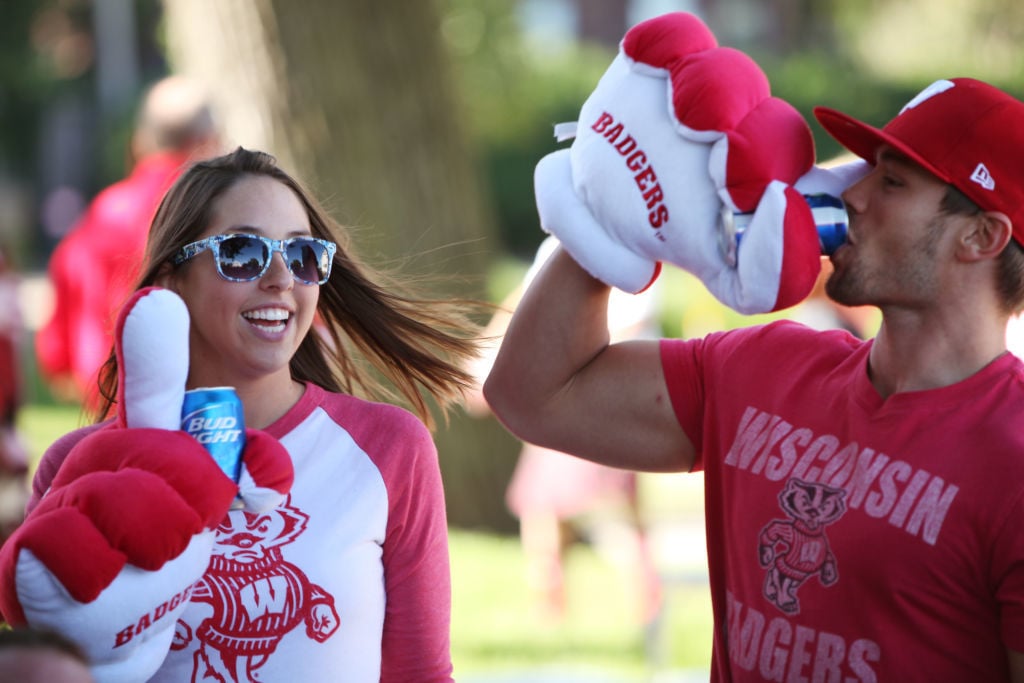 If a trend continues, the University of Wisconsin soon will be in the minority among Big Ten Conference schools in beer sales at athletic events.
Illinois and Indiana last month announced plans to sell beer in general seating areas at home games in some sports. They cited the desire to improve the stadium experience for fans — and bring more people into the seats — and claimed that venues where alcohol is available for purchase have fewer issues related to drunkenness.
Seven Big Ten schools will have beer flowing in their football stadiums in 2019. Seven, including UW, will not.
At UW, Chancellor Rebecca Blank holds the keys to the beer fridge for Badgers sporting events, and it doesn't seem like she's unlocking it any time soon.
A spokesperson for Blank said that she isn't considering the introduction of beer sales in general seating areas at Badgers home games.
The decision rests with the chancellor and not UW Athletics officials, who declined to respond to queries about the topic. The prohibition at UW predates Blank's tenure, which started in 2013.
The UW spokesperson declined to make Blank available to the Wisconsin State Journal for further questions on the topic but said in a statement: "The university believes that there is already an atmosphere of energy and excitement around Badger game days. The addition of alcohol to general seating areas isn't needed to improve that experience and could detract from it for our students and fans."
Alcoholic beverages are available for purchase in premium seating areas — suites and club seats — at UW football's Camp Randall Stadium and at the Kohl Center, where the Badgers play basketball and men's hockey.
A growing number of schools around the Big Ten and nationally, meanwhile, have given their drinking-age spectators in the rest of the stadium the chance to buy alcoholic drinks.
The university projected an annual revenue increase of $250,000 because of the development.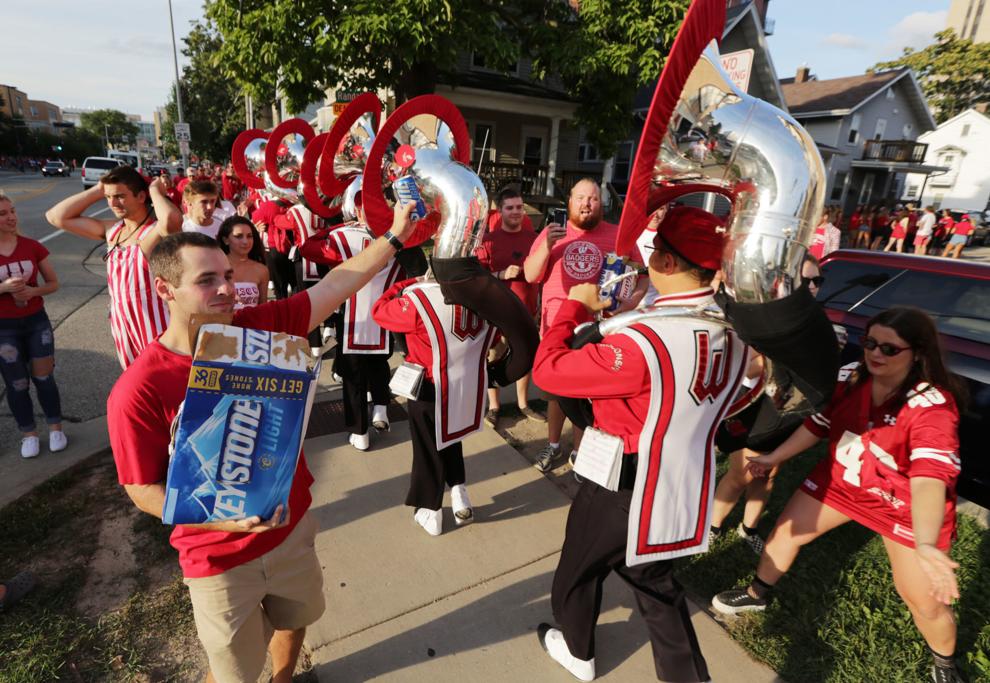 Competing for ticket revenue with Twin Cities pro teams that sell beer at their home games was a factor in the initial plan and the expansion, Minnesota senior associate athletic director Tom McGinnis said.
"Within our market, that's a component when people go to be entertained at sporting venues," he said. "So in order to be competitive in our market, we thought that was important."
Experience a priority
Officials at Illinois and Indiana, which last month joined Minnesota, Ohio State, Maryland, Purdue and Rutgers among the beer-selling Big Ten schools, didn't discount the revenue component of the move.
But they tried to put the focus on the potential benefits of a better game-day experience for fans and increased safety.
With the historic stadium as the centerpiece, tailgating is a sensory explosion with legions clad in Badgers red, with hoisted beers, sizzling brats, jammed beer gardens and music.
In some cases, schools have found themselves losing out to the high-definition TV viewing experience or tailgate parties in attendance matters, sometimes when tickets already have been purchased.
On average, University of Wisconsin home football games in 2018 were played in front of the smallest crowds in at least 13 years.
The response from some of those interested in getting more people into the venues has been to offer incentives to attend: giveaways, visual displays and halftime entertainment.
Selling beer has been another tactic. At the start of the 2018 season, 52 of 129 Football Bowl Subdivision schools sold beer in general seating areas, according to a Des Moines Register count. A decade earlier, the total was less than a dozen.
The NCAA allowed alcohol to be sold at Division I basketball tournament games for the first time this year after introducing general sales at its baseball and softball championship events in 2016.
To address safety concerns with beer sales, schools have cited studies that show a reduction of alcohol-related incidents after the beginning of availability, with some pointing to anecdotal evidence of less binge drinking before entering the stadium.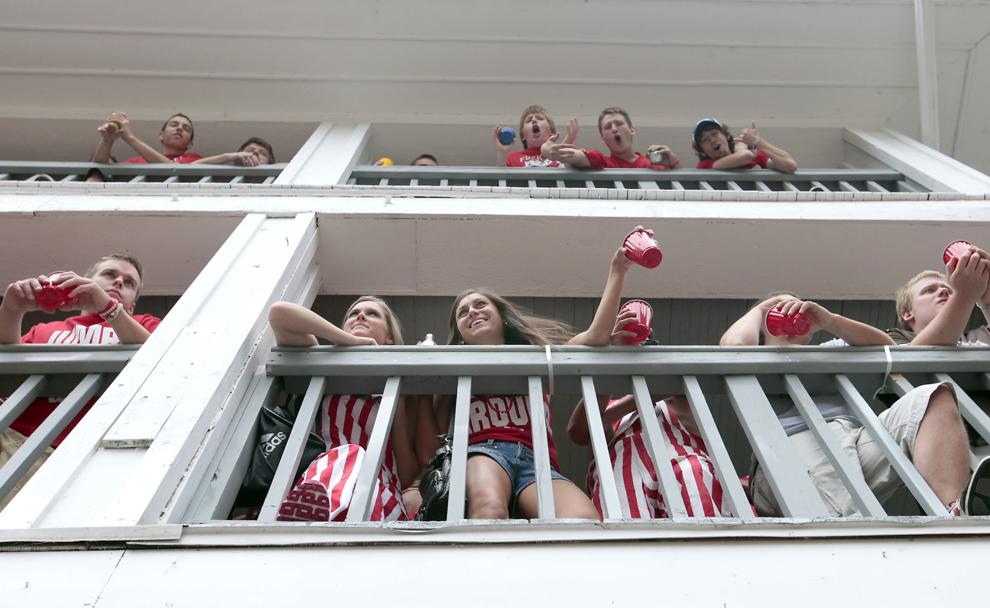 A report by Wasserman, a consulting firm employed by Indiana in its deliberations on whether to start selling beer and wine at football games, found that alcohol-related incidents fell by 65% at Ohio State and 35% at West Virginia in the first year of sales.
At Minnesota, McGinnis echoed those findings.
"Whether it's students or our other fans, I think everyone will tell you that if you know you can go buy a beer during the first half, then maybe you manage your drinking during your tailgating differently," he said. "That was one of the goals of the program, and it seems to have been successful."
In that study, researchers at Texas A&M, Northern Illinois and Florida analyzed campus police reports on game weekends for a school that initiated alcohol sales in 2012. They found increases in crime incidents and, specifically, liquor law violations during the period of in-stadium beer sales.
"In general, the rule of thumb is: More alcohol available, more drinking. More drinking, more problems, I'm sorry to say," said George Koob, the director of the National Institute on Alcohol Abuse and Alcoholism. "I wish it were otherwise. I think the American public could use a good bit of education about alcohol."
Fan survey influential
As recently as five years ago, Illinois athletic department officials weren't enthusiastic about adding beer to the menus at their events. Senior associate athletic director Marty Kaufmann looks back at the 2002 season, when the NFL's Chicago Bears played home games at the Fighting Illini's Memorial Stadium in Champaign while Soldier Field was being renovated, as formative in that opinion.
Kaufmann related stories of Illini season ticket-holders being turned off by what he called a different environment than they were used to, with drunkenness and disorderly behavior more prevalent.
"Based on that experience," Kaufmann said, "we weren't in any hurry to do this."
But talking to officials from peer schools and seeing the top-line feedback from a fan survey pushed Illinois in the direction of offering beer for sale in general seating areas at home football, basketball, baseball and softball games next season.
Kaufmann called it surprising that an Illinois task force that he helped lead didn't find any problems from other Big Ten schools that were selling alcohol to the masses.
The survey results provided added motivation.
"It was amazing: By a wide margin, the No. 1 amenity that would make more people want to attend the game or use their tickets was having beer sold at games," Kaufmann said. "It was more than WiFi. It was more than video board entertainment or concessions."
Illinois isn't unique in having ticket-holders choose to stay out in the parking lots to tailgate instead of going into the stadium. By offering beer for sale inside the gates, Kaufmann said the school is hoping to provide one less excuse for those fans not to come in.
"If we're losing games, we understand that's an issue," he said. "But we've got a lot of people who have tickets who are out in the parking lots. And we've got a lot of people who maybe will leave a game after halftime, and we may need them in the game as we start playing better. So we want them to stay longer. That's the No. 1 reason we're doing it."
In Madison, the chancellor's decision has been the last word on the issue.
Officials at the UW-Madison Police Department would be key constituents in any discussion about opening up Badgers sporting events to general beer sales, public information officer Marc Lovicott said. But the department hasn't been approached recently about the topic, he said.
Beer sales at on-campus Badgers venues has a limited history. It was part of the concessions offerings for some Green Bay Packers exhibition games at Camp Randall from 1986 to 1999.
Members of the Blue Line Club had access to a beer garden — a holdover from the men's hockey team's days playing at the Dane County Coliseum — at the Kohl Center until 2006.
Special events like concerts are off-limits to alcohol sales outside of the suites and club areas. That issue, however, is due to be revisted by a workgroup of campus and athletics representatives this summer.
UW's concessions will continue to be managed by Learfield Levy, which has taken over the athletic department's entire food and beverage operation.
That's a big if, however, and one that hasn't shown any signs of materializing.