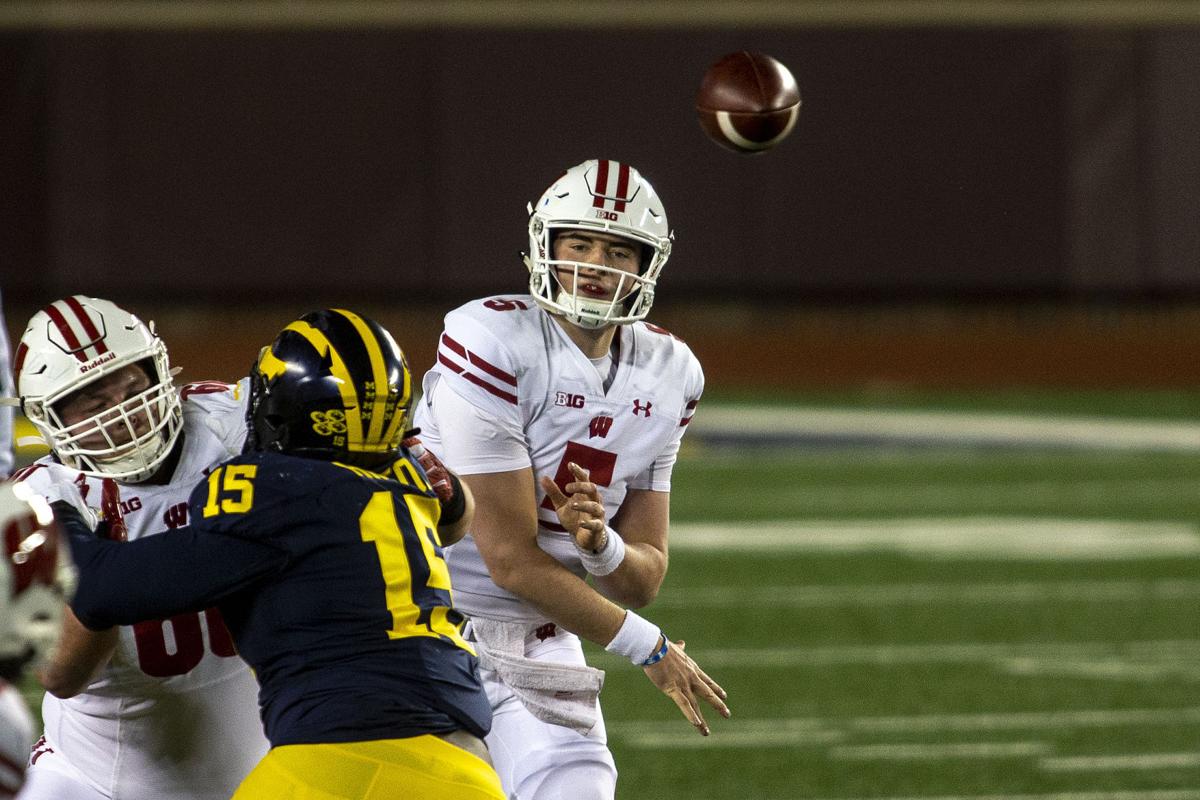 The idea that Graham Mertz would pick up where he left off three weeks ago probably wasn't realistic.
Instead, it took some time for the redshirt freshman quarterback to find a rhythm Saturday night against Michigan.
But Mertz recovered from that slow start and finished 12 of 22 for 127 yards and two touchdowns. Those numbers would have been better had it not been for at least three drops by his wide receivers.
"I thought he did some good things today," Chryst said. "A number of those, he worked through some progressions and found guys."
After the game, in his first interview since testing positive, Mertz described the experience of going from the highest of highs in his magnificent performance against Illinois to testing positive the following morning.
He said he had symptoms for 4-5 days, including headaches, body aches, a sore throat and the loss of taste and smell.
"I guess it's just the reality you live in now," Mertz said of his reaction to testing positive. "For me, it was accepting it. Obviously, it hurt for a couple days, but you power through it."
Mertz had two incompletions on the opening drive, one more than he had during his entire dazzling starting debut against Illinois. He was 1 of 5 at one point before hitting true freshman wide receiver Chimere Dike for 10 yards on third-and-7 on UW's third series.
On the next play, Mertz found fullback Mason Stokke for a 1-yard touchdown pass.
Mertz said he didn't feel rusty. "It was just getting back in the swing of things," he said. "After the first drive, it was like, 'It's go time. Were back to where we were.' "
Kendric Pryor had a drop early in the game and fellow senior Danny Davis had a pair of drops on plays that originally were ruled fumbles.
One of Mertz's best throws of the night was to junior tight end Jake Ferguson for a 13-yard touchdown in the third quarter. It was the fourth time Mertz and Ferguson have connected for scores already this season.
It certainly helped that UW's ground game was more productive than it was in the opener. The Badgers finished with 341 rushing yards using an approach that spread the wealth to multiple positions.
Freshman tailback Jalen Berger finished with a team-high 87 yards in his debut, and starter Nakia Watson added 65. But UW also got 71 yards on only six attempts from fullback John Chenal, while its wide receivers produced over 100 yards on jet sweeps and end arounds.
"It was nice to be able to run the ball," Chryst said. "We ran it fairly consistently, and to get production from a number of guys, that's always fun."
COVID-19 update
According to the telecast, safety Collin Wilder was a late addition to the UW travel roster.
Wilder apparently was among the Badgers' positive COVID-19 tests recently. But he already had tested positive during the offseason and it was determined the most recent positive wasn't a second bout with the virus.
Meanwhile, Chryst, who was criticized for improperly wearing his mask during the opener against Illinois, wore two different masks during the game Saturday. He used an Under Armour mask that was taped to his face in the first half before switching to a traditional medical mask at halftime.
From the infirmary
UW defensive end Matt Henningsen left the game in the second quarter with a left elbow injury, according to the telecast.
Michigan was without four key starters in the trenches: defensive ends Kwity Paye and Aidan Hutchinson, along with right tackle Jalen Mayfield and left tackle Ryan Hayes.
UW in final group for recruits
Two 2022 recruits announced this weekend that UW was among their final choices.
Isaac Hamm, a four-star defensive end out of Sun Prairie, tweeted Friday night he was down to four programs; UW, Notre Dame, Penn State and Ohio State.
Hamm stands 6-foot-5 and is ranked fifth in the state in his class.
Micah Riley, a four-star tight end from Bellevue, Neb., included UW in his top eight on Saturday. The other schools he's considering include Arizona State, Auburn, Florida State, Michigan State, Missouri, Nebraska and Oregon.
---
Colten Bartholomew contributed to this story.
---
Photos: Badgers put Wolverines away early