MILWAUKEE — Goose bumps. Chills. Shock. Tears of joy.
Even two days after the Milwaukee Bucks clinched their first NBA championship in 50 years, the feelings weren't going away for the team's fans.
The emotions got stirred again Thursday as downtown streets filled for a parade and stage celebration where millions of tiny pieces of confetti rained down on hundreds of thousands of cheering onlookers.
After more than a year of a pandemic that has disrupted lives, it was a day of joy and community.
"You saw people out here being kind to one another," said Rosemary Green, a Milwaukee native who extended her stay on a trip home from Las Vegas to be part of the celebration. "We all unite in Wisconsin over teams. So anything that we went through in 2020, we're forgetting about it this year, baby, because we're the NBA champs."
Finals MVP Giannis Antetokounmpo showed off the Larry O'Brien NBA Championship Trophy from the last of five open-top, double-decker buses wrapped in Bucks logos to make its way down Wisconsin Avenue and Water Street.
"We did it!" he yelled later from the stage, facing a crowd of tens of thousands spilling into the streets from a vacant lot north of Fiserv Forum. "It's unbelievable."
That was a shared sentiment up and down the parade route.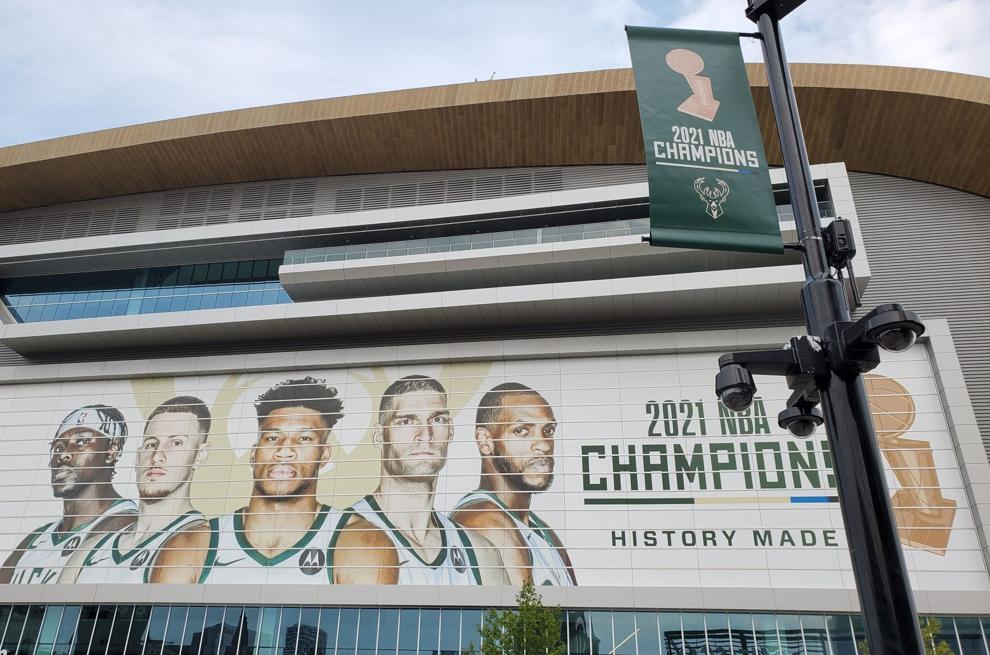 'I'm still in shock'
"You see it on TV and so you don't really expect to actually ever see it in real life," Ben Mueller of Verona said after the championship trophy passed him. "It's just surreal."
Mueller and Alec Fernandez, both 16, got into downtown around 9 a.m., two hours before the parade stepped off from near the shore of Lake Michigan.
"I'm still in shock from when it happened," Fernandez said of the championship, clinched Tuesday with a Game 6 victory against the Phoenix Suns at Fiserv Forum. "I never really thought we'd be a championship city, us being a small market and everything. But it's cool that it's finally here."
Former Bucks owner Herb Kohl got a spot of honor in a car at the front of the parade, followed by elected officials, former Bucks players, team staff throwing shirts to the crowd and, finally, the players and coaches.
The crowd noise swelled as the buses reached more people along the streets. Former Bucks player Brandon Jennings, whose prediction years ago was the genesis for the familiar "Bucks in six!" chants, heard those words often. Antetokounmpo was greeted with "MVP! MVP!" all day.
"I've never been a big parade person and this is something special," said Tom Bird, who lives not far from the parade route. "I was just saying to myself if there's one parade in my life I'm really glad I went to, it was this one. It was such a treat to see those guys go by."
A famous location
Wisconsin Avenue, the downtown stretch of road that starts near the Milwaukee Art Museum on Lake Michigan, has been a regular home for Milwaukee's celebrations. The Bucks' previous championship in 1971 was a historical omission.
A crowd reported to be in the hundreds of thousands turned out to welcome home the 1957 Milwaukee Braves after they won the World Series in New York. A caravan of 30 convertibles had to reroute in places because the streets were too congested.
A year later, around 50,000 turned up to fete the National League champion Braves on the eve of the World Series rematch with the Yankees.
The Milwaukee Brewers drew an estimated 100,000 on a 15-block route through downtown on the way to County Stadium the day after they lost Game 7 of the World Series in St. Louis.
Fifty years ago, members of the NBA champion Bucks landed in Milwaukee from Baltimore to find a crowd estimated at between 15,000 and 20,000 waiting to cheer. The group got so riled up in the baggage claim that players and staff had to be ushered into a meeting room to escape.
That's as close as the 1971 Bucks got to a parade. Instead of rolling through the streets, star Oscar Robertson reportedly had his car's radio antenna ripped off as he tried to drive away from the airport parking lot.
Milwaukee Police were expecting hundreds of thousands of people in the streets and the Deer District outside Fiserv Forum on Thursday.
A long time coming
Antonio Stafford of Racine looked out over the scene early Thursday and forecast a fun day.
"A celebration," he said. "Just everybody excited and happy. It's been 50 years since we won a championship."
It has been a sometimes tenuous half-century for the Bucks, an expansion team that formed in 1968. They had to be saved from the threat of leaving town twice in the years since their last NBA title.
Kohl bought the team for a reported $19 million in 1985, three years before the Bradley Center opened, and avoided a sale to owners who might seek to move the franchise.
He sold the team for $550 million in 2014 to Wes Edens and Marc Lasry, investors who committed to keeping the team in Milwaukee and getting another new arena built. The Fiserv Forum opened in 2018. On Tuesday, it experienced a championship for the first time when the Bucks dispatched the Suns.
An estimated 100,000 fans were in and around the Deer District that night to revel in the victory. It was an outpouring of emotions for a city and state coming out of the pandemic.
It has been a family experience for many. Tracy Maxwell of Milwaukee used to go to Bucks games with his father. He hopes his son will remember being at the parade with his dad.
Seeing people from different backgrounds coming together to celebrate was something to enjoy, he said. Milwaukee has ranked among the most segregated cities in America.
"It's united us," Maxwell said.
Spectators said they hoped this was the first of many Bucks championship parades in years to come. Just in case it wasn't, they wanted to take it all in.
"Who knows when we're ever going to have this chance again," lifelong Milwaukee resident Nelson Brown said. "So I didn't want to miss it."