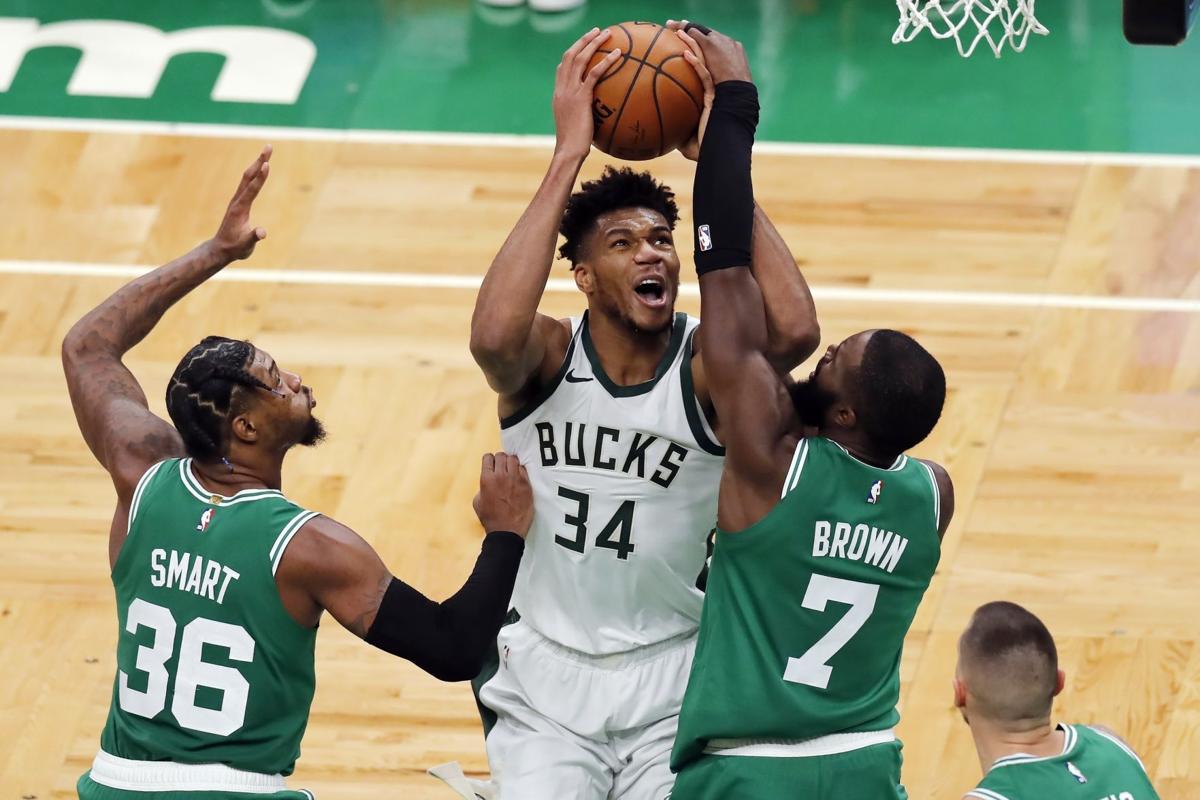 MILWAUKEE — For the first time since their inaugural season, the Milwaukee Bucks will play at home on Christmas Day.
The Bucks, fresh off a nail-biting 122-121 loss to the Boston Celtics on Wednesday night in their season opener, kick off the home portion of their schedule Friday afternoon with a nationally-televised contest against the Golden State Warriors.
Because this is 2020 and nothing comes without a catch, fans won't be able to enjoy Milwaukee's return to the league's Christmas extravaganza because the ongoing pandemic has forced the league to begin its season with empty arenas.
The Bucks are 63-13 since moving from the Bradley Center to Fiserv Forum ahead of the 2018-19 season and at least some of that success can be attributed to the capacity crowds that have filled the building on a nightly basis.
"It's something we'll have to adjust to in the beginning but we'll adjust to it really quick," guard Pat Connaughton said. "I think all of us are excited to play in front of our fans again and we're excited to make Milwaukee proud with our play. There's nothing better than when we're able to do that and they're in attendance. But in the short term, we'll make sure that we continue to do it while they're watching from their television screens."
Two exhibition games against the Mavericks provided a taste of what playing without the home court advantage but also gave the Bucks their first chance to actually play on their home court for the first time since March 4, when they beat the Pacers 119-100 before heading on a three-game trip.
After dropping all three of those games, the Bucks returned to Milwaukee where they were scheduled to play seven of their next eight games starting with the Celtics on March 12 — only for the season to get suspended because of the coronavirus pandemic.
When play resumed in late July, the league played all its games on a neutral court in a bubble setting, also without fans.
"It's kind of like this halfway thing, we're not exactly in the bubble on this intimate, empty court but in an arena that's empty instead," center Brook Lopez said of the transition from normalcy to the bubble to the present. "I can't really say much more than that. It's going to be something that first game, though."
Friday will mark the third consecutive year and the seventh time overall the Bucks have played on Christmas Day. Here's a look at how they've fared in their previous Christmas contests:
1968: Pistons 119, Bucks 113 (Milwaukee Arena)
The expansion Bucks brought a 10-25 record into their Christmas Day game and matched up against a Pistons team that at 11-20 wasn't faring much better. Guy Rodgers led Milwaukee with 24 points but it wasn't enough to send the home crowd happy as the Bucks dropped the first of six straight.
1971: Pistons 120, Bucks 118 (OT) (Cobo Hall, Detroit)
Two years after their Christmas debut, the Bucks and Pistons met again. Milwaukee, led by Kareem Abdul-Jabbar and Oscar Robertson, was the defending NBA champion and off to a 30-5 start. After having their nine-game winning snapped by Boston on Dec. 22 at the UW Field House, the Bucks were looking to bounce back against a Pistons team that had just snapped a four-game losing streak with a 104-94 victory over the Cavaliers.
While Abdul-Jabbar scored 38 points with 18 rebounds and eight assists, future Bucks star Bob Lanier scored 35 points and grabbed 21 rebounds for Detroit, which also got 32 points from Jimmy Walker as the Pistons edged the Bucks in overtime.
1972: Bucks 104, Kings 99 (Municipal Auditorium, Kansas City)
Milwaukee earned its first Christmas Day victory behind a 32 points from Abdul-Jabbar and 21 points from Bobby Dandridge. The Bucks extended their winning streak to seven games and improved to 26-9 on the season, which would end with a third consecutive Midwest Division championship and a loss to Golden State in the Western Conference Semifinals.
1977: Bucks 131, Kings 122 (Kemper Arena, Kansas City)
A lot changed in the five years between Milwaukee's last Christmas appearance and this visit. Abdul-Jabbar was gone, having been dealt to Los Angeles two years earlier, and \coach Larry Costello had been replaced by Don Nelson. The Bucks were just 18-16 when they arrived in Kansas City for their date with the Kings but provided flashes of the good years to come as Brian Winters scored 22 points in a 131-122 victory.
2018: Bucks 109, Knicks 95
With superstar-in-the-making Giannis Antetokounmpo leading the Bucks' resurgence, the team returned to the Christmas schedule for the first time in 41 years. Antetokounmpo made the most of the moment, scoring 30 points with 14 rebounds while Brook Lopez had 20 and Malcolm Brogdon 17 off the bench as Milwaukee improved to 23-10 on the year.
"This is one of the highest stages," Antetokounmpo said. "Special teams play Christmas Day, so it was a big opportunity for us."
2019: 76ers 121, Bucks 109
The Bucks' most recent Christmas appearance matched up two of the league's brighest young stars in Antetokounmpo and 76ers center Joel Embiid. Like Antetokounmpo a year before, Embiid took advantage of the spotlight by scoring 31 points and holding Antetokounmpo to just 18 on 8-for-27 shooting in a decisive victory against a Milwaukee team that came into the game with the league's best record.