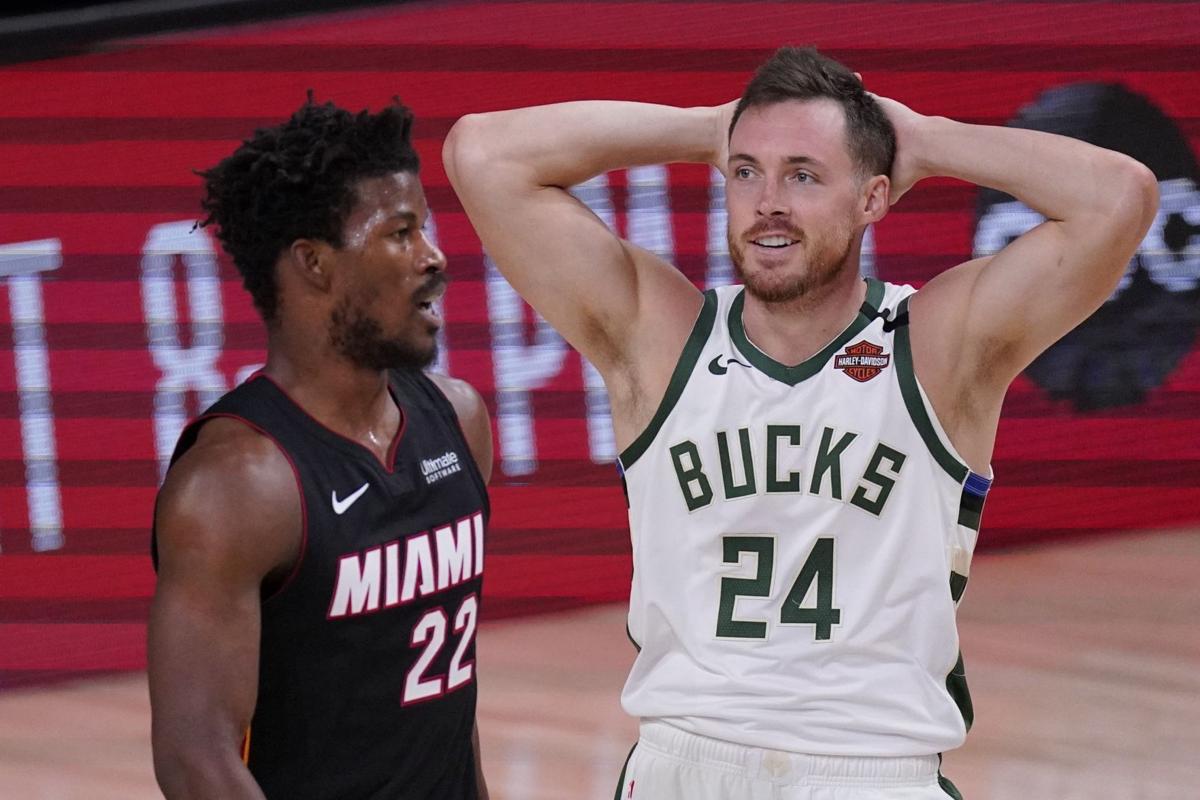 MILWAUKEE — The Milwaukee Bucks will be short-handed again when they host the Utah Jazz on Friday night.
Forward Torrey Craig (nasal fracture) and guard Pat Connaughton (strained left groin) will be unavailable, leaving coach Mike Budenholzer without two key reserves at Fiserv Forum as the Bucks go for their season-high fourth consecutive victory.
Craig has been out since Dec. 27, when he fractured his nose in the fourth quarter of the 130-110 loss to the New York Knicks. He underwent surgery on Dec. 31 and wasn't expected to return during the current five-game homestand.
Connaughton sat out both games of this week's two-game series against the Detroit Pistons but did take part in a limited-contact practice session Thursday morning. Budenholzer said afterward Connaughton's status would be re-evaluated Friday morning, but he was listed as "out" when the league's official injury report was released Thursday evening.
Prior to his injury, Connaughton was averaging 6.3 points on 46.4% shooting and had connected on 10 of 20 3-point attempts. He served as an anchor of sorts for Milwaukee's reserves, one of just three returning players from last season along with forwards D.J. Wilson and Thanasis Antetokounmpo.
To supplement those three, Milwaukee brought in a handful of established veterans with specific skillsets such as D.J. Augustin, Bryn Forbes and Bobby Portis and added second-round picks Sam Merrill and Jordan Nwora.
It's taken some time to get everyone on the same page, but the group has started to find cohesion and already established itself as one of the best reserve groups in the league, averaging 42.5 points per night — the fifth-highest mark in the NBA.
Portis and Forbes have provided much of that offense, combining to average 20 points per game. Portis is shooting 55.2% and Forbes is living up to his billing as a sharpshooter by connecting on 14 of his 32 3-point attempts.
On Wednesday night, Portis and Forbes combined for 24 points while Nwora scored a career-high 11 as the bench put up 51 points against the Pistons. Portis' 16 points marked his seventh straight of scoring at least 10 points. And with 10 rebounds against the Pistons, he's recorded a double-double three times thought eight games after accomplishing the feat just five times in 66 games last season for the Knicks.
Portis is averaging more than a point above the 10.4 clip from a year ago.
"You just have to let the game come to you," Portis said. "The game will tell you when to shoot and when not to shoot. The game tells you what to do and that's the way I've been coached my entire life."
Forbes sank a pair of 3-pointers Wednesday — giving him eight over his last three games — and also made an impact while playing with the starters, especially Giannis Antetokounmpo.
The two have shown budding chemistry through the early portion of the schedule and their progress was on display late in the opening quarter when Forbes set a screen at the free throw line that allowed Antetokounmpo to drive through the lane uncontested for an easy layup.
Antetokounmpo returned the favor in the second, feeding Forbes for a cutting layup that gave Milwaukee an 11-point lead. Moments later, Antetokounmpo kicked out to Forbes for a 3-pointer to put the Bucks up 16.
It's exactly the scenario Forbes envisioned when he decided to sign with the Bucks, as well as what the team envisioned when Forbes was offered $4.7 million over two years.
"I remember when we played (against) him (Antetokounmpo) and when he would drive, everybody would have to be in the paint," said Forbes, who spent his first four seasons with the San Antonio Spurs. "So obviously, there's going to be a lot of open shots. I didn't know he was this good of a facilitator but he makes the game so much easier and fun so it's just kind of a natural fit."
Merrill also missed the past two games because of a sprained left ankle, but he practiced and was listed as "probable" on the injury report.
Selected with the 60th and final pick in the 2020 draft, Merrill has appeared in five games and is averaging 2.4 points on 57.1% shooting while connecting on 4 of his 5 3-point attempts.