The Milwaukee Bucks have reached a deal with free agent Kyle Korver on a one-year contract at the veteran minimum, according to ESPN.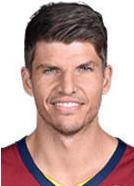 ESPN reported that Korver's agent Jeff Schwartz confirmed the one-year agreement on Saturday.
The 38-year-old Korver, who has led the NBA in 3-point shooting four times, will be reunited with coach Mike Budenholzer, who coached the veteran for more than three years in Atlanta, including in 2015 when Korver made his lone all-star appearance.
In 16 NBA seasons, Korver has averaged 9.9 points, 3.0 rebounds and 1.7 assists while shooting 44.3% from the field and 42.9% from 3-point range.
Korver began last season with the Cleveland Cavaliers before being traded to the Utah Jazz, who dealt Korver to Memphis this offseason. He was traded again over the summer to the Phoenix Suns, who waived the veteran to clear cap space.
You have free articles remaining.
Korver, who'll earn the minimum $2.6 million for a player with 10 or more years of experience, also reportedly had interest this offseason from the Philadelphia 76ers and Los Angeles Lakers. The Bucks are taking on only a $1.6 million cap hit.
Korver has played in 135 career playoff games, 40 of them in 2017 and 2018 with Cleveland.
After the signing the Bucks will have one of their 15 rosters spots available. Both of the team's two-way slots are occupied with the additions of Cam Reynolds and Frank Mason III.
Despite losing Malcolm Brogdon to the Indiana Pacers in free agency, the Bucks return the core of the team that went an NBA-best 60-22 last season and lost to Toronto in the Eastern Conference finals.