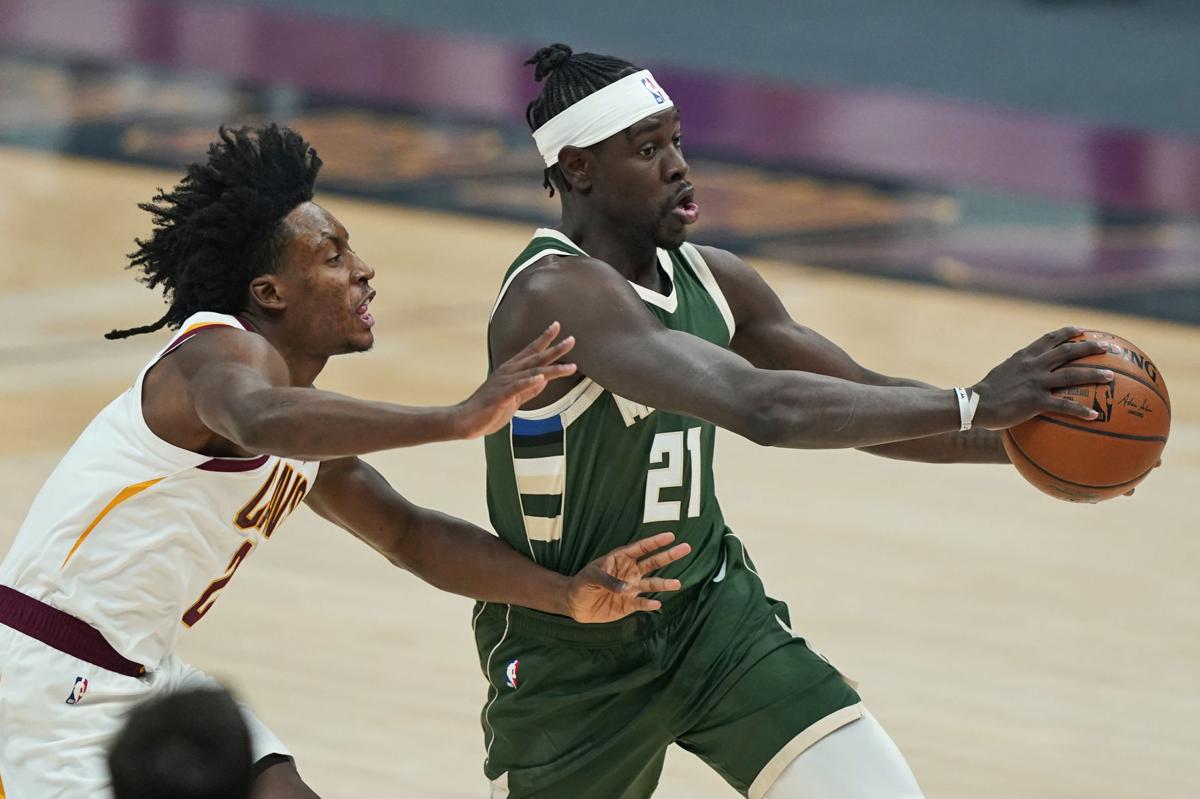 After extending their winning streak to five games with a 125-112 road victory over the Denver Nuggets on Monday night, the Milwaukee Bucks left for their next game in Phoenix without Jrue Holiday.
The point guard became the Bucks' first casualty of COVID-19 this season, receiving a positive test result that left him unavailable for the game and his teammates, at least for a moment, wondering if they would even play Monday or the rest of their trip.
"I took my pregame nap and I wasn't sure if I was going to wake up and there's a text like, oh, no game tonight, we've got to pack up or we're staying or whatever it was," Bucks center Brook Lopez said.
Until Monday, no Bucks player or staff member had tested positive and only one of their games — a Jan. 22 contest against the Wizards — had been postponed.
"It was kind of weird," forward Giannis Antetokounmpo said. "Everything was up in the air. We didn't know if we're going to play the game, if not what the protocol was and how the NBA and the people are going to handle our situation. But obviously once I woke up I saw my phone, there was no text, I was ready for the game."
The team did not officially announce Holiday had tested positive, but forward Khris Middleton mentioned a positive test on two occasions during his postgame interview.
If that's the case, the Bucks will be without Holiday for at least 10 days according to the NBA's health and safety protocols and wouldn't be cleared to return until he's tested negative twice in a 24-hour span.
Even after he's cleared, Holiday would have to go through two additional days of monitored individual workouts before he could return to regular action.
Losing Holiday is a blow for a team that was showing great improvement after spending the first few weeks of the season adapting to new teammates and tweaks to coach Mike Budenholzer's offensive and defensive schemes.
During the first four games of Milwaukee's current winning streak, Holiday averaged 17.5 points, 6.0 assists and 5.0 rebounds while shooting 67.4% from the floor and 54.5% from the 3-point line.
He also had been living up to his billing as one of the best defenders in the league, a big reason the Bucks have posted a 103.9 defensive rating over the past five games — the third-best in the league during that stretch — while holding opponents to 43.1% shooting including just 33.7% from distance.
"We've got to keep our focus ahead of us and try and get better and get ready for a good team in Phoenix," Budenholzer said.
Bryn Forbes started in place of Holiday and scored 15 points on 6-for-9 shooting, including three 3-pointers that increased his total to nine over the past two games. He is likely to start again Wednesday against the Suns.
The loss of Holiday is the latest challenge the Bucks have faced on their season-long six-game trip which began with mechanical issues that delayed their flight to Cleveland last week. The Bucks ultimately arrived hours before tipoff Friday night, the first of back-to-back games against the Cavaliers. Milwaukee won both games.
Budenholzer said his team's response to the problems over the past few days has shown "a lot of character."
"Coming off the last road trip I don't think anybody felt real great," Budenholzer said. "(Give) credit to the guys. They've really kind of stepped it up and now we've got more to come."
The trip doesn't get much easier. The Bucks face a 14-9 Suns team that's held opponents to 33.8% 3-point shooting and just 107 points per game — the fourth-best mark in the league. The Bucks then face the Western Conference-leading Utah Jazz on Friday night before wrapping up the trip Sunday against the Thunder in Oklahoma City.
"We've always got to find ways to play hard, figure out ways to win, figure out ways to be good, play together, but at the end of the day our effort's got to be there," Antetokounmpo said. "There's going to be some days it's going to be a physical game you've got to face, there's going to be games that we got a lot of people open 3s. But at the end of the day if we do it together, we have fun and play hard together, things are going to be well."