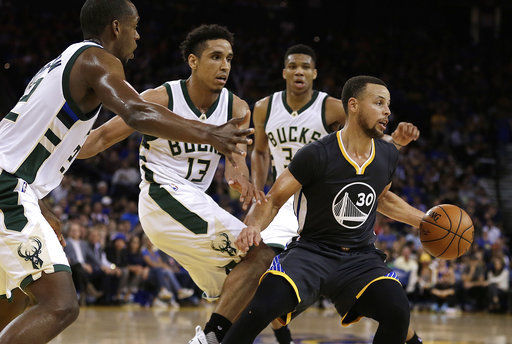 MILWAUKEE — Jason Kidd's face dripped with sweat as he hurried off the court. It was as if the Bucks coach was running through the preseason drills himself instead of overseeing them.
That familiar roster in Milwaukee is also quite used to some of the long practices that Kidd likes to run. It's a good thing that the young players on one of the league's rising teams have the stamina to keep up.
"We are familiar, but the big thing is we can't wait. It's a group that's been together (but) we just can't rely on one person," Kidd said. "Everybody has to be able to be in tune with what they're doing. That's what training camp is all about."
Kidd didn't name names, but the first person that stands out is 6-foot-11 forward Giannis Antetokounmpo. The All-Star forward with freakishly athletic skills and an infectious smile has thrived in the role as the team's primary ball-handler.
Counting Antetokounmpo, the entire starting five and most of last year's rotation has returned. Rookie of the Year guard Malcolm Brogdon and glue-guy forward Khris Middleton are back, along with defensive specialist Tony Snell and sixth-man center Greg Monroe.
While the faces are familiar, there hasn't been consistency on the floor in the early going this preseason.
The workaholic Antetokounmpo missed practice following the sudden death of his father. Hoping to knock off some rust, the All-Star asked Kidd for a few extra minutes on the floor in making his preseason debut last week when he scored 24 points against Chicago.
"I was a little bit rusty out there defensively. Day by day, I'm going to get better, go back to the practice facility and get some extra reps," Antetokounmpo said.
Center Thon Maker has been limited by an ankle injury, while guard Matthew Dellavedova has been nursing what appears to be a minor left knee injury. The preseason was shortened this year to three-plus weeks, so the Bucks could have used a little more time to jell.
Then again, they're pretty used to each other as it is.
"We started two rookies in the playoffs, and had a real competitive playoff series with Toronto," general manager Jon Horst said. "We knew we were going to come into this with a top 10-type player on our team with a still extremely young core and said 'Why would we change this?'"
Other notes and things to watch in the season ahead:
What's next
Only 22, Antetokounmpo's wingspan and athleticism make him nearly unstoppable off the dribble. His 2-point field goal percentage soared to a career-high 56 percent. He also led the team in blocks (1.9 per game) and steals (1.6). If Antetokounmpo can improve just a bit from 3-point range (27 percent), he might be able to push his scoring average into the high 20s.
Defense
Kidd might be just as happy if the can get back to shutting down opposing teams. Young and athletic, the Bucks can pose problems on defense, like when they went 14-4 in March and pulled out close wins down the stretch. It was a sign of the team's maturation.
Rookie of the Year
The steady Brogdon played like a seasoned veteran. A second-round pick last year by former general manager John Hammond, Brogdon proved to be the perfect addition after playing four years in college at Virginia. Solid defensively, Brogdon could be in line to boost his offensive output after shooting 40 percent last year from behind the arc.
Just Jabari
Forward Jabari Parker is expected to return from his second knee injury in three seasons at midseason. The Bucks hope that Parker will be able to provide a post-All Star break boost, as Middleton did last year when he returned from a hamstring injury. Milwaukee does face a key question with Parker, a first-round draft pick in 2014 who is entering the last year of his rookie contract.
What's new
Parker's future will be one of the first major roster issues that Horst will have to address in his first year as GM. He took over in the spring after Hammond went to Orlando. The Bucks hope to close out their last season at the Bradley Center with another playoff appearance, with a new arena next door scheduled to open in 2018.
Be the first to know
Get local news delivered to your inbox!