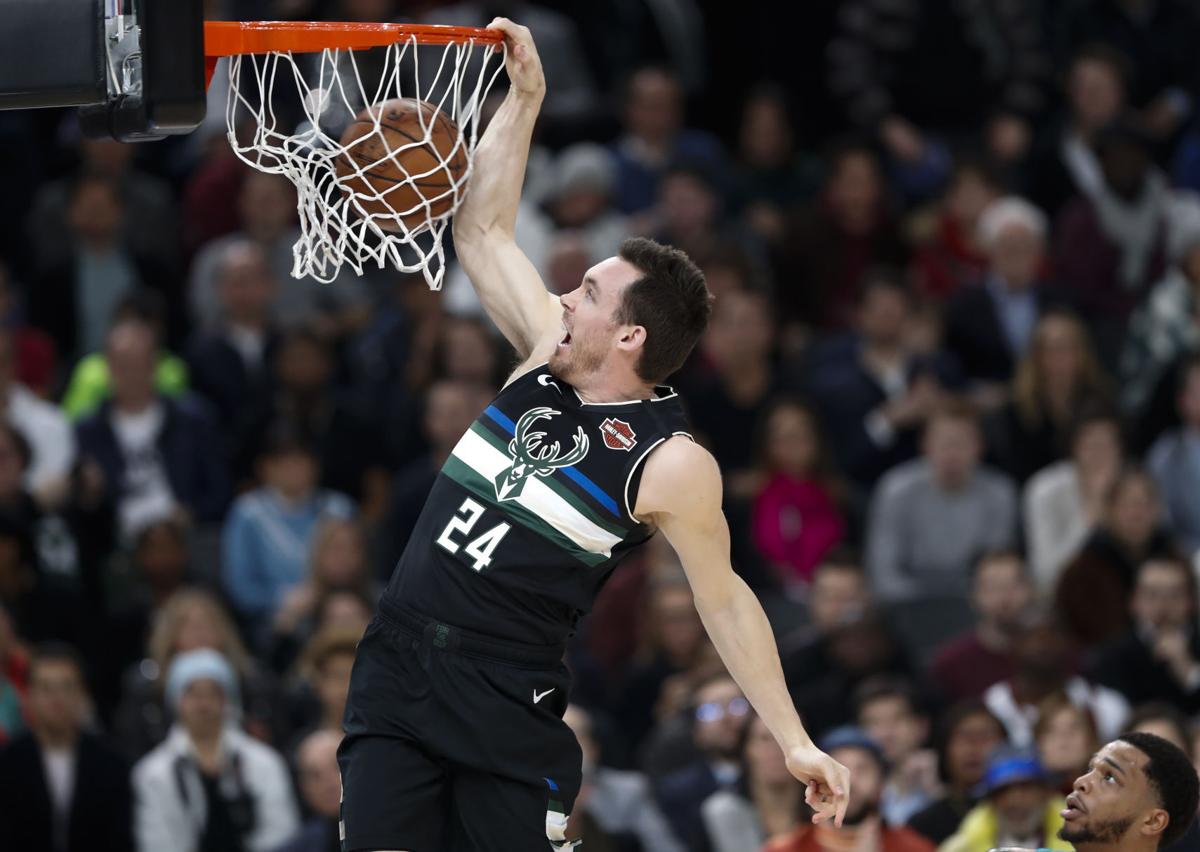 MILWAUKEE — Pat Connaughton won't be with the Milwaukee Bucks when they face the San Antonio Spurs in a scrimmage Thursday afternoon.
The reserve guard announced Monday that he tested positive for COVID-19 and did not travel with his teammates to Walt Disney World, where the NBA is attempting to restart its season.
Connaughton made the announcement in a statement to the Milwaukee Journal Sentinel.
"I am healthy and I feel great and I am excited to join my teammates in Orlando once I meet all the NBA protocols," Connaughton told the newspaper.
He's the second member of the Bucks to have tested positive for COVID-19. Point guard Eric Bledsoe also is not with the team after a positive test.
All 14 remaining members of the Bucks' official roster traveled to Orlando and are practicing, but the absence of Bledsoe and Connaughton is felt by their teammates.
"We can't wait to have both of those guys here," Khris Middleton said. "We do miss them."
Losing Bledsoe and Connaughton leaves the Bucks thin in the backcourt. Coach Mike Budenholzer was confident that the versatility of his available players can pick up the slack.
"We've felt a little heavy on bigs without those two guys, but luckily our bigs are very unique," Budenholzer said. "They can do a lot of things and we can play with a lot of different combinations."
Budenholzer plans to play forward Giannis Antetokounmpo in the Bucks' first scrimmage. Whether or not the reigning NBA MVP sees action in the remaining two scrimmages is still being determined.
"We haven't made a final decision," Budenholzer said. "We've been happy with Giannis in the scrimmages we've been doing. If things continue to go well, I'm sure there will be one he plays significantly less or maybe even not al all."
Thursday's scrimmage marks the first time the Bucks will have faced another opponent since March 9, when they dropped a 109-95 decision to the Nuggets in Denver, extending their losing streak to a season-long three games and their road losing streak to four games.
The Bucks returned to the practice court two days later, looking to snap out of their funk by playing seven of their next eight games at home but shortly after that workout, the league suspended its season indefinitely.
"It's going to be a little sloppy," Middleton said. "The sooner we shake the rust off and get into a nice rhythm of playing good basketball, the better off we'll be. We need to be mentally focused, mentally ready and treat it like a real game."
The scrimmages will also give the Bucks a chance to experience what it will be like to play in a nearly-empty arena.
"Hopefully all of the day-to-day routines that we put a lot of time and effort into will carry over into an environment that's a little different from what our players are used to."
After facing the Spurs Thursday, the Bucks will also scrimmage the Sacramento Kings on Saturday morning and the New Orleans Pelicans on July 27 before opening the seeding-round portion of their schedule against the Boston Celtics on July 31.
Concerned about COVID-19?
Sign up now to get the most recent coronavirus headlines and other important local and national news sent to your email inbox daily.