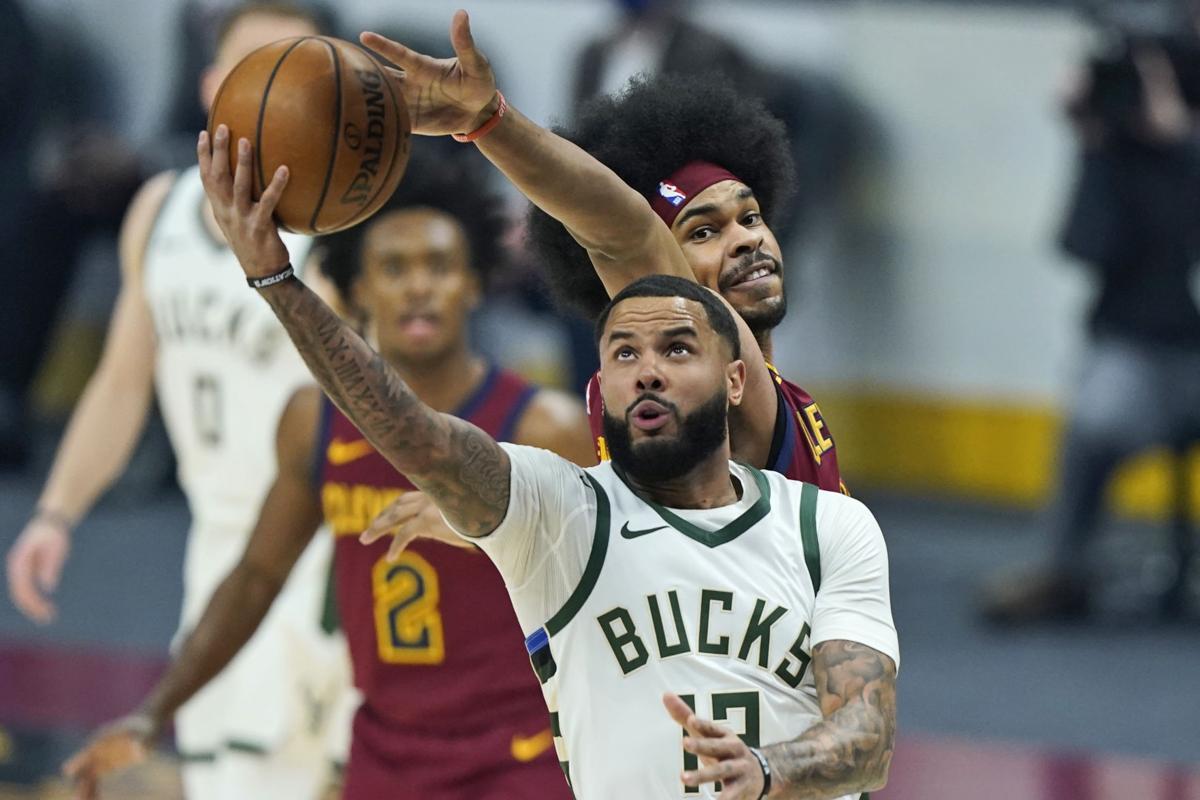 MILWAUKEE — When guard Jrue Holiday was sidelined nearly two weeks ago, Milwaukee Bucks coach Mike Budenholzer moved Bryn Forbes into the starting lineup instead of D.J. Augustin. 
The decision, Budenholzer said, was because of Augustin's success with the second unit as well as the ball-handling abilities of Milwaukee's other starters, notably Giannis Antetokounmpo and Khris Middleton.
But after losing five in a row, Budenholzer altered that plan Friday night. Augustin was inserted into the starting lineup for the first time this season and Forbes moved back to the bench.
"I think (Augustin) helps get us organized," Budenholzer said after the 98-85 victory over the OKlahoma City Thunder at Fiserv Forum. "It allowed Donte (DiVincenzo) to get off the ball a little bit and be kind of the combo guard; he can play off the ball then come back in and play on the ball. He really helped us tonight and we're going to need him going forward."
Budenholzer also tweaked his substitutions, giving Thanasis Antetokounmpo regular minutes alongside Pat Connaughton, Forbes and Bobby Portis.
Offensively, the Bucks got off to a slow start with their new combinations. Milwaukee was held to 16 points on 30% shooting in the opening quarter, with just one 3-pointer in nine attempts ,and got zero points from the bench. On the defensive end, Augustin's presence helped hold Oklahoma City to 20 points.
The overall result was a defensive effort that more closely resembled seasons past. Center Brook Lopez controlled the paint, where Oklahoma City scored 30 points on 15-for-32 shooting, and the Bucks did a much better job on the perimeter as the Thunder shot 30% from behind the 3-point line and just 36.5% overall.
Augustin finished with 11 points and five assists in 32 minutes. Forbes, who averaged 12.2 points during his six starts in place of Holiday, had 10 points, including a pair of 3-pointers, while playing 18 minutes.
Giannis Antetokounmpo, who was two assists shy of a triple-double, was happy with the adjustments.
"I think that was a good game plan by coach, putting D.J. with (the starters), having an extra playmaker out there, that create plays, make plays, take a little bit of pressure off me and Khris," Antetokounmpo said. "Having Bryn come with the second unit, bringing that scoring, that energy. Thanasis coming off the bench, bringing that energy.
"It was a good game plan by coach 'Bud.'"
Holiday watch
Sunday is the first day Holiday is eligible to return from the NBA's health and safety protocols, though the team has not said whether that will happen.
He was listed as active prior to Friday night's game, leading to speculation a return was imminent, but Budenholzer said that classification had more to do with roster mechanics than anything else.
"It didn't mean anything more than getting to 13 (active players on the roster)," Budenholzer said.
Reserve guard Jaylen Adams was placed in the protocol prior to Friday's game.
He was replaced on the roster by Sam Merrill, who was recalled from Memphis of the G-League.
What's next
Milwaukee's lengthy homestand continues Sunday night against the Sacramento Kings (12-16).
The game marks a homecoming for rookie guard Tyrese Haliburton, who led Oshkosh North to its first WIAA state championship in 2018. After playing two seasons at Iowa State, he was selected by the Kings with the No. 12 overall pick in last year's draft.
In 26 games for Sacramento, Haliburton is averaging 12.2 points on 49.8% shooting, including 44.1% on 3-point attempts. He's also averaging 3.5 rebounds, 5.2 assists and 1.2 steals to put him in the conversation for Rookie of the Year honors.
"Ty has that 'it' factor," Kings forward Harrison Barnes said. "It's impressive at his age the poise he plays with and how he makes his teammates better. He's going to be special in this league for a long time on and off the floor."
Like the Bucks, the Kings have struggled to play with consistency. They opened the season 5-10, then won seven of their next eight before dropping five in a row heading into a Saturday night matchup against the Bulls in Chicago.
"A lot of times it could just be minor things," Kings point guard De'Andre Fox said. "Our attention to detail has to be sharper. Those little things can stack up. When we were playing well, our attention was great, and that's what we have to get back to."
Fox leads Sacramento with 22.8 points per game and is one of six Kings averaging double digits in scoring.
The Bucks have won eight in a row against Sacramento, including a 123-111 victory in the teams' most recent meeting on Feb. 10 last year in Milwaukee.
---
Social media buzzing after Giannis Antetokounmpo announces 5-year extension with Milwaukee Bucks