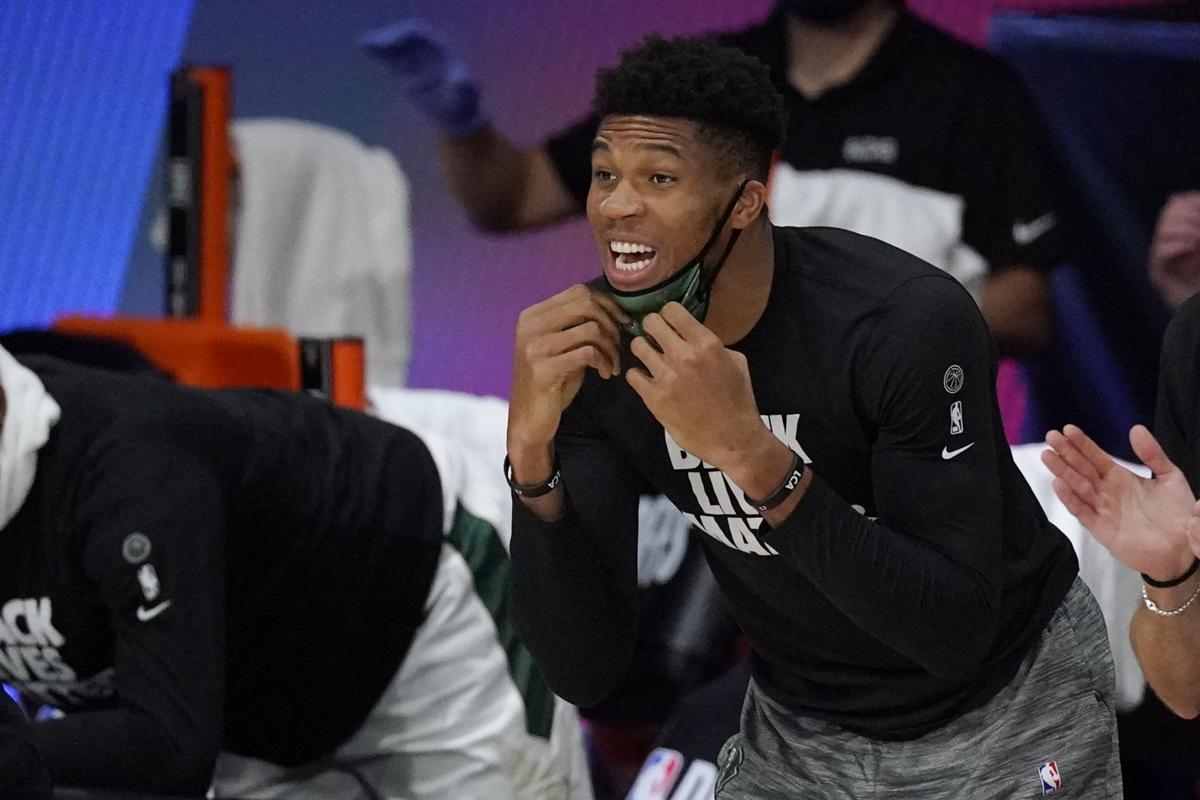 MILWAUKEE — As the final seconds ticked off the clock in the shocking end to the Milwaukee Bucks' season, focus immediately shifted ahead and, specifically, to Giannis Antetokounmpo's future with the franchise.
Antetokounmpo, a favorite to repeat as the NBA's Most Valuable Player, becomes eligible for a supermax extension when the offseason begins and has one season remaining on the four-year, $100 million deal he signed in 2016.
The Bucks are all but certain to offer him such a deal, believed to be worth approximately $220 million over five years, but whether Antetokounmpo will accept an extension is unknown and the subject of much speculation.
So far, Antetokounmpo has said nothing to suggest he's looking for an exit. He's repeatedly expressed a desire to remain in Milwaukee, which selected him with the 15th pick in the 2013 NBA Draft, and offered a similar assurance immediately after Game 5.
"It's not happening. That's not happening," Antetokounmpo said in response to a question asking if he would request a trade. "Some see a wall and go in (another direction). I plow through it. We just have to get better as a team, individually and get right back at it next season."
That topic will undoubtedly define both the Bucks' immediate and long-term futures and while the window for negotiating a deal is small, it's a topic the Bucks will deal with another day.
For now, after their season-ending 103-94 loss to Miami in Game 5 of the Eastern Conference semifinals Tuesday, the Bucks are left to wonder what went wrong and why they're headed home.
Antetokounmpo, who missed the final game with a sprained ankle, was as confused as anyone by the Bucks' stunning collapse.
"If I had the answer I would have told my team, figured out myself and made our team look the way we looked (during the regular season)," Antetokounmpo said. "At the end of the day, we tried to be ourselves. There was moments that we looked like ourselves and I think individually and as a team we weren't able to sustain it."
Antetokounmpo and the Bucks looked unstoppable during the regular season and, despite a three-game losing streak, held a league-leading 53-12 record when the league suspended operations on March 11 because of the coronavirus pandemic.
The ensuing four-month layoff was supposed to provide an opportunity for the Bucks to rest and recover for a championship run when the season resumed. When that happened in late July, though, the Bucks looked nothing like their dominant selves while going 3-5 in their seeding-round games, though they still clinched the top overall playoff seed with relative ease.
It looked like Milwaukee hit rock-bottom when Orlando opened the teams' first-round series with a 122-110 victory. The Bucks bounced back, winning the series in five games, but they looked out of sorts from the opening tip against Miami.
Antetokounmpo suggested the Bucks' bubble failure can be a learning experience moving forward, just as the team learned from its collapse after taking a 2-0 lead against the Toronto Raptors in last year's Eastern Conference finals.
"Nobody's going to be happy for the outcome that we had in our playoff run," Antetokounmpo said. "At the end of the day, you got to learn from everything that goes on in your life and in your career. Hopefully, we can learn from this and get better as a team and come back and hopefully we can build a culture in Milwaukee for many years that we can come out here and compete every single year for a championship."