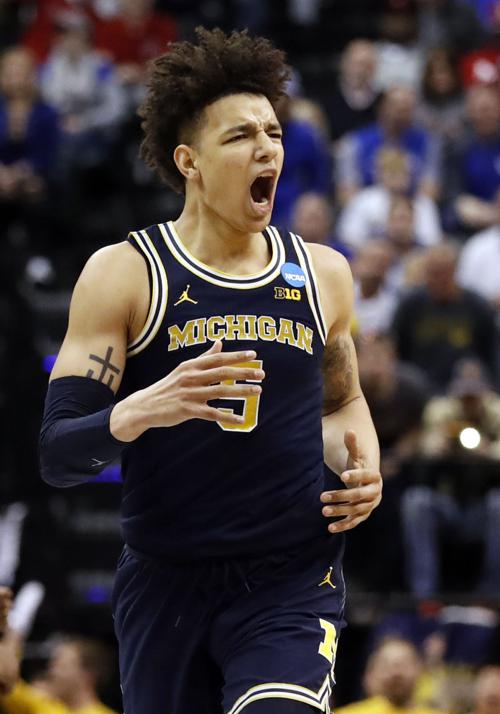 MILWAUKEE — D.J. Wilson was a bit of a surprise pick when the Milwaukee Bucks selected him 17th last week in the NBA draft, but for those following the team closely the past few seasons, it's not hard to see why team brass thought the University of Michigan product would be a perfect fit to their roster.
"We've talked a lot in the last few days about position-less basketball," general manager Jon Horst said Monday at Wilson's introductory news conference. "I think part of the reason we drafted D.J. was his versatility. He's a young man who can play two positions today, and I think at some point he could play three positions.
"He has tremendous length, tremendous athleticism and a skill set that's going to allow him to get on the floor right now with his ability to shoot the ball. So all of those things amongst others, you know, his high character, his intelligence … those are the reasons."
At 6-foot-10 with a 7-foot-3 wingspan, Wilson — known for his throwback-style short shorts — fits right in with Giannis Antetokounmpo, Thon Maker and John Henson; tall, slender front court players with length.
He can finish at the rim and he can step out and shoot the 3-ball. He can deftly block and deflect shots, or fall back to the perimeter and get hands in the faces of opposing shooters.
Like many on Milwaukee's collection of young, growing talent, Wilson has the potential to be a versatile player with the ability to do a little bit of everything.
Now, the question is, can he do enough to move the Bucks forward in their quest to become a bigger player in the Eastern Conference?
"My versatility, with my height and my size, on both ends of the floor," Wilson said. "Being able to guard multiple positions, being able to shoot the ball and stretch the floor like I can. That's something I can do right away and make an impact."
The biggest knock on Wilson has been his ability to control the paint.
He pulled down 5.3 boards per game last season, leading the Wolverines but ranked just 24th in the Big Ten. He attempted only 1.6 free throw attempts per 40 minutes, leading some draft observers to believe Wilson tends to avoid contact.
Coach Jason Kidd acknowledged the shortcomings, but was confident he could improve as a pro.
"He fits; we don't rebound the ball," Kidd said with a deft smile on draft night. "I'm just joking. He has the ability to improve. D.J. and the rest of the team. The things that he brings — blocking shots, being able to be 6-foot-10, use your length — that's our DNA.
"Hopefully he can do those things that we see. He's going to work extremely hard, but again, when you talk about today's NBA, there is no position. You look at the finals, there is no center. So, that's what we're trying to build here."
Injuries, too, have been a problem for Wilson.
He battled stress fractures in his back while in high school then suffered a knee injury that forced him to redshirt his freshman season at Michigan. He struggled through his second season, averaging just six minutes a game, then came on strong down the stretch last season as the Wolverines stormed through the Big Ten tournament and advanced to the Sweet 16 in the NCAA tournament.
"He's been on our radar the entire year," Horst said. "He was on our target list going into this year.
"We think he fits exactly. We're trying to build a team that shrinks the floor defensively, that can do things around the rim offensively and is built around length and skill and talent. We're very excited."