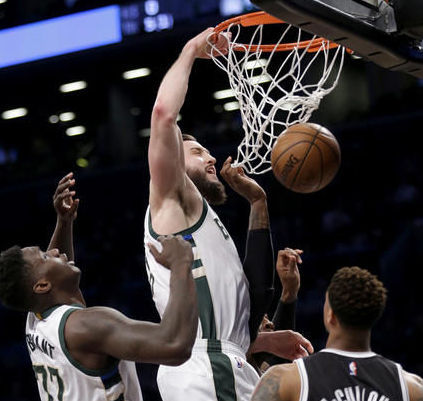 MILWAUKEE — Restricted free agent center Miles Plumlee is returning to the Milwaukee Bucks on what agent Mark Bartelstein said Monday is a four-year deal worth $52 million.
The 6-foot-11 Plumlee averaged 5.1 points and 3.8 rebounds in 61 games in 2015-16, his fourth season in the league and first full year in Milwaukee.
Plumlee received more playing time in the second half, giving the team an athletic spark off the bench . He started 14 games.
The return of Plumlee gives the Bucks three big men to rotate in the paint, including Greg Monroe and defensive-minded John Henson.
Bartelstein said that Plumlee was "tremendously appreciative" of the efforts of general manager John Hammond, assistant general manager Justin Zanik and coach Jason Kidd to bring the deal to fruition.
You have free articles remaining.
"We think from a fit standpoint, it will be seamless. It's a fit to where he finished out the season last year," Bartelstein said.
Plumlee's offseason workouts have been focused in part on endurance and refining his offensive game, including a left-handed jump hook.
Plumlee, 27, will be entering his fifth season in the NBA after playing four years at Duke. He was drafted by the Indiana Pacers with the 26th pick in the 2012 NBA Draft, but was traded to Phoenix a year later. 
The Bucks acquired Plumlee on Feb. 19, 2015, as part of a three-team trade with Philadelphia and Phoenix. The Bucks received Plumlee, Tyler Ennis and Michael Carter-Williams in the deal. 
---
Ross Jacobson of the State Journal contributed to this report.