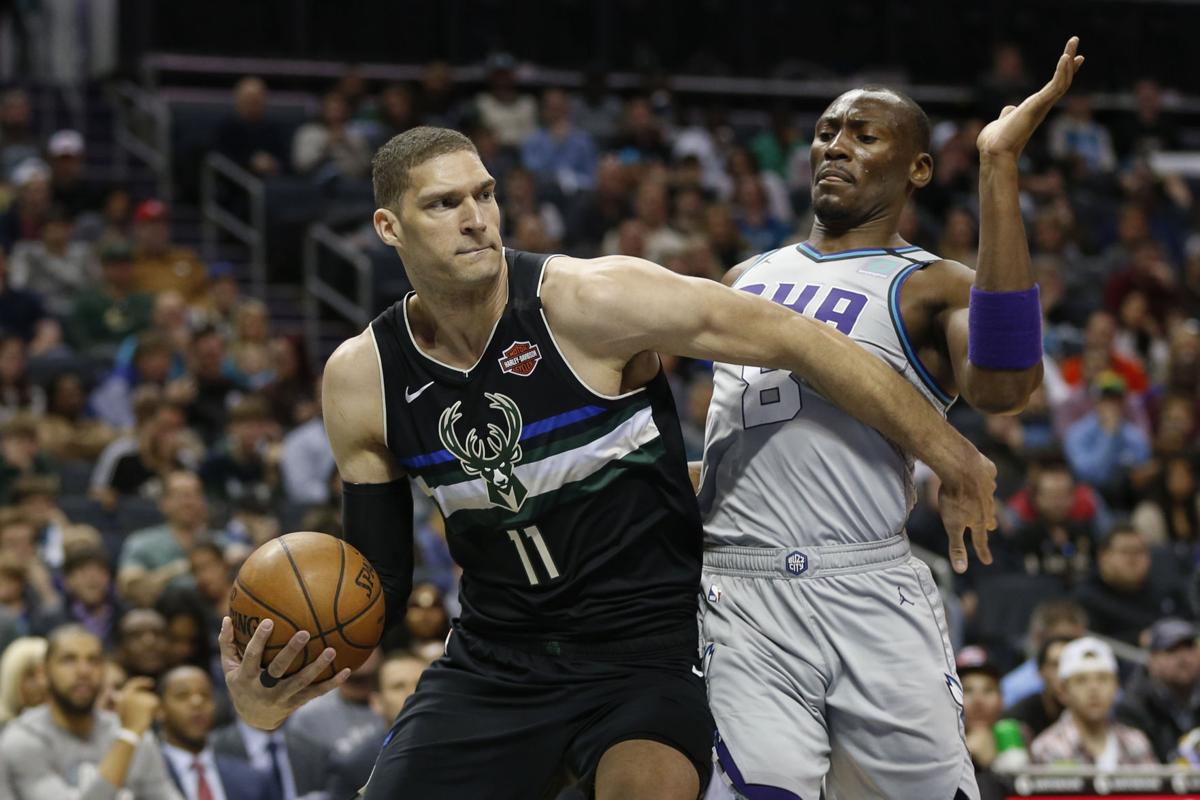 Brook Lopez is widely regarded for his fandom and knowledge of all things Disney.
Which makes it no surprise that Milwaukee Bucks coach Mike Budenholzer turned to Lopez, along with his twin brother and teammate Robin, for suggestions on where to eat and what to do when the Bucks entered the NBA's "bubble" at Disney World in Orlando, Florida.
"I took it pretty seriously," Brook Lopez said Wednesday during a video conference with reporters. "Coach Bud takes great pride in being a big foodie and a big wine guy. He loves to go out to eat, to break bread with his staff and his players.
"It's a huge responsibility but I looked at it like going out to make Bud proud when I'm on the court. I tried to do the same thing with this list. It was a little tough for me to keep it curated and tight enough for him."
Breaking bread has long been a part of Budenholzer's philosophy as a coach. While coaching the Atlanta Hawks, he encouraged the players to share meals after road games, a way for them to spend time together and be influenced by teammates as well as influencing teammates.
He introduced himself to Giannis Antetokounmpo and Khris Middleton in a similar manner, meeting the Bucks' leading duo for breakfast while he was still in the interview process for Milwaukee's then-vacant coaching position. During the meal, he got to know each player and they in turn learned about the man who was hired to lead them not long after.
It's a process that has helped Budenholzer shape the Bucks into the Antetokounmpo-led juggernaut they've become but more specifically, it's helped foster the kind of chemistry and unity that makes such success possible.
Never has that been more important than right now, as the Bucks and 21 other teams involved in the NBA's restart are sequestered together in an attempt to finish the season and crown a champion.
"The camaraderie on this team is so great," Lopez said. "It's not something that has to be said or forced because guys just want to be around each other and that's the way it is. Everyone is friends with everyone else; there's no lying, there's no pretense about anything. That's just the way it is."
With Lopez often serving as a combination travel agent, activities consultant, entertainment director and concierge, the Bucks have found ways to keep themselves occupied when not on the court. During a day off Tuesday, Lopez was part of a group of players who played a round on one of resort's golf courses.
"There's a bunch of different activities that we can do to get outside, get in the sun and get our bodies away from the court a little bit," Bucks guard Donte DiVincenzo said. "But we still had the option to get some work in if we wanted to."
That the Bucks took part in those activities with each other and not with members of other teams speaks to their chemistry. And while it seems contradictory for a team that includes one of the most dominant players in the game as well as one of the most popular athletes in the world, the team has kept a low-profile since arriving in Orlando.
"Even outside the bubble, that's just the way we are," Lopez said. "We're just up for the challenge. We're out here to compete. We're here for one goal. When we get on the court, we have the right mindset. We're ready to work. We're focused and know what we want to do.
"Honestly, I think we have the right balance with everything. We're taking time to relax, take care of ourselves, enjoy each other's company and do things the right way so we don't go stir-crazy when we're here two or three months down the line."
And in the meantime, the Bucks have Lopez to count on for dinner plans.
"It's an ongoing process," Lopez said. "And it's something I'm excited about, it's something coach Bud is excited about and it's something the team is really excited about because we all relish the moments to go out and break bread together."