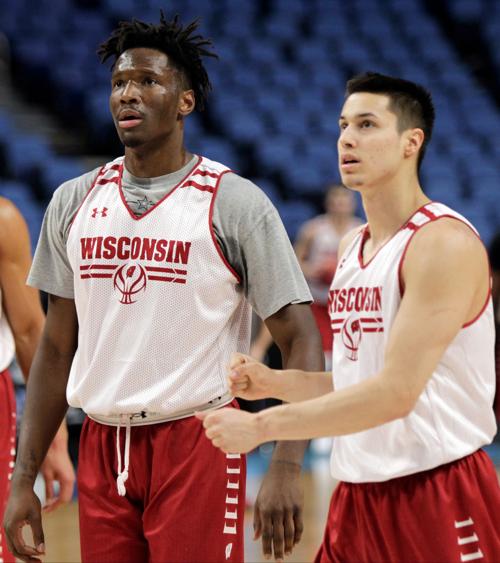 Nigel Hayes and Bronson Koenig are both optimistic and realistic heading into the NBA draft.
The former University of Wisconsin men's basketball teammates will be watching the event unfold tonight on ESPN, Koenig at a gathering hosted by his agent in Chicago and Hayes with a group of family and friends in his hometown of Toledo, Ohio.
While they hope to be among the 60 players selected, both Hayes and Koenig are taking a pragmatic approach to the draft.
"I think it's going to happen," said Hayes, who had workouts with nine NBA teams. "I've worked out well, especially with the teams that were the most interested in me. But it's not something I'm hung up on."
Ditto for Koenig, who returned to Madison on Wednesday following a workout with the NBA champion Golden State Warriors a day earlier in Oakland.
"Everything happens for a reason," Koenig said. "If it's meant to be, it'll be."
If mock drafts are to be believed, neither Hayes nor Koenig will hear his name called. Hayes appeared late in the second round of a mock draft from CBSSports.com's Gary Parrish this week, but most have Hayes going undrafted.
Koenig's name hasn't been mentioned in mock drafts, though NBADraft.net has him ranked ahead of Hayes in its list of the top 100 prospects. Koenig is at No. 76, nine spots above Hayes.
Still, Hayes and Koenig are encouraged based on what they've been hearing from NBA personnel during the draft process.
Hayes' primary mission heading into workouts was to prove he can be a consistent shooter from the outside. That was something he struggled with during his final two seasons with the Badgers, shooting 29.3 percent from 3-point range as a junior and 31.4 percent as a senior.
But Hayes believes he's made improvements after working with Mike Penberthy, who has developed a reputation in NBA circles as a shot doctor, in California over the past two months.
"I think the teams that were interested the most, I've performed well at those workouts," Hayes said. "I showed improvements in the things that they wanted to see.
"I think I've put my best foot forward. Now it's just wait to see what happens. Things always work out in the end, so that's kind of why I don't have any worries, concerns, anxiety, anything like that."
When UW's season ended in late March with an overtime loss to Florida in the Sweet 16, Koenig set out to prove to front-office types he was athletic enough to play in the NBA.
"I knew my name wasn't in the mock drafts after the season," Koenig said. "My original plan was to really wow people in the workouts and show them what I can do."
But injuries have prevented Koenig from doing that for the most part. He sprained his left ankle during the Portsmouth Invitational in April, then injured his right ankle during a workout with the Milwaukee Bucks in mid-May.
Earlier this month, Koenig sustained a calf injury during a workout with the Houston Rockets that forced him to cancel a workout with the Los Angeles Lakers.
"It's been a pretty unfortunate go of events with my injuries," Koenig said. "The timing of everything has been the worst part. It's just been a roller coaster of adversity. But it's basketball.
"I've shown a good amount of what I wanted to show, not quite everything, but hopefully enough. And I've heard teams really like me. Whether I go drafted or not, I'm going to have opportunities and that's all I've ever needed. I'm sure when I get that opportunity, I'll run with it."
The same can be said for Hayes. Even if they're not drafted, Hayes and Koenig will land on NBA Summer League rosters and could parlay good performances in either Las Vegas or Orlando into a training camp invitation.
"Keep working hard," Hayes said of his mindset, regardless of what happens in the draft. "That's all you can do really. Whether you're the first pick or the 60th pick or anywhere in between, the guys that work the hardest and are the most dedicated end up being the most successful."