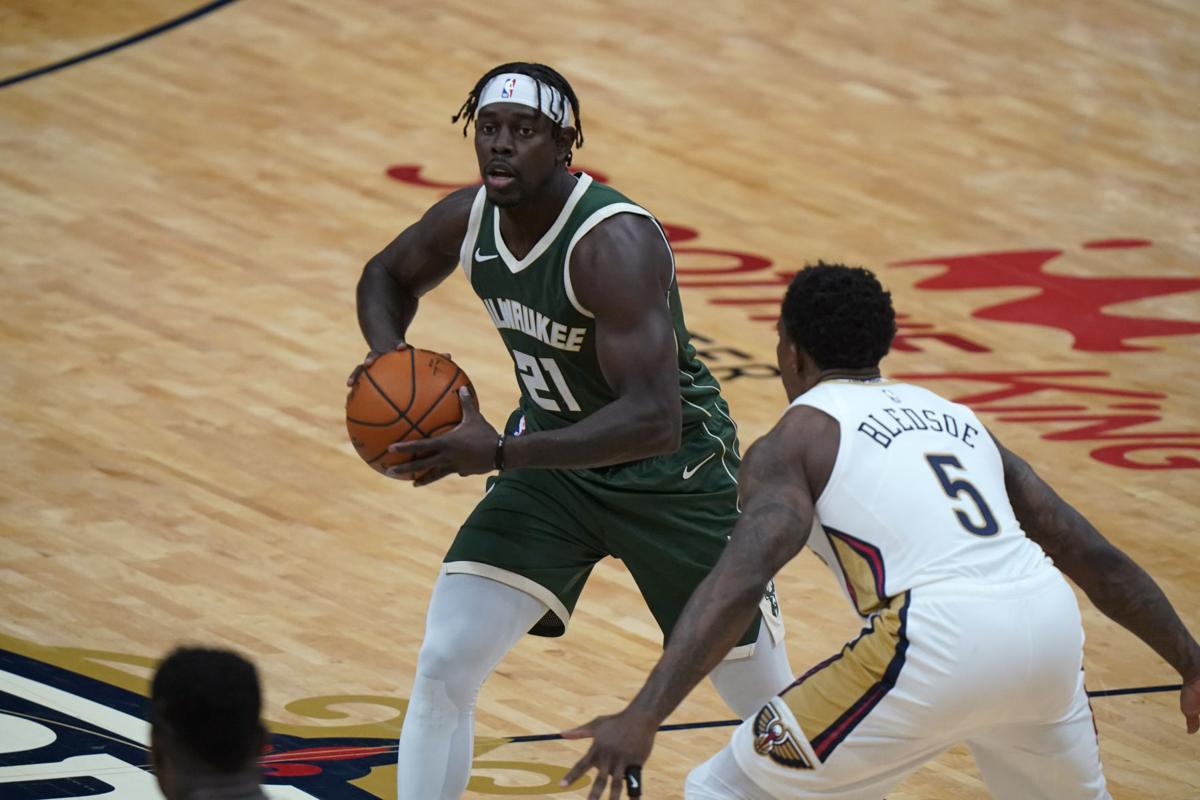 MILWAUKEE — The preseason wasn't exactly pretty for the Milwaukee Bucks, who capped off a winless slate with a 127-113 loss to the Pelicans on Friday night in New Orleans.
The results, which included a pair of losses to the Dallas Mavericks, shouldn't be surprising. With eight new players in the mix, getting everyone on the same page in terms of offensive and defensive schemes, individual tendencies and just general chemistry was going to be a challenge during a short training camp, even more so without the usual month of pick-up games and unofficial group workouts that usually take place in the lead-up to camp.
"It's taking our whole group a little bit of time to figure each other out," Bucks coach Mike Budenholzer said. "I think their conditioning is not bad, think it's just the familiarity, the touch. Whether it's their own individual game or more as a team, we still just need a lot more reps of five on five, but we're no different from any other teams. We're looking forward to having a couple good days of practice and then starting the regular season.
"Even though you're maybe not where you want to be, it's time to start competing, start getting after it, start getting better defensively and pushing yourself."
Even in a normal season it's hard to put stock in the results of preseason games, but aside from the final scores, what did this year's preseason reveal?
Learning curve
Budenholzer knew that it would take time for Jrue Holiday to find a groove with his new teammates with so little on-court time following his trade from New Orleans to Milwaukee, so he wasn't overly concerned with Holiday's four turnovers against the Pelicans.
How Holiday responded to those miscues, going to his teammates during timeouts or breaks in the action to discuss what went wrong, left Budenholzer impressed and optimistic the growing pains won't last too long.
"There are a couple situations where he's talking with Bobby (Portis), he's talking with Khris (Middleton) and that's what it takes," Budenholzer said. "They're going to communicate and figure it out, but I thought we saw some good stuff from Jrue. I love his leadership, I love his voice. He's got a presence to him, and that's why I think it will help his teammates and will help all of us figure it out faster because he's got that presence."
Holiday averaged 10.0 points on 42.3% shooting with 5.0 assists during the three contests.
DiVincenzo's development
Holiday's backcourt mate, Donte DiVincenzo, is still adjusting, too.
Following Milwaukee's offseason roster shuffle and the botched attempt to land Bogdan Bogdanovic from the Kings, the former first-round pick is expected to take a starting role this season.
DiVincenzo performed well in the three preseason games. He averaged 8 points on 41.7% shooting and grabbed 6 rebounds while playing 21.3 minutes, but he's learning to operate alongside and with Holiday, Giannis Antetokounmpo, Middleton and Brook Lopez after spending his first two seasons with the bench.
"The longer he plays with them, the more comfortable he's going to get," Budenholzer said Friday. "I think the second Dallas game and tonight, he's been playing well and has made some progress, which is important."
The kid's got game
The Bucks knew that Sam Merrill was a good shooter when they selected him with the 60th and final pick in this year's draft. He flashed that ability during limited preseason action and finished with seven points Friday night, knocking down two 3-pointers and a technical free throw in 14 minutes on the floor.
What stood out to Budenholzer, though, was Merrill's contributions on the defensive end, especially against some tough screens and the pick-and-roll.
"He had some tough covers on the defensive end. I was pleased with how he navigated screens," Budenholzer said. "There's a toughness to him, and I've really liked what he did on both ends of the court."
Merrill's ability to shoot will get him on the floor, but defense is what will earn him consistent time in Budenholzer's rotation.
Living without Giannis
After averaging 26.0 minutes in the two games against Dallas, Antetokounmpo missed Friday's game because of back soreness. Budenholzer didn't expect the situation to affect the reigning MVP's availability for the season opener Wednesday at Boston.
"It's just tight," Budenholzer said. "I think starting (training) camp and getting back in shape and all kind of the normal stuff, but I think we're very hopeful (that) it will resolve and not be an issue."
His absence provided a valuable opportunity for the Bucks to work on maintaining the same level of play without their star on the floor. Milwaukee got off to a slow start and eventually fell behind by as many as 20 points before Holiday, Middleton and DiVincenzo returned to the floor and combined for 25 points in the second quarter that helped the Bucks erase the deficit and take a four-point lead late in the quarter.
"I thought those three guys stepped up pretty big after the first quarter," Budenholzer said. "They came back in for their second stretch and played a long time and got into a good rhythm.
"Those three guys, to be able to do that without Giannis is a good sign for us."
Last season, the Bucks outscored their opponents by 15.4 points per 100 possessions with Giannis on the floor but only 2.4 points when he wasn't. They were 5-5 during the regular season when Antetokounmpo was unavailable.