John Ellenson had an interest in politics as far back as his days with the University of Wisconsin men's basketball program.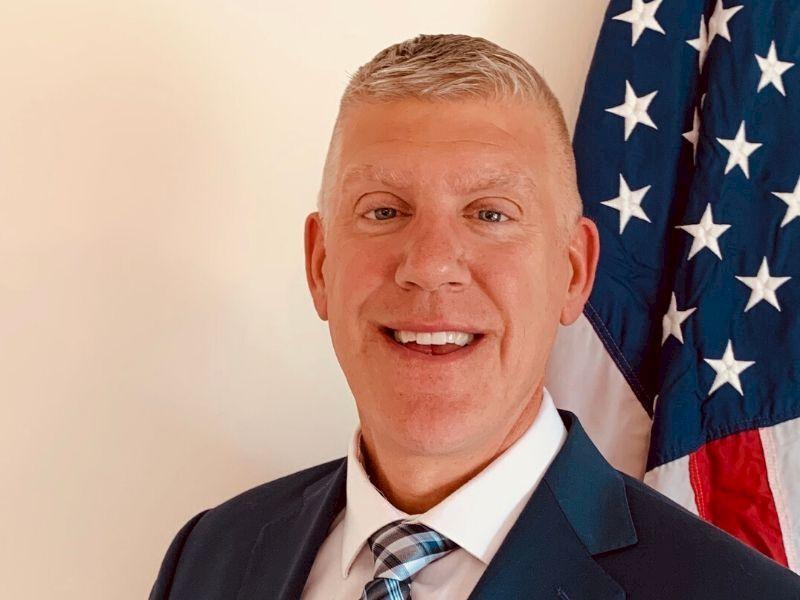 He even briefly considered a major in political science — that plan lasted less than a semester — while playing for the Badgers in the late 1980s and early 1990s.
To understand why Ellenson is running for a spot in the state Legislature all these years later, it helps to know what's happened since he decided on a different career path back then.
"You got time?" Ellenson, 51, said earlier this week. "It's a lengthy story."
Here's the Cliffs Notes version:
Ellenson was in a classroom in Bascom Hall three decades ago when an instructor was talking about how 80 percent of a child's brain is formed in the first three years following birth. "That was my aha moment," Ellenson said. "I remember looking around the room and thinking, 'Did you just hear that?' "
That lecture helped Ellenson, who also had considered becoming an art major, decide what path he wanted to take. A co-captain for the Badgers during his senior season in 1990-91, he left UW with a bachelor's degree in Child and Family Studies and later added a master's degree in school counseling from UW-Superior.
Ellenson has spent nearly two decades as a counselor, most recently in the Barron school district in northwestern Wisconsin. One of his go-two messages to elementary students involves them finishing the question: My No. 1 job is to help keep you …
"And I feel like it's harder and harder to help keep them safe," Ellenson said, "when there's so much that they have to endure.
"That's why I got into this race."
Ellenson is running as a Democrat for the District 75 Assembly seat held by Romaine Quinn, R-Barron, who isn't seeking re-election. Opposite Ellenson in the race is Republican Dave Armstrong, the executive director of the Barron County Economic Development Corporation.
Ellenson said his platform is jobs, healthcare and housing.
"I work with those families whose kids are struggling and over the years, over the last two decades, there are more and more kids who are struggling and (their guardians are) working hard," Ellenson said. "They have two and three jobs and they're working hard to make ends meet. But those ends aren't meeting."
Ellenson floated the idea of running for office years ago to his wife Holly, a physical education teacher in Rice Lake. They both agreed the timing wasn't right as they navigated the busy schedules of their four sports-minded children.
Now, the youngest of that group, daughter Ella, is the only one still in school. She's three years into her career with the Valparaiso women's basketball program.
The oldest, Wally, played basketball and competed in track and field at Minnesota and Marquette. He was set to leave for New Zealand to join a pro basketball team there when the COVID-19 pandemic hit.
Ellwood, who played basketball at Bemidji State and Valley City State, is an English teacher in Cumberland.
Henry, who played one season at Marquette before being drafted in the first round by the Detroit Pistons in 2016, played this past season with the Toronto Raptors' G-League entry and, at 23, is focused on finding his way back to the NBA.
It's no surprise that the main page of Ellenson's website — teamellenson.com — includes a family picture. Holly and the rest are in this with John.
"They're competitive," he said. "They want me to win."
Ellenson's days are filled with anything from sending out mailings to filling out questionnaires to sitting in on other candidates' Zoom meetings to learn more about the processes of running for office and fundraising.
"Being a counselor, I've always enjoyed listening to people and hearing their stories," Ellenson said. "That's actually been kind of fun for me is getting to know people and listen to their stories and hear what their needs are."
Ellenson believes his work as a counselor has prepared him for a life in politics.
"I've worked with families who have needs," he said. "Often times, I've worked in (situations) where there's confrontation. My job is to not get emotionally involved but think about it cerebrally and try to come up with solutions to problems."
It's been nearly 30 years since Ellenson wrapped up his playing career but he said he can feel his competitive juices flowing the closer he gets to Election Day in November.
"I want to win, I really do," he said. "And I want to win for families. I want to win for kids. I want to win for healthcare. I want to win to make lives better for other people. I feel like my heart is in the right place. I want to do it for the right reasons."