Who has the edge as Brewers square off with Dodgers in NLCS?
State Journal reporter Dennis Punzel breaks down the matchup between the Milwaukee Brewers and the Los Angeles Dodgers in the NLCS, which kicks off Friday night at Miller Park in Milwaukee. 
The Dodgers had the most potent offensive attack in the National League this season, leading the way in home runs (235), runs (804), total bases (2461), slugging percentage (.442), OPS (.774) and walks (647).
The Brewers ranked second in homers (218) but the only major category they topped is stolen bases (124).
Here's a look at how their lineups match up:
CATCHER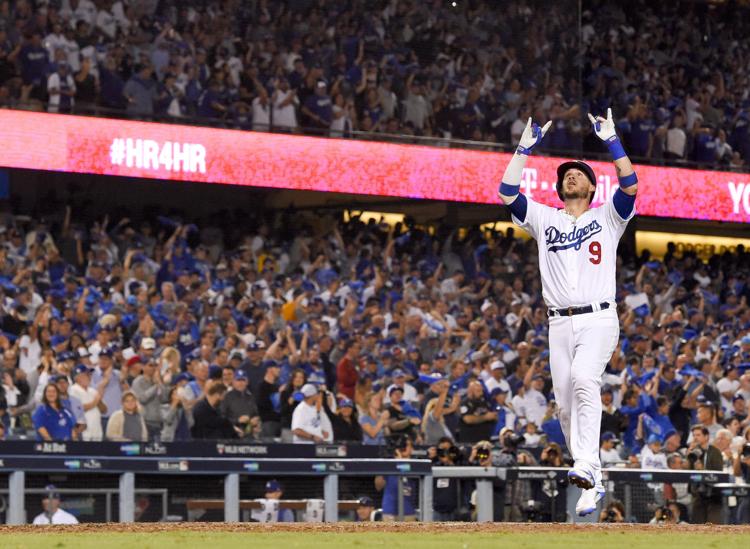 Los Angeles
Yasmani Grandal (.241/.349/.466, 24 HR, 68 RBI)
The switch-hitting Grandal led all NL catchers in home runs. But he's struggled in the postseason, hitting just .077 in the NLDS and in 59 career at-bats has hit just .085. He threw out just 27.8 percent of attempted base stealers and was second in the NL with 9 passed balls.
Milwaukee
Manny Pina (.252/.307/.395, 9 HR, 28 RBI) and Erik Kratz (.236/.280/.355, 6 HR, 23 RBI)
Pina got off to a slow start at the plate and was slowed by injuries, opening the door for Kratz to move into a job share and becoming an overnight sensation in the NLDS. Pina is among the best defensive catchers, throwing out 40.8 percent of attempted stealers and having just 2 passed balls. Kratz nailed 29.5 percent of stealers and had 4 passed balls.
EDGE | DODGERS
FIRST BASE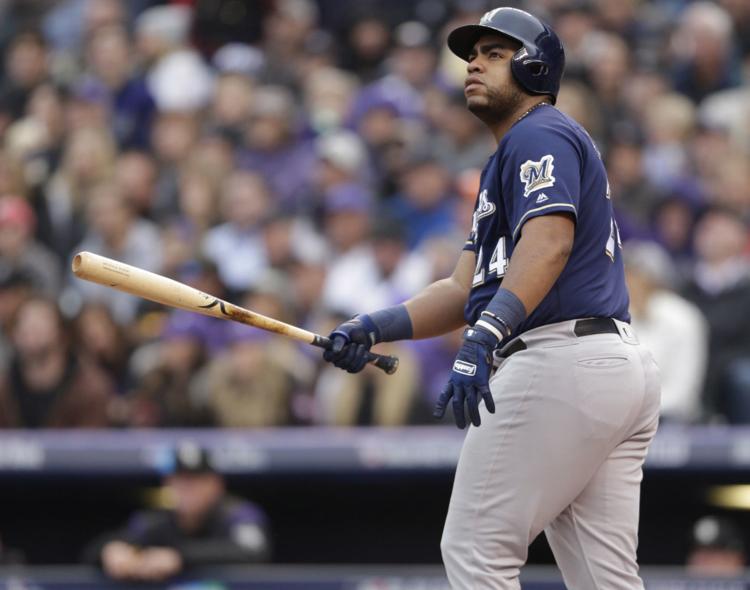 Los Angeles
Max Muncy (.263/.391/.582, 35 HR, 79 RBI)
The Dodgers signed Muncy, 28, to a minor league contract last year after he was dumped by the Oakland A's. A utility infielder, he spent the season in AAA and opened this year again at Oklahoma City. An unlikely resume for the team leader in homers, OPS (.973) and WAR (4.8).
Milwaukee
Jesus Aguilar (.274/.352/.539, 35 HR, 108 RBI)
Aguilar's rise to prominent slugger is equally improbable to Muncy's. Aguilar, 28, labored for nine seasons in the Cleveland Indians system, the last three at Class AAA Columbus before being claimed off waivers by the Brewers last season. Hit .298 with 24 homers before All-Star break; .245 with 11 homers after.
EDGE | EVEN
SECOND BASE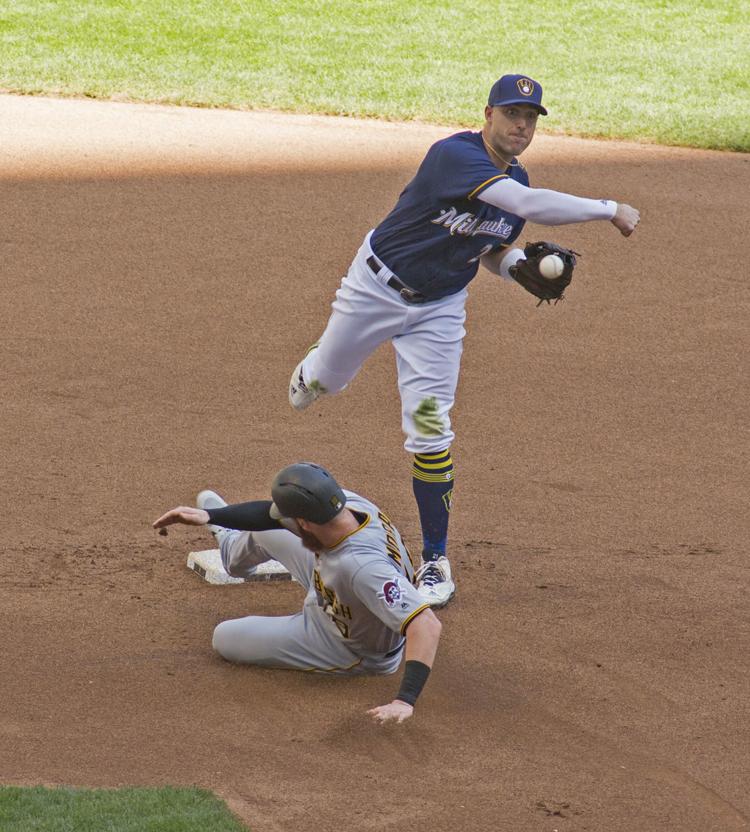 Los Angeles
Kike Hernandez (.256/.367/.470, 21 HR, 52 RBI)
A versatile utility player in the past with a reputation for killing left-handed pitching, Hernandez, 27, has taken over as the primary second baseman. He's balanced out his splits, hitting .252 with 12 homers against RHP and .260 vs. LHP. He's played every position except catcher this season, including one-third of an inning on the mound.
Milwaukee
Travis Shaw (.241/.345/.480, 32 HR, 86 RBI)
Shaw's batting average dipped 32 points this year, but his on-base percentage remained steady thanks to an increase in walks. He also showed unexpected versatility by switching to second after the acquisition of Mike Moustakas and committing just one error in 39 games at an unfamiliar position.
EDGE | BREWERS
SHORTSTOP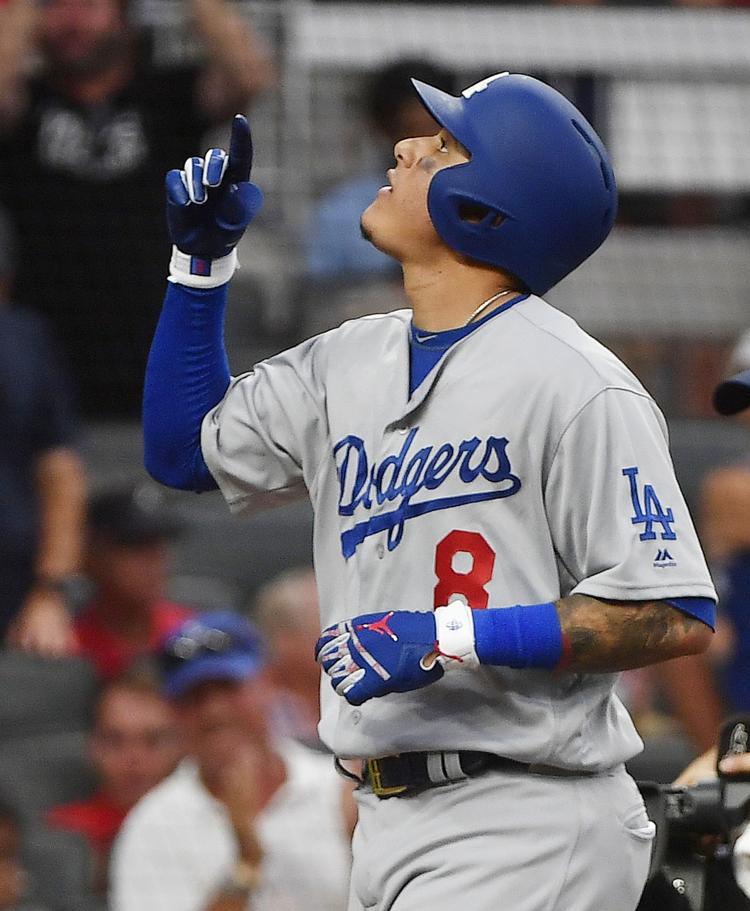 Los Angeles
Manny Machado (.297/.367/.538, 37 HR, 107 RBI)
The Dodgers outbid the Brewers, among others, to land Machado, an impending free agent, at the trade deadline from the Baltimore Orioles. His numbers slipped since the move (.273, 14 HR, 42 RBI) but he remains among the top talents in the game at 26 and is destined to sign a huge deal this winter. An elite third baseman defensively, he's an erratic shortstop.
Milwaukee
Orlando Arcia (.236/.268/.307, 3 HR, 30 RBI) and Hernan Perez (.253/.290/.386, 9 HR, 29 RBI)
Once thought to be a big part of the core of the team's building plan, Arcia had a miserable offensive season, earning him two trips to the minors. His .576 OPS is the worst of any player with his number of at-bats (348). That opened the door for several other shortstop options, with utilityman Perez sharing the spot down the stretch.
EDGE | DODGERS
THIRD BASE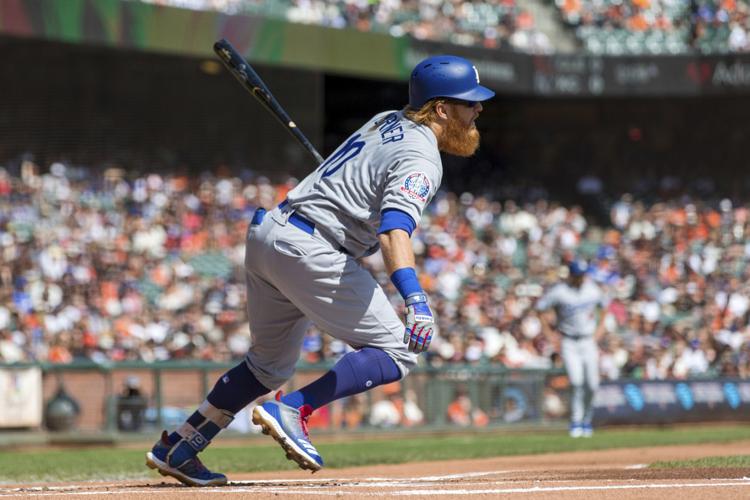 Los Angeles
Justin Turner (.312/.406/.518, 14 HR, 52 RBI)
Turner, 33, missed the first 40 games with a broken wrist – one of the big reasons the Dodgers got off to a 16-24 start. A utility player early in his career, he's emerged as one of the most consistent hitters with a knack for coming through in the clutch, as indicated by his .328 career postseason average.
Milwaukee
Mike Moustakas (.251/.315/.459, 28 HR, 95 RBI)
After coming up short in their bid for Machado, the Brewers traded for Moustakas, 30, valuing his championship resume along with his LH power bat. He's performed as anticipated and came through with two big run-scoring hits in the first two games of the NLDS.
EDGE | DODGERS
RIGHT FIELD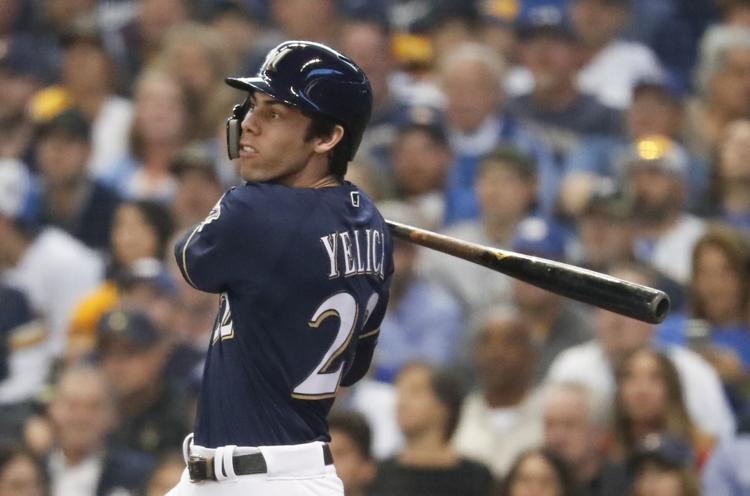 Los Angeles
Yasiel Puig (.267/.327/.494, 23 HR, 63 RBI) and Matt Kemp (.290/.338/.481, 21 HR, 85 RBI)
Two long-time regulars have been sharing this spot lately, with Kemp also seeing time in left field. The mercurial Puig had a hot September with 8 homers. Kemp, reacquired in an off-season mutual salary dump deal with Atlanta, has resurrected his career at age 34.
Milwaukee
Christian Yelich (.326/.402/.598, 36 HR, 110 RBI)
The presumed NL MVP led the league in batting average, slugging and OPS (1.000), was second in RBI and runs (118), third in homers and ninth in stolen bases (22). His 7.6 WAR also led the league, topping teammate Lorenzo Cain (6.9). Chicago's Javier Baez was the top non-Brewer (6.3).
EDGE | BREWERS
CENTER FIELD
Los Angeles
Cody Bellinger (.260/.343/.522, 25 HR, 76 RBI)
The reigning Rookie of the Year took a step back statistically from that spectacular debut season but demonstrated his value by shifting from first base to center to make room for Muncy in the lineup. Struggled against lefties (.226, 6 HR) after hitting .271, 12 HR as a rookie.
Milwaukee
Lorenzo Cain (.308/.395/.417, 10 HR, 38 RBI)
The biggest free agent acquisition in franchise history (5 years, $80 million), Cain made that investment look good, triggering the Brewers' offense from the leadoff spot and anchoring the defense with Gold Glove quality play. He finished fifth in batting average and fourth in stolen bases (30).
EDGE | BREWERS
LEFT FIELD
Los Angeles
Joc Pederson (.248/.321/.522, 25 HR, 56 RBI) and Chris Taylor (.254/.331/.444, 17 HR, 63 RBI)
Pederson's inability to hit lefties (.170 in just 53 at-bats this year) has rendered him strictly a platoon player, but a productive one with a history of big hits in postseason play. Taylor came out of nowhere last season after three nondescript years as a utility player with Seattle and LA. He's taken a step back this year, leading the NL in strikeouts (178).
Milwaukee
Ryan Braun (.254/.313/.469, 20 HR, 64 RBI)
His MVP days are behind him but at 34 Braun had something of a comeback season and came up big down the stretch when he felt fully healthy. Hit .281 in the second half of the season.
EDGE | BREWERS
BENCH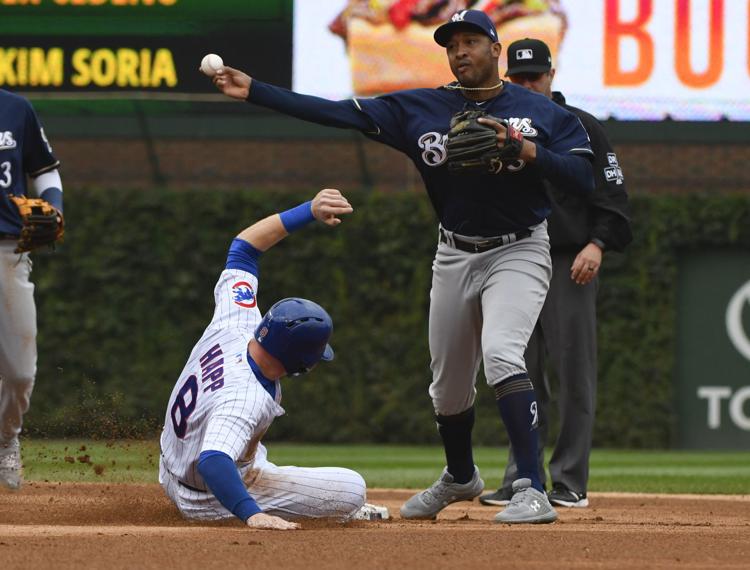 Los Angeles
Brian Dozier (.215/.305/.391, 21 HR, 72 RBI), David Freese (.296/.359/.471, 11 HR, 51 RBI)
The extra outfielders are the biggest threats each day. Dozier disappointed after being picked up from Minnesota in August, hitting just .182 for LA. Freese, a postseason hero for St. Louis in 2011, was another late season addition from Pittsburgh and has hit .385 in a limited role.
Milwaukee
Jonathan Schoop (.233/.266/.416, 21 HR, 61 RBI), Domingo Santana (.265/.328/.412, 5 HR, 20 RBI), Curtis Granderson (.242/.351/.431, 13 HR, 38 RBI), Keon Broxton (.179/.281/.410, 4 HR, 11 RBI)
Schoop struggled after coming over from Baltimore at the trade deadline (.202 in 46 games), eventually losing his second base job even against lefties. He might get a shot with Dodgers likely to start three lefties. Brewers pinch-hitters led the NL with a .246 average.
EDGE | EVEN
PITCHING MATCHUPS
The Dodgers and Brewers take different approaches with similar results on the mound. LA's staff is built around a strong starting rotation and a proven closer, while the Brewers have gone the "out-getter" route, piecing together their starters and relying heavily on a dominant bullpen.
LA led the NL in team ERA (3.38) while the Brewers ranked fourth (3.73).
STARTERS
Los Angeles
LH Clayton Kershaw (9-5, 2.73, 161.1 IP, 139 H, 155 K), RH Walker Buehler (8-5, 2.62, 137.1 IP, 95 H, 151 K), LH Hyun-Jin Ryu (7-3, 1.97, 82.1 IP, 68 H, 89 K), LH Rich Hill (11-5, 3.66, 132.2 IP, 108 H, 150 K)
Kershaw may no longer be considered the best pitcher in the world, having been slowed the past couple years by a balky back, but he demonstrated he can still be dominant with 8 shutout innings against Atlanta in the NLDS. That temporarily put to rest questions about his previous postseason performance (7-7, 4.35). Buehler is an emerging ace with a 0.96 WHIP; Ryu came back strong after missing much of the season with injury, allowing more than two runs just twice in his last nine starts and throwing 7 shutout innings against the Braves; Hill relies on a big curveball, which is tough on lefties.
Milwaukee
RH Jhoulys Chacin (15-8, 3.50, 192.2 IP, 153 H, 156 K), LH Wade Miley (5-2, 2.57, 80.2 IP, 71 H, 50 K), LH Gio Gonzalez (10-11, 4.21, 171 IP, 167 H, 148 K), RH Brandon Woodruff (3-0, 3.61, 42.1 IP, 36 H, 47 K)
It speaks to the Brewers' new-age approach that only Chacin and Miley are sure things to start in the NLCS. Chacin turned his career around last year with San Diego by throwing his slider more and has been Milwaukee's most reliable starter all season. Miley arguably was the worst pitcher in baseball last season with Baltimore, but has found success by keeping hitters off-balance. Gonzalez was inconsistent with Washington this season but was 3-0, 2.13 in five starts with the Brewers. Woodruff hadn't started for the Brewers since June 10 but got the ball to start the NLDS and responded with three hitless innings, perhaps earning another "initial out-getter" assignment. Right-handers Chase Anderson and Zach Davies were not on the NLDS roster but could factor into the NLCS.
EDGE | DODGERS
BULLPEN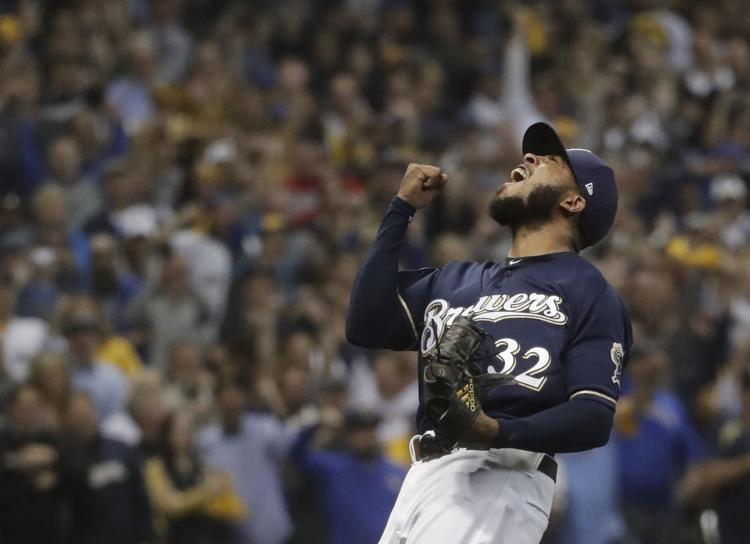 Los Angeles
RH Kenley Jansen (1-5, 3.01, 71.2 IP, 54 H, 82 K, 38 Saves), RH Ryan Madson (2-5, 5.47, 52.2 IP, 58 H, 54 K, 4 Sv), RH Pedro Baez (4-3, 2.88, 56.1 IP, 46 H, 62 K), RH Kenta Maeda (8-10, 3.81, 125.1 IP, 115 H, 153 K), LH Alex Wood (9-7, 3.68, 151.2 IP, 143 H, 135 K), LH Caleb Ferguson (7-2, 3.49, 49 IP, 43 H, 59 K)
A vulnerability much of the season, the bullpen has become a strength down the stretch with starters Maeda and Wood shifted from the rotation after Kershaw and Ryu returned to health. Jansen, among the most dominant closers in the game the past several years, got off to a slow start and missed time in August with a heart issue but finished strong with a 1.59 ERA in September.
Milwaukee
RH Jeremy Jeffress (8-1, 1.29, 76.2 IP, 49 H, 89 K, 15 Sv), RH Corey Knebel (4-3, 3.58, 55.1 IP, 38 H, 88 K, 16 Sv), RH Joakim Soria (3-4, 3.12, 60.2 IP, 53 H, 75 K, 16 Sv), RH Corbin Burnes (7-0, 2.61, 38 IP, 27 H, 35 K), LH Josh Hader (6-1, 2.43, 81.1 IP, 36 H, 143 K, 12 Sv)
It's a measure of the depth of the bullpen that three different pitchers have served as closer during the season. Jeffress took over in the second half and didn't allow a run in September, although he did surrender the staff's only two runs in the NLDS. Hader put up insane numbers, including 15.8 K/9, but showed some vulnerability down the stretch with a 5.11 ERA in September, surrendering four homers. Knebel struggled early but has been overpowering since returning from the minors, pitching 16.1 scoreless innings the last month with 33 strikeouts. Soria and Burnes also have been reliable and one of lefties who didn't make NLDS roster, Xavier Cedeno and Dan Jennings, could have role in NLCS.
EDGE | BREWERS
INTANGIBLES
The pressure is on the Dodgers, a proud historical franchise that has gone 30 years without a World Series title. Their team payroll of just under $200 million is the third highest behind Boston and San Francisco, while the Brewers rank 22nd at just under $109 million.
LA is making its third consecutive NLCS appearance and will be trying to get to the World Series for the second straight year.
The Brewers are riding a sensational 11-game winning streak in pursuit of their first ever World Series crown and just the second appearance in the franchise's modest history. Brewers have home field advantage.
EDGE | BREWERS
MANAGERS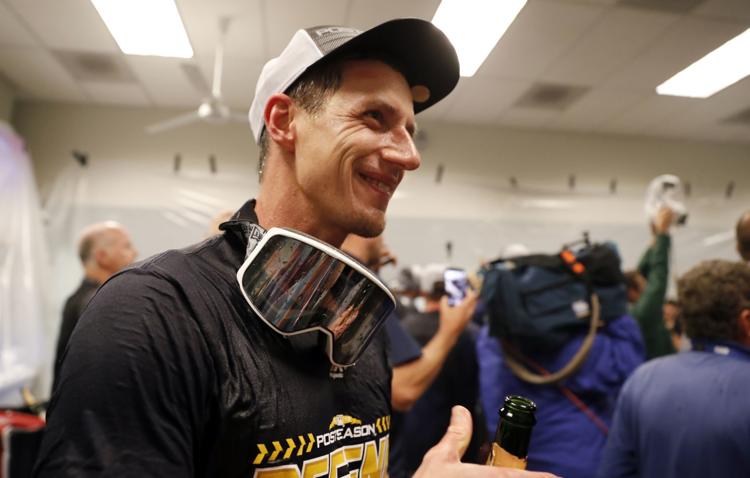 Los Angeles
Dave Roberts (287-200, .589, 3 years)
The NL Manager of the Year in 2016, Roberts has led the Dodgers to postseason play in each of his three seasons, averaging more than 95 wins per year. He helped steer a second half charge, overcoming the loss of shortstop Corey Seager for the season and Clayton Kershaw and Justin Turner for significant stretches.
Milwaukee
Craig Counsell (316-308, .506, 4 years)
Counsell figures to be in the mix for this year's managerial honors after leading the Brewers surprising run to the league's best record. He's shown he can handle young players in a building process and transition to making the moves in a pennant race, embracing the organization's analytical emphasis.
EDGE | EVEN
PREDICTION
The Dodgers have more talent and superior starting pitching, but the Brewers are on a magical run and are getting contributions throughout the roster.
If Brewers can beat Kershaw in Game 1, pressure builds on LA.
Brewers in 7 games.