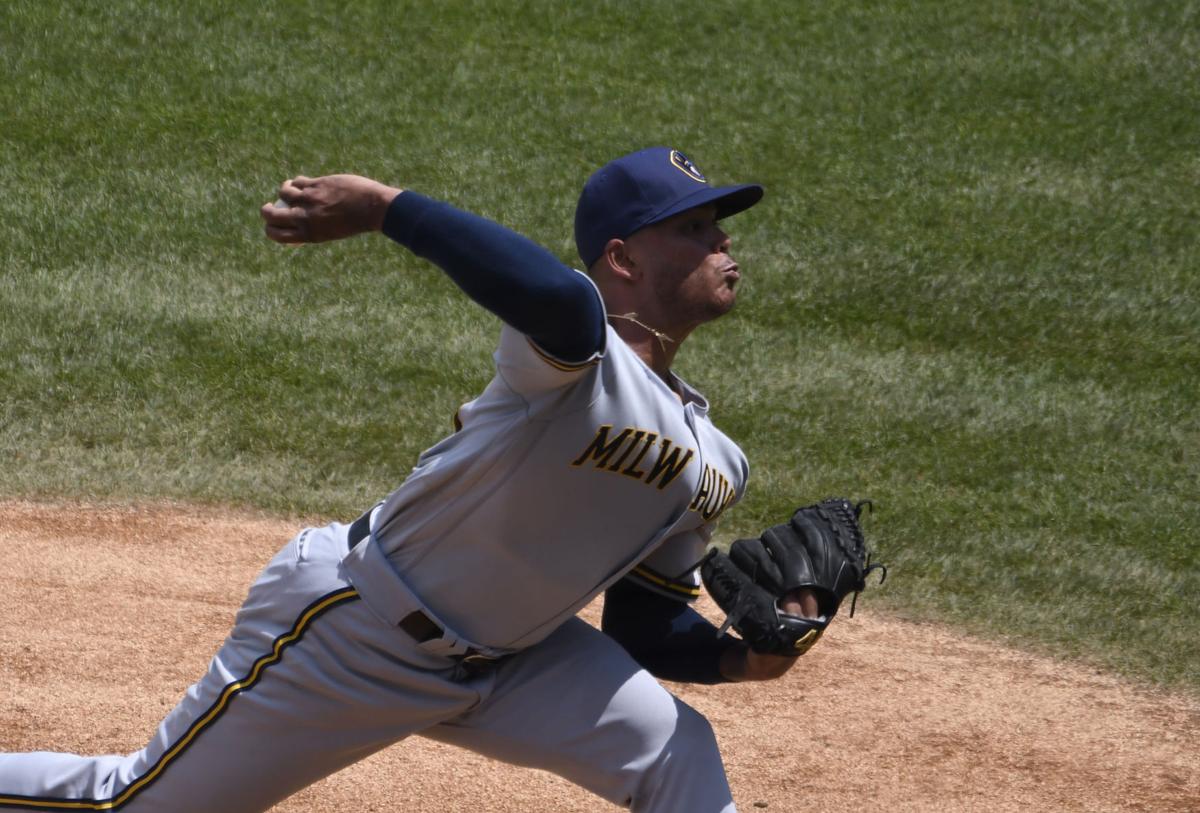 MILWAUKEE — Freddy Peralta said he was willing to do anything the Milwaukee Brewers asked of him when he signed a five-year, $15.5 million contract extension during spring training.
Two weeks into the regular season, Peralta has lived up to that offer.
The young, promising right-hander has appeared in three games this season. And while his lone start left plenty of room for improvement — he allowed four runs on three hits and a pair of walks over three innings of a 9-1 loss to the Cubs on July 26 — he has looked impressive.
Peralta has not allowed a run in seven innings over his last two outings, giving up two hits and two walks while striking out 14 batters.
Ideally, the Brewers would love to see Peralta become a fixture in the starting rotation. He broke into the big leagues as a starter and made a strong impression before running out of gas near the end of 2018 and scuffled as a starter at the beginning of 2019.
For manager Craig Counsell, where and when Peralta gets the ball isn't as important as what he does with it.
"Freddy's 23 years old," Counsell said. "He's a young pitcher just getting better at his craft. If he continues to have days like that, then we're going to have a lot of ways we can use him.
"I just think Freddy needs to be on the mound competing against big league hitters. He's filled some different roles so far but the priority has been to get him on the mound to face big league hitters, as many as he can."
Peralta did a good job of that Monday night, retiring 12 of the 14 hitters he faced while covering the final four innings of Milwaukee's 4-2 loss to the Minnesota Twins. He allowed only one hit and one walk while striking out eight.
"With an outing like last night, Freddy Peralta can be a starter," Counsell said. "For now, his role is to get outs. He did a great job of getting outs last night. If he continues to have days like that, then we're going to have a lot of ways we can use him."
Peralta doesn't mind being flexible, especially if it's helping the team win.
"I go into the bullpen every day," Peralta said. "All I know is that I have to be ready for the situation. If they need me to throw one inning one day, I will be ready for one inning. If they want me to (throw) two or more, I'll be ready, too."
Braun returns
Ryan Braun was reinstated from the 10-day injured list and was back with the Brewers on Tuesday night.
Braun had been out since Aug. 2 because of an infection in his right index finger but had worked out with the team over the weekend before traveling to the alternate training site in Appleton, where he took part in an intrasquad game.
"He was able to get five at-bats yesterday," Counsell said. "We'd probably have to wait a couple more days to do that again so we thought he was ready to go and the (designated hitter) spot helps us."
Braun has been Milwaukee's designated hitter in each of his four games this season, batting .231 (3-for-13) with two RBIs and a walk in 14 plate appearances.
His limited playing time to start the season stemmed in part to an oblique issue that developed during the team's summer camp and held him out of all of the intrasquad scrimmages.
Counsell said Braun is in good shape as he returns to action.
"We're doing pretty good from a health perspective," Counsell said. "He was able to keep running and things like that. He just got slowed down throwing and swinging the bat for a little bit."
To make room for Braun on the active roster, the Brewers optioned infielder/outfielder Mark Mathias to Appleton.
Mathias went 5-for-16 with two RBIs in six games since earning his first big league call-up on Aug. 4.
"I thought Mark handled himself very well. He made starts in a spot he's played very little at and I thought he handled it really well. He did himself good, for sure."
Lineup shuffle
With right-hander Tyler Clippard getting the start in what was likely to be a bullpen day for the Twins, Counsell's lineup card had a different look Tuesday night with Avisail Garcia penciled into the leadoff spot.
"We're doing something a little different there today," Counsell said. "With our personnel today, there wasn't an obvious candidate (to lead off) so we decided to try and get him going from the leadoff spot."
The move paid off when Garcia connected on a 1-0 changeup at the top of the zone and sent it to left for his first home run of the season.
It was the first leadoff home run of Garcia's career and the first by a Brewers players since Trent Grisham started led off with a home run against the Marlins on Sept. 11 of last season.
On deck
The Brewers and Twins wrap up their interleague series Wednesday evening at Miller Park. Left-hander Eric Lauer (0-1, 9.53 ERA) will start for the Brewers, hoping to bounce back from a rough outing his last time out when he gave up six runs in the second inning of a loss to the Reds. Right-hander Kenta Maeda (2-0, 2.65) gets the nod for Minnesota.