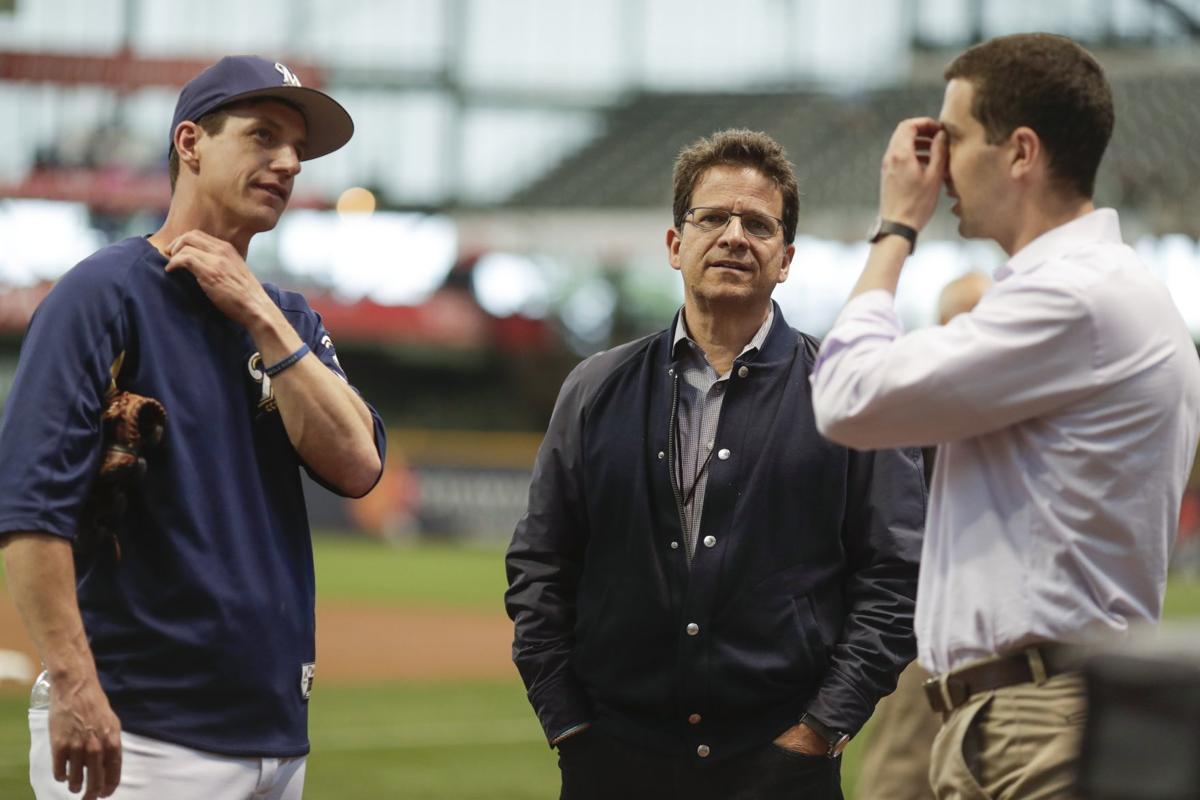 MILWAUKEE — Never mind the slashed payroll or massive roster turnover: Mark Attanasio still thinks the Milwaukee Brewers have what it takes to become the first team in franchise history to make the playoffs in three consecutive seasons.
Attanasio, the Brewers' chairman and principal owner, made that clear Sunday afternoon during the team's annual winter "Brewers On Deck" at the Wisconsin Center.
"I'm not just saying this glibly as an owner or to sell tickets, but we're going to be competitive," Attanasio said. "Our models, which have been quite accurate over the last several years — including in 2017 when we surprised everybody — say we're going to be a competitive team."
Attanasio's president of baseball operations, David Stearns, has engineered a complete overhaul of a roster that rode a surge over the final month to finish 89-73 and clinch one of the NL two wild card berths. Of the 25 players on the roster for that wild card loss to the Washington Nationals, only 12 remain with the team.
Catcher Yasmani Grandal and third baseman Mike Moustakas left via free agency while veteran starters Chase Anderson and Zach Davies were sent out in trades. Other players, such as fan favorites Eric Thames and Travis Shaw, either had their options declined or were not tendered contracts for 2020.
Those departures cleared a considerable amount of space on the Brewers' payroll, which was a franchise-record $125 million on Opening Day last season. Instead of shelling out big-money, multi-year deals to land some of the top available names on this year's market, Stearns instead took a more calculated approach, signing a number of players to more manageable deals that provided value and flexibility.
Both are important factors in a limited market such as Milwaukee but both pale in comparison to the most important factor: production.
To that extent, Attanasio, Stearns and manager Craig Counsell all believe the depth and options provided by the offseason approach will not only enable the Brewers to field a competitive lineup on a daily basis over the course of the regular season, but also produce at a high enough level to play October baseball for the third straight year.
"I think the aggregate talent level is on par to where we started last season," Attanasio said.
Counsell, who signed a three-year extension earlier this month and begins the season as the longest-tenured manager in the National League, agreed with the assessment.
"We're going to be good," Counsell said. "Anybody that's been around us knows our favorite thing about constructing a roster is to have choices, to have depth. It protects your downside as much as anything, whether we have injuries or performance (issues).
"It allows for great performance or protects us from somebody maybe not having a great year. I think we have a lot of answers on the position player side to things that can come up during a season. That's a really good thing and I feel really comfortable with that."
Still, Attanasio understands the doubt. Fans in Milwaukee, who haven't experienced a World Series appearance since 1982, are hungry for a winner. Attanasio says he's no different, but the Brewers have built their culture around this approach and while it hasn't resulted in a championship it's put them in the mix.
"Trust the process," Attanasio urged.
Yelich, Cain ready to go
Right fielder Christian Yelich said he's been done with rehab for about a month and expects to be at full strength when spring training opens next month.
"It's good," Yelich said of the fractured left kneecap that ended his season on Sept. 10. "I'm fully healthy, ready to go. Shouldn't be any limitations this spring. It's nice to be healthy again."
Center fielder Lorenzo Cain battled through injuries to his thumb, knee and ankle throughout the 2019 season but also expects to be ready to go.
Cain spent the first part of his offseason in physical therapy, focusing on strengthening his hips and core in the hope of taking pressure off his hip and ankle. He's also considering a second cryogenic injection to numb a nerve in his right thumb.
"It's not bugging me now, but I really just don't want to deal with it (later)," Cain said. "I've been doing everything — hitting and throwing — with no issues."
Be the first to know
Get local news delivered to your inbox!