MILWAUKEE — Travis Shaw homered and hit a game-winning single, and the Milwaukee Brewers scored three runs in the 11th inning to beat the scuffling Los Angeles Dodgers 6-5 on Saturday night.
Los Angeles, which has dropped three straight to Milwaukee, also lost starter Dustin May to an apparent injury after he had thrown just 27 pitches.
The game was tied at 2 after nine innings and 3-all after 10.
In the 11th, Drew Smith, who entered Saturday batting .222, hit a two-run triple off Drew Rasmussen to give the Dodgers a 5-3 lead.
But Milwaukee, despite having the lowest team batting average (.215) in the NL entering Saturday and having 16 players on the injured list, responded.
The Brewers loaded the bases with no outs after left-hander Alex Vesia (0-1), who was recalled Saturday, started the inning with two walks. He was replaced by right-hander Mitch White, who had pitched 3⅔ innings this season. White gave up a sacrifice fly to Kolten Wong, an RBI single to Avisail Garcia and the game-winning hit to Shaw, which scored Mario Feliciano, who made his major league debut. Feliciano had walked.
Shaw also hit a solo homer earlier in the game.
Left-hander Angel Perdomo (1-0) got the win.
The teams entered the game on divergent paths. Milwaukee ended April 8-3 and Los Angeles 3-8, with the Brewers winning the first two games of their four-game series. Milwaukee pitching held the Dodgers to one run in both games.
Mookie Betts, who was 7-for-36 (.194) in his previous eight games, led off the game with a home run against Brandon Woodruff. It was his first since April 13. Betts gave Los Angeles a 2-1 lead in the third, reaching on a hit by pitch and scoring on Corey Seager's triple.
But the offense for the defending World Series champions has fallen off. In 2020, the Dodgers led the majors in home runs (118) and slugging (.483). In 2021, entering Saturday they had dropped to 11th in both homers (31) and slugging (.398).
In the 10th inning, the Dodgers took a 3-2 lead on Justin Turner's RBI single off Rasmussen. Turner entered Saturday fourth in the NL in batting (.330) and tied for third in RBIs (20). But he was 6-for-28 (.214) with one homer in his previous eight games.
The Dodgers reached base in each of the six innings Woodruff pitched, but the 2019 NL All-Star, who has gone six or more innings in five of his six starts, kept them at bay. In the fifth, with the game tied at 2, one out and two runners on, Woodruff struck out Seager and Turner.
Milwaukee's pitching has been strong. Entering Saturday, three of the 12 pitchers with the lowest ERA in the NL were Woodruff and two other Milwaukee starters, Freddy Peralta and Corbin Burnes, who went on the IL on Thursday.
Luis Urías homered in the second inning off May, who then faced Billy McKinney. After the 23-year-old right-hander threw a fastball to make the count 3-2, he motioned to the Dodgers' dugout for help and was removed from the game moments later.
Reaching 100 mph, May threw 27 pitches, 20 for strikes. He had pitched six innings in his previous start, against the Padres, giving up one run and two hits while striking out 10.
Trainer's room
Dodgers: Right-hander Edwin Uceta was optioned. Vesia took his place.
Brewers: Catcher Omar Narváez (strained left hamstring) went on the 10-day injured list, and Feliciano was recalled... Right-hander Eric Yardley (right shoulder strain) was placed on the 10-day IL, retroactive to Friday. Right-hander Patrick Weigel was recalled.
Up next
The four-game series ends with LHP Julio Urías (3-0, 3.23 ERA) starting for Los Angeles. He has pitched seven innings twice, including April 20 at Seattle, where he gave up no runs and one hit, and struck out 11. Milwaukee did not announce a starter before Saturday's game.
Brewers by position: Pitching depth will be key as teams readjust with return of 162-game schedule
PROJECTED STARTERS
RHP Corbin Burnes (above) 
Not only do the Brewers start camp with the makings of a full rotation, they also have the benefit of continuity as all five projected starters were in the rotation for most of last season. Burnes (4-1, 2.11 ERA, 12 appearances, 9 starts) and Woodruff (3-5, 3.05, 13 starts) will most likely fill the top two spots, giving Milwaukee a formidable 1-2 punch.
The team is hoping Houser (1-6, 5.30, 12/11) can take another step forward in his development, specifically by avoiding the blow-up inning that plagued him in many of his starts last season, and that with a more consistent schedule both during spring training and the regular season, Lindblom (2-4, 5.16, 12/10) will be able to fully adjust to the big leagues after his dominant run through the Korean Baseball Organization while Anderson (4-4, 4.21) — whose signing has not yet been made official — can continue to eat innings while keeping the ball on the ground.
IN THE 'PEN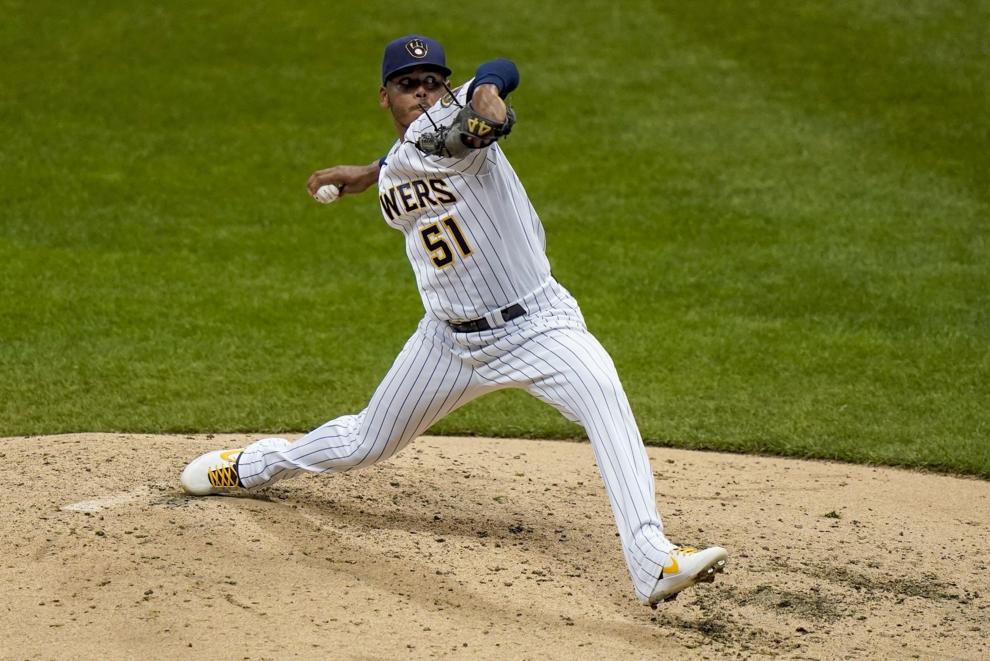 RHP Freddy Peralta (above)
Peralta (3-1, 3.99 ERA) made one start for Milwaukee in 2020 and will be prepared for a starting role during spring training but is likely to start the season working out of the bullpen, where his ability to cover multiple innings will provide flexibility especially early in the season as Counsell manages his starters' workload. Lauer (0-2, 13.09) did not fare well in limited action last year (four appearances, two starts), but he's expected to benefit from the return to a more normal structure as well as being fully healthy. Suter (2-0. 3.13) was an unsung hero for the Brewers' staff last year, posting a 1.38 ERA over 13 innings in four spot starts to go along with a 4.34 mark in 12 relief appearances, eight of which covered multiple innings. He'll fill a similar 'swingman' role in 2021.
ON THE FARM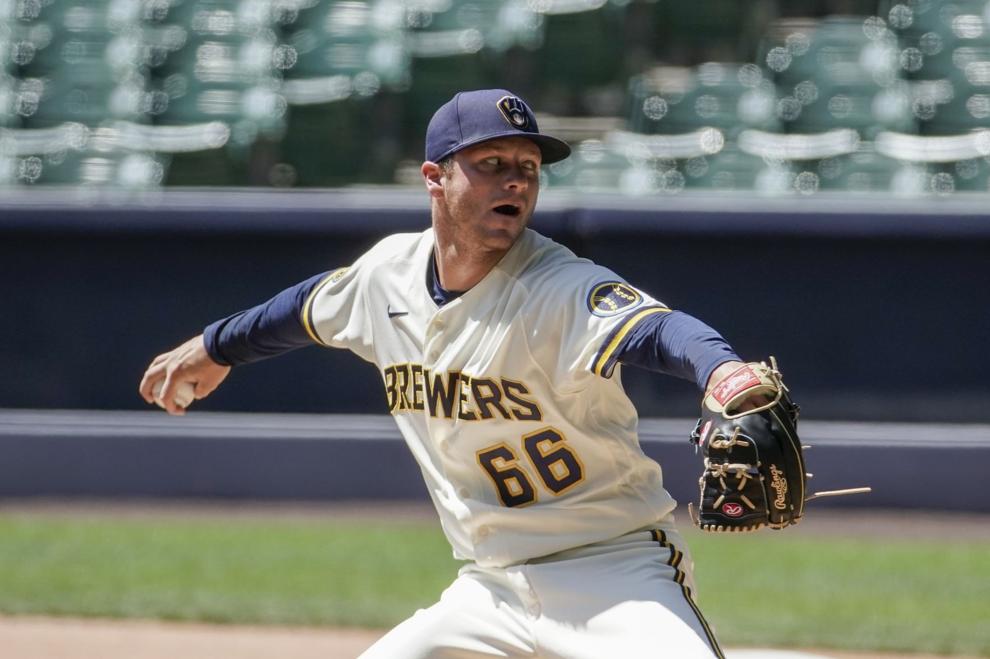 The Brewers added Small, their first-round pick in the 2019 MLB Draft, to their 60-man player pool last season after he posted a 2.50 ERA in five appearances for Class A Wisconsin in his first taste of professional action. ... Brown was named the organization's minor league pitcher of the year after going 9-1 with a 2.44 ERA for Class AA Biloxi in 2018 but struggled the next season at Class AAA, where he posted a 5.79 ERA and 1.73 WHIP. He showed flashes of improvement during spring training and the Brewers added him to their player pool when the season restarted to keep him from missing an entire year of development. If he can get back on track this season, he could be in line for his first call-up at some point in 2021. ... A fourth-round pick in the 2018 MLB Draft, Ashby has a 3.53 ERA in 37 minor league appearances (33 starts). He, too, spent last season at the team's alternate training site.
BY THE NUMBERS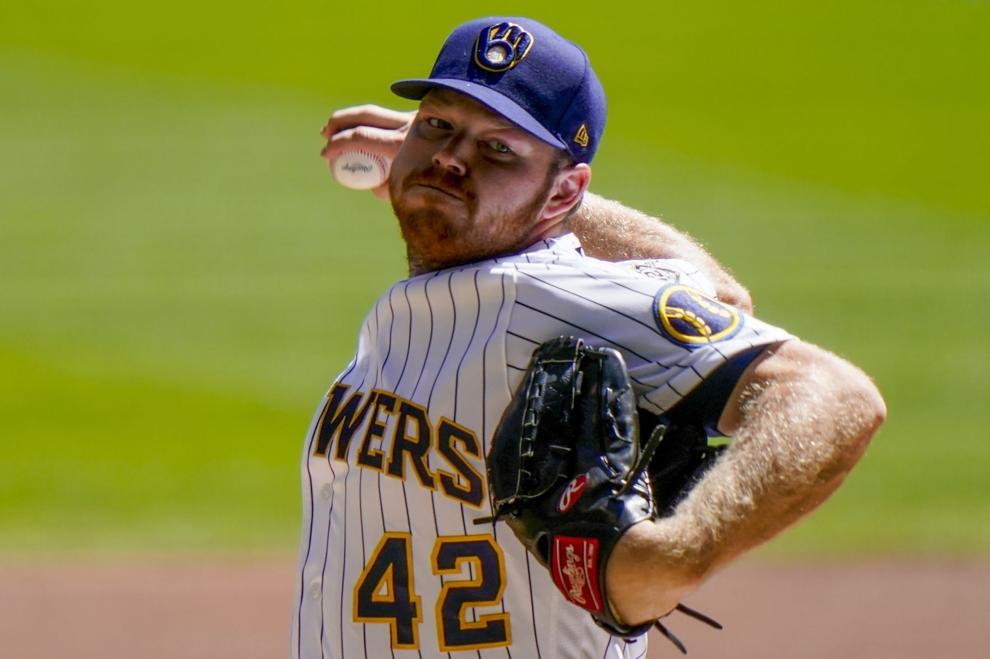 BREWERS' 2020 STARTING PITCHING STATS 
ERA — 4.18 7th/National League
Individually, Brandon Woodruff (above) finished among the NL leaders in just about every major statistical category last season. His 3.05 ERA was ninth among qualifiers while he was fifth with a 0.991 WHIP and 5.05 strikeout/walk ratio and seventh in total strikeouts (91) and strikeouts/nine innings (11.12).
Corbin Burnes finished ninth in the NL with 88 strikeouts.