It's safe to say no one knew exactly what the Milwaukee Brewers were getting when they acquired outfielder Christian Yelich from the Miami Marlins 18 months ago.
About all anyone knew was that Yelich, though only 25, already had five years of major-league experience and had hit .297 with 95 home runs. Still, few suspected that he and the Brewers would be a match made in baseball heaven.
In just a season and a half in Milwaukee, Yelich has hit .329 with 65 home runs. He was the National League MVP last season and, since the 2018 All-Star break, has been the best player in the game. Thursday, he was the leading vote-getter for the 2019 NL All-Star team.
The Yelich deal already ranks as one of the best trades in Wisconsin sports history. With that in mind, here are the 10 best trades made by the state's professional teams over the years. The list is weighted heavily toward trades that altered the trajectory of the franchise and/or brought in a transcendent player for relatively little in return.
NO. 1 — BRETT FAVRE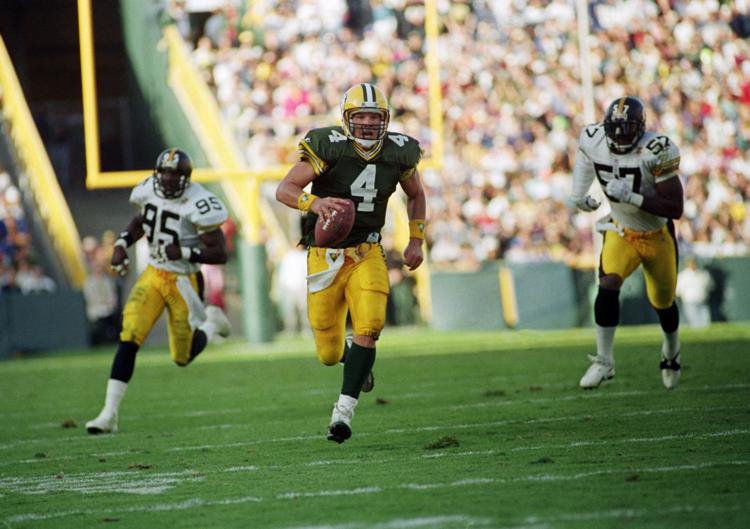 No. 1: Packers acquire quarterback Brett Favre from the Atlanta Falcons for a first-round draft pick (No. 19 overall) on Feb. 11, 1992.
After hiring coach Mike Holmgren, first-year general manager Ron Wolf went looking for a quarterback. He found one in Atlanta, where Favre had spent his rookie year buried on the Falcons depth chart and enjoying the Atlanta nightlife after being selected in the second round (No. 33 overall) of the 1991 draft.
Wolf was criticized for giving up a No. 1 draft pick for Favre, but he had another No. 1 pick (No. 5, Terrell Buckley) in the 1992 draft and a long-held conviction that Favre was the best player in the 1991 draft. Wolf's belief was warranted as Favre and third-round cornerback Aeneas Williams are the only Hall of Famers from the 1991 draft class.
Favre started every game in Green Bay for 16 seasons, winning three straight MVP awards, leading the Packers to two Super Bowls — winning one — and breaking almost every NFL career passing record in his 20 seasons in the league. More important, he was the player most responsible for leading the Packers franchise back to its former glory. Atlanta used the first-round pick on running back Tony Smith, Favre's former teammate at Southern Mississippi, but Smith was a bust, rushing for 329 yards and catching two passes in three NFL seasons.
NO. 2 — ROLLIE FINGERS, PETE VUCKOVICH, TED SIMMONS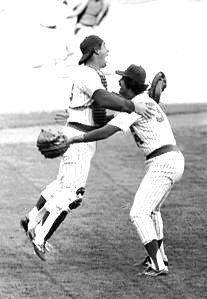 No. 2: Brewers acquire relief pitcher Rollie Fingers, starter Pete Vuckovich and catcher Ted Simmons from the St. Louis Cardinals for outfielders Sixto Lezcano and David Green and starters Dave LaPoint and Lary Sorensen on Dec. 12, 1980.
The expansion Brewers finally became competitive in 1978, but they needed one final infusion of talent to vie for a playoff berth in the American League. They got it by adding a Hall of Famer (Fingers), a should-be Hall of Famer (Simmons) and an ace (Vuckovich) at the cost of two back-of-the-rotation starters (Sorensen and LaPoint), a solid hitter on the back side of his career (Lezcano) and a touted prospect who never lived up to the hype (Green).
The deal paved the way for back-to-back playoff berths for the Brewers, who had never before tasted the postseason. Fingers was the AL MVP and Cy Young winner in 1981, Vuckovich won the Cy Young in 1982 and Simmons twice made the All-Star Game.
Sorenson and LaPoint finished with sub-.500 records and 4.00-plus ERAs in lengthy careers. Lezcano hit .275 with 102 homers in seven years with the Brewers, .264 with 46 homers in his final five seasons. Green hit only 31 homers in his six major-league seasons.
NO. 3 — OSCAR ROBERTSON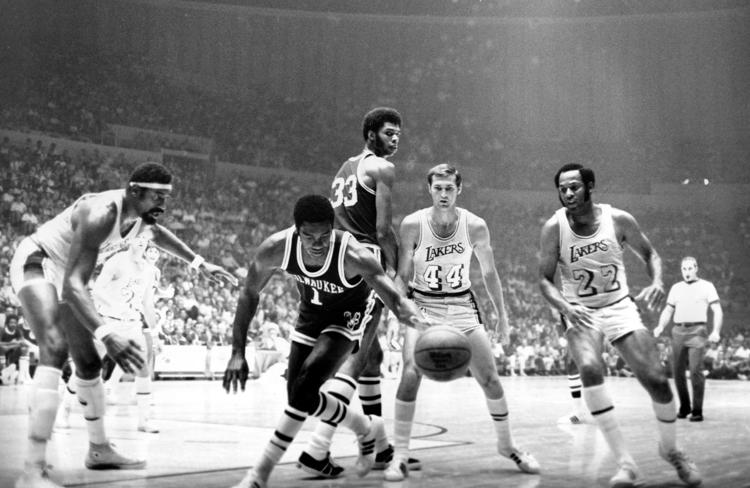 No. 3: Bucks acquire guard Oscar Robertson from the Cincinnati Royals for guard Flynn Robinson and forward Charlie Paulk on April 21, 1970.
Rookie Kareem Abdul-Jabbar took the expansion Bucks from 27 to 56 wins in their second season, but one more piece was needed and it arrived when the Bucks landed Robertson, who was 31 and just hitting the back side of a Hall of Fame career. With Robertson at the point and Abdul-Jabbar in the middle, the Bucks won 66 games and their only NBA title in 1970-71.
In Robertson's four seasons, the Bucks averaged 62 wins a year and also reached the NBA Finals in 1973-74. A 12-time All-Star, including his first two seasons with the Bucks, Robertson was the NBA's MVP in 1963-64. After averaging 29.3 points, 10.3 assists and 8.5 rebounds in 10 seasons with the Royals, Robertson willingly took a back seat to Abdul-Jabbar, averaging 16.3 points, 7.5 assists and 4.9 rebounds per game in Milwaukee. Make no mistake, though, it was Robertson who drove the Bucks' car.
The sharp-shooting Robinson had averaged 21.8 points per game in 1969-70, but he wasn't the point guard the Bucks needed. He averaged 14.5 points per game in seven NBA seasons. Paulk, the initial first-round draft pick in Bucks history, averaged 6.2 points and 3.9 rebounds in three NBA seasons.
NO. 4 — CHRISTIAN YELICH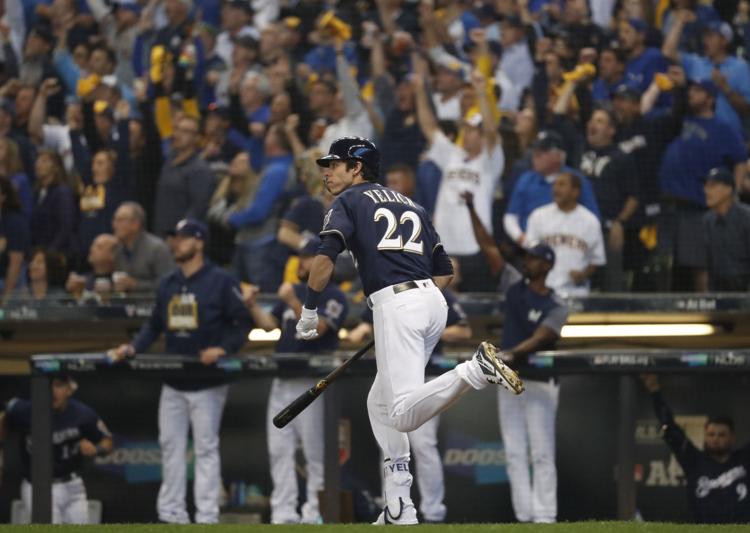 No. 4: Brewers acquire outfielder Christian Yelich from the Miami Marlins for outfielders Lewis Brinson and Monte Harrison, infielder Isan Diaz and starter Jordan Yamamoto on Jan. 25, 2018.
The rebuilding Marlins were conducting a fire sale when Brewers general manager David Stearns saw an opening and sent four top prospects to Miami for Yelich, an ascending player who had five years of team control on his contract. Yelich proved to be a steal at any price, winning the NL MVP and leading the Brewers to the NL Central Division title and within one game of the World Series in 2018 and coming back with an even better performance through the first half of this season.
Yelich did come at a cost, however, as all four players have done well at Class AAA this season and remain top prospects. Brinson, the key to the deal, has hit only .190 in parts of three major-league seasons and may be a classic AAA all-star. Recently promoted to the Marlins, Yamamoto is 3-0 with an 0.95 ERA in three starts.
We'll have to wait until the careers of Yelich and the four prospects play out to see just how great this deal was. It's already on the list, though it could move up or down in the future.
NO. 5 — CECIL COOPER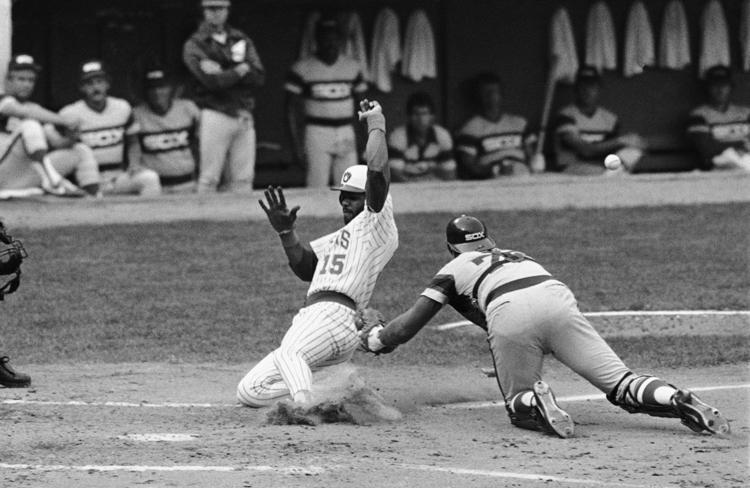 No. 5: Brewers acquire first baseman Cecil Cooper from the Boston Red Sox for first baseman George Scott and outfielder Bernie Carbo on Dec. 6, 1976.
Scott was one of the Brewers' most popular and productive players in their early years but was nearing the end when the Brewers sent him back to Boston for Cooper, who hadn't taken off during his six seasons as Scott's replacement in Beantown. Though Scott had one more big year in Boston, hitting 33 home runs in 1977, Cooper was the centerpiece of the potent Brewers batting order for the next decade, leading the Brewers to the playoffs in 1981 and their only World Series in 1982.
In 11 seasons with the Brewers, Cooper made five All-Star appearances while batting .302 with 201 home runs and 994 RBIs. He will always be remembered for delivering the game-winning single in Game 5 of the 1982 ALCS against the California Angels. Scott had won five Gold Gloves in his five seasons in Milwaukee, but Cooper was almost as good at first, winning two gold gloves. Scott was 33 at the time of the deal and Carbo, a one-time World Series hero for the Red Sox, did little in his second stint in Boston. Both were out of baseball by 1980.
NO. 6 — C.C. SABATHIA
No. 6: Brewers acquire starter C.C. Sabathia from the Cleveland Indians for four prospects: outfielders Matt LaPorta, Zach Jackson and Rob Bryson and a player to be named (outfielder Michael Brantley) on July 7, 2008.
Hoping to end a 25-year playoff drought, general manager Doug Melvin made the most impactful in-season trade in state history. Melvin paid a steep price for Sabathia, the reigning AL Cy Young winner, in part because he didn't wait for the trade deadline, instead swinging the deal in early July so he could get more starts from a pitcher he knew would be a three-month rental.
Sabathia was everything the Brewers could have hoped for and more, going 11-2 with a 1.65 ERA and, despite going on short rest, securing the wild-card playoff spot with a 3-1 victory over the Chicago Cubs on the season's final day. LaPorta, the Brewers' first-round draft pick in 2007, was the cornerstone of the trade for the Indians, but he never made a dent, hitting only 31 home runs in four big-league seasons. The pitchers also flopped, but Cleveland didn't go empty-handed. It later chose Brantley over Taylor Green as the player to be named and Brantley became a three-time All-Star in Cleveland and just earned another All-Star spot with the Houston Astros.
NO. 7 — HENRY JORDAN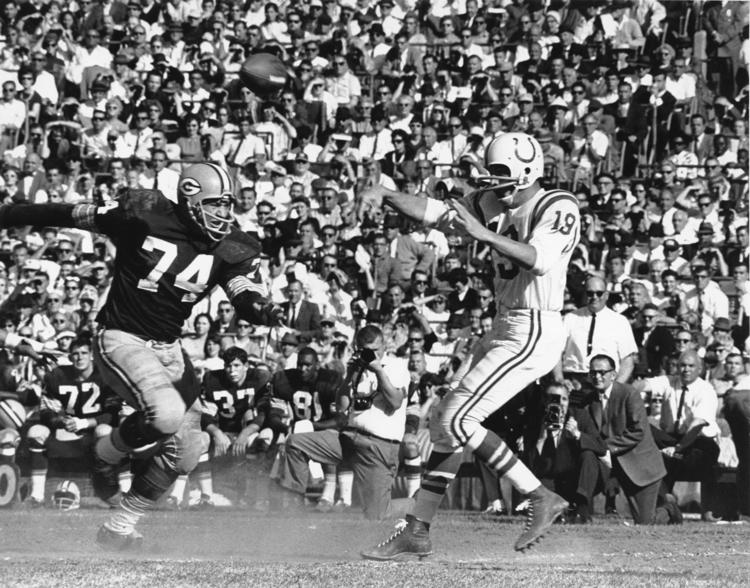 No. 7: Packers acquire defensive tackle Henry Jordan from the Cleveland Browns for a fourth-round draft pick (No. 41 overall) on Sept. 14, 1959.
In need of a defensive tackle two weeks before coaching his first regular-season game in Green Bay, Vince Lombardi fleeced the great Paul Brown, getting a future Hall of Famer at a bargain-basement price. The disruptive, cat-quick Jordan wasn't big enough for Brown's liking, but in 11 seasons in Green Bay he started on five NFL championship teams, was named first-team all-pro five times and made the NFL's all-decade team.
The Browns used the pick on tight end Johnny Brewer, who played 10 nondescript seasons in the league. He caught 89 passes in five seasons at tight end before Brown switched him to linebacker.
NO. 8 — WILLIE DAVIS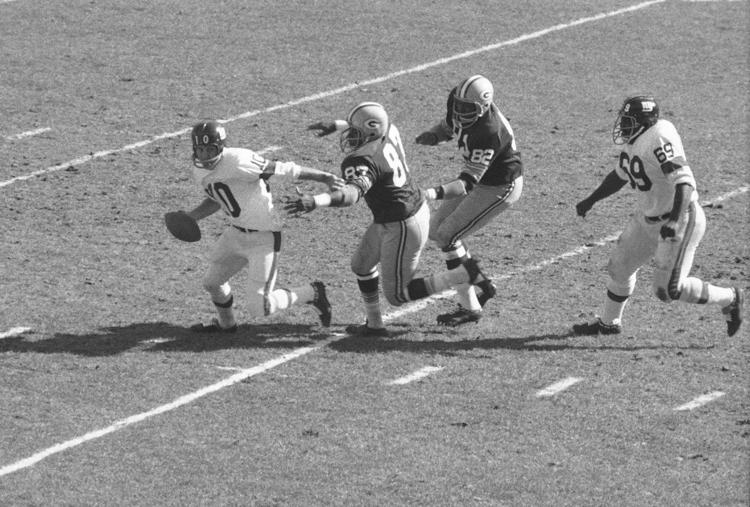 No. 8: Packers acquire defensive end Willie Davis (above center) from the Cleveland Browns for end A.D. Williams on July 12, 1960.
One year later, Lombardi did it to Brown again, getting a future Hall of Famer for next to nothing. Brown had played Davis on both offense and defense for two seasons, but Lombardi needed an elite pass rusher and recognized Davis' quickness and reactions when others didn't. In 10 seasons in Green Bay, Davis started on five NFL championship teams, was named first-team all-pro five times and made the all-decade team.
The NFL didn't keep track of sacks back then, but estimates place Davis at well over 100 in his 10 seasons. Williams played three seasons for three teams, catching 15 passes, one for a touchdown.
NO. 9 — TERRY CUMMINGS, RICKY PIERCE, CRAIG HODGES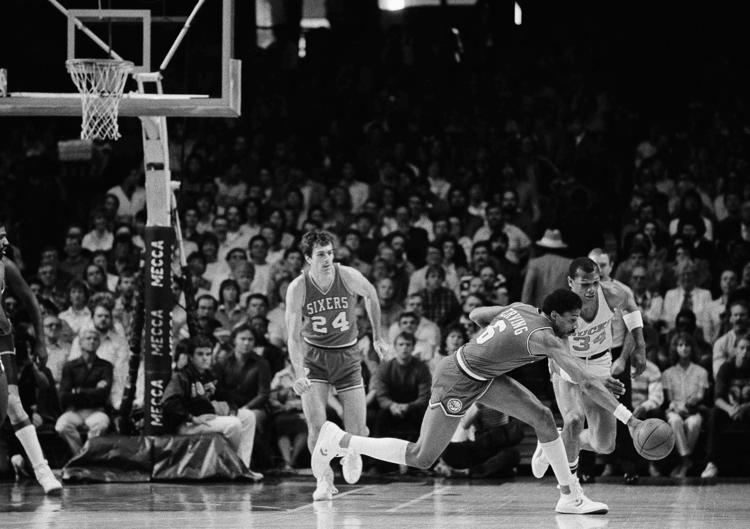 No. 9: Bucks acquire Terry Cummings (above right), Ricky Pierce and Craig Hodges from the Los Angeles Clippers for Marques Johnson, Junior Bridgeman and Harvey Catchings on Sept. 29, 1984.
The Bucks had one of the NBA's best teams in the early 1980s but could never get past Boston and Philadelphia in the playoffs. Led by Johnson, Sidney Moncrief and Bob Lanier, that team won five straight division titles, but it needed an influx of youth. It got that youth in one blockbuster trade, adding Cummings, Pierce and Hodges — all 25 or under — and losing 30-somethings Bridgeman and Catchings.
Though it was hard to part with Johnson, the trade worked as the refreshed Bucks remained a title contender for three more seasons, even reaching the Eastern Conference finals in 1985-86. Cummings averaged 21.7 points and 8.3 rebounds over the next four seasons, making two All-Star games. Pierce was named sixth man of the year in 1986-87 and 1989-90. Hodges was one of the NBA's most accurate 3-point shooters.
The deal didn't end well for the Clippers. Johnson had two good seasons in Los Angeles but injured his neck 10 games into the third season, which effectively ended his career. Catchings and Bridgeman retired within two years.
NO. 10 — JOE ADCOCK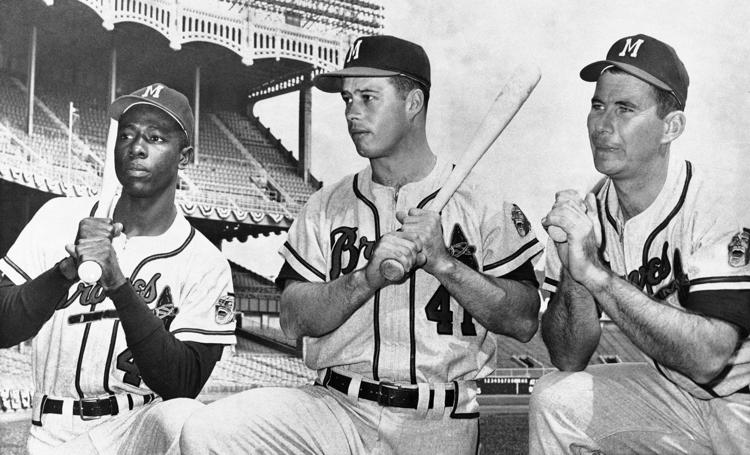 No. 10: Braves acquire first baseman Joe Adcock (above right) from the Cincinnati Reds and outfielder Jim Pendleton from the Brooklyn Dodgers for first baseman Earl Torgeson (to the Philadelphia Phillies) as part of a four-team trade on Feb. 16, 1953.
Torgeson had been a dependable hitter for six seasons with the Boston Braves, but prior to their first season in Milwaukee, the Braves swapped him out for Adcock, a 25-year-old power hitter. Adcock, Hank Aaron (above left) and Eddie Mathews (above center) formed the heart of a fearsome batting order that put the Braves in back-to-back World Series, winning in 1957 and losing in 1958.
In 10 seasons with the Braves, Adcock hit .285 with 239 home runs and 760 RBIs. He had a .511 slugging percentage during that time and made two All-Star Games. Torgeson hit only 17 home runs in three seasons with the Phillies.
---
Photos provided by Associated Press archives.