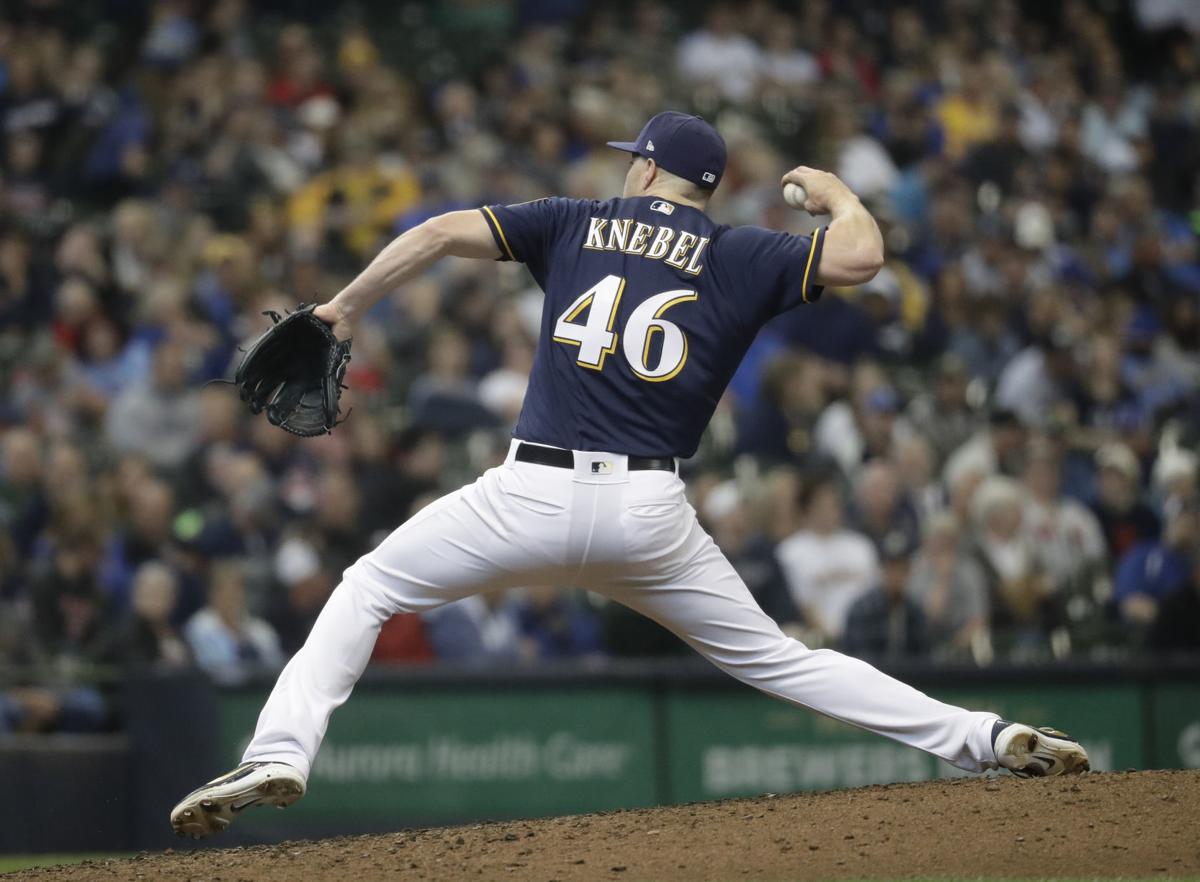 MILWAUKEE — Craig Counsell has a problem no one saw coming this season.
The Milwaukee Brewers manager must figure out how to slide All-Star closer Corey Knebel back into a bullpen that has thrived in his absence.
Don't worry, there will be plenty of opportunity for Knebel, who returned to the team Wednesday after spending five weeks on the disabled list with a hamstring injury. It's just that while the right-hander was away, the bullpen has been the season's biggest surprise, the main reason the Brewers will take a 21-16 record into a difficult and perhaps season-defining 10-game road trip.
Between Counsell's creative — if somewhat unorthodox — approach to handling the bullpen and impressive performances from Josh Hader, Jeremy Jeffress and a handful of others with miniscule ERAs, the bullpen has bordered on dominant for the last month. Despite losing Knebel in the season's seventh game and operating without a proven closer since then, the relief corps has kept the hitting-challenged Brewers near the top in the National League Central Division.
"It didn't affect anyone at all," Knebel said of his absence. "It was awesome to see that the bullpen really took the bull by the horns and did their job."
They did their job and then some. Now, however, it's up to Knebel — and Counsell — to make a great bullpen even better.
It seems unlikely Knebel will have an immediate impact because Counsell indicated Wednesday that he won't have a defined role, at least at the start. That comes as no surprise because very little in the Brewers bullpen has been defined since Knebel went down.
With his best pitcher unavailable, Counsell has operated with a closer-by-committee approach, gone against baseball's grain by using relievers for two and three-inning saves and maintained his practice of using middle-inning relievers and set-up men based on matchups rather than assigning a specific inning to each one.
That approach has produced excellent results, but now along comes Knebel, who didn't take over the closer's role until mid-May last season yet still finished with 39 saves.
"The bullpen has been unbelievable since he left," third baseman Travis Shaw said, "so he just adds more depth, kind of adds another weapon that we can have late in games. He's only going to help out there."
Knebel pitched the seventh inning in Milwaukee's 6-2 loss to Cleveland on Wednesday at Miller Park, giving up a no-doubt-about-it home run to shortstop Francisco Lindor before getting three consecutive groundouts. He almost certainly will return to the high-leverage situations he thrived in last season, but for now Counsell will concentrate on getting him some appearances so he can get back up to speed.
With Knebel again an option, Counsell said the Brewers feel like they are adding the "strength of last year's bullpen" to a "group that's performed really well so far" this year. He called Knebel's outing a good starting point, saying he threw the ball well. Still, it seems like a return to the ninth inning, though inevitable, isn't imminent.
"I think we'll get Corey to the back of the game," Counsell said. "That's my intention. We'll get him there, not right away. But I do think that's my intention is to get him to the back of the game because I do think it frees Josh up to be used and the rest of the guys to be utilized in a lot of different ways. That's the outlook right now. I can change my mind on it, but that's the outlook right now."
The way the bullpen is performing, there is no rush. Hader, Jeffress, Jacob Barnes and Matt Albers have all recorded at least one save. Jeffress has a 0.45 ERA and Hader, Barnes, Albers and Dan Jennings are at 2.00 or better. Meanwhile, Boone Logan is set to rejoin the team this week after recovering from a strained left triceps.
Knebel is in no rush to resume his role as the full-time closer, either.
"I don't expect to do that," he said. "I don't care if I do it or not. But, honestly, watching what Hader and J.J. (Jeffress) and Barnes and what everybody has been doing, it doesn't matter where I'm going to be, where everyone else is. We're all going to do our job. That's one thing I really like about this club and the bullpen."
Counsell likes a fluid bullpen with loosely defined roles and Knebel gives him the ability to mix and match. If Knebel has the ninth, Counsell will have uncommon flexibility to put dominant pitchers such as Hader and Jeffress into favorable matchups.
"The big thing is we're not going to get stuck in like, 'This is how is has to be,' " Counsell said. "That's all we're doing. Their job is still going to be to get outs and that's going to continue to be their job. But the way I'm seeing it right now is that we'll work best if we can get Corey to the back of the game."
A dominant bullpen bodes well for the Brewers, in part because the game is changing. They are mirroring a trend throughout the major leagues in which managers hope to get five innings out of their starters before they turn the game over to the bullpen.
The Brewers' bullpen is second in the majors with a 2.61 ERA, so they are adding one of the game's best closers to one of its best bullpens. If that's a problem, it's a mighty good problem to have.