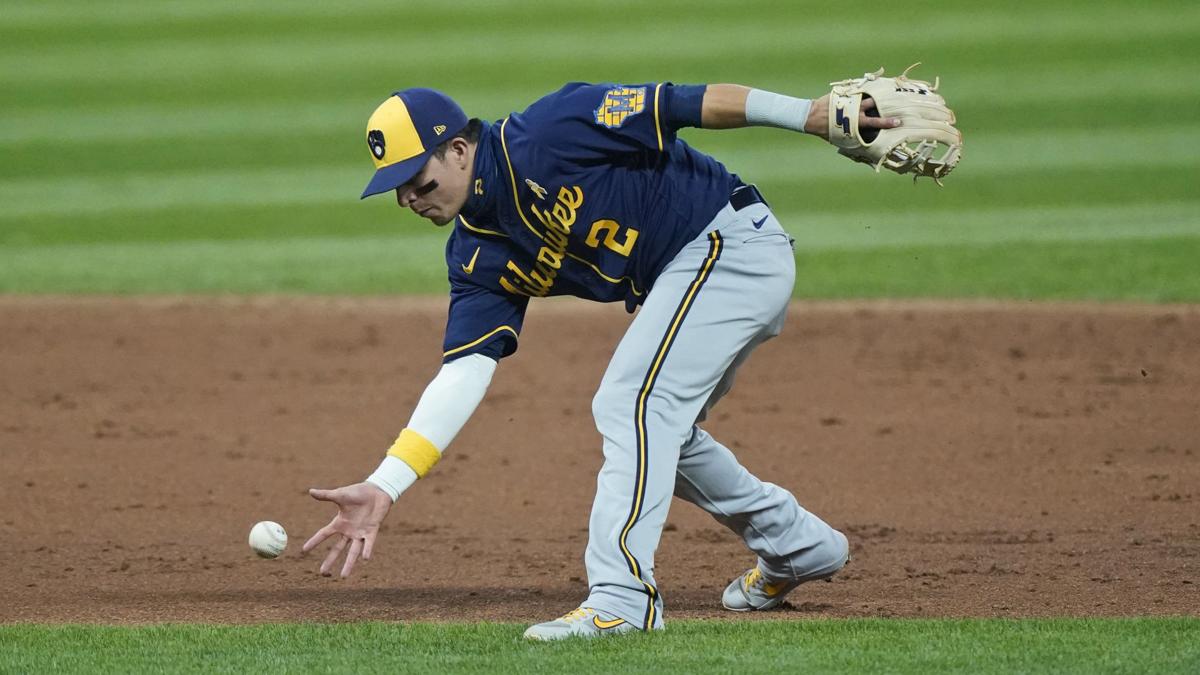 MILWAUKEE — For much of the offseason, the Milwaukee Brewers' infield situation was reminiscent of a classic Abbott and Costello bit.
With a week to go until spring training gets underway, we know who's on first — Keston Hiura — and that Kolten Wong is at second, but "I don't know" is still the answer at third base.
One player who won't be playing third base for Milwaukee in 2021 is Justin Turner, who announced Saturday night his decision to remain with the Los Angeles Dodgers on a two-year deal reportedly worth $34 million that also includes an $8 million signing bonus and a third-year option worth $14 million.
The Brewers were believed to be one of the teams bidding for the 36-year-old slugger's services, offering $34 million spread over two or three seasons according to MLB Network.
Now, with just a few days until pitchers and catchers hold the first official workout of spring training, the Brewers' plans for third base are up in the air.
"We're still evaluating that position," Brewers president of baseball operations David Stearns said recently. "We understand the breadth of the market that's out there and we also understand our internal options."
The Brewers used five players at the hot corner in 2020, with Eric Sogard making 22 starts before Luis Urias took over and started 20 games at third. Urias is more than capable of handling the position defensively but lacks the power of a traditional heavy-hitting third baseman.
That group combined to post a league-worst .574 OPS and .279 on-base percentage in 2020 and ranked second-to-last in slugging (.295), batting average (.200), home runs (3) and RBIs (19).
Stearns said he'd be comfortable going into a season with Urias at third. Daniel Robertson, a one-time Oakland Athletics top prospect who signed a one-year, $900,00 contract during the winter, could also get a shot.
There are still several options available on the open market, but no one that comes close to the level of Turner, who hit .302 with 116 home runs, 406 RBIs and an .885 OPS in seven seasons for the Dodgers and posted a 1.066 OPS with two home runs to help lead Los Angeles to a World Series championship last season.
Maikel Franco, who hit .278 with eight home runs and 38 RBIs for the Kansas City Royals last season, leads the group of remaining free agents, which also includes the likes of Todd Fraizer, Jake Lamb and former Brewers Travis Shaw and Jedd Gyorko.
The question now is whether any of those options represent a significant upgrade over the Brewers' internal candidates, both in terms of performance ability and in terms of financial investment.
"When we're evaluating an external acquisition, we have to be comfortable that it's making us better because by definition it's going to cut off opportunity for those in-house," Stearns said.
"When we're evaluating an external acquisition, we have to be comfortable that it's making us better because by definition it's going to cut off opportunity for those in-house," Stearns said. "That's part of the process we're going through right now."
It's been a slow offseason for the industry as players and teams both felt their way through the uncertainty brought on by the COVID-19 pandemic. With teams on track to open camps this week, transactional activity is expected to increase and Stearns, who has added players to the roster on the eves of spring training and the regular season during his time with the Brewers, hasn't ruled out bringing in more options between now and Opening Day.
"For the majority of the free agent class, the offseason didn't begin until mid-January or late January," Stearns said. "This is going to take some time for everyone to find a seat. Sometimes, patience can be a virtue in those scenarios. I'm comfortable that once we get to Opening Day we're going to have a good grasp on what third base will look like and be pleased with where it is."
Who could those candidates be? Here's a quick glance at a few internal options, minor league prospects and remaining free agents:
Transactional activity is expected to increase as camps open and Stearns hasn't ruled out continuing to explore his options.
In the fold


27


.333 BA, 0 HR, 2 RBIs, .750 OPS (13 games)


Robertson has experience at second base, shortstop and third base but said he felt most comfortable at third after signing a one-year, $900,000 deal with the Brewers last month. Once a top prospect for the Oakland Athletics, Robertson was dealt to Tampa where he hit .231 with 16 home runs and 72 RBIs in 831 plate appearances over three seasons.
23


.239 BA, 0 HR, 11 RBIs, .602 OPS


Once a top-rated prospect himself, Urias was the centerpiece of a November 2019 trade that sent Zach Davies and Trent Grisham to the San Diego Padres. Originally expected to compete with Orlando Arcia for the starting job at short, Urias was set back by a wrist injury during winter ball that sidelined him for most of spring training. When the team reconvened for summer camp, Urias was again held out after testing positive for COVID-19. By the time he finally made his debut, Arcia had locked down the regular job at short and while Urias was more than capable at third base defensively, he lacks the offensive power of a traditional third baseman.Top prospectLucas Erceg
MLB Pipeline Prospect rank: 28
2019 stats: .218 BA, 15 HR, 52 RBIs, .703 OPS
Milwaukee's second-round pick in the 2016 draft, Erceg has had his share of struggles while working his way up the organizational ladder. A .258 hitter with 52 home runs and 237 RBIs in 437 minor league games, he was in big league camp with the Brewers last season. Erceg went to independent ball when he was left off of Milwaukee's 60-man player pool following the pandemic shutdown but hit just .180 in 28 games and will likely need regular minor league at-bats to get back on the Brewers' radar.
Free agents


28


Royals


.278, 8 HR, 38 RBI, .778 OPS


$2.95 million


Franco spent his first six seasons with the Philadelphia Phillies but was non-tendered after he hit .234 with 17 home runs and a .705 OPS in 2019. Signed to a one-year deal by the Royals last season, Franco bounced back to hit .278 with eight home runs and 38 RBIs while playing in all 60 games only to be non-tendered for a second straight season. The Brewers have made a habit of signing unheralded players entering what analytics identified as peak years — ages 27-30 — and at 28, Franco fits the bill.
32


Brewers


.248, 9 HR, 17 RBI, .838 OPS


$1 million


Gyorko put up good numbers in 2020 for the Brewers, who originally signed him to a one-year deal with the hopes of using him as a versatile platoon option against left-handed pitching. He eventually moved into an everyday role, primarily at first base, thanks to roster shakeups necessitated by the Brewers' anemic offense but the team declined his $4.5 million club option for 2021.
30


Arizona (18 games), Oakland (13 games)


.193, 3 HR, 10 RBIs, .635 OPS


$5.515 million


An All-Star in 2017, Lamb appeared to be a cornerstone of the Arizona Diamondbacks' future before injuries limited him to 134 games over the next two seasons. He started last year in a bench role with Arizona and managed only five hits in 50 plate appearances but bounced back after landing with the Athletics, posting an .882 OPS with three home runs in 13 games after Matt Chapman was lost to injury. The Brewers have had luck taking a chance on low-risk/high-return players like Lamb before (see: Daniel Vogelbach last season). Only 30, he could have some good years left and could provide the kind of value and production the Brewers seek.
30


Blue Jays


.239, 6 HR, 17 RBI


$4 million


Shaw had some of his best professional seasons in Milwaukee, where he hit 63 home runs with an .844 OPS in his first two seasons after being dealt by the Boston Red Sox. But he was non-tendered after an awful 2019 season in which he hit just seven home runs with a .551 OPS. Shaw recovered somewhat last season in Toronto, hitting six homers with a .717 OPS in 50 games. Still only 30, he likely has some good years left and returning to a place he's had success could make for a good fit.
34


Brewers


.209, 1 HR, 10 RBI, .560 OPS


$4 million


Another reunion with Sogard, who returned to Milwaukee on a one-year deal last season, is an unlikely scenario but nonetheless possible if nothing else pans out — perhaps on a non-roster deal with an invitation to big-league camp.
Brewers add Boxberger
The Brewers signed veteran right-hander Brad Boxberger to a minor league contract Sunday, ESPN reported.
Boxberger, 32, went 1-0 with a 3.00 ERA in 23 appearances and posted a 1.389 WHIP for the Miami Marlins in 2020.
---
A new era: Miller Park name change sinks in as American Family Field signage erected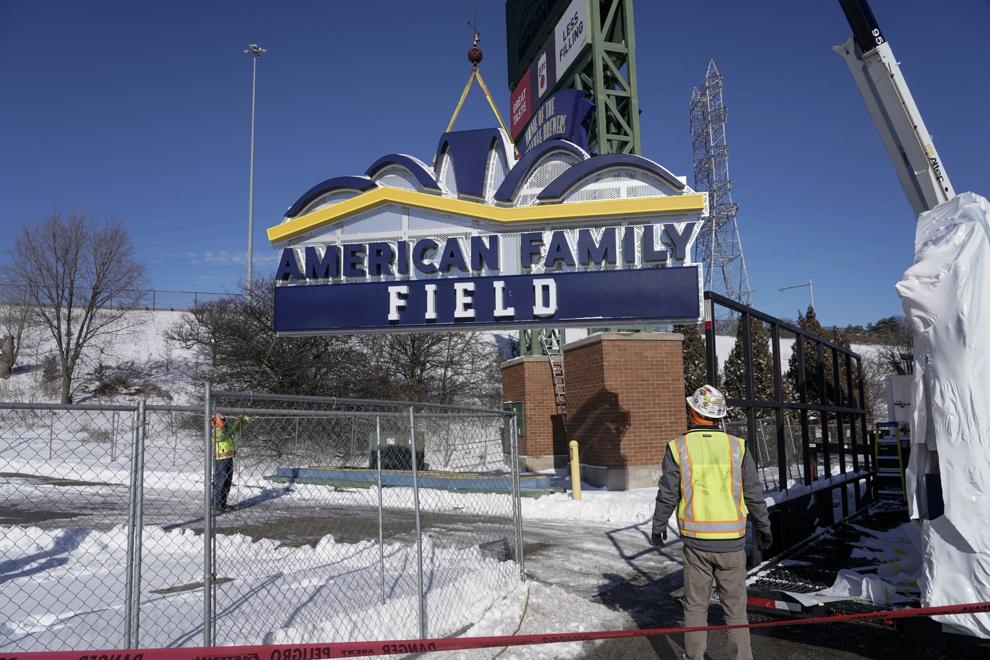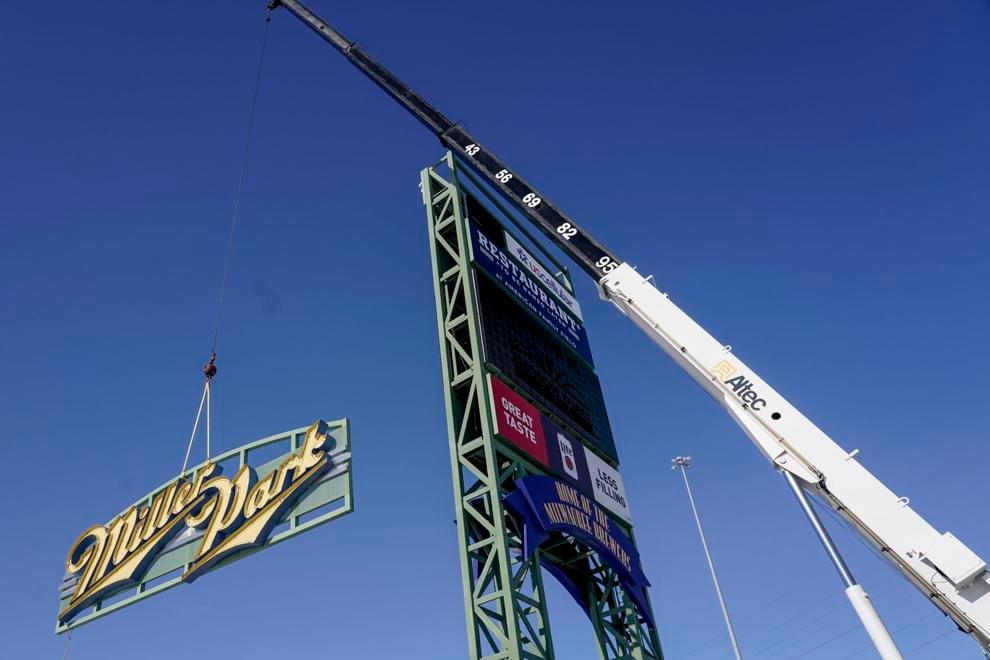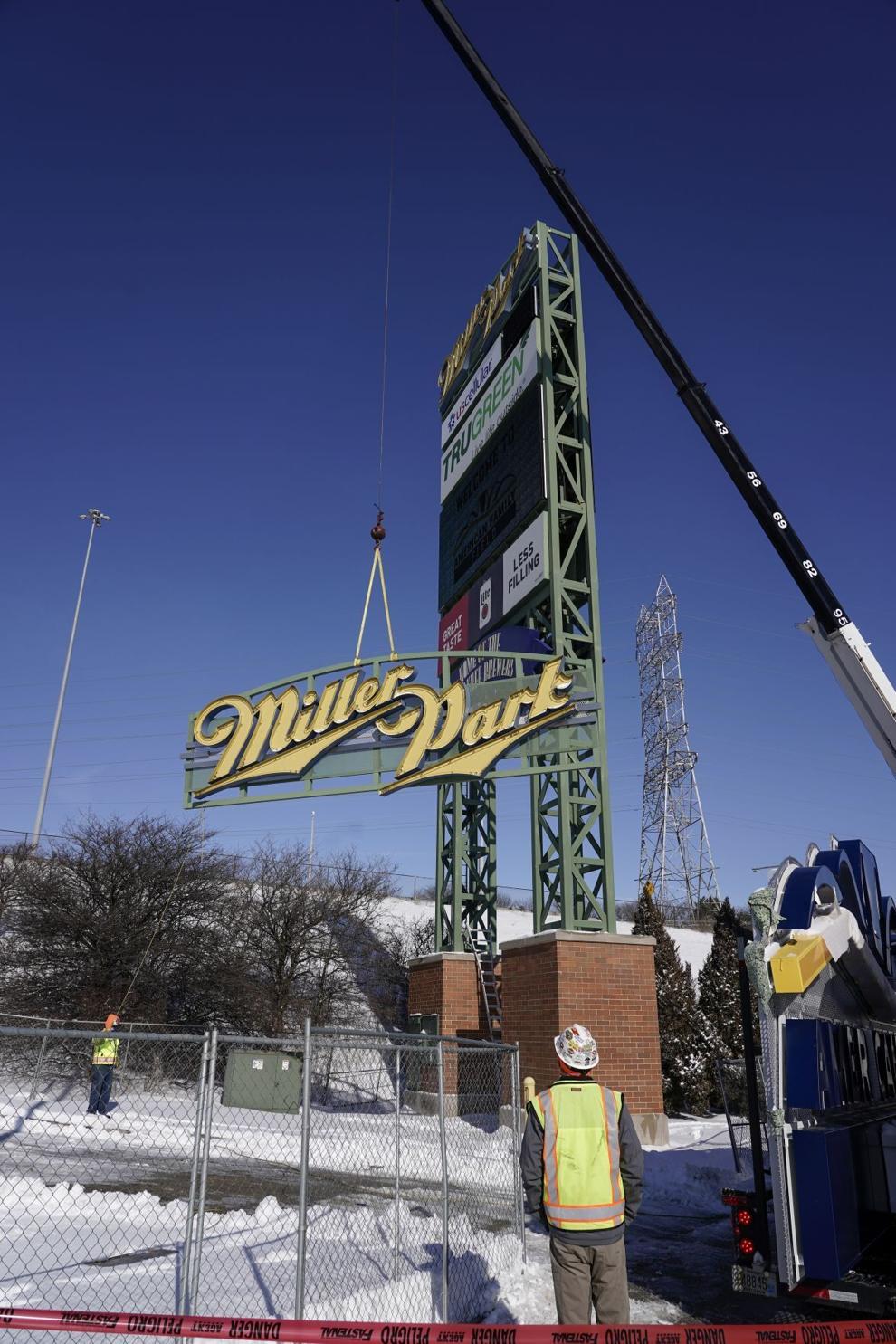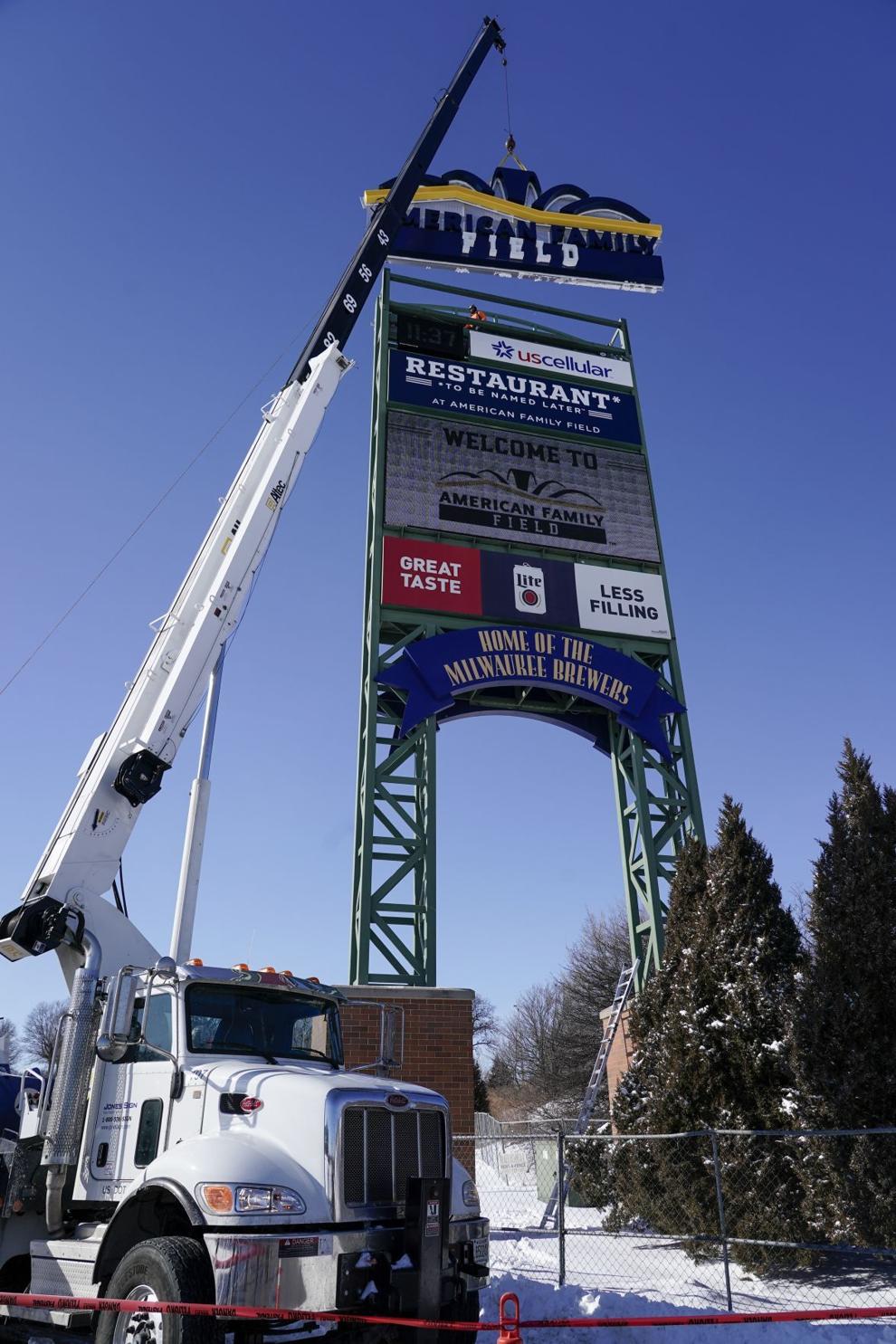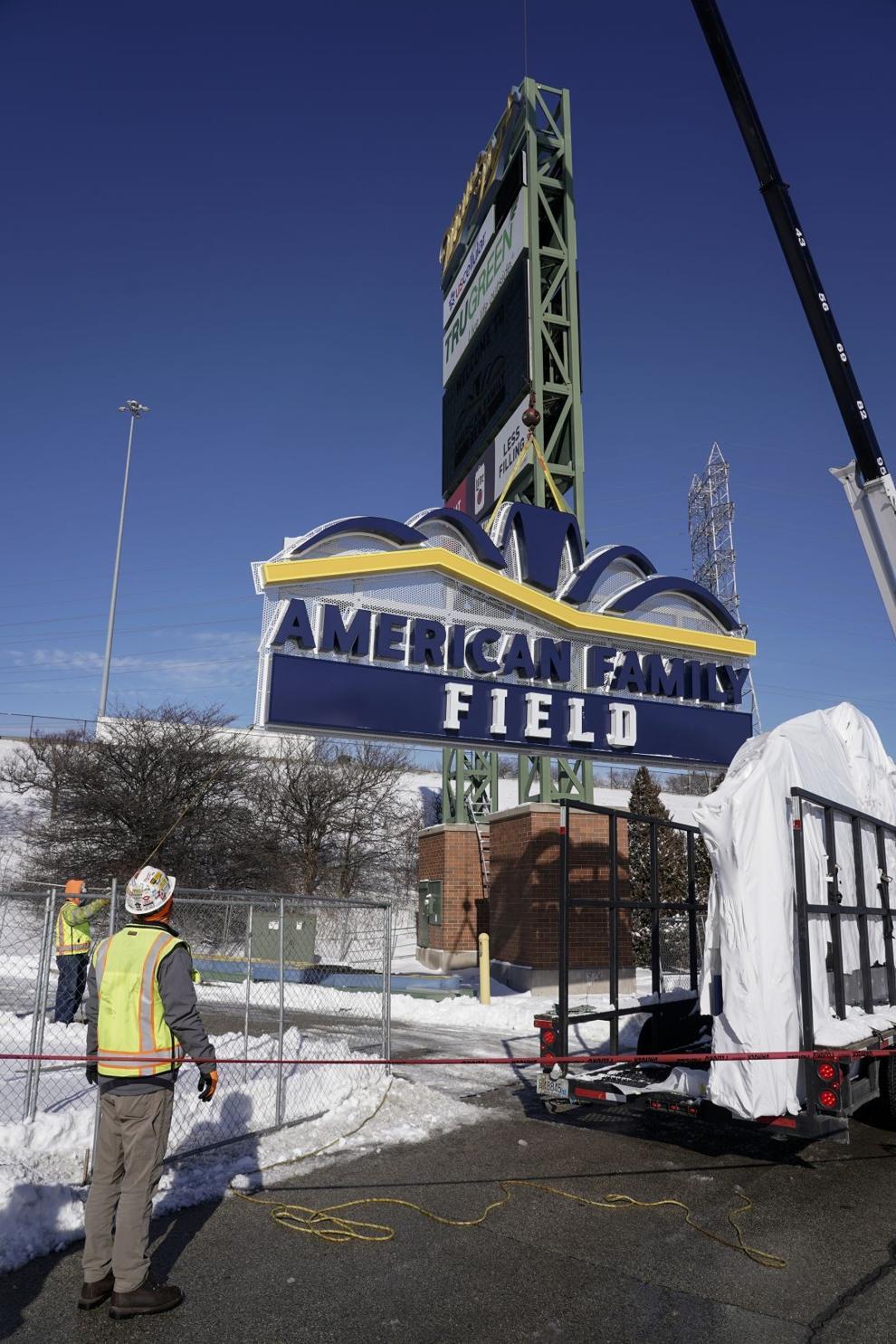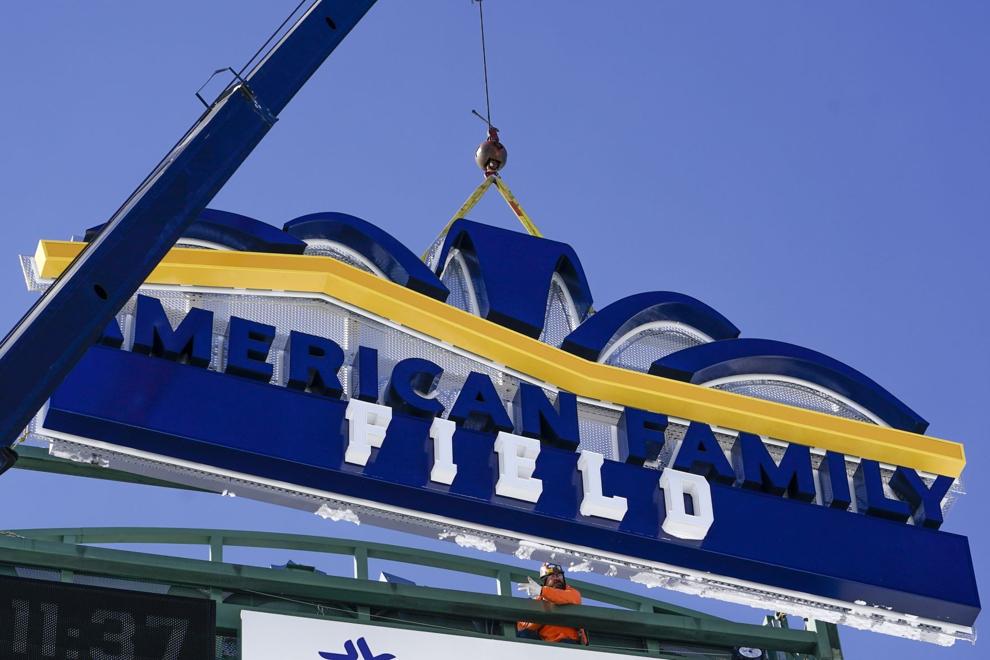 For those who say- "It will always be Miller Park to me."
Remember...Miller Park was a paid sponsorship name.
Lambeau Field is an unpaid name.
Camp Randall is an unpaid name.
The FieldHouse was an unpaid name.

I'm good with American Family Field#Brewers https://t.co/3Tx1ajaGcc

— Mike Heller (@HellerSports) January 27, 2021
I was wondering way their plan was with all the stuff, like every cup holder has a Miller park sticker, I think it would be extremely tacky to just place a sticker over top of it, im building a bar for my garage this summer I'd like about 6 of those

— Just Jeff (@Crew8235) January 27, 2021
It looks cool but I'm still calling it Miller Park

— Kyle Hoffenbecker (@KHoffenbecker) January 27, 2021
I had a visceral reaction to this.
I went to the first game at Miller Park (exhibition game not opening day). They played the Space Odyssey theme song to show how the roof opened/closed.

I've apparently hit the "change-is-hard" phase of life that requires me to share memories. https://t.co/n1PA1LnaH3

— Jennifer Griswold (@griswoldkmtv) January 27, 2021
I get it, but Miller Park is so much more fun to say.

Side note: eating at the Restaurant To Be Named Later has been added to my baseball bucket list. https://t.co/fPCOIDYvjl

— Tavi (@szn_baseball) January 27, 2021
Ahh nice to see the "it'll always be Miller Park to me" crowd is out in full force today... Fun

— Jake Schwall (@jake_schwall) January 27, 2021
I slept in a Walmart parking lot for Milwaukee warped tour near Miller Park and being able to see it in the morning was something I'll remember forever. https://t.co/y9FE8nD4kh

— Adrián C (@JackieLegs13) January 27, 2021
I like it. It doesn't top Miller Park, but I understand why the change was made & I'm on board with it. #RollWithTheNew

— Jeff Hinnendael (@J_Hinnendael) January 27, 2021