NEW YORK — Before getting locked out, players loaded up Wednesday as big league teams unlocked their coffers for an unprecedented spending spree.
Major League Baseball clubs committed to a one-day record $1.4 billion in salaries Wednesday, hours before the league locked out players following the 11:59 p.m. expiration of the sport's collective bargaining agreement.
Six nine-figure contracts were handed out, including two by the Texas Rangers — shortstop Corey Seager got $325 million over 10 years and infielder Marcus Semien will make $175 million over seven years.
The Detroit Tigers got infielder Javier Báez for a $140 million, six-year deal, ace Max Scherzer was assured $130 million over three years from the New York Mets, and right-hander Kevin Gausman landed with the Toronto Blue Jays for $110 million over five years. Twins center fielder Byron Buxton also finalized a $100 million, seven-year contract to remain with Minnesota.
It was the first time teams combined to spend over $1 billion in a single day.
"This is actually kind of fun," Scherzer said. "I'm a fan of the game, and to watch everybody sign right now, to actually see teams competing in this kind of timely fashion, it's been refreshing because we've seen freezes for the past several offseasons."
The 27 deals announced Wednesday totaled $1,423,250,000, part of roughly $2 billion in new contracts handed out since the end of the World Series ahead of the CBA expiration.
"This year was a situation where we received some calls early and had some interest in what we were asking for," said Semien, a free agent for the second straight year. "It became easier to narrow a decision down. What it came down to was an opportunity to build something."
The union and league are likely headed for a protracted labor dispute after the average major league salary fell on opening day in 2021 for the fourth consecutive season.
Players and teams alike may have feared the chaos of a limited free-agency window in the spring if the lockout goes that long. That spurred agents, general managers and owners to act before rosters froze.
"It was 50-50," Báez said. "We didn't know what was going to happen when the deadline comes. I was just making sure I wanted to be with one of the best teams."
Teams won't be able to communicate with their players during the shutdown.
"We were talking about that yesterday. It's funny how you sign it and the next day you're shut out," Seager said. "They've been upfront with me. I know what to expect from them. They know what to expect from me. They know I'm going to come prepared. They know I want to be prepared."
Plenty of big names remain on the board, though. Star shortstop Carlos Correa, first baseman Freddie Freeman, third baseman Kris Bryant, shortstop Trevor Story and outfielder Nick Castellanos are still free agents and might have to wait until spring or later to find a home.
Right-hander Nick Martinez was close to an agreement with the San Diego Padres but didn't get it completed before the owners locked out players, according to a person with knowledge of the talks. The person spoke to The Associated Press on condition of anonymity because no deal had been reached.
Martinez, who pitched in Japan the past four seasons, remains a free agent. So does right-hander Jordan Lyles, who had a deal with Baltimore but was unable to get his physical done in time.
Two-time Cy Young Award winner Justin Verlander also appears to technically still be on the market despite agreeing to a $25 million, one-year deal with a conditional $25 million player option for a second year to return to Houston more than two weeks ago. The Astros never announced they had finalized his contract.
Based on estimates for remaining unsigned players, MLB projects offseason spending will be about $3 billion for a star-studded free agent class, roughly $700 million more than the previous high. Of the 188 free agents, 46 agreed to deals before the CBA expiration.
Among the other deals completed Wednesday:
— RHP Marcus Stroman to the Chicago Cubs, $71 million over three years.
— OF/INF Chris Taylor returned to the Los Angeles Dodgers, $60 million over four years.
— RHP Raisel Iglesias stayed with the Los Angeles Angels, $58 million over four years.
— RHP Jon Gray to Texas, $56 million over four years.
— OF Avisail Garcia to Miami, $53 million over four years.
— LHP Alex Wood to San Francisco, $25 million over two years.
— INF Eduardo Escobar to the New York Mets, $20 million over two years.
— INF/OF Leury Garcia to the Chicago White Sox, $16.5 million over three years.
— C Yan Gomes to the Chicago Cubs, $13 million over two years.
— RHP Yimi Garcia to Toronto, $11 million over two years.
— LHP James Paxton to Boston, $10 million over one year
— RHP Corey Knebel to Philadelphia, $10 million for one year.
— RHP Corey Kluber to Tampa Bay, $8 million for one year.
— RHP Andres Munoz with Seattle, $7.5 million for four years.
— RHP Luis Garcia with San Diego, $7 million for two years.
— C Roberto Perez to Pittsburgh, $5 million for one year.
— RHP Dylan Bundy to Minnesota, $5 million for one year.
— LHP Rich Hill to Boston, $5 million for one year.
— C Kevin Plawecki with Boston, $2.25 million for one year.
— OF Michael Hermosillo to the Chicago Cubs for one year at $600,000 in the majors and $180,000 in salary not disclosed.
— INF Johan Camargo to Philadelphia for $1.4 million for one year.
---
AP Baseball Writer Ronald Blum contributed to this story.
---
Swinging away: Brewers maintain aggressive approach to roster building despite past strikeouts
January 2018: Signed Matt Albers to 2-year, $5 million contract
Albers was coming off a career-best season in which he went 7-2 with a 1.62 ERA in 63 appearances for the Nationals when Stearns signed him to help bolster a young bullpen.
Early on, the move looked brilliant as Albers posted a 1.93 ERA through his first 24 appearances. He got knocked around hard his next time out, allowing five earned runs in a loss to the Cubs that resulted in a stint on the injured list. He returned six weeks later but made only one appearance, allowing three runs, before landing back on the IL and posting a whopping 23.63 ERA in eight appearances after he returned in August.
Things didn't go much better in 2019, either. Albers posted a 5.13 in 67 games and became a free agent after the season but hasn't pitched in the big leagues since.
June 2018: Traded JiMan Choi for Brad Miller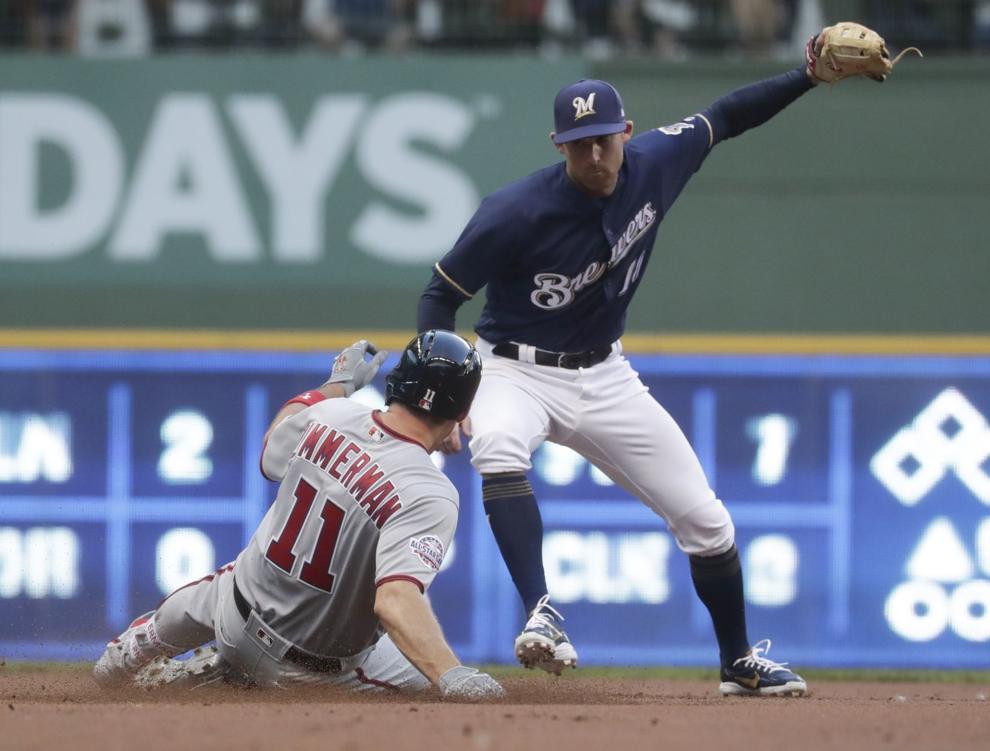 Milwaukee signed Choi to a minor league deal to provide depth at first base and he forced his way onto the Opening Day roster by batting .409 with three home runs, 10 RBIs and a 1.245 OPS in 27 Cactus League games.
He became expendable when Jesus Aguilar, who also played his way onto the roster with a mammoth spring, seized the starting job at first after Eric Thames' injury. So Stearns dealt Choi to Tampa for Miller, who was hitting .256 with five home runs and 21 RBIs while playing both first base and the outfield.
"At this point we thought that the positional versatility and the infield experience that Miller brings would be helpful," Stearns said. "He will head to Triple A, and when we have a need, I'm sure he will be ready to contribute."
Miller appeared in just 27 games and batted .230 with two home runs and a .666 OPS before he was designated for assignment on July 28.
July 31, 2018: Traded for Jonathan Schoop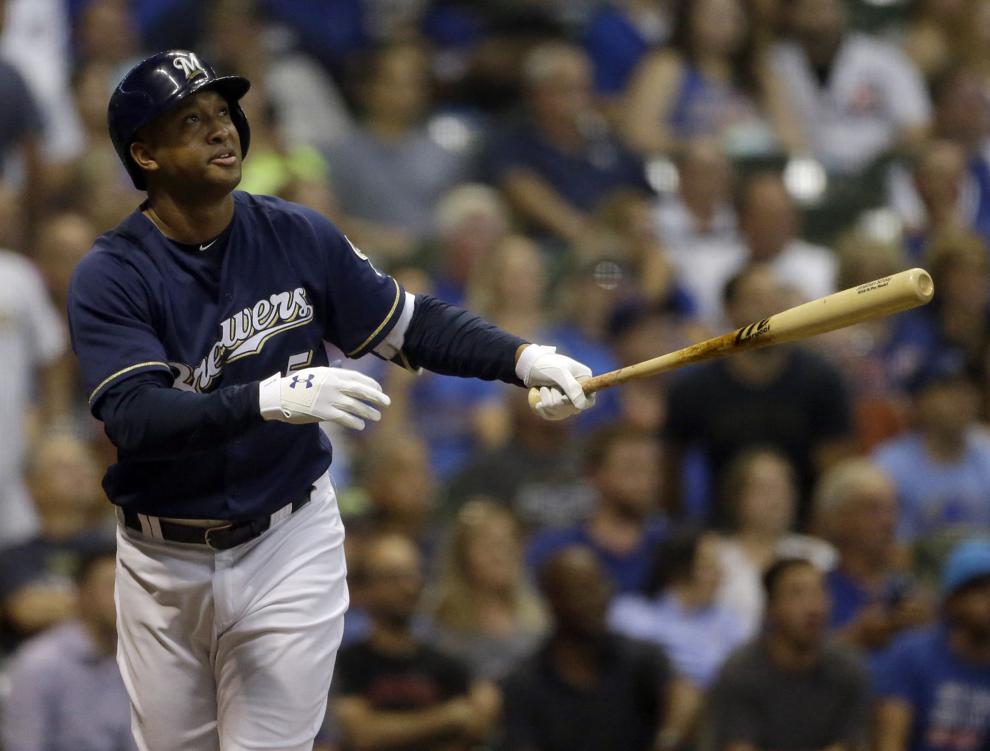 Stearns was reminded of one of his biggest busts Monday when Tigers infielder Jonathan Schoop put Milwaukee in a 1-0 hole with an RBI single off Corbin Burnes.
Stearns sent infielder Jonathan Villar and two prospects to Baltimore for Schoop at the trade deadline in 2018, despite having planned to shift Travis Shaw to second after Milwaukee acquired third baseman Mike Moustakas in an earlier deal.
By pairing the right-handed Schoop, who was hitting .244 with 17 home runs at the time of the deal, with Shaw, a left-handed slugger, Stearns thought he had the makings of a formidable tandem.
"Really, what it comes down to for us is we think we're getting better and we think we're adding to our overall depth," Stearns said at the time.
The move backfired as Schoop hit .202 with four homers and 21 RBIs in 46 games then went 0-for-8 in the playoffs leading Stearns to non-tender him after the season.
"Look, it was a bad deal, and that's on me," Stearns said. "We made a trade for a player we thought was going to be here for basically a year and a half, and I was wrong."
As for the players Stearns gave up in the deal, only Villar is in the big leagues this season. After batting .270 with 61 stolen bases and a .777 OPS in 216 games for the Orioles, he was traded to Miami in December 2019 and then to the Blue Jays at the deadline in 2020.
He signed with the Mets in February and is batting .231 in 41 games this season.
Dec. 20, 2019: Signed Justin Smoak to 1-year deal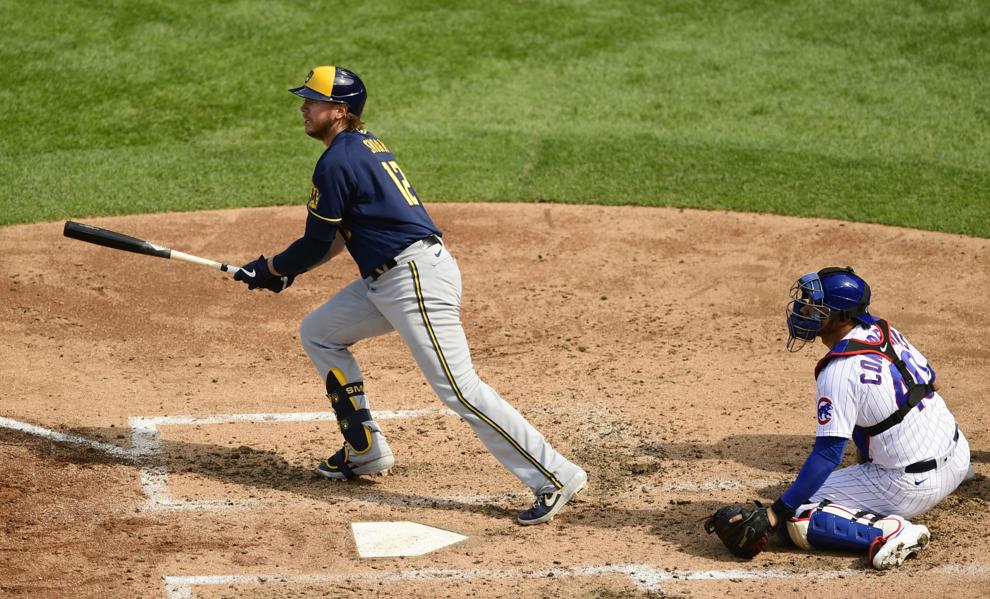 Stearns opted against picking up a $7.5 million option to bring back Eric Thames and instead took a chance on switch-hitting first baseman Justin Smoak, whose power from the left side projected to play well at American Family Field, with the idea of him sharing time at first base with Ryan Braun.
The COVID-19 pandemic thwarted those plans, though. When the Brewers returned from their hiatus, Braun was shifted into the designated hitter role leaving first base to Smoak, who never got his bat going and was designated for assignment after batting .186 with five home runs and a .642 OPS in 33 games.
"You never completely know when it is the right time, especially in a season like this," Stearns said at the time. "There is some feel involved in this.
"Determining whether and the likelihood of a player snapping out of a slump is always a really tough judgment call. In this case, with the volume of playing time that Justin had to try to get this going and where we are in the season, we felt like it was the right time."
Smoak's release came just weeks after Stearns cut ties with utility man Brock Holt, who signed his own one-year deal early in Spring Training but was let go after he hit .100 in just 16 games.