MILWAUKEE — Colin Moran hit an early three-run homer, then had an RBI double in the 10th inning that sent the Pittsburgh Pirates over the Milwaukee Brewers 6-5 on Sunday.
The Pirates withstood a two-homer performance from the Brewers' Daniel Vogelbach to earn their first series win in Milwaukee since September 2018. Pittsburgh has won two of three in each of its last three series to recover from an early six-game skid.
Pittsburgh's Bryan Reynolds and Milwaukee's Avisaíl García also homered.
"Obviously it's great to win series," said Reynolds, who scored the go-ahead run. "We had a rough start. To answer back the way we have, speaks volumes for who we are as a team. We'll just keep it going."
The Pirates were 2-11 in Milwaukee from 2019-20.
Richard Rodríguez (1-0) earned the win with two innings of perfect relief.
Rodríguez has allowed one hit, one walk and no runs in 6 1/3 innings this season. Pirates manager Derek Shelton felt comfortable giving Rodríguez a second inning in part because the right-hander hadn't pitched since Tuesday.
"If you watch Richie Rodríguez at all, No. 1, I don't know if he has a pulse," Shelton said. "No. 2, if you ask him to throw four innings every day, he would do it."
With Jackie Bradley Jr. on second to start the bottom of the 10th, Rodríguez retired Vogelbach and Garcia on a pair of flyballs before striking out Travis Shaw to seal the victory.
"I was able to get into some good counts today and put some good swings on it," Vogelbach said. "I wish I had that last at-bat back, being able to get the guy over and give us a chance to tie the game, and I wasn't able to do that. So, that's frustrating for myself."
This back-and-forth game featured two-run homers from each team in the seventh.
Reynolds hit a 3-2 pitch from Brad Boxberger into the back rows of the second deck of the right-field stands to break a 3-all tie in the top half of the inning. Reynolds' 436-foot drive also scored Adam Frazier, who had led off the inning with a bloop single.
The Brewers tied it back up in the bottom of the seventh. After Bradley reached on a one-out bunt single, Vogelbach homered off Chris Stratton.
Pittsburgh's bullpen had thrown 11 1/3 straight scoreless innings and had allowed just one run in its last 25 innings before Vogelbach's drive.
Pittsburgh has now won all eight of Chad Kuhl's career starts against the Brewers.
Kuhl entered the day with a 4-0 career record and 1.73 ERA against the Brewers. He wasn't quite as sharp Sunday as each of the two starting pitchers — Kuhl and Milwaukee's Freddy Peralta — allowed three runs over five innings.
Yelich frustrated
Brewers hitting coach Andy Haines acknowledged outfielder Christian Yelich is frustrated to be missing this much time early in the season. Yelich went on the injured list Saturday and has missed six straight games with a lower back strain.
"Christian's a guy that takes so much pride in playing every day," Haines said. "He does not want to sit. He just never wants a day off. He knows the responsibility he has to people paying to watch him play and to the organization. He takes that as serious as anyone can take it. So I know he'll play it off a little bit, but I know deep down it hurts him, man."
On deck
The Brewers open a six-game trip Monday night in San Diego. Right-hander Brandon Woodruff (0-0, 2.12) is scheduled to start for Milwaukee with right-hander Joe Musgrove (2-1, 0.47) the scheduled starter for San Diego.
Brewers by position: Pitching depth will be key as teams readjust with return of 162-game schedule
PROJECTED STARTERS
RHP Corbin Burnes (above) 
Not only do the Brewers start camp with the makings of a full rotation, they also have the benefit of continuity as all five projected starters were in the rotation for most of last season. Burnes (4-1, 2.11 ERA, 12 appearances, 9 starts) and Woodruff (3-5, 3.05, 13 starts) will most likely fill the top two spots, giving Milwaukee a formidable 1-2 punch.
The team is hoping Houser (1-6, 5.30, 12/11) can take another step forward in his development, specifically by avoiding the blow-up inning that plagued him in many of his starts last season, and that with a more consistent schedule both during spring training and the regular season, Lindblom (2-4, 5.16, 12/10) will be able to fully adjust to the big leagues after his dominant run through the Korean Baseball Organization while Anderson (4-4, 4.21) — whose signing has not yet been made official — can continue to eat innings while keeping the ball on the ground.
IN THE 'PEN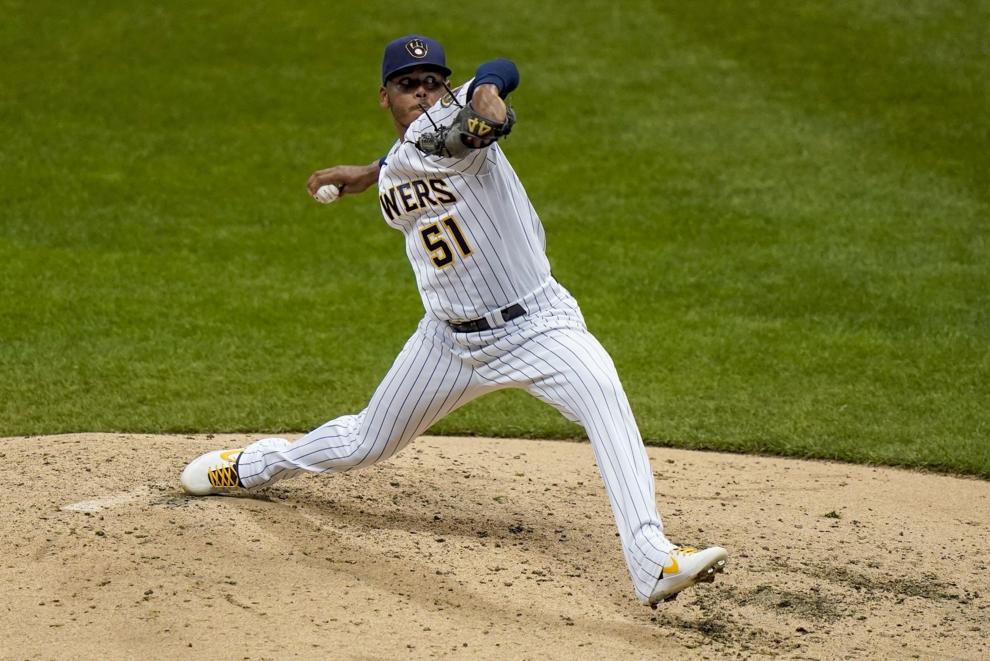 RHP Freddy Peralta (above)
Peralta (3-1, 3.99 ERA) made one start for Milwaukee in 2020 and will be prepared for a starting role during spring training but is likely to start the season working out of the bullpen, where his ability to cover multiple innings will provide flexibility especially early in the season as Counsell manages his starters' workload. Lauer (0-2, 13.09) did not fare well in limited action last year (four appearances, two starts), but he's expected to benefit from the return to a more normal structure as well as being fully healthy. Suter (2-0. 3.13) was an unsung hero for the Brewers' staff last year, posting a 1.38 ERA over 13 innings in four spot starts to go along with a 4.34 mark in 12 relief appearances, eight of which covered multiple innings. He'll fill a similar 'swingman' role in 2021.
ON THE FARM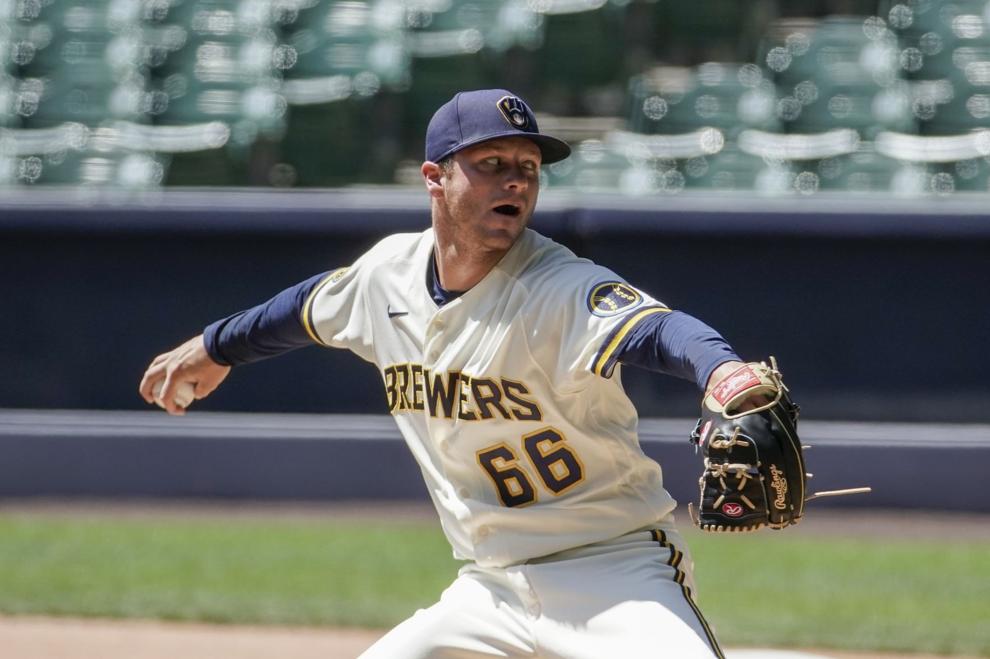 The Brewers added Small, their first-round pick in the 2019 MLB Draft, to their 60-man player pool last season after he posted a 2.50 ERA in five appearances for Class A Wisconsin in his first taste of professional action. ... Brown was named the organization's minor league pitcher of the year after going 9-1 with a 2.44 ERA for Class AA Biloxi in 2018 but struggled the next season at Class AAA, where he posted a 5.79 ERA and 1.73 WHIP. He showed flashes of improvement during spring training and the Brewers added him to their player pool when the season restarted to keep him from missing an entire year of development. If he can get back on track this season, he could be in line for his first call-up at some point in 2021. ... A fourth-round pick in the 2018 MLB Draft, Ashby has a 3.53 ERA in 37 minor league appearances (33 starts). He, too, spent last season at the team's alternate training site.
BY THE NUMBERS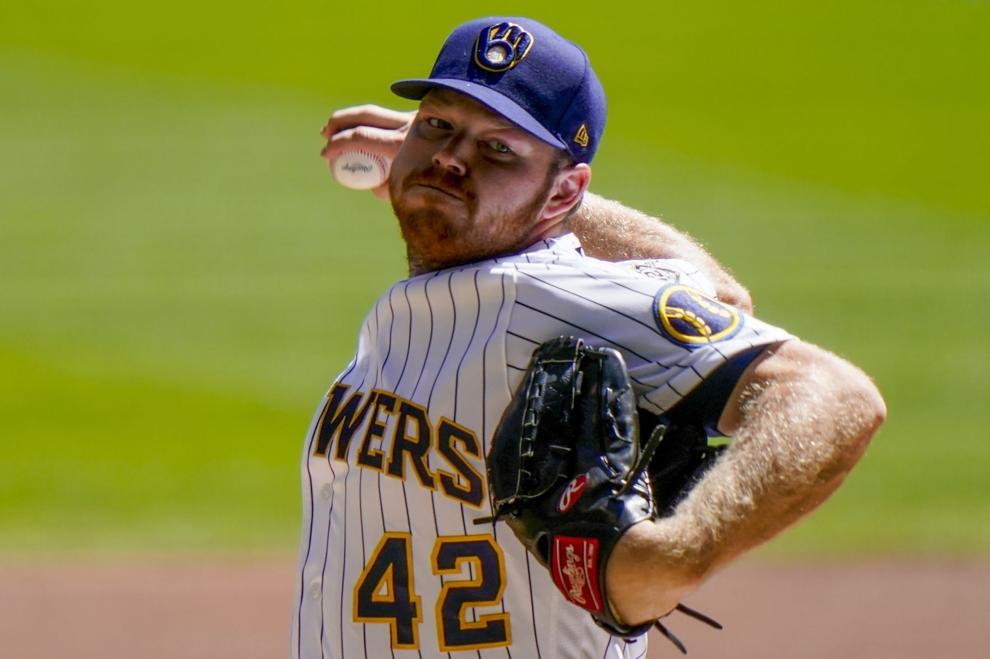 BREWERS' 2020 STARTING PITCHING STATS 
ERA — 4.18 7th/National League
Individually, Brandon Woodruff (above) finished among the NL leaders in just about every major statistical category last season. His 3.05 ERA was ninth among qualifiers while he was fifth with a 0.991 WHIP and 5.05 strikeout/walk ratio and seventh in total strikeouts (91) and strikeouts/nine innings (11.12).
Corbin Burnes finished ninth in the NL with 88 strikeouts.