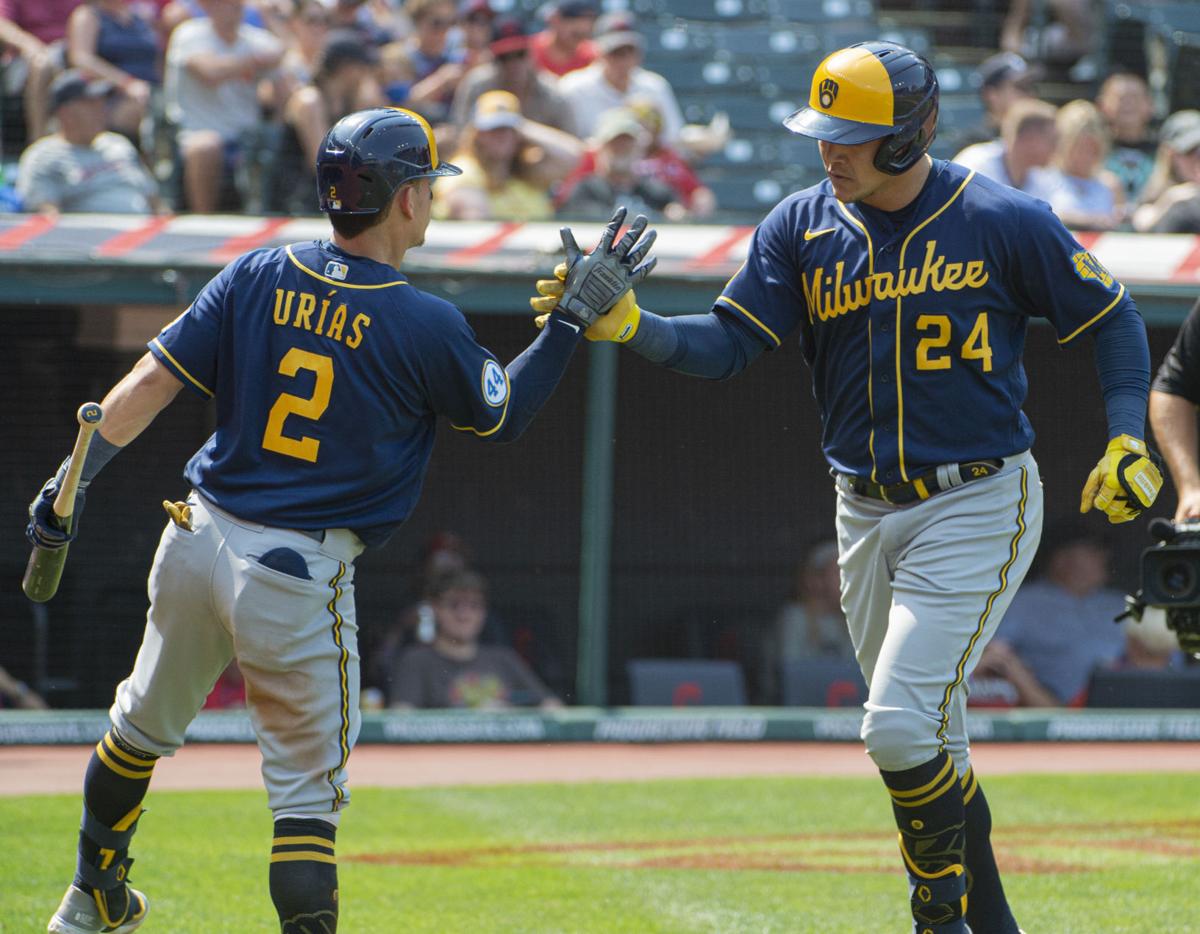 MILWAUKEE — The "Fire Andy Haines" crowd has been awfully quiet these days.
Just a few months ago, nobody drew the ire of Milwaukee Brewers fans and social media observers more than Haines, now in his third season as hitting coach.
Haines' wrongdoing was a lineup that slumped out of the gate and struggled to produce runs on a consistent basis. Fast forward to the present and the Brewers' offense is just a big a factor in the team's position atop the NL Central as its top-notch pitching staff.
Since the All-Star break, Milwaukee has posted a league-best .266 batting average and .312 average on balls put in play while scoring an NL-leading 279 runs.
The Brewers are second in the league with a .335 on-base percentage and .778 OPS and third in slugging percentage (.443) while striking out just 21.1% of the time, fewer than all but two NL teams.
Compare that to May, when the Brewers scored a total of 97 runs — second-fewest in the NL — while batting a league-worst .207, and the difference is astonishing.
"We've got to a place where I think our lineup is producing quality at-bats," Counsell said. "There's been less 'empty' at-bats and that's how you score, you just have consistent tough at-bats."
Unlike past teams which have relied primarily on mashing home runs, this year's squad has taken a more patient approach: working counts and waiting to get the right pitch.
Or, more simplistically, just trying to have a good at-bat and keep the line moving.
"What we've done a better job of is the circle notion of a lineup and tough at-bat after tough at-bat eventually paying dividends," Counsell said. "We're not a big home run team; we haven't been a huge home run team but the quality of at-bats we've put up through games, especially against bullpens, has been pretty darn good.
"Whether it be a 30-pitch inning for a reliever or forcing a reliever like (Cardinals reliever Giovanny) Gallegos (last) Sunday — he got two outs but they were a tough two outs to get (in the eighth). Whether that affected him in the ninth inning, I don't know. But I think that's helped us score runs at times, just being tough on guys and maybe there's a crack in there somewhere."
Two key tenants of Counsell's managerial philosophy are the importance of jumping on opposing pitchers early before they settle in and how all aspects of the game — pitching, offense and defense — are connected.
The Brewers are proving those beliefs true. Batters are taking advantage of pitchers' early mistakes, which has staked their own starters to early leads and allowing them some breathing room as they settle in on the mound.
Then, by putting constant pressure on those pitchers, who are forced to throw more pitches, Milwaukee's offense has been able to tack on insurance runs that allow Counsell to turn things over to a lockdown bullpen.
"It's one thing I feel like has really improved as the season has gone on for us, just making it tough to get outs for us, especially in the second half of the game," Counsell said. "We faced a starter on top of his game tonight, but against teams' bullpens in the second half of the game or as a starter is finishing his day, we've made it really tough on teams. You don't get rewarded every night for that, but you're going to get rewarded a lot for it. Lately we have. It's just 'give yourself a shot' with guy after guy."
The Brewers are hoping the formula carries them deep into October and the franchise's first World Series since 1982.
"We're a dangerous team when everything's working," left-handed starter Eric Lauer said. "We see the pitching take off, we've got studs on the mound left and right and then we're hitting. It's just unbelievable what we're doing right now and the way guys are seeing the ball, the way guys are throwing the ball. Everything's clicking and I think it's right at the right time. We have a chance to do some real special stuff. Everybody can feel it.
"Everybody knows the depth and the bats that we have. It's a really cool feeling to be a part of."
Smashing success: Brewers keep setting franchise records — and they're not done yet
Victories in a season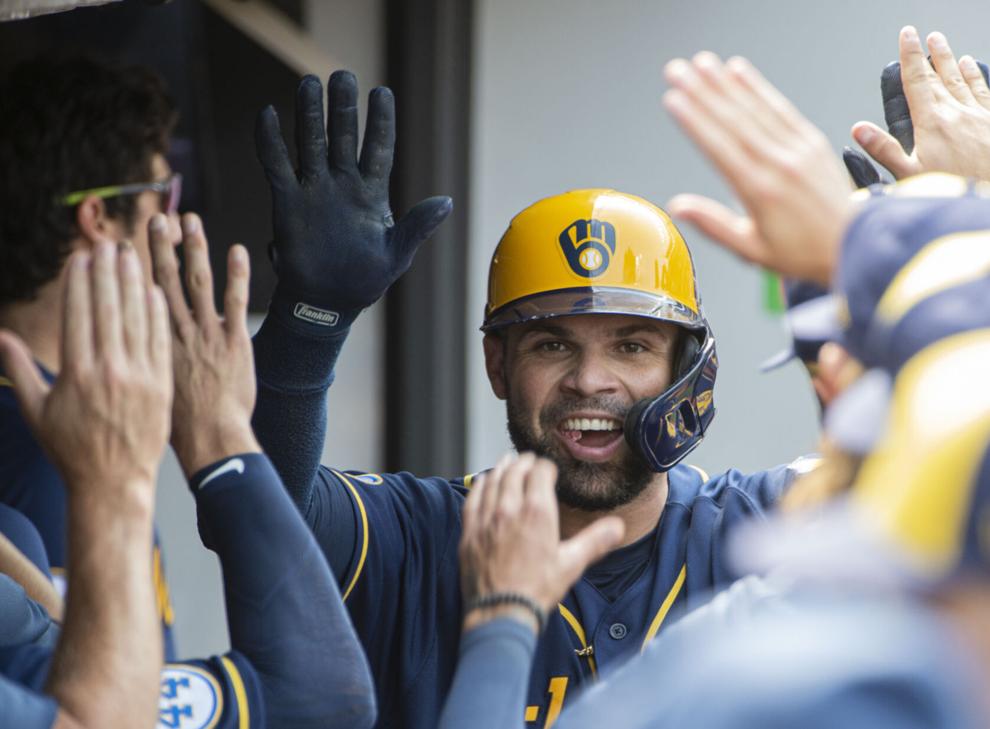 No team in franchise history has ever won 100 games in a season but the Brewers are on pace to hit that mark this season which would also give the 2021 team the franchise record for best single-season winning percentage, topping the mark of .593 set in 2011.
Road winning percentage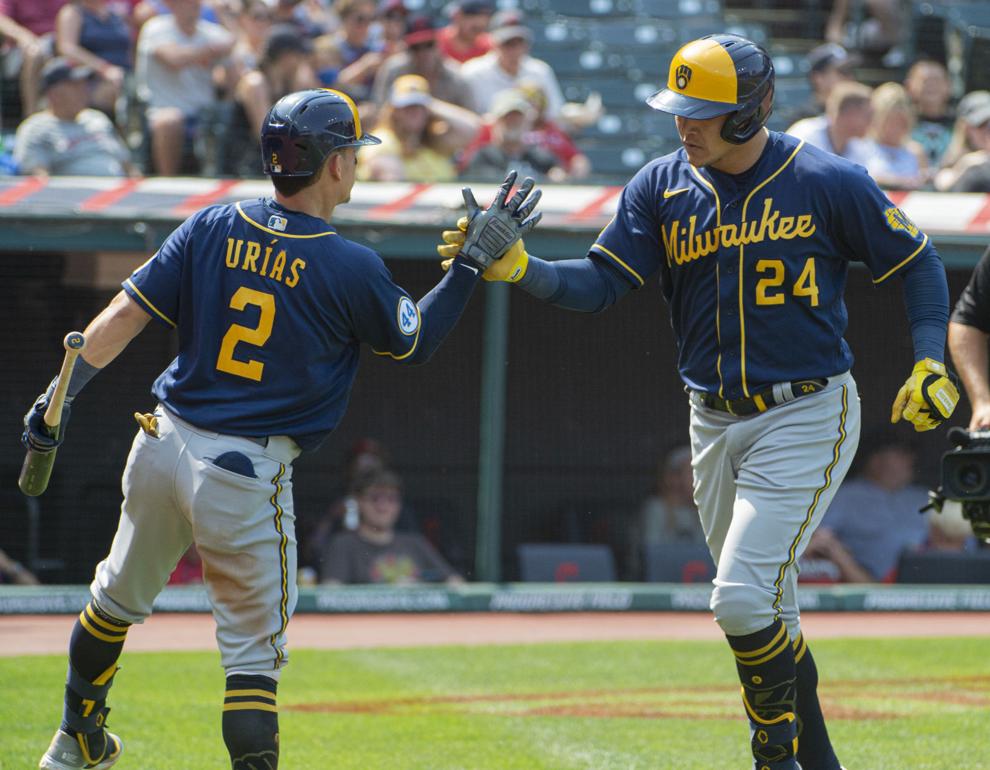 Again, this record is almost certain to fall. The Brewers go into their five-game interleague road trip with a .657 road winning percentage in 2021 and would need to go 1-11 in their remaining road contests to finish behind the '82 squad.
Earned Runs Allowed / Earned Run Average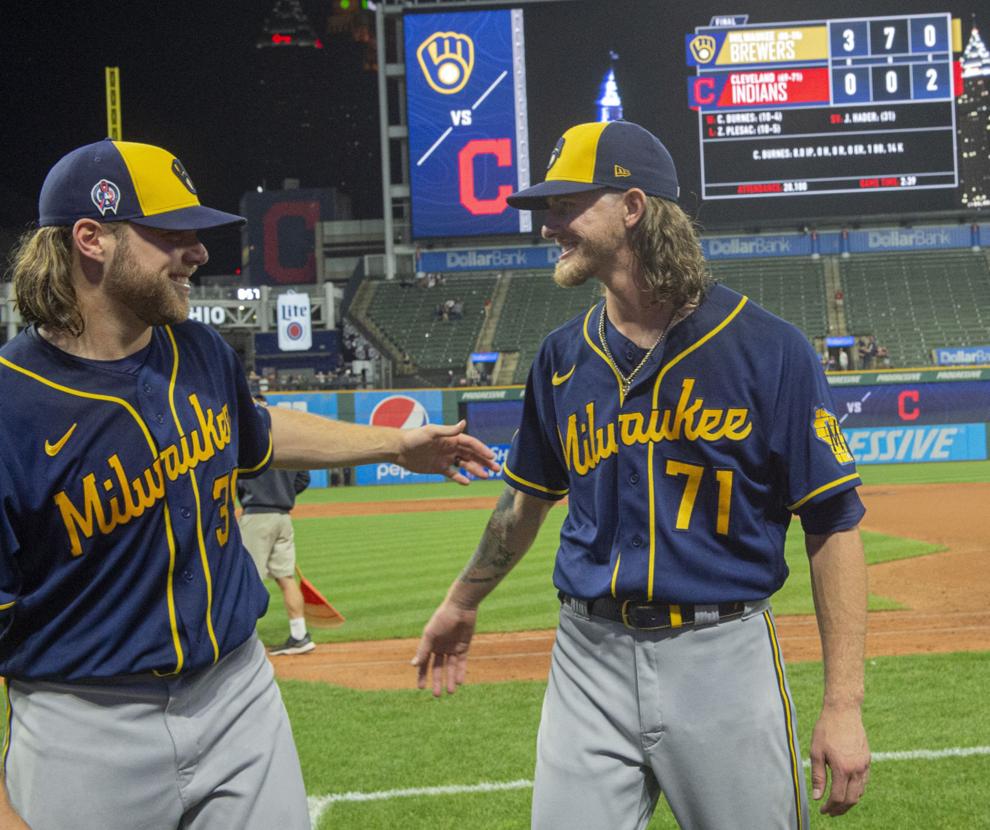 Technically, the 2020 Brewers hold the record for fewest earned runs allowed in a season with 239, but that came during a 60-game season so we're not counting it here. Same with the second-place 1981 team, which held opponents to 428 earned runs in a strike-shortened 109-game season.
The fewest earned runs allowed in a full regular season was 532, set in 1971. Heading into their off-day Monday, the 2021 Brewers were tied with the 1971 team for the best staff ERA in franchise history.
Through 144 games, the Brewers have allowed an average of 3.33 runs per game. If they keep that pace, they'll finish with with 540 but with a couple more performances like this past weekend and the 2021 squad could move into the top spot.
That, in turn, would help the current team's chances of catching the 1971 Brewers record for best full-season ERA.
The Brewers are also in position to break the franchise record for fewest hits allowed in a season (1,259 in 2018) and most strikeouts (1,497 in 2019). Milwaukee's pitchers have allowed 1,017 hits while striking out 1,439 batters so far this season.
Individual pitching records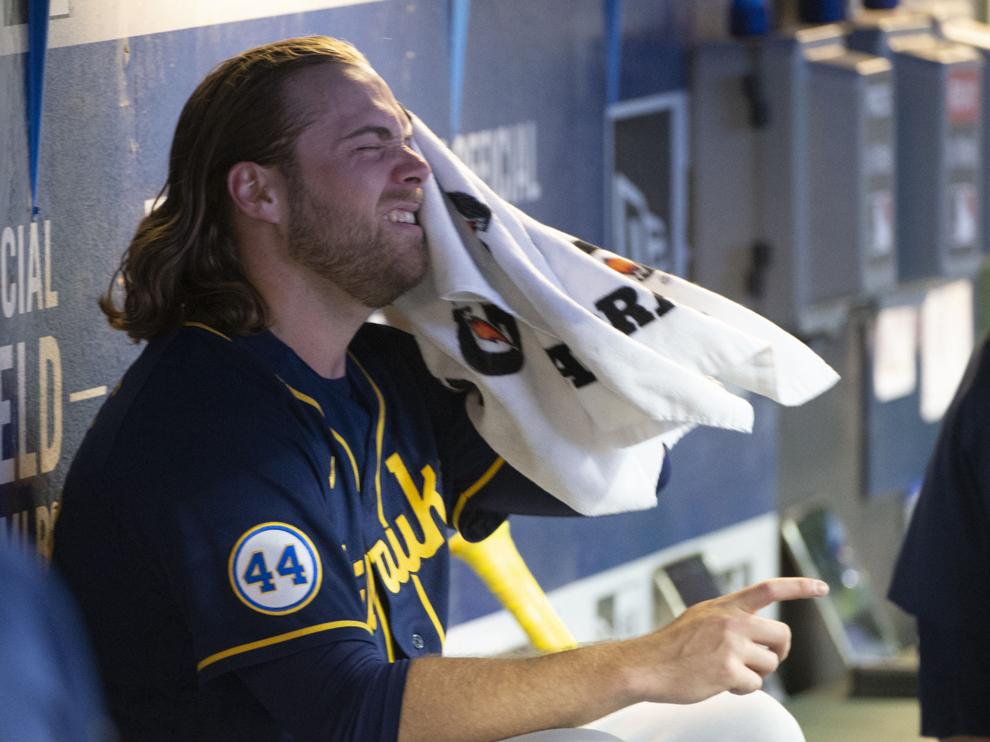 The Brewers' pitching staff is also on the verge of shattering several individual records this season.
After holding Cleveland scoreless over eight no-hit innings Saturday, Corbin Burnes' ERA dropped to 2.25 for the season, good for second in the National League behind the Dodgers' Max Scherzer and within striking distance of Mike Caldwell's 2.36 ERA in 1978 that stands as the best ever by a Brewers starter.
Brandon Woodruff is also in the mix for both the NL lead and the Brewers' all-time record. He brings a 2.48 ERA into his scheduled start Tuesday at Detroit.