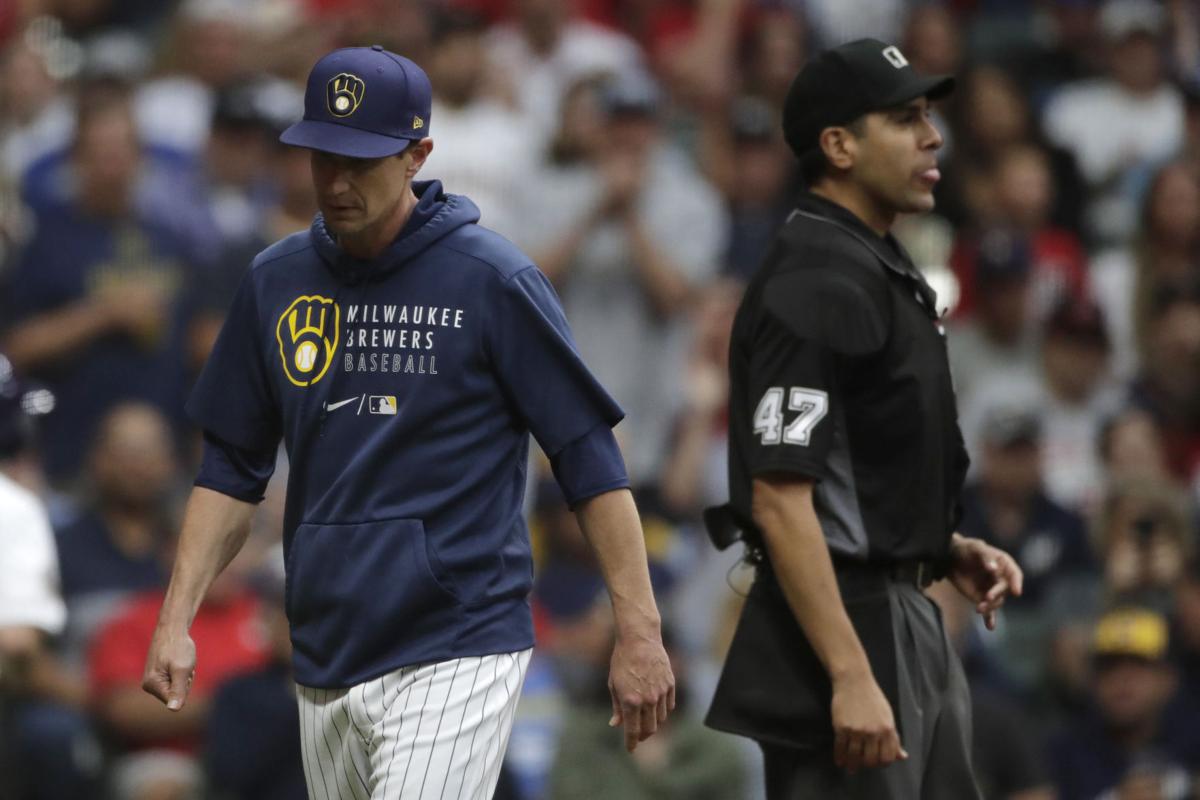 MILWAUKEE — A three-game skid to close out the first half aside, the Milwaukee Brewers couldn't help but feel good heading into the All-Star break.
Despite a rash of injuries and subpar performances from several key players, the Brewers went into the midseason pause 53-39 with a four-game lead over the Cincinnati Reds in the NL Central Division.
"It's been a really good first half," Brewers manager Craig Counsell said. "But there's still a lot for us to prove."
The Brewers will get their first chance to prove themselves Friday, when they open a three-game series in Cincinnati, which took three of four in Milwaukee last weekend.
Cincinnati was baseball's hottest team going into the break after winning nine of its last 11 games to surge past the free-falling Cubs and close the gap on the Brewers, who dropped six of their final eight after winning 11 in a row to take an eight-game lead in the division.
"They're a good team; we're a good team," said left-handed starter Eric Lauer, who took the loss last Friday despite holding the Reds to just a run on four hits over six inning. "It's always going to be a good series. Runs are probably going to be tough to come by. A lot of good pitchers. They're exciting games and they're fun to play in."
A sweep would send the Brewers into an off-day Monday with a seven-game lead while they'd sit five up if they take two of the three games. A sweep by the Reds would cut the lead to a single game and Milwaukee would lead by three if Cincinnati won two of the three meetings.
"Anytime you play in division it's always big, and they're the ones chasing us right now," right-handed starter Brandon Woodruff said.
After this weekend, the Brewers face the Reds one more time (Aug. 24-28 in Milwaukee) but will play the rest of their NL Central rivals 29 times down the stretch: 13 against the Cardinals, nine against the Pirates and seven against the Cubs.
Milwaukee will play 10 of its last 16 games against NL Central teams, starting with seven in a row against the Cubs and Cardinals at American Family Field. The Brewers will close out that homestand, as well as the home portion of their 2021 schedule, against the Mets then face the Cardinals again in St. Louis before closing out the regular season in Los Angeles against the Dodgers.
With a pair of NL West teams currently holding comfortable leads for the two NL wild card spots, that likely means it's division-title-or-bust if Cincinnati, Chicago or St. Louis hope to make the postseason.
"You come into these series with division opponents, and sweeps change the landscape pretty fast," Counsell said. "Things change quickly, so every game's important."
Few teams know better than the Brewers just how small even the biggest leads in the standings can be. Milwaukee made a late surge to come within a game of a wild card spot in 2017; wiped out a six-game deficit in September 2018 that resulted in a Game 163 victory over the Cubs for an NL Central title; and made another late run in 2019 to clinch a playoff berth, going into the final weekend with a chance to catch the Cardinals for another division crown.
"Nothing is decided, nothing's close," Counsell said. "This probably goes down to the last week of the season like it does every single year so we've got to keep our heads down and keep playing good baseball. The space is great, for sure, but it doesn't mean anything at this point."
This year, at least for now, the Brewers will be trying to stave off a late challenge. Their strong play in the first half provided breathing room and, as Counsell described it, some "margin for error." They could also get a boost at the trade deadline, both by any additions president of baseball operations David Stearns makes and if other division teams decide to deal away players.
Milwaukee is expected to get an additional boost early in the second half with the return of outfielder Lorenzo Cain and second baseman Kolten Wong from the injured list while a return-to-form from Christian Yelich would bolster an offense that's finally showing signs of life.
"There's some exciting baseball ahead of us," Counsell said. "There's a lot of big games ahead of us, a lot of fun ahead of us, a lot of challenges ahead of us but we're looking to it.
"We've put ourselves in a position to experience all of that."
Lobstein acquired from Nats
The Brewers sent right-hander Justin Topa to the Arizona Complex League (ACL) Brewers Blue on a rehab assignment, acquired left-hander Kyle Lobstein from Washington in exchange for cash and assigned him to Nashville (Triple-A East), designated right-hander Ryan Weber for assignment, and sent infielder Daniel Robertson outright to Nashville.