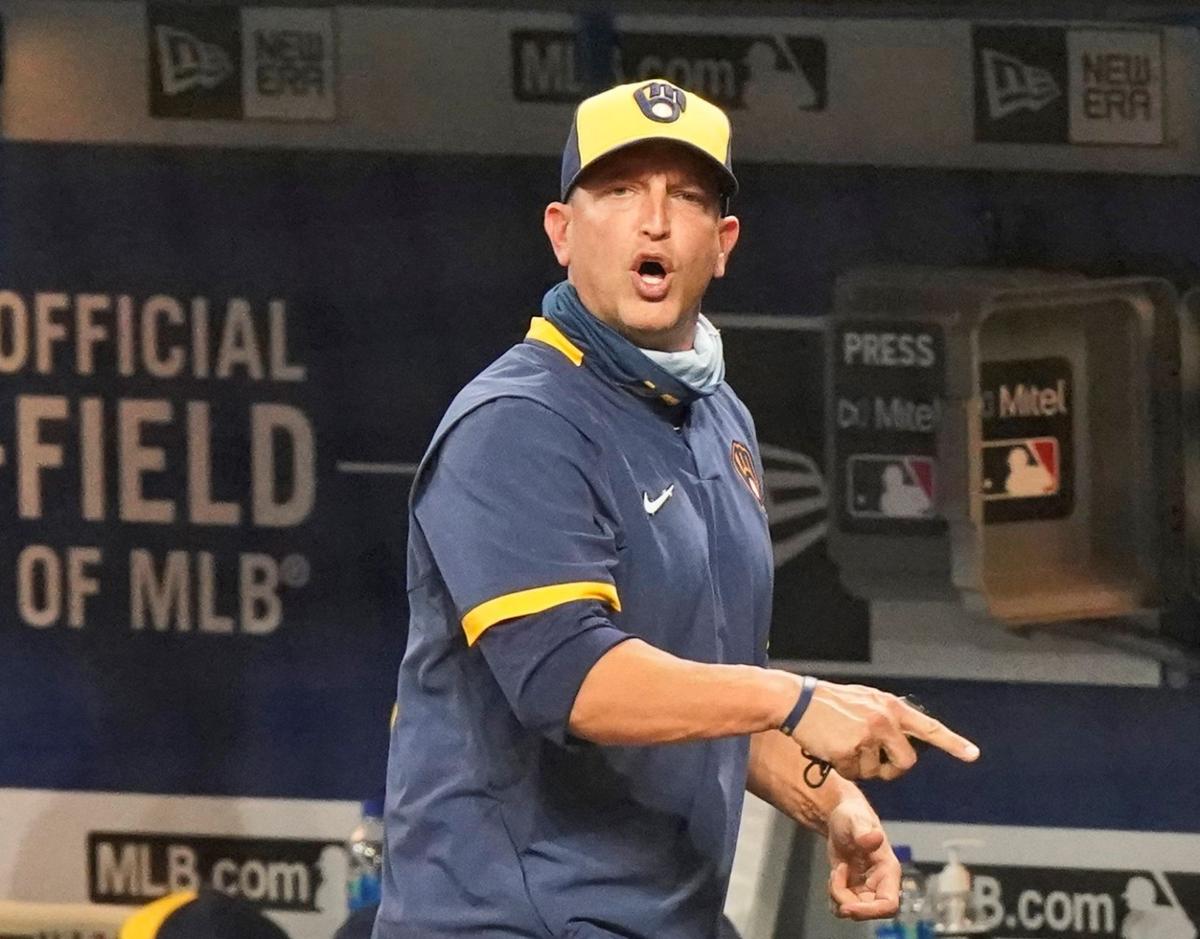 MILWAUKEE — Part of the job description for a Major League Baseball hitting coach means being the scapegoat when a team's batters don't produce as expected.
So, it would be hard to fault Milwaukee Brewers hitting coach Andy Haines if he was a bit nervous heading into his end-of-season interview with manager Craig Counsell and president of baseball operations David Stearns last fall.
Haines oversaw a group that finished near the bottom of every major statistical category, including batting average (.223/12th in the National League), on-base percentage (.313/11th), slugging percentage (.389/11th) and OPS (.702/13th). Milwaukee scored 4.1 runs per game to rank 27th among the 30 teams.
But instead of spending the winter polishing his resume, Haines was able to start devising a comeback plan for Milwaukee's hitters. Counsell and the front office are betting that the team's offensive issues are more a result of circumstance than anything else.
Those circumstances included a complete shutdown midway through spring training due to the COVID-19 pandemic, followed by a three-month hiatus when no one knew whether or not baseball would return. Once that question was answered, players had just a few weeks to get back up to speed during summer training camps before jumping into a 60-game regular season, with rules that kept hitters from utilizing many of the tools they rely on, including access to in-game video.
"I was appreciative of how thoughtful they were and how much they understood the whole dynamic," Haines said. "I didn't want to go into any conversation with that in the front of my mind, as some kind of cop-out or excuse.
"They were complimentary, then they said we're going to have some conversations about how we're going to keep pushing and getting better, and that's really what we did from that point to now."
For Haines, that means turning the page and starting over with a clean slate while being careful to remember lessons last year offered. The biggest and most significant lesson is resisting the urge to salvage an entire season with one swing of the bat, a problem that was exacerbated by the condensed schedule.
In a normal season, 60 games would take a player from Opening Day until approximately Memorial Day. Many players are still trying to fine-tune their swings and mechanics, adjusting to pitchers and even the weather during that part of the season. By summer, when those hitters are locked in, early season struggles are brushed off as slow starts and largely forgotten as individual statistics level off over the course of an entire season.
That wasn't the case in 2020. Even a weeklong slump to open the season had the potential to destroy a player's stat line, and the knowledge that each subsequent at-bat without a positive result would make those numbers look even worse, leading to players putting undue additional pressure on themselves every time they stepped into the box.
"Baseball cannot be played that way, it can't," Haines said. "If the game's ever sent us a reminder that it can't be played that way, it sent us a pretty strong one in 2020. There's just a threshold you have to play the game at. We all know when you're trying to do too much your heart's in the right place, but things can break down, your swing can break down, your ability to navigate an at-bat can break down."
Just knowing that the potential for an entire season exists, as well as a normal, six-week spring training schedule, will help players move forward from last season and focus on what's ahead. And though COVID-19 is still restricting some aspects of players' preparation, they'll also have the ability to evaluate their at-bats during games this year with the addition of tablets to the dugout.
"It's a tool we're all looking forward to having," Haines said. "Sometimes you don't know how valuable something is until it's taken away."
Most encouraging for Haines, though, is the hitters themselves. It's hard to fathom that Christian Yelich could even come close to putting up numbers as bad as last year. Omar Narvaez expects to return to his previous form, too, after batting just .176 in 2020. Avisail Garcia's legs will be fresher by shifting out of center field. Keston Hiura has another year of experience under his belt. Luis Urias is healthy and finally has a chance to show what he can do. And new addition Kolten Wong's ability to get on base will be a welcome addition to the leadoff spot.