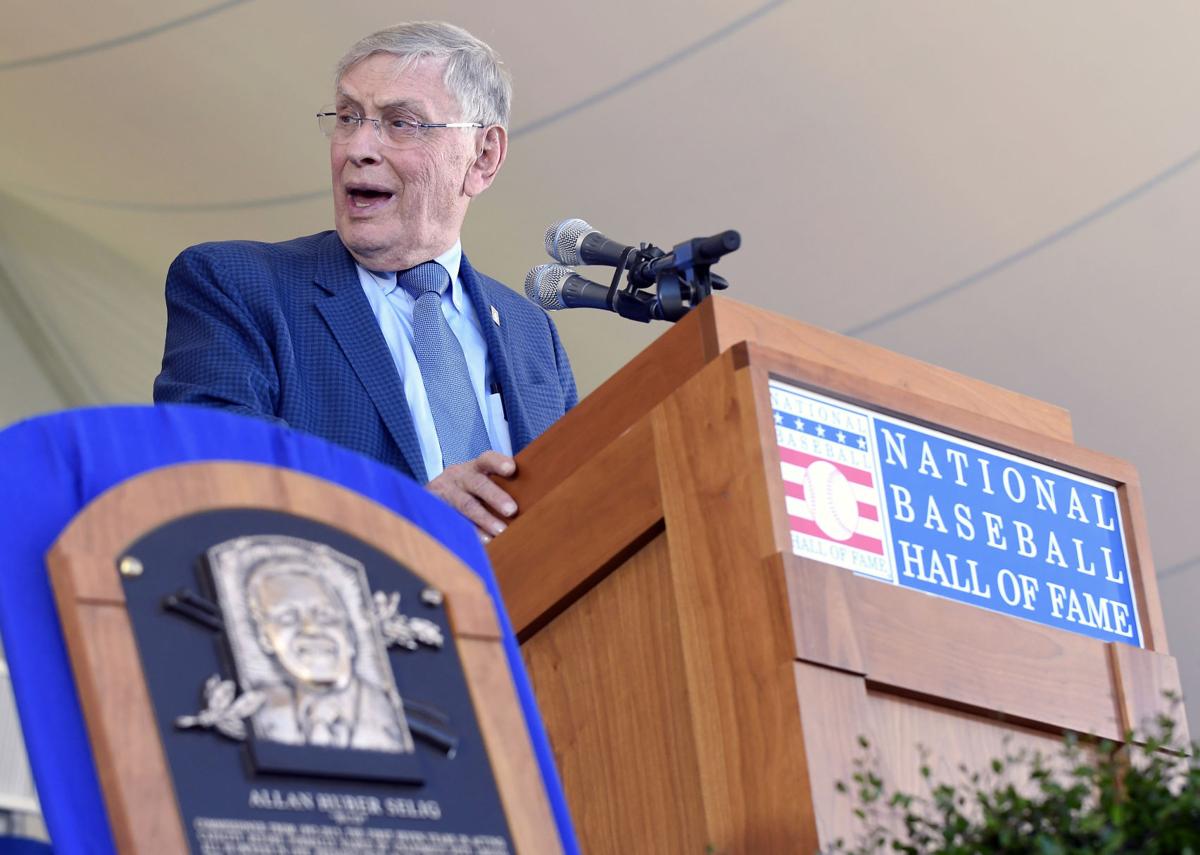 COOPERSTOWN, N.Y. — He oversaw so many changes to baseball and steered the game through so many choppy waters that it was more than appropriate that Bud Selig's shining moment came on the same day as a personal milestone.
In other words, happy 83rd birthday, Mr. Commissioner Emeritus. And welcome to the National Baseball Hall of Fame.
That was the mood on a beautiful Sunday afternoon as Allan Huber Selig was formally enshrined in the Hall with four others — former players Jeff Bagwell, Tim Raines and Ivan Rodriguez, and former executive John Schuerholz.
Selig's speech spanned his remarkable life in the game, from his purchase of the Seattle Pilots out of bankruptcy court and move to Milwaukee to begin play as the Brewers in 1970 to his eventual groundbreaking run as the game's commissioner from 1992 until 2015.
Selig didn't hesitate to thank Hall of Famers Robin Yount, Rollie Fingers and Paul Molitor, who played for his Brewers team that made it to the World Series in 1982.
"I was able to do something every day that I loved with great passion," Selig said in his speech. "I loved the baseball life. I loved living and dying with each game. I loved watching players come in as nervous rookies and grow and mature to become winners in all sorts of ways, and to take their place on this stage."
There were trials and tribulations during Selig's tenure as commissioner, which ended up being the second-longest behind only Kenesaw Mountain Landis, but his strength through adversity and his expertise as a "bridge-builder" helped him endure. This term was specifically used on his Hall of Fame plaque, powered him to a truly prolific era that lifted baseball to new heights.
Selig entered the commissioner's chair during a time in which labor and management were not at peace, but the 1994 strike and cancellation of that year's World Series led to a lasting labor peace that continues today. And the issue of performance-enhancing drugs that affected the sport has led to stringent testing policies that have cleaned up the game with the toughest anti-drug regulations in all of sports.
"I can tell you that having the buck stop at your desk is not necessarily a good feeling, but it is a responsibility that comes with positions of leadership," Selig said.
Before Selig handed the reins to current commissioner Rob Manfred, baseball had universally retired Jackie Robinson's No. 42, expanded with new teams in 1993 and 1998, expanded to three divisions per league, added two wild card teams, created interleague play, Major League Baseball Advanced Media and MLB Network, the World Baseball Classic, and instituted instant replay for umpires.
The sport had grown from a $1.2 billion industry in 1992 to a sport that has annual revenues of $9 billion now.
"Success came from working together," Selig said of the game's resurgence into the perennial labor peace that enables it to thrive today. "The unprecedented success we've achieved over these past 25 years has come from ending the divide, from building harmony, from working as one for the good of the game."
Be the first to know
Get local news delivered to your inbox!