MILWAUKEE — The Milwaukee Brewers' investment in Kolten Wong is paying off handsomely.
The two-time Gold Glove-winning second baseman, who signed a two-year, $18 million contract with Milwaukee after the St. Louis Cardinals declined his $12.5 million option for 2021, has been as good as advertised on defense. In 101 games, Wong has been charged with just two errors on 355 chances for a career-best .994 fielding percentage.
Wong leads the National League and ranks second among all second basemen with five defensive runs saved, according to fangraphs.com, and his 3.8 UZR (Ultimate Zone Rating) ties him with the Cleveland Indians' Cesar Hernandez for the best in baseball among second basemen.
His presence in the field has made life easier for Milwaukee pitchers such as Adrian Houser and Brett Anderson, who are at their best when using sinkers to generate weak contact and ground balls.
"He's been fantastic in the field all year for us," Houser said. "He's been doing a hell of a job."
Entering Milwaukee's game Saturday night against the Chicago Cubs at American Family Field, Wong was batting .280 with a .340 on-base percentage, .458 slugging percentage and .799 OPS. He's also hit a career-high 13 home runs — including six to lead off a game — 28 doubles and a pair of triples to give him a career-best 43 extra-base hits while driving in 46 runs and scoring 62.
Milwaukee is 61-42 in games when Wong has at least one plate appearance and 55-41 in games he's started at second base.
"That's kind of the impact of the leadoff hitter," Brewers manager Craig Counsell said. "He's going to get one more (plate appearance) than everyone else so he's going to lead your team in at-bats every night and that's why it's an important spot. That's why you want one of your better hitters in that spot.
"Him (getting) on base starts the whole thing. That's a common baseball cliche but it's so true because it's setting up the rest of your lineup. He's had more than just a leadoff hitter's year for me. It's been impactful. Big hits. Power."
Wong went 3-for-5 with two RBIs — including a two-out, bases-loaded single in the eighth inning that snapped a 5-5 tie — in the Brewers' 8-5 victory on Friday night.
The go-ahead hit came at the end of a six-pitch at-bat. Chicago right-hander Rowan Wick threw four straight fastballs at the top of the zone to open the sequence and Wong wasn't fooled on any of them. He fouled off the first, looked at the next two, then fouled off the fourth.
Wick's next offering was a curveball in the dirt that Wong took for ball three. When Wick came back with a fastball, just a few inches above his previous pitch, Wong got exactly what he was looking for and punched it back up the middle.
In all, Wong saw 29 pitches in five plate appearances. He took 12 for balls, three for strikes, fouled off nine pitches and put five in play. He didn't swing and miss on a single pitch.
"You're just trying to put together a good at-bat and keep the line moving and hope that you can work the pitcher out," Wong said. "I wasn't going to go up there and try and do too much — even though it kind of looked at it sometimes with my swings. I was really trying to hone in on the strike zone, right down the middle, and not get off of that. The guys before me had really good at-bats and I wanted to continue that trend."
The victory pushed the team one step closer to it's immediate goals of clinching a playoff spot and the NL Central Division crown. Wong went to the postseason five times with the Cardinals, including each of the past two seasons and is now focused on helping the Brewers reach their first World Series since 1982.
"We've believed in each other since spring training, even though people were counting us out," Wong said. "This is something we've been pushing for. We've been grinding. We all want to clinch it here at home. That's a big thing for us."
Smashing success: Brewers keep setting franchise records — and they're not done yet
Victories in a season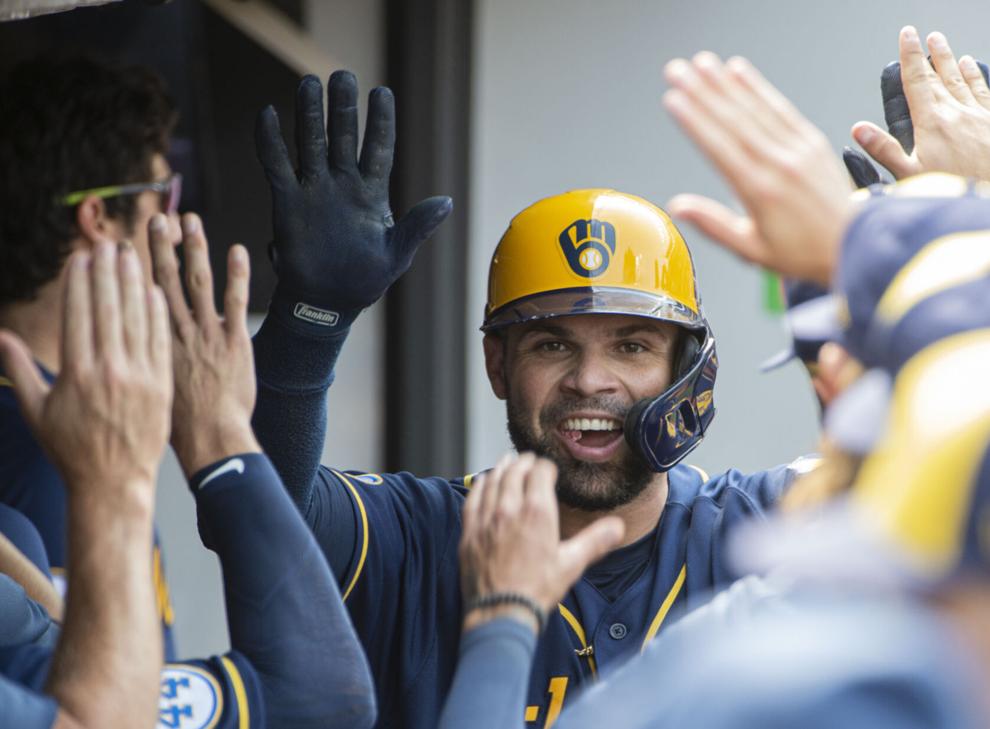 No team in franchise history has ever won 100 games in a season but the Brewers are on pace to hit that mark this season which would also give the 2021 team the franchise record for best single-season winning percentage, topping the mark of .593 set in 2011.
Road winning percentage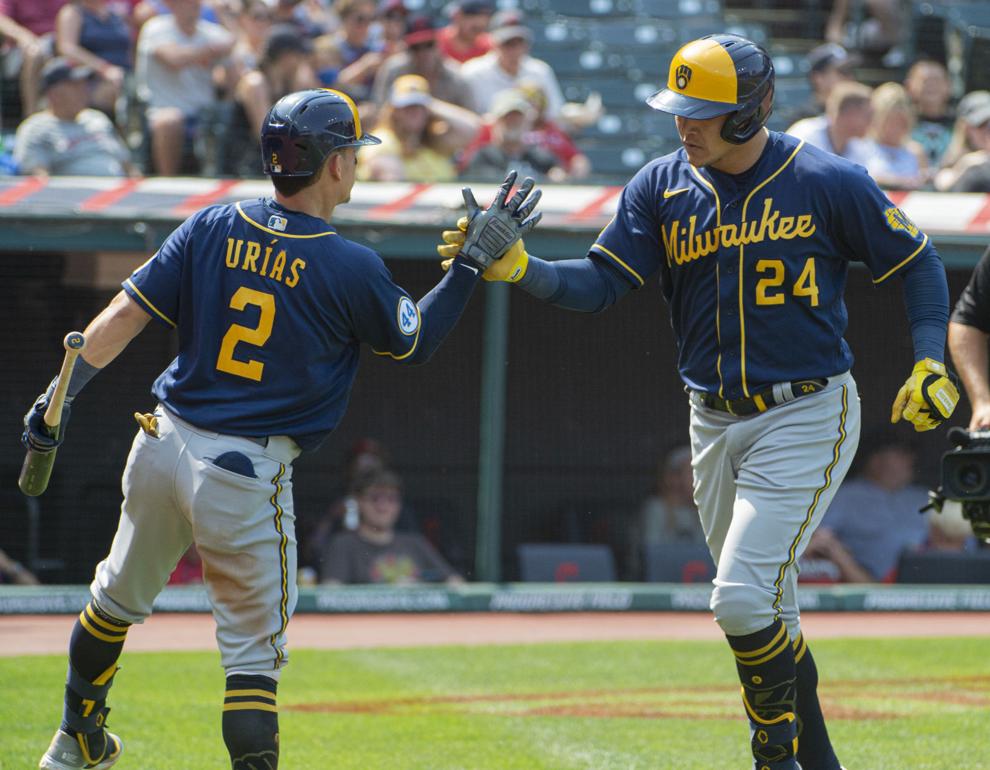 Again, this record is almost certain to fall. The Brewers go into their five-game interleague road trip with a .657 road winning percentage in 2021 and would need to go 1-11 in their remaining road contests to finish behind the '82 squad.
Earned Runs Allowed / Earned Run Average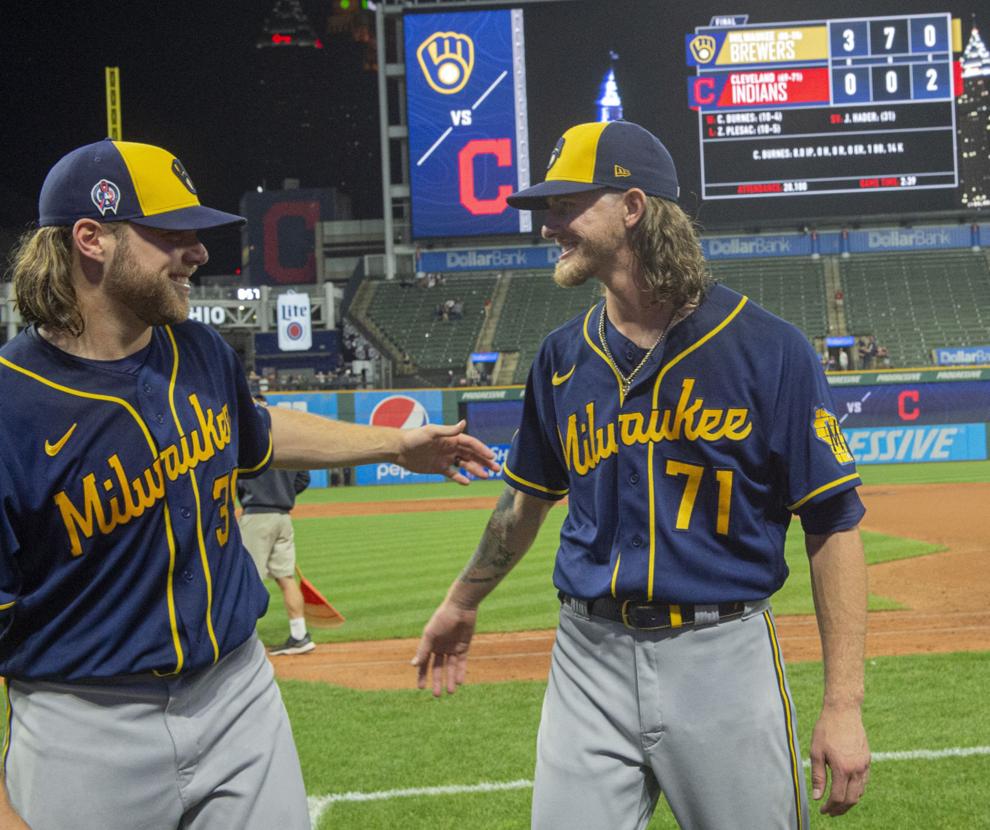 Technically, the 2020 Brewers hold the record for fewest earned runs allowed in a season with 239, but that came during a 60-game season so we're not counting it here. Same with the second-place 1981 team, which held opponents to 428 earned runs in a strike-shortened 109-game season.
The fewest earned runs allowed in a full regular season was 532, set in 1971. Heading into their off-day Monday, the 2021 Brewers were tied with the 1971 team for the best staff ERA in franchise history.
Through 144 games, the Brewers have allowed an average of 3.33 runs per game. If they keep that pace, they'll finish with with 540 but with a couple more performances like this past weekend and the 2021 squad could move into the top spot.
That, in turn, would help the current team's chances of catching the 1971 Brewers record for best full-season ERA.
The Brewers are also in position to break the franchise record for fewest hits allowed in a season (1,259 in 2018) and most strikeouts (1,497 in 2019). Milwaukee's pitchers have allowed 1,017 hits while striking out 1,439 batters so far this season.
Individual pitching records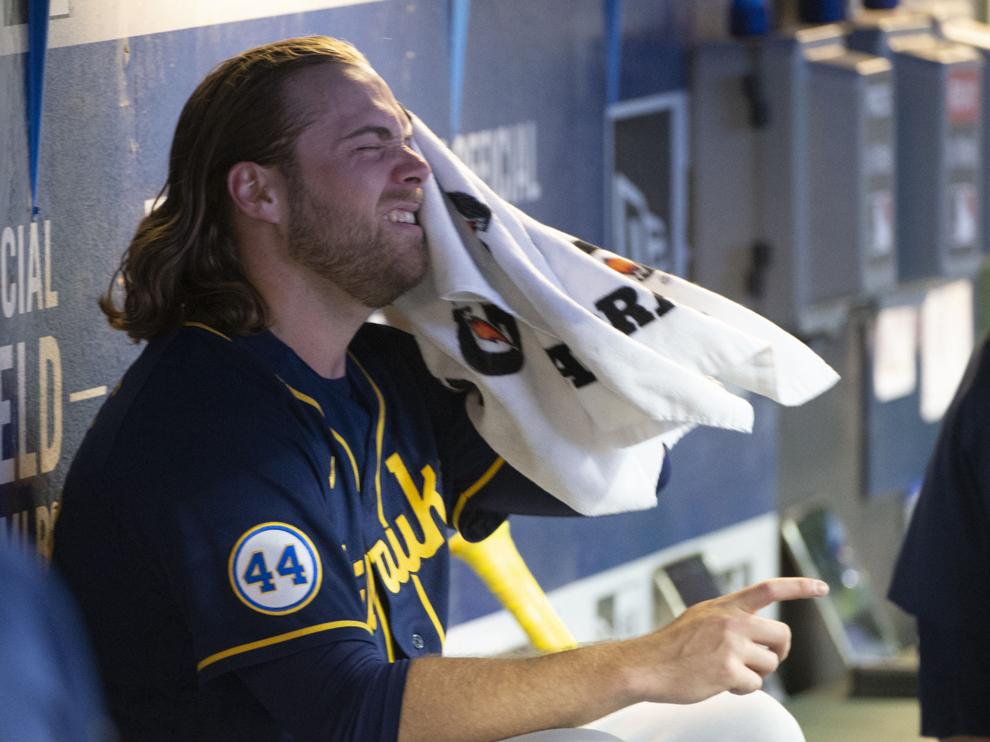 The Brewers' pitching staff is also on the verge of shattering several individual records this season.
After holding Cleveland scoreless over eight no-hit innings Saturday, Corbin Burnes' ERA dropped to 2.25 for the season, good for second in the National League behind the Dodgers' Max Scherzer and within striking distance of Mike Caldwell's 2.36 ERA in 1978 that stands as the best ever by a Brewers starter.
Brandon Woodruff is also in the mix for both the NL lead and the Brewers' all-time record. He brings a 2.48 ERA into his scheduled start Tuesday at Detroit.