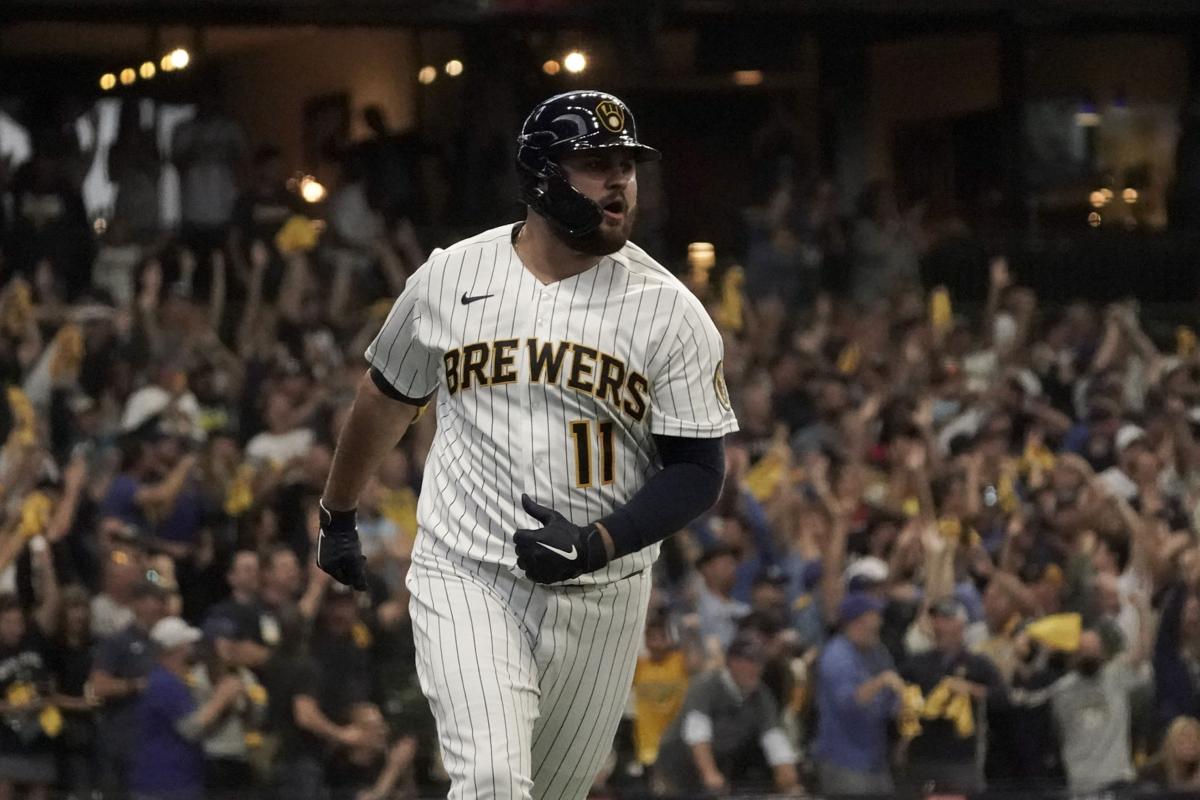 MILWAUKEE — After arriving at his postgame news conference Friday night still dressed in his uniform, Craig Counsell crossed his arms and leaned against the wall as he waited for two of his players to finish up answering questions.
The Milwaukee Brewers manager looked exhausted, like he had just sat through a 182-minute flight filled with turbulence. If you hadn't known any better, you'd have thought he was there to discuss a defeat.
In reality, Counsell got to talk about his team's 2-1 win over the Atlanta Braves at American Family Field, a decision that put Milwaukee ahead 1-0 in the best-of-five NL Division Series.
This game was the definition of postseason baseball, a grinder where every pitch seemed to matter from the first one at 3:39 p.m. to the final one at 6:41 p.m. Counsell surely knows there will be more stress to come because it's pretty clear at this point of the season, with an offense that can't be counted on to consistently produce runs, that this is the blueprint the Brewers will have to follow to win two more games this series and eight more after that to realize their dream of winning a World Series.
It's probably going to have to look like this: great pitching performances such as the one Corbin Burnes offered against the Braves; stellar defense; and a timely hit or two along the way. The big one in this postseason opener was provided by first baseman Rowdy Tellez, whose two-run homer in the bottom of the seventh broke a scoreless tie.
"It's a starting point," said Brewers right-hander Adrian Houser, who combined with Josh Hader to finish up what Burnes started. "Get up (in the series) and trying to take control and keep grinding with it. It's a big win for us."
The least surprising part of this win was the Brewers got a masterpiece from Burnes, a Cy Young candidate who tossed six scoreless innings before giving way to the bullpen after throwing 91 pitches.
Counsell has had to get creative on the way to getting 27 outs in previous postseason games because he didn't have starting pitching he could rely on to go deep in games. It's a stretch to call six innings of work a long effort, but no Brewers starter had been able to record 18 outs in any of the team's 13 postseason games over the three previous seasons.
Burnes did, overcoming some early wildness to get the game to the bullpen. Houser, who started 26 games during the regular season, contributed two solid innings to bridge the gap to closer Josh Hader and the flame-throwing lefty worked through some trouble to shut the door on the Braves.
"We knew this ballgame was going to be tough, the runs would be at a premium," Braves manager Brian Snitker said. "And they were. It was exactly what I thought it was going in, that this game would be."
The Braves had a chance to get to Burnes early but blew that opportunity. Burnes walked the first two batters of the game but managed to escape a 22-pitch inning with no damage when he got Ozzie Albies to ground out and Tellez fired home to double up Jorge Soler at the plate.
Counsell called it the "play of the game" even though it was the second out of the game, and it wouldn't have been possible without catcher Omar Narvaez picking Tellez's throw out of the dirt and tagging Soler in a bang-bang play.
"You guys giving me credit for that, I don't know why," Tellez said. "He made the great play."
Narvaez made another one in the ninth inning that may have gone unnoticed. The tying run was 90 feet away when Hader threw a slider in the dirt that Narvaez blocked to keep Freddie Freeman at third. Two pitches later, Hader got former teammate Orlando Arcia to ground out to end the game.
"Omar did a fabulous job tonight, calling the game, the block of the slider in the ninth on Hader," Counsell said. "Absolutely fabulous game."
Braves starter Charlie Morton was every bit as dominant, allowing two hits through six innings and recording nine of his 18 outs via the strikeout. But Morton made two critical mistakes on two-strike pitches, hitting Avisail Garcia to open the seventh and grooving a four-seam fastball that Tellez drilled over the wall in right-center field.
Tellez said he felt like he blacked out after seeing the ball go over the fence. Meanwhile, the Brewers dugout was going nuts and the Hauser called the noise created by 40,852 towel-waving fans "deafening."
"It's a good feeling right there," Tellez said. "But it couldn't have happened without the way we pitched tonight. That was the key to the game. Good defensive plays, pitching staff, everybody played well, everybody played hard. It's playoff baseball."
No wonder Counsell looked so drained. Maybe you were, too, but buckle up. This may be the start of a fun ride, but it isn't going to be a smooth one.