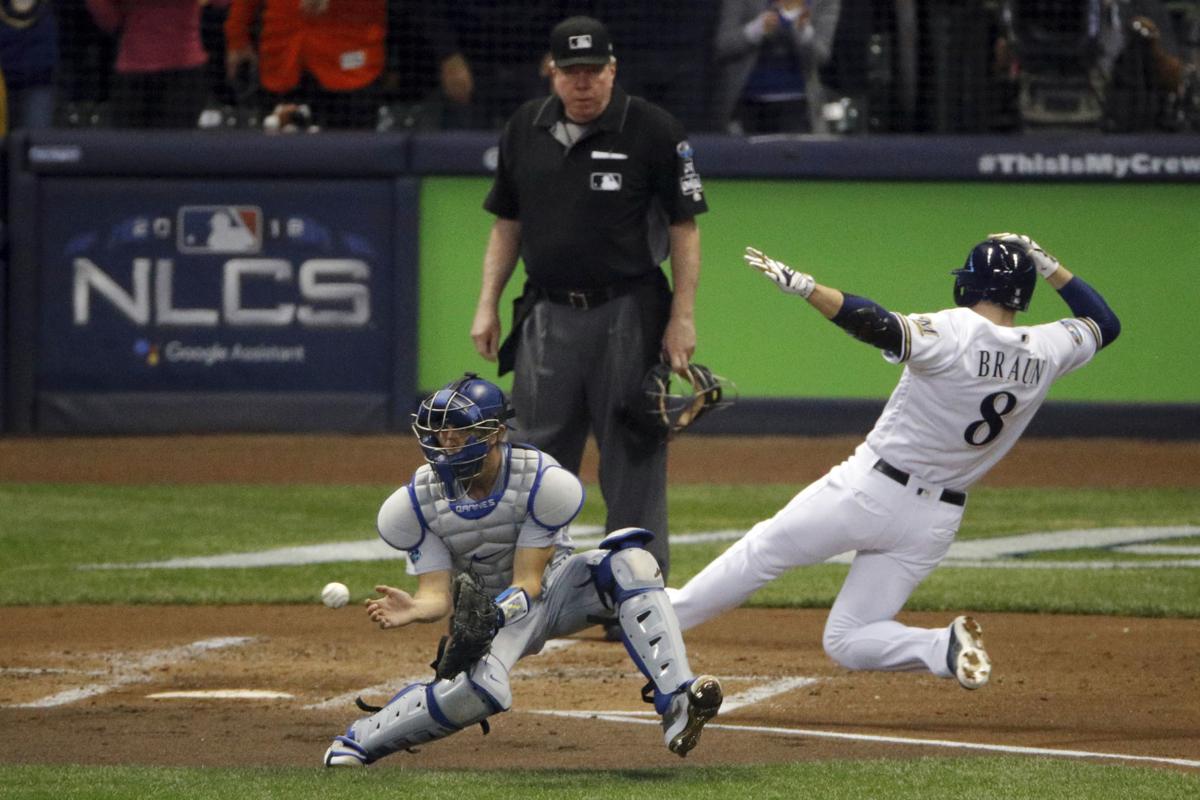 MILWAUKEE – The Milwaukee Brewers weren't ready to see their season end.
The Brewers offense struck early and their bullpen dominated late as they defeated the Los Angeles Dodgers 7-2 Friday at Miller Park to force Game 7 tonight with a trip to the World Series on the line.
First baseman Jesus Aguilar sparked the offense as he snapped out of a slump with three hits, including a two-run, two-out double in the first inning to trigger a four-run outburst that gave the Brewers a lead they never surrendered.
In addition to staking Milwaukee to a 2-1 lead, Aguilar set the tone for the night.
The Milwaukee Brewers beat the Los Angeles Dodgers, 7-2, in Game 6 of the NL Championship Series on Friday night to force a Game 7 on Saturday…
"Aggie's hit, you couldn't describe it as any bigger," manager Craig Counsell said. "It lifted the roof off the place and the first inning was loud from then on.
"The rest of the game whenever we got in a scoring situation it got really loud and I think it helped us. It certainly put a crazy amount of energy in the dugout and made it a lot of fun."
After getting 4 1/3 innings from starter Wade Miley with the Brewers holding a 5-2 lead, Counsell turned to his bullpen, which held things down with 4 2/3 hitless innings.
And he didn't have to use his biggest threat, Josh Hader, as Corey Knebel, Jeremy Jeffress and Corbin Burnes shut the Dodgers down the rest of the way.
"That's our motto down there, anybody, anywhere, anytime," said Knebel, who shut down the Dodgers' biggest threat in the fifth. "We're ready to go. So starters get as much as they can done, but you go as long as you can for as long as you can and come in and finish the rest. That's our job and we did it pretty well tonight."
David Freese, batting leadoff for just the fourth time in his career, staked the Dodgers to a quick lead when he drove a pitch from Miley over the fence in right-center.
But while that momentarily quieted the raucous crowd, the fans came to life by booing Manny Machado when he came to bat three hitters later and roared when he struck out swinging.
The Brewers kept that noise building when they put together their biggest inning of the postseason in the bottom of the first.
Lorenzo Cain led off with an infield single and Ryan Braun walked with one out. Travis Shaw then struck out, leaving it up to Aguilar, hitting just .172 in postseason play with 10 strikeouts. But he lined a 2-1 pitch from Los Angeles starter Hyun-Jin Ryu into the right field corner to drive in two runs and send the crowd into a tizzy.
One pitch later Mike Moustakas sent another line drive into the same area for a double to bring home Aguilar. Erik Kratz then singled to right on the first pitch he saw to bring home Moustakas and make it 4-1.
The Brewers almost had an even bigger inning, as Orlando Arcia singled to left and pitcher Wade Miley, who had two hits in Game 2, hit a drive to deep center field that was tracked down by Cody Bellinger on the warning track.
Milwaukee added another run in the second on back-to-back doubles by Christian Yelich and Braun. It was just the fourth hit of the series for Yelich and his first extra-base hit since his home run in Game 1 of the NLDS against the Colorado Rockies.
Things settled down offensively for both teams after that until the fifth when the Dodgers got to Miley.
Thirty-six years ago. Half a lifetime. That's how long it's been since the Milwaukee Brewers advanced to the World Series in 1982, their only …
Pinch-hitter Brian Dozier drew a one-out walk and came all the way around to score on a double to center by Freese, just beating the relay throw home by Arcia. Miley departed after walking Max Muncy, with Corey Knebel coming on to face the heart of the order with the potential tying run at the plate.
Knebel retired Justin Turner on a routine fly to center and then, to the delight of the fans, struck out Machado to end the threat.
The Brewers threatened to add to their lead in the fifth. Shaw led off with a walk and after Aguilar and Moustakas struck out, Kratz was hit by a pitch by reliever Alex Wood. Los Angeles manager Dave Roberts then decided to walk Arcia intentionally, hoping to force Knebel out of the game. But after initially sending out Domingo Santana to hit, Counsell called him back and had Knebel bat for the first time since high school. He struck out to end the threat.
"I had no intention of taking him out," Counsell said. "You're hoping something crazy happens. You're hoping he walks, really. I thought he took a decent swing. And then a not-so-decent swing."
The Brewers tacked on a run in the seventh with some help from the Dodgers defense. Aguilar led off with another double in the right field corner that just eluded the glove of a sliding Yasiel Puig. Moustakas was walked intentionally and both runners moved up on a one-out ground out by Arcia. Aguilar then scored on a wild pitch that got past beleaguered catcher Yasmani Grandal to make it 6-2.
Aguilar finished off the scoring with an RBI single to right, driving in Cain.