Barring an unimaginable collapse, the Milwaukee Brewers will win the National League Central, reach postseason play for the fourth straight year, and reign as the division's top franchise.
Did you see this coming back on May 29?
The Cardinals were 30-22 then with a half-game lead in the division. The Brewers were 27-25 on that date after finally clearing .500 with three straight victories.
Then the Brewers kept winning and the Cardinals did not. The Brewers kept upgrading their roster and the Cardinals did not.
Both teams have absorbed big injury hits. The Cardinals suffering the greatest pain while losing pitching ace Jack Flaherty for 2 ½ months, but former MVP Christian Yelich has been a shell of his former Brewers self while battling back problems.
But this division race was decided in the front offices, not the trainer's room.
Brewers executives David Stearns and Matt Arnold outworked their rivals. They saw an opportunity to win the division and they went for it with owner Mark Attanasio's support.
They kept seeking upgrades right up until the trade deadline. This effort has been overshadowed by the unexpected success of the San Francisco Giants, but it's one of the best stories in Our National Pastime.
The small-market Brewers are not the Los Angeles Dodgers or New York Yankees. They can't outspend their mistakes. Spotrac ranks their payroll 19th in the majors at about $97 million, roughly $70 million less than the Cardinals.
The Brewers aren't the Chicago Cubs either. They didn't travel the tank-and-rebuild route to prominence. They didn't subject their fans to five straight losing seasons, as the Cubs did.
After finishing a distant fourth in the division 2015 and 2016, they rejoined the playoff chase in '17 and stayed there.
They benefited from three notable bailout trades. They gained catcher Manny Pina for reliever Francisco Rodriguez, Freddy Peralta for Adam Lind and reliever Josh Hader and starter Adrian Houser for Carlos Gomez and Mike Fiers.
But the Brewers haven't been big spenders in free agency or in the international market. They splurged once in recent seasons, signing Lorenzo Cain for $80 million over five years in 2018.
They have made one major trade heist, grabbing Yelich from the Miami Marlins for a crate of cheese curds and a Gorman Thomas bobblehead. This was especially galling for the Cardinals overpaid the Marlins for their two-year rental of Marcell Ozuna.
The Brewers hit on starters Brandon Woodruff (11th round, 2014) and Corbin Burnes (fourth round, 2016) and relievers Brent Suter (31st round, 2012) and Devin Williams (second round, 2013) in the draft.
But they apparently missed on many hitters, including fifth overall 2016 pick Corey Ray and ninth overall 2017 pick Keston Hiura.
Their winning formula features high-end starting pitchers Woodruff, Burnes and Peralta operating atop their rotation and a deep bullpen for closing out games.
To support their hurlers, the Brewers improved their defense by signing two Gold Glove fielders: second baseman Kolten Wong (after the Cardinals didn't pick up his option year) and center fielder Jackie Bradley Jr.
As for the offense, well, there's been much coming and going. Early on manager Craig Counsell struggled to coax consistency from his lineup.
On May 21, the Brewers were 21-23 and four games off the pace. They acquired shortstop Willy Adames from the Tampa Bay Rays for pitchers J.P. Feyereisen and Drew Rasmussen.
With Adames serving as the catalyst, the Brewers went on a 17-4 run and seized control of the division race.
And their front office kept working.
With Hiura struggling, the Brewers acquired Rowdy Tellez from the Toronto Blue Jays on July 6. With Travis Shaw sidelined by his shoulder injury, they acquired third baseman Eduardo Escobar from the Arizona Diamondbacks on July 28.
Adames hit .297 through his first 74 games as a Brewer. Tellez hit .333 in his first 30 games while Escobar his .322 in his first 15 games.
Meanwhile the Cardinals never acquired outside offensive help in-season even though Matt Carpenter hit .116, .194 and .205 in the first three months of the season.
Also, fourth outfielders Justin Williams (.160 batting average) and Lane Thomas (.104) struggled and fill-ins Max Moroff (1-for-16) and John Nogowski (1-for-18) choked on their cups of coffee during the season's first half.
After peaking at 30-22, the Cardinals lost 11 of the next 13 games to plunge back into the pack.
One calamity after another befell their starting rotation and John Mozeliak and Co. were slow to add experienced pitching reinforcements. Poor Johan Oviedo made 13 starts without earning a victory before settling back at the Triple-A level.
Internal offensive improvement finally came with the return of Tyler O'Neill and Harrison Bader from the injured list, but the loss of Dylan Carlson to an untimely wrist injury could expose depth issues.
So the Cardinals are relegated to the wild-card race until further notice while the Brewers finish what they've been building for months.
Best of the best: Brewers in contention for baseball's top annual awards
CY YOUNG AWARD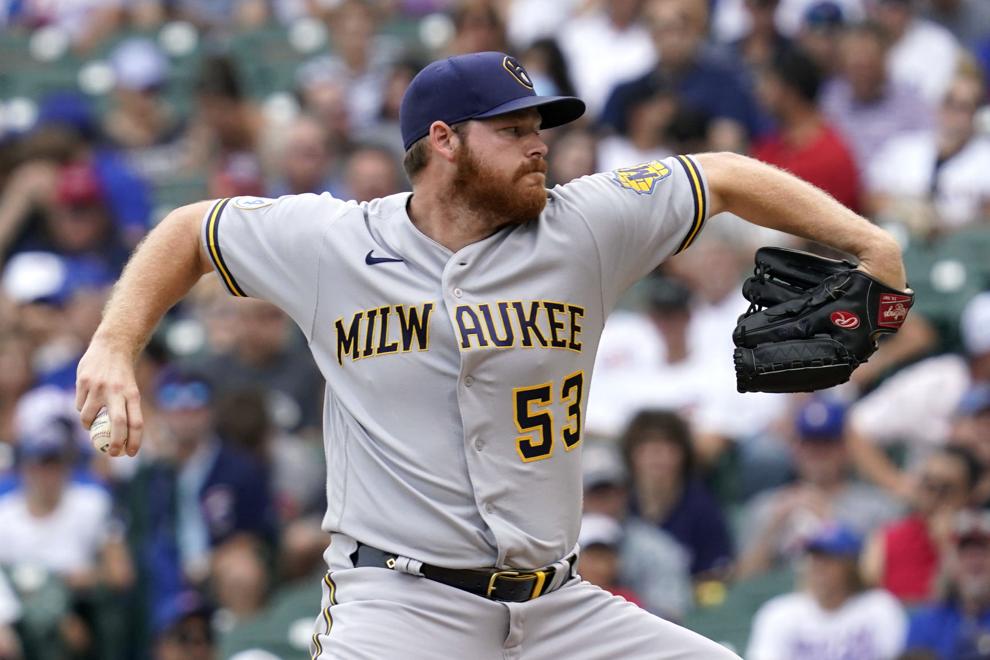 Corbin Burnes, Freddy Peralta, Brandon Woodruff
Let's start with the obvious. The Brewers' success so far in 2021 has been built upon one of the most formidable starting rotations in franchise history and easily one of the best in baseball this year.
Woodruff (above) is currently ninth among all NL players with a 4.8 WAR (wins above replacement) according to Baseball-Reference.com and third among NL pitchers with a 5.0 pitchers WAR, while Burnes (4.1) and Peralta (3.9) check in at eighth and ninth, respectively, on the list.
The three also rank among the NL's top-10 in hits/nine innings, strikeouts/nine innings, total strikeouts, and Fielding Independent Pitching while Burnes and Woodruff rank among the leaders in strikeout-to-walk-ratio and Burnes tops NL pitchers with just 1.562 walks/nine innings.
All three have legitimate cases for consideration and all three are worthy candidates for the honor but the question is, will all three playing on the same team split votes and lessen their chances?
MANAGER OF THE YEAR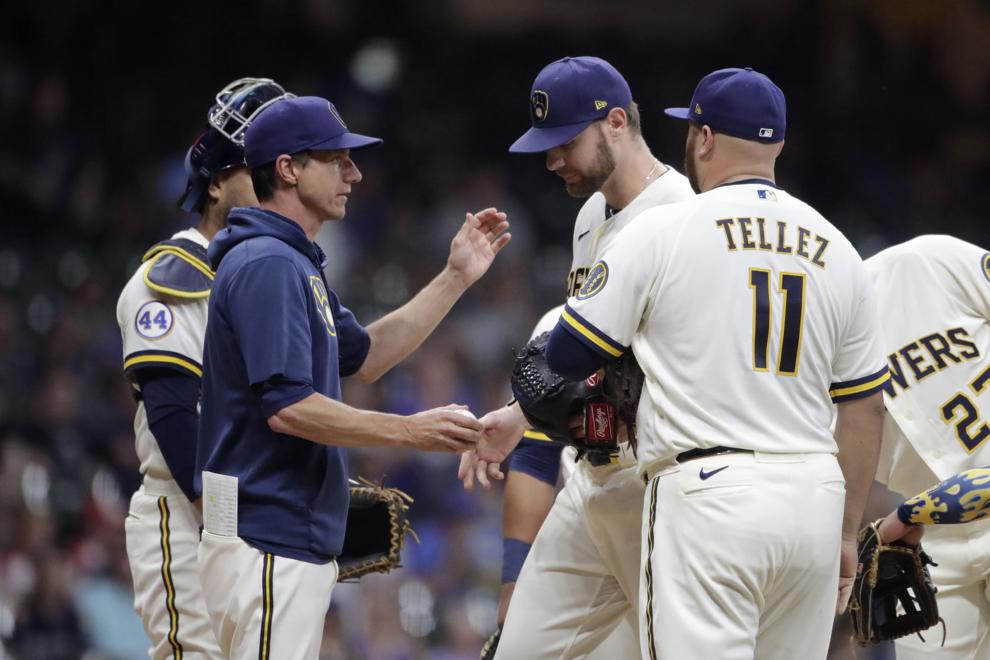 There are a lot of worth candidates this year, with Gabe Kapler a likely front-runner by virtue of his Giants owning the best record in all of baseball despite most preseason prognostications picking them to finish third in the NL West behind the defending World Series champion Dodgers and the upstart Padres.
David Bell has kept the Reds in the hunt after the Cubs and Cardinals failed to live up to expectations while Joe Girardi has helped steer the Phillies back into the playoff picture after carrying a .500 record into the All-Star break and Brian Snitker has done the same with the Braves, who have taken the lead in the NL East even though key contributors like Ozzie Albies and Ronald Acuna Jr. were lost to serious injuries
But it's hard to overlook the job Counsell has done, especially when considering what the Brewers have had to deal with this season. They were decimated by injuries out of the gate, then, after stabilizing and surging to the top of the division, were hit with a wave of COVID-19 cases.
As a result, Milwaukee has used 60 different players — including 27 pitchers — this season, blowing past the previous franchise-record of 53, which was set by the expansion Seattle Pilots in 1969 and matched again in 2018.
Add in the fact that Christian Yelich has been mired in a season-long funk, free-agent signing Jackie Bradley Jr. has been hitting below .200 for most of the year, Keston Hiura has been demoted to Class AAA for a third time this season and injuries have left Counsell without other key contributors like Lorenzo Cain and Kolten Wong for extended stretches, that the Brewers are still in the drivers' seat for a franchise-record fourth consecutive postseason appearance is a credit to Counsell's managerial abilities.
MOST VALUABLE PLAYER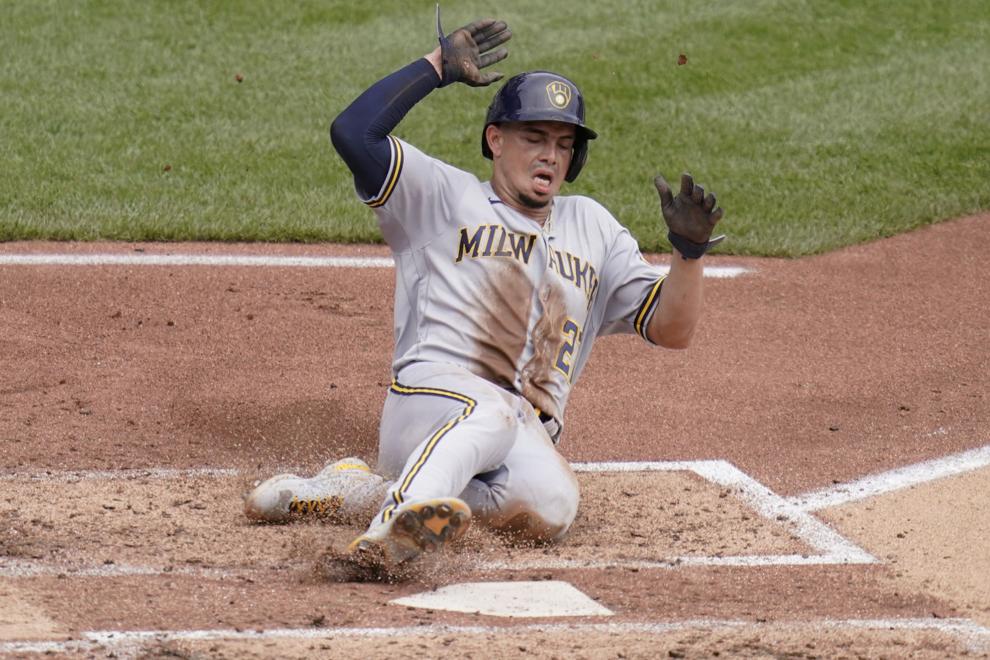 Not long ago, Fernando Tatis Jr. of the Padres seemed like a lock for his first MVP award but the field expanded slightly when he landed on the injured list in late July.
Since then, the Phillies' Bryce Harper has heated up. So has the Dodgers' Max Muncy. Reigning MVP Freddie Freeman of the Braves has surged, too, helping Atlanta move back into first, and veteran catcher Buster Posey has helped keep the Giants the team to beat in the NL.
The award, though, is called most "valuable," not "best player." So while each voter has his or her method of determining a player's value, it's hard to argue with Adames' value to the Brewers since he joined the team in a May 21 trade with Tampa.
At the time of that deal, Milwaukee was 21-23, four games back of the Cardinals. Since then, the Brewers have gone 51-24 and went into their off-day Monday leading the rest of the NL Central by eight games.
Adames has been a big reason why. A .197 hitter through 41 games with the Rays, he's batting .297/.378/.551 with 22 doubles, 16 home runs, 48 RBIs and a .929 OPS while appearing in 74 of 75 games since the trade.
He's also delivered some of the biggest hits in the biggest moments and has been credited with adding an immeasurable boost to clubhouse chemistry.
Whether or not that translates into votes remains to be seen but it's hard to argue that Adames isn't a deserving candidate.
ROOKIE OF THE YEAR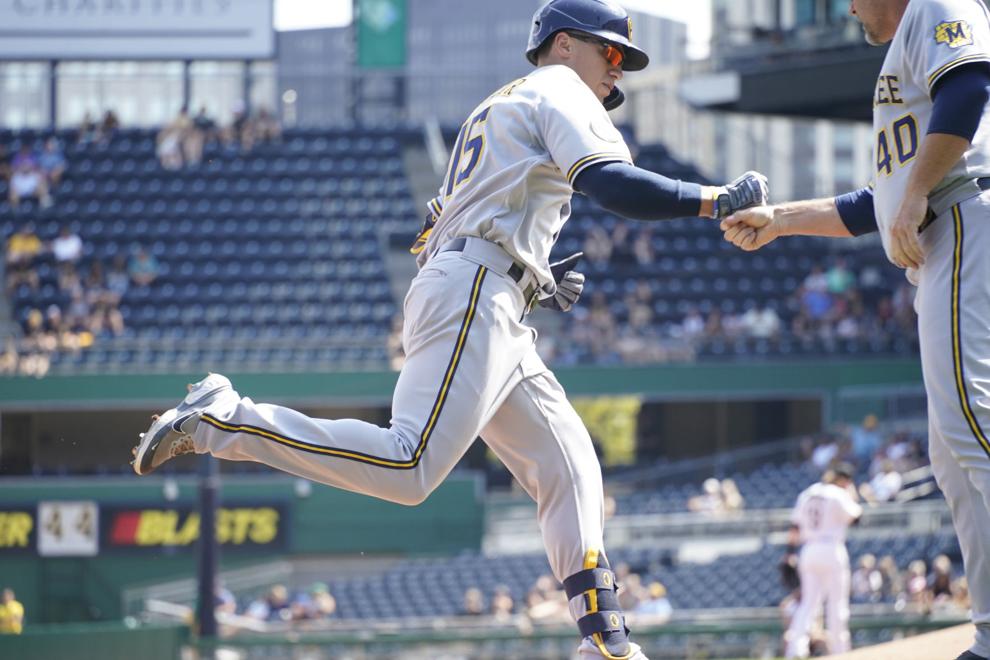 Among qualified rookies (averaging 3.1 plate appearances per team's games played), Taylor is fourth with a .787 OPS and also ranks among the top-10 in hits (52), doubles (8), home runs (10), batting average (.249), OBP (.328), and slugging (.459).
That he's produced those numbers while playing significant time for a first-place team in desperate need of production in light of injuries or slumps should be more than enough to put him in the running.
Jeff Gordon • 314-340-8175
@gordoszone on Twitter