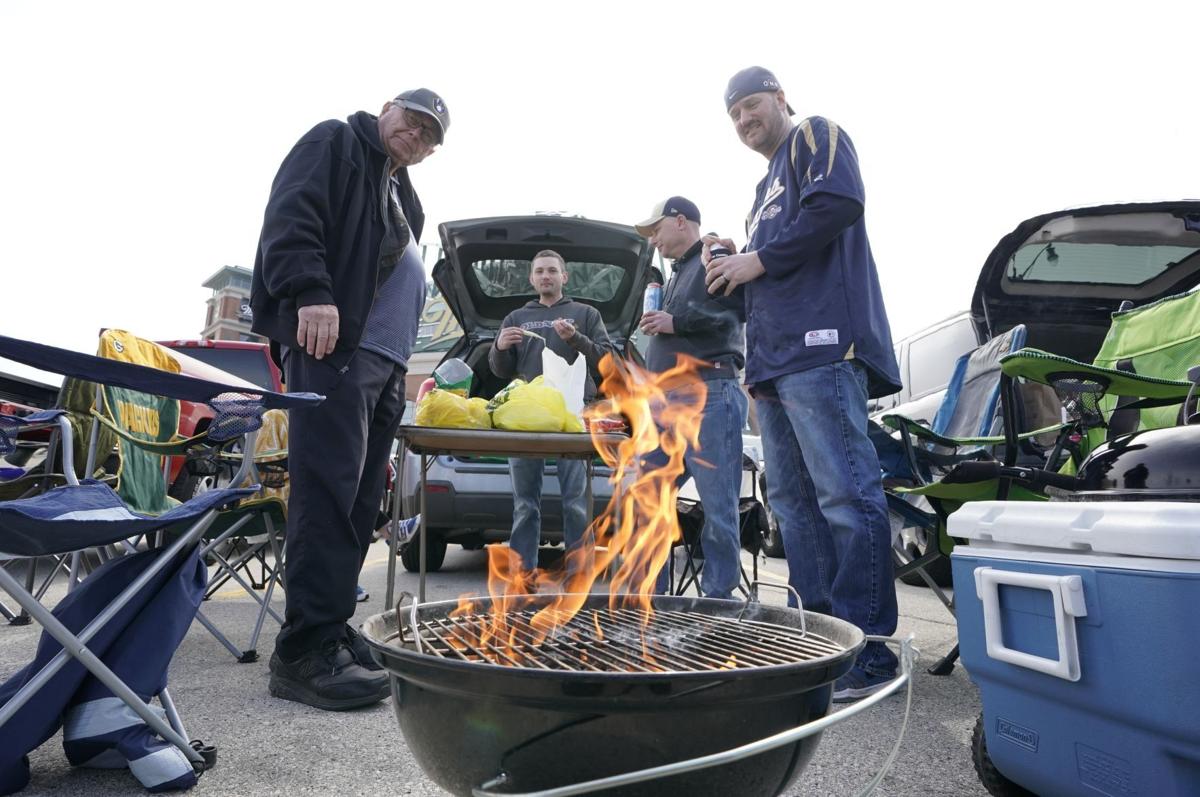 CHICAGO — Load up your grills and pack your coolers, Wisconsin: Tailgating is coming back to American Family Field.
The Milwaukee Brewers announced Wednesday morning that the temporary ban on the popular pregame ritual would be lifted starting Monday, when the team opens a three-game series against the Chicago Cubs.
"One of the priorities for our organization was to try to bring a sense of normalcy back to our game experience," Brewers president of business operations Rick Schlesinger said. "Brewers games without tailgating felt like something was awry in the universe."
To help maintain some level of social distancing, tailgating will be allowed at single vehicles for those sitting in the same seating pod. Parking lot gates will open three hours before first pitch, except for games with a 6:40 p.m. start, when gates will open 2 1/2 hours ahead of the game.
The team is still ironing out specifics in terms of how vehicles will be parked. During the opening series, cars were parked side-by-side but with limited capacity lowering demand for parking spaces, spots could be left open between cars to help encourage further distancing.
"If we need to park people in every other spot, it's certainly easy to do logistically," Schlesinger said.
Enforcing the rules won't be as easy. Schlesinger said that security and parking attendants will remind fans of the policies as they arrive and will be patrolling the parking lots to ensure everyone is sticking to the plan but for the most part, adherence will require personal responsibility on the fans' parts.
Based on what he saw from the opening series, Schlesinger doesn't think that will be a problem.
"Our fans, by and large, are very respectful of the rules and protocols," Schlesinger said. "Their behavior at the first home stand is reflective to me that they want to do the right thing. They want to assure their game experience is not impacting negatively on others.
"They understand if they abide by the rules it helps convince everybody to relax those restrictions. So, I'm not worried. We'll do friendly reminders that people need to stay within their group. I fully expect our fans to understand that and follow the rules. Everybody wants a great experience at the ballpark. If they need to be reminded, we will do so."
Schlesinger said the Brewers earned positive reviews from city health inspectors, who were on-hand for Opening Day last Thursday and that the team continues to maintain a dialog with city officials on best practices and potential capacity increases in the future.
"Our goal for the season is to get complete normalcy and return to full fans and full tailgating and the whole great Brewers experience," Schlesinger said. "But this is a step in the right direction. Of all of the issues we've faced with our fans in attending games and protocols, this has been topic No. 1. We are excited to deliver on our promise to bring tailgating back."
The return of tailgating comes after the Brewers announced a change in their seating configuration to allow two-person pods, something Schlesinger said was "highly demanded" by fans. Capacity is still limited to 25% but there's growing optimism that number could rise in the coming weeks as the number of vaccinations increases and the number of COVID-19 cases decline.
Though there are still tickets remaining for games on the upcoming homestand, sales have been brisk so far.
"I feel comfortable saying every game in April is going to be sold out," Schlesinger said. "Tickets are very coveted."