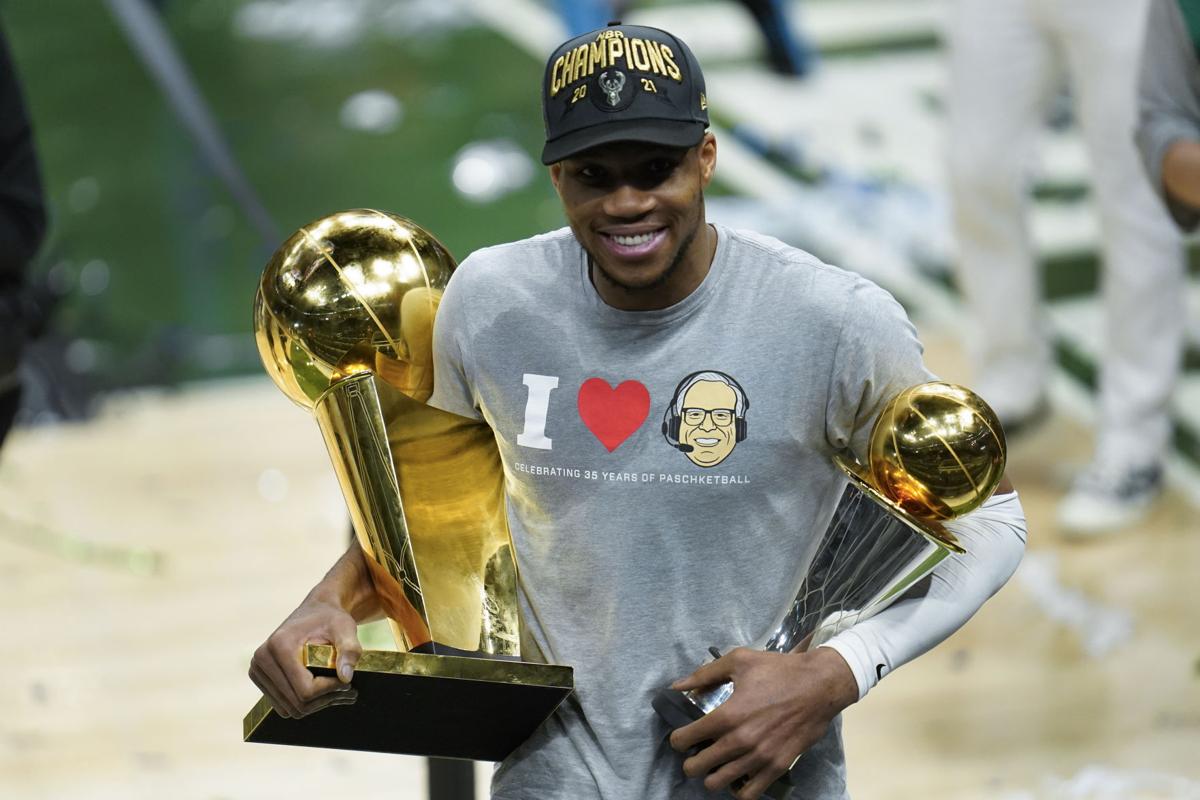 MILWAUKEE — When Milwaukee Brewers gathered in a suite rented by team owner Mark Attanasio, they were wowed as Giannis Antetokounmpo scored 50 points to lead the Milwaukee Bucks to their first NBA Championship in 50 years.
Little did they know that they were actually watching their new boss.
Unbeknownst to all but a select handful of people, Attanasio and Antetokounmpo had finalized a deal to bring the latter aboard as a minority investor in the team's ownership group, an agreement that wasn't officially announced until Friday during a press conference ahead of the Brewers' series opener against the Nationals at American Family Field.
"A little over a year ago, Giannis reached out because of his interest in the community in joining our investor group. This came together quite organically over that period of time. We came to a final agreement and signed everything up, including the approvals, in early May before the playoffs."
The process began last fall, while Antetokounmpo and the Bucks were inside the NBA's bubble setting at Walt Disney World.
"I was laying down in quarantine, I was like, 'I want to be involved. I want to be involved in the community,' and I don't think there's a better way to start than the Milwaukee Brewers," Antetokounmpo said.
He had his representatives reach out to Attanasio, whose ownership group had remained unchanged since he purchased the team from the family of Bud Selig prior to the 2005 season.
"One of the reasons you don't bring a new owner in is when you do, other owners' ownership percentage goes down a little," Attanasio said. "But there was unanimous support for Giannis joining the group."
His reasons for investing in the Brewers are two-fold.
First and foremost was a desire to give back to a community that has supported him unfailingly since he came to town as a wide-eyed, unknown rookie after the Bucks selected him in the 2013 NBA Draft.
"The city has loved me and my family and I want to give that love back now," Antetokounmpo said. "Milwaukee helped me, invested in me and this is an opportunity to invest back in the city."
The investment also gives Antetokounmpo a chance to learn more about the business side of sports, something he's taken great interest in especially since signing his $222 million "supermax" extension last December.
"I'm 26 years old so I'm learning and learning from Mark is going to be big for me because, as I said, this is what I want to do next," Antetokounmpo said.
One of the first lessons he'll learn is that the key to being a good owner is staying out of the way.
"As an owner, you can't go in and hit or pitch or there are a lot of things you actually can't do," Attanasio said. "You can set a tone. You can hire great people and then you can let them do their jobs."
Attanasio has been successful in that regard with Rick Schlesinger handling the business operations, David Stearns running the baseball operations and Craig Counsell overseeing the action on the field.
"'Mark told me outside, 'Don't be that trouble investor because every ownership group has one,'" Antetokounmpo joked. "I'm going to try not to be that one. I'm here to observe and I'm here to learn."
Still, he plans to reach out to his friend and fellow former Most Valuable Player, Brewers outfielder Christian Yelich, who's been mired in a season-long slump, and remind him that now that Antetokounmpo and the Bucks have won a title, it's the Brewers' and Yelich's turn to do the same.
"I'm going to text him every day from now on," Antetokounmpo said. "I might be an owner but I'm a player at the same time, so I'm going to definitely be reaching out and telling him, talking about the game and motivating in any way possible to win games."