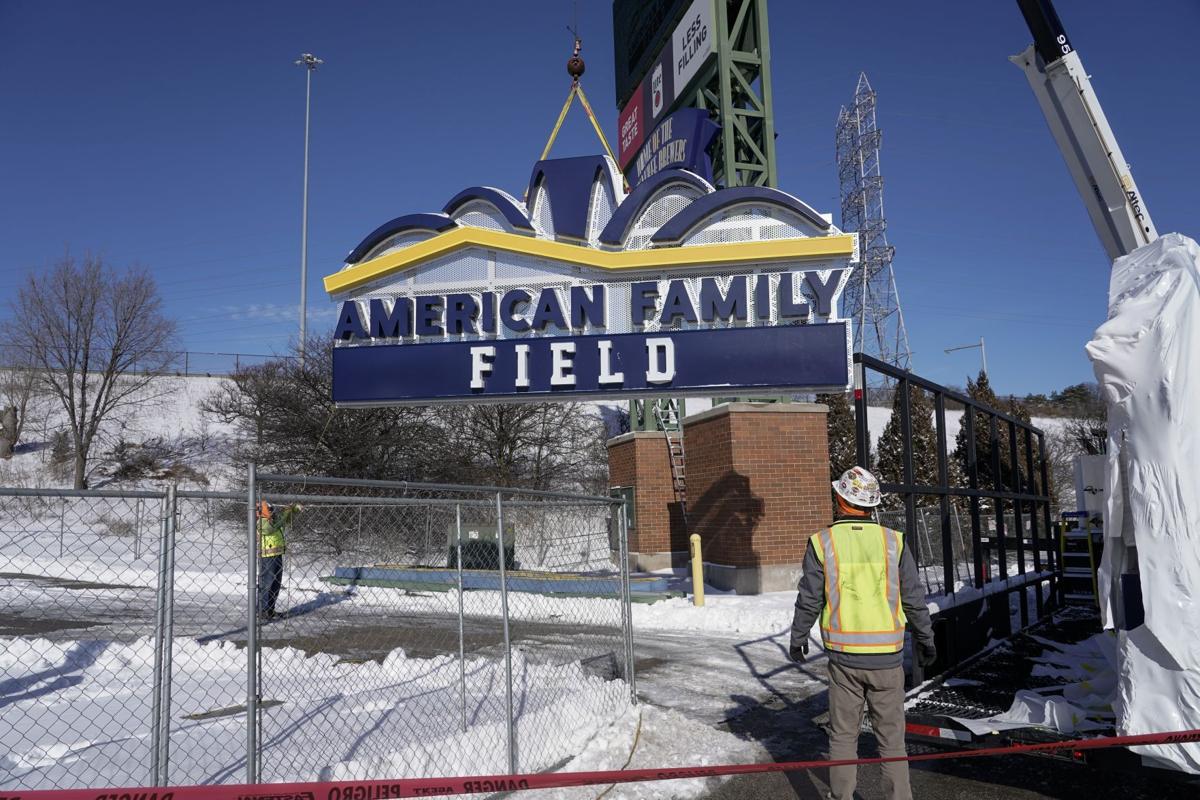 MILWAUKEE — How do you sell a product that nobody has been able to enjoy in-person for over a year — and might not be able to enjoy for at least a few more months? 
That's the challenge Rick Schlesinger has been trying to tackle. With spring training right around the corner along with a COVID-19 pandemic that continues to wreak havoc on all aspects of society, it's a challenge the Milwaukee Brewers president of business operations and his staff know isn't going to get any easier.  
"We're taking the philosophy that, while we don't know, we are still optimistic," Schlesinger said Friday. "We want to afford the best opportunities for fans and sponsors to be a part of what we hope will at some point, be a normal baseball experience." 
Despite not yet knowing whether or not fans will be allowed into American Family Field, not to mention how many should they be allowed, season-ticket renewals for 2021 games are "extraordinarily high" with sponsors and vendors showing similar commitments to the upcoming season.  
"To see the reaction and the renewal rate of our season-seat holders is extraordinary," Schlesinger said. "I think everybody understands that we all have to be flexible, that there are things beyond our control, but we all share the same goal which is a return to an environment where Brewers baseball can be a focal point of summer." 
After falling one game short of a World Series appearance in 2018, the Brewers drew 2,823,333 fans to American Family Field in 2019, the seventh-highest total attendance in all of baseball. It marked the 12th time in the past 13 seasons that the Brewers drew at least 2.5 million fans. 
The numbers are remarkable considering Milwaukee, with a metropolitan area population of approximately 1.5 million, ranks 39th in the nation and dead last in terms of MLB market-size. That the Brewers are in the midst of their most competitive stretch since the glory years of the early '80s is obviously a driving factor, as is the festival atmosphere of the tailgate scene before games. Also, fans, especially groups, can plan to attend a game without worrying about weather, thanks to American Family Field's retractable roof. 
The revenue generated by fan turnout is what's enabled the Brewers to maintain the type of payroll that has allowed them to remain competitive, including its three straight postseason runs, while also providing the ability to give star players such as Christian Yelich a $215 million extension. 
Schlesinger thinks fans understand the correlation between attendance and on-field success, which helps explain why support has remained high despite the stadium sitting empty since September 2019. 
(Baseball) is a big business," Schlesinger said. "But for our fans, it's the hometown team they've grown up loving; crying when we lose, cheering when they win. It's a connection that's generational and I think there's a sense that we're in this together, that the Brewers are important and we want them to succeed and that means investing in the team in whatever way people can. And we really do see that in so many of our interactions with our partners and our fans." 
The development of multiple vaccines and improving distribution methods of those is providing reason for optimism, as was news that the Milwaukee Bucks are hoping to allow a limited number of fans to attend their games by the end of the month.  
Schlesinger and the Brewers will be watching all of those developments closely with the hope they'll be able to open their doors to fans for the April 1 home opener against the Minnesota Twins. 
The Brewers and Bucks have been in contact with each other and with City of Milwaukee health officials as they've developed plans to safely reopen their facilities.  
"The fact that we've got you know an open-air retractable stadium gives us some some advantages in health and safety," Schlesinger said. "We still have some work to do and we obviously have to listen to the health department, but I'm very, very comfortable with what we're putting together and I expect that the city of Milwaukee health department is going to look at our materials seriously, so I'm optimistic."
---
A new era: Miller Park name change sinks in as American Family Field signage erected
A new era: Miller Park name change sinks in as American Family Field signage erected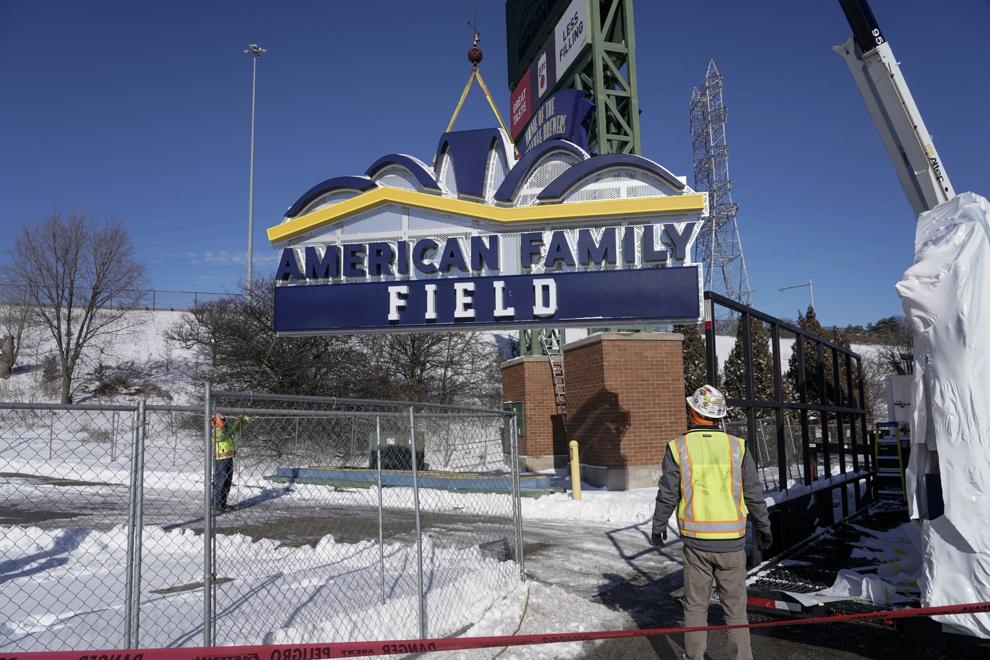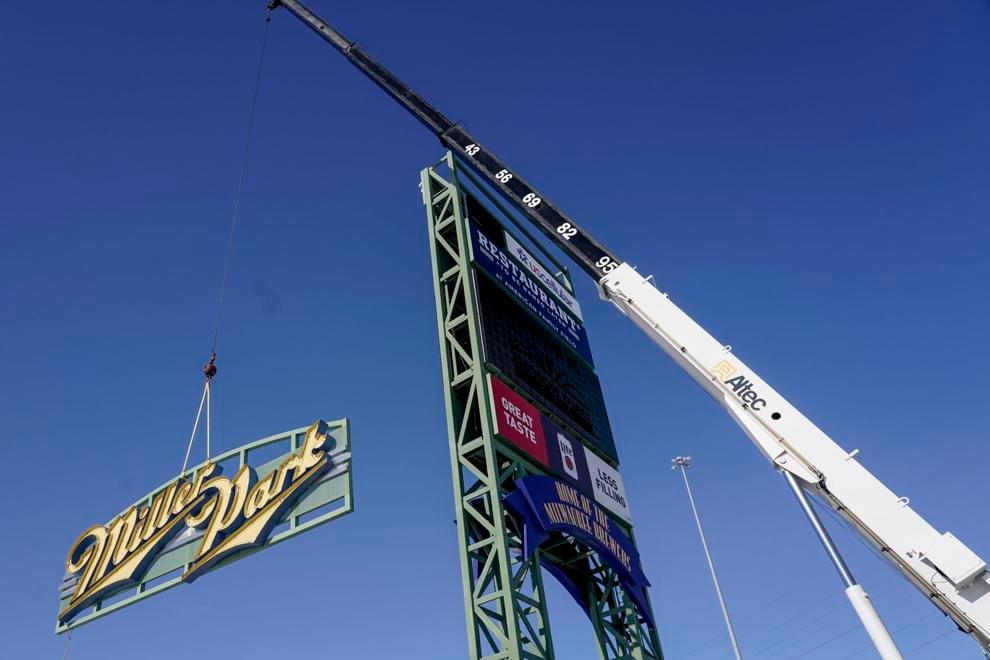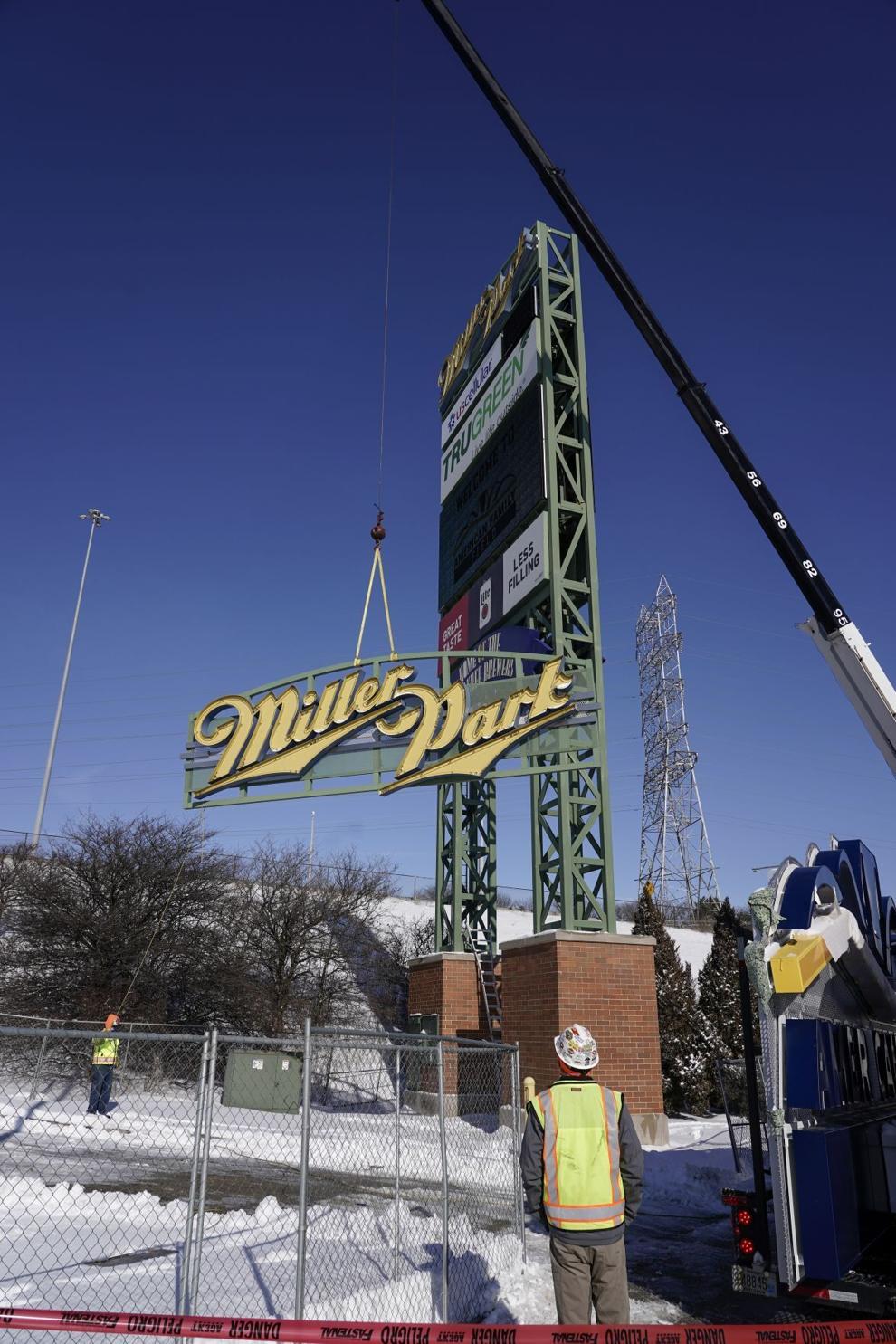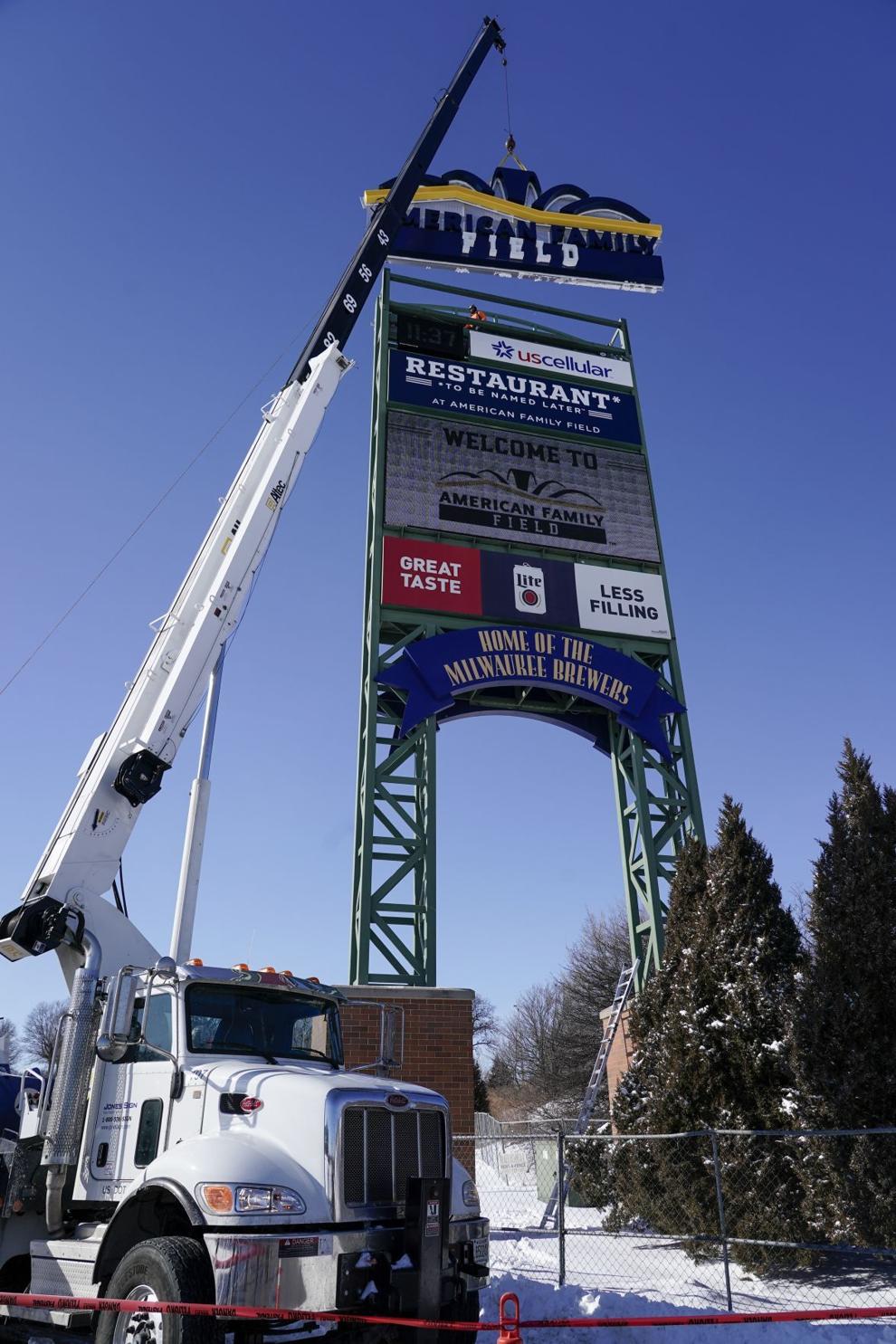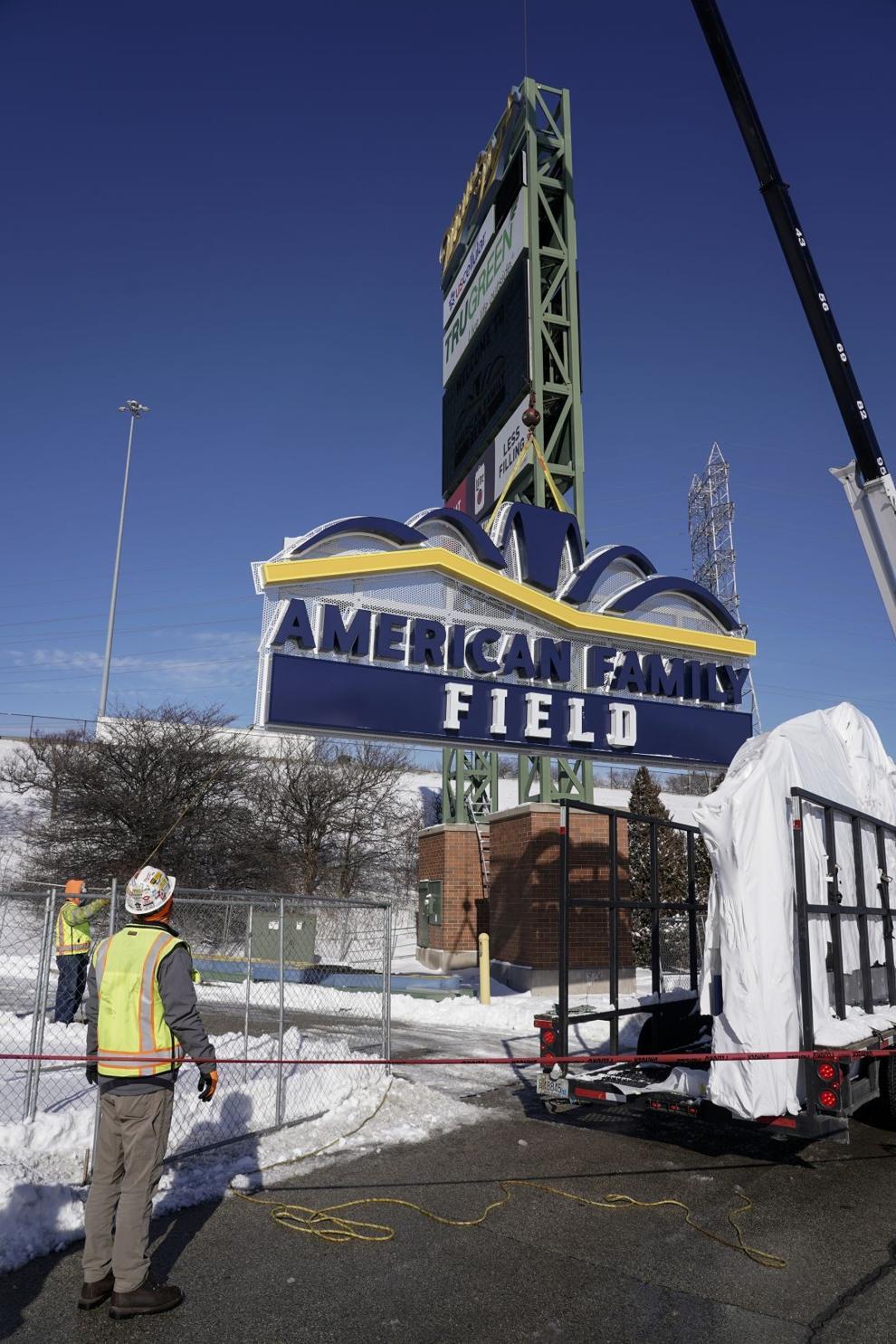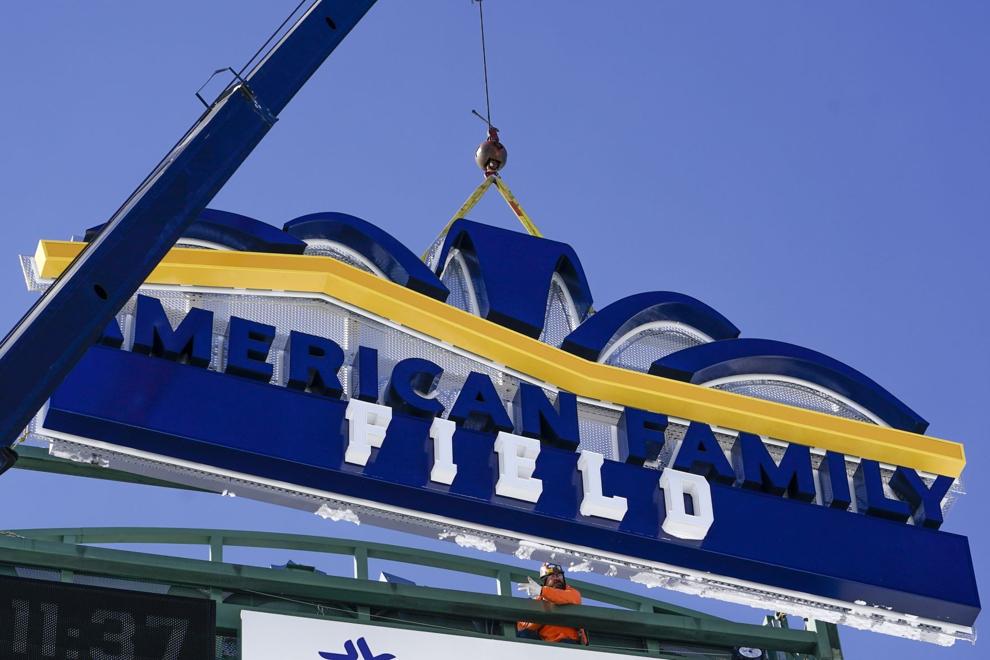 For those who say- "It will always be Miller Park to me."
Remember...Miller Park was a paid sponsorship name.
Lambeau Field is an unpaid name.
Camp Randall is an unpaid name.
The FieldHouse was an unpaid name.

I'm good with American Family Field#Brewers https://t.co/3Tx1ajaGcc

— Mike Heller (@HellerSports) January 27, 2021
I was wondering way their plan was with all the stuff, like every cup holder has a Miller park sticker, I think it would be extremely tacky to just place a sticker over top of it, im building a bar for my garage this summer I'd like about 6 of those

— Just Jeff (@Crew8235) January 27, 2021
It looks cool but I'm still calling it Miller Park

— Kyle Hoffenbecker (@KHoffenbecker) January 27, 2021
I had a visceral reaction to this.
I went to the first game at Miller Park (exhibition game not opening day). They played the Space Odyssey theme song to show how the roof opened/closed.

I've apparently hit the "change-is-hard" phase of life that requires me to share memories. https://t.co/n1PA1LnaH3

— Jennifer Griswold (@griswoldkmtv) January 27, 2021
I get it, but Miller Park is so much more fun to say.

Side note: eating at the Restaurant To Be Named Later has been added to my baseball bucket list. https://t.co/fPCOIDYvjl

— Tavi (@szn_baseball) January 27, 2021
Ahh nice to see the "it'll always be Miller Park to me" crowd is out in full force today... Fun

— Jake Schwall (@jake_schwall) January 27, 2021
I slept in a Walmart parking lot for Milwaukee warped tour near Miller Park and being able to see it in the morning was something I'll remember forever. https://t.co/y9FE8nD4kh

— Adrián C (@JackieLegs13) January 27, 2021
I like it. It doesn't top Miller Park, but I understand why the change was made & I'm on board with it. #RollWithTheNew

— Jeff Hinnendael (@J_Hinnendael) January 27, 2021