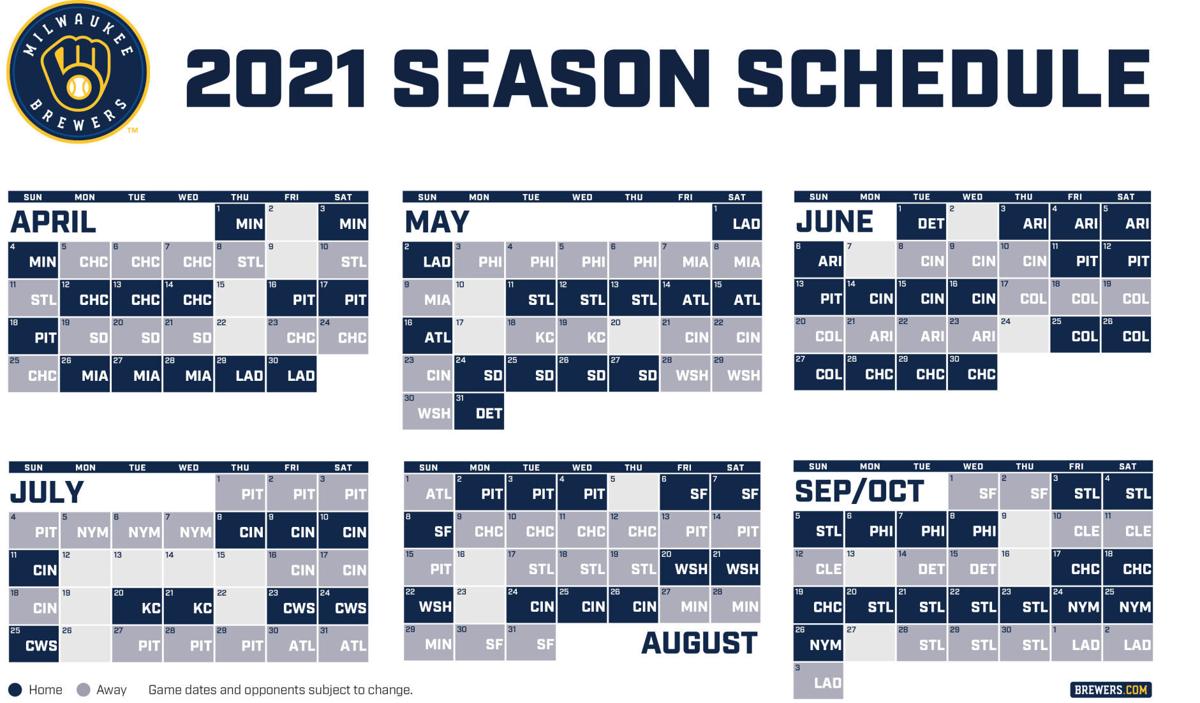 MILWAUKEE — For the second time in as many games, the Milwaukee Brewers will take the field behind a starting pitcher with legitimate Cy Young Award aspirations when right-hander Corbin Burns makes his season debut Saturday against the Minnesota Twins at American Family Field.
The one-two punch of Burnes and right-hander Brandon Woodruff, who started the season opener Thursday, provides hope the Brewers could earn a franchise-record fourth consecutive playoff appearance.
Burnes and Woodruff are considered two of the best young pitchers in the National League. They're also homegrown products; drafted and developed by an organization that for years toiled in mediocrity in large part because it couldn't cultivate its own talent.
That's not the case anymore. Of the 12 pitchers on Milwaukee's Opening Day roster, five were drafted by the Brewers while four more were developed in-house after joining the organization.
"It's awesome," Burnes said during spring training. "Just to have guys who were drafted by the Brewers, stay with the Brewers and now have a chance to do some special stuff in the big leagues."
During the Brewers' return to relevance under former general manager Doug Melvin, offensive stars such as Prince Fielder and Ryan Braun provided the backbone for teams that in 2008 snapped the franchise's 26-year postseason drought and made it to Game 6 of the NL Championship Series three years later.
Pitching, though, was hard to come by. Beyond Ben Sheets and Yovani Gallardo, the crop didn't yield much and left Melvin to bolster the staff through free agency.
That process was more miss than hit.
Veteran right-hander Jeff Suppan signed a four-year, $42 million contract during the 2006 offseason. That move was as much about PR for new owner Mark Attanasio as it was for the baseball side — Suppan was released in June 2010 with $10 million remaining on his contract.
Similar deals for Randy Wolf, Kyle Lohse and Matt Garza didn't play out much better. The team had success in acquiring CC Sabathia, Shaun Marcum and Zack Grienke via trades, but such deals require teams to give up a significant number of quality prospects — talent that teams such as the small-market Brewers need in order to compete.
"I's important for any franchise," Brewers president of baseball operations David Stearns said. "It's certainly important for us."
So that leaves one solution: develop your own pitchers. And that requires patience.
"It just takes time as a starting pitcher to develop," Brewers manager Craig Counsell said. "You recognize stuff in players a lot of times but navigating through lineups and getting major league hitters out multiple times is a real challenge."
Burnes stands out as an example. After going 7-0 with a 2.61 ERA over 38 innings as a rookie in 2018, he regressed the next season by posting a 1-5 record and an 8.82 ERA. He was removed from the starting rotation and sent to the team's spring training facility for a complete overhaul.
The process paid off as Burnes went 4-1 with a 2.11 ERA last season. Now, the Brewers are hoping to see similar progressions from right-handers Adrian Houser and Freddy Peralta. Neither was drafted by Milwaukee, but both were developed in the its minor league system after being acquired in trades.
"It says a lot about the organization," Woodruff said. "Any time you can have some homegrown guys who can go out and perform, it's pretty cool."
And there are potentially more to come. Eight of the Brewers' top 30 prospects according to MLBPipeline.com are pitchers, including three in the top 10 — Ethan Small, Antoine Kelly and Aaron Ashby.
"It takes a village to develop a pitcher," said Brewers pitching coach Chris Hook, who spent more than a decade coaching pitchers in the team's minor league system. "That's been a long undertaking. But as a group, we can be really, really proud of these guys. Our amateur guys have drafted incredibly talented dudes, and the competitiveness these guys bring every night is unique and I think that's something else they seek out every year.