MILWAUKEE — Daniel Vogelbach relishes having the opportunity to change the complexion of a game with one swing of the bat.
He made the most of that chance Sunday and contributed one of the most memorable moments in the Milwaukee Brewers' charmed season.
"I enjoy being in those situations, whether I fail or whether I succeed," Vogelbach said after hitting his first career walk-off homer and the first by any Brewers player this season.
"As a competitor, you always want to be in those situations and be the guy that steps up to the plate in that situation. I'm just happy that I was able to come through for the guys who grinded all game," he said.
Reyes (5-8) entered the game after the Brewers had loaded the bases off Giovanny Gallegos. Vogelbach hit a 1-0 pitch high above the outstretched arm of right fielder Dylan Carlson, who made a leaping attempt in front of the wall.
Vogelbach was mobbed at home plate and got doused with the contents of a Gatorade bucket. He just rejoined the team Wednesday after spending more than two months on the injured list while healing his hamstring.
During his time away, the Brewers acquired first baseman Rowdy Tellez, a move that changed Vogelbach's role with the team.
"Vogey has come back and he's got kind of a different job," Brewers manager Craig Counsell said. "In one sense, it's a shame because he got hurt. We made an acquisition to cover for it and he's done a nice job. So, for now, this is his job, being a bat off the bench. To deliver in that way and you don't get a big sample of opportunities is a real credit to him."
Milwaukee's comeback extended its NL Central lead to 11 games over the Cincinnati Reds and dealt a major blow to the Cardinals, who are chasing a wild card berth. The Cardinals capped a 5-5 road trip and now begin a seven-game home stand against the Los Angeles Dodgers and the Reds.
"We've just got to figure out a way to get back on the horse and get back after it," Cardinals manager Mike Shildt said. "It's a discouraging one. We played outstanding baseball this whole road trip. We'd like to have a little bit more to show for it. The strong survive. We've got to continue to be strong and go out and give the best we've got with what we have."
The Brewers trailed 5-1 before starting their comeback against Gallegos, who began the ninth after getting the final two outs in the eighth.
Jackie Bradley Jr. hit a leadoff double and scored on Luke Maile's single to make it 5-2. Jace Peterson's double and Eduardo Escobar's walk loaded the bases with one out.
Then Vogelbach hit his first homer since June 14.
Miguel Sánchez (2-0) pitched a scoreless ninth to earn the victory. Milwaukee's Pablo Reyes celebrated his 28th birthday by hitting his first homer of the season.
Tyler O'Neill had three hits, including a home run, for the Cardinals. Harrison Bader added a two-run double on a slow roller that got past Brewers third baseman Eduardo Escobar. Starter Jon Lester allowed one run in just 5⅓ innings to help the Cardinals take the lead over All-Star right-hander Corbin Burnes.
"The first eight innings were about as good of baseball as you'd want to play," Shildt said.
But the Cardinals left 14 men on base and couldn't put the game out of reach. The Brewers eventually made them pay.
"After that line drive gets caught with Yeli, it feels like that was your shot," Counsell said. "It's deflating when that ball gets caught. It feels like it should be 5-4 and the ninth inning is going to be a tough inning. But the guys did a great job, starting with Jackie, putting together a tough ninth inning. Just having tough at-bats against a good pitcher. That set it up for Vogey's heroics."
Adames to IL
Brewers shortstop Willy Adames went on the 10-day injured list with a left quadriceps strain. He had been dealing with a quad issue already and aggravated it Saturday while running to first base on a single.
"It's to the point where there's no reason to play like this and be compromised," Counsell said. "Put him on the injured list and give him some time to heal."
The Brewers recalled utilityman Tim Lopes from Class AAA Nashville.
Up next
Brandon Woodruff (9-4, 2.35) is scheduled to pitch for the Brewers in the opener of a three-game series against the Philadelphia Phillies on Monday afternoon at American Family Field. Zack Wheeler (11-9, 3.01) is the scheduled starter for the Phillies in a matchup of All-Star right-handers.
Awesome August: Milwaukee Brewers turn in outstanding performances over their recent red-hot stretch
BRAD BOXBERGER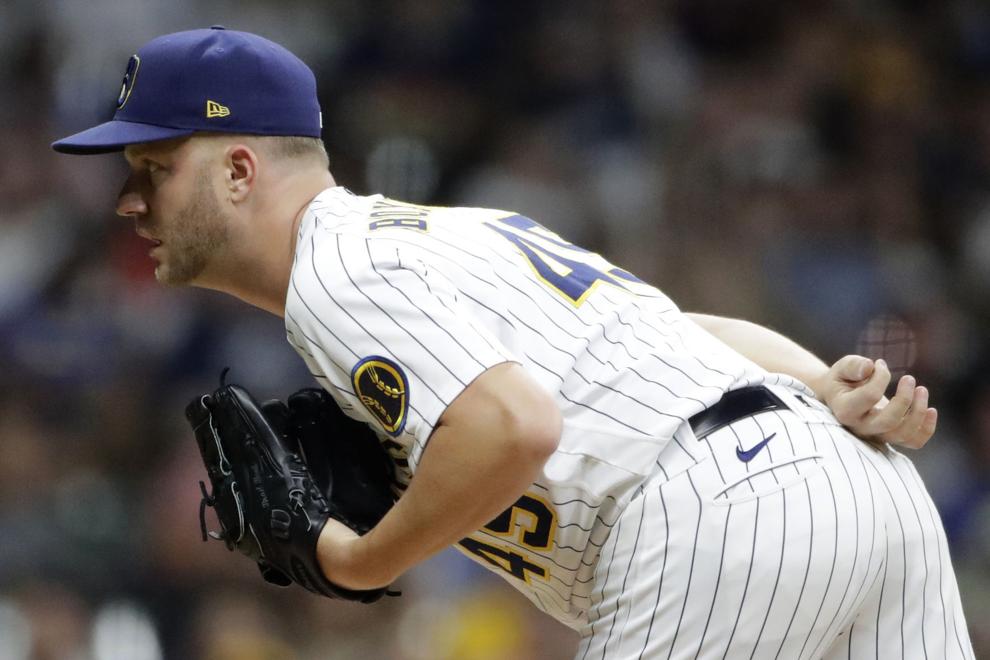 Boxberger has been a reliable option in high-leverage, late-inning situations all season but has done some of his best work over the last month. In 13 August appearances, Boxberger has allowed just one earned run over 12 1/3 innings (0.73 ERA) with 17 strikeouts and only two walks.
He's allowed just two runs over his last 23 appearances (22 1/3 innings) for a 0.81 ERA while holding opponents to a .158 batting average during that stretch.
"He's been a stabilizing influence in our bullpen," Brewers manager Craig Counsell said. "He has been a closer with other teams, so he has that low heartbeat in those situations. And he has been locked in with his stuff, locating pitches exceptionally well. He's definitely been a big plus for us."
JOSH HADER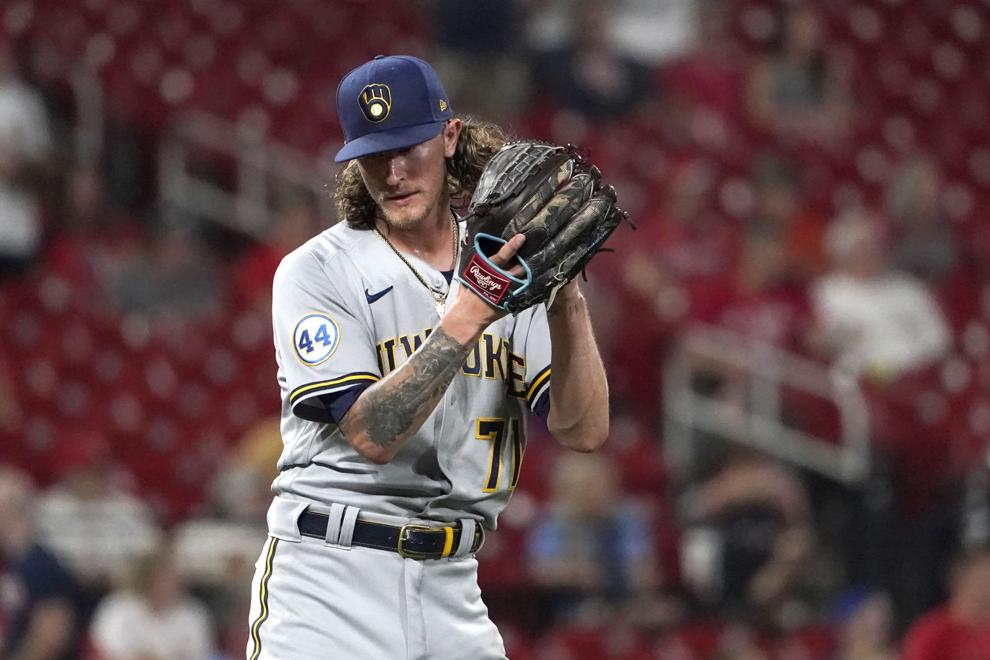 Like Boxberger, Hader has been phenomenal all season but has been especially good in August. In nine outings, he's allowed just three hits with a pair of walks for an 8.0 strikeout-to-walk ratio and hasn't allowed a run over 8 1/3 innings of work while converting all six of his save opportunities.
"We have the best closer in baseball," first baseman Rowdy Tellez said.
For the season, Hader is tied for third among all MLB relievers with 27 saves.
LUIS URIAS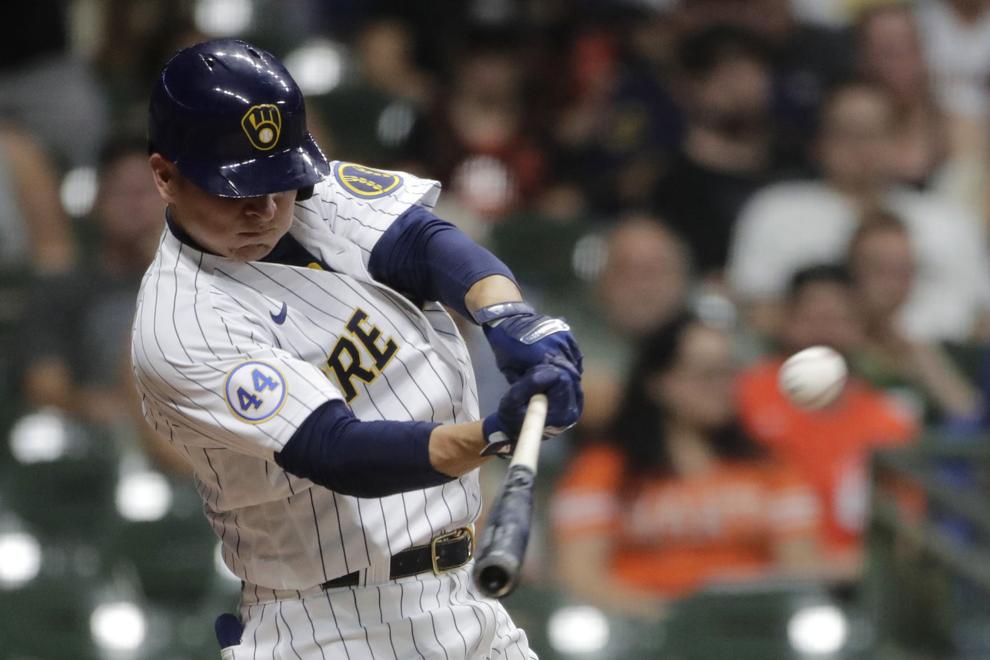 The infielder is batting .286 (20-for-70) this month with five home runs, 11 RBIs and an .890 OPS and is second on the team this season with 18 home runs, 58 RBIs, 175 total bases, 41 extra-base hits and 48 walks while leading the team with 64 runs scored.
"I think Luis has had a really good season," Counsell said. "Offensively, he's been a really key part of this thing. He's been really consistent offensively and his ability to move around positions has helped us. ... He's still a young player but he's getting better offensively. He's shown power and he's shown the fact that he's going to be a good hitter, a good offensive player. It's been a really good season for Luis. A lot of progress."
DEVIN WILLIAMS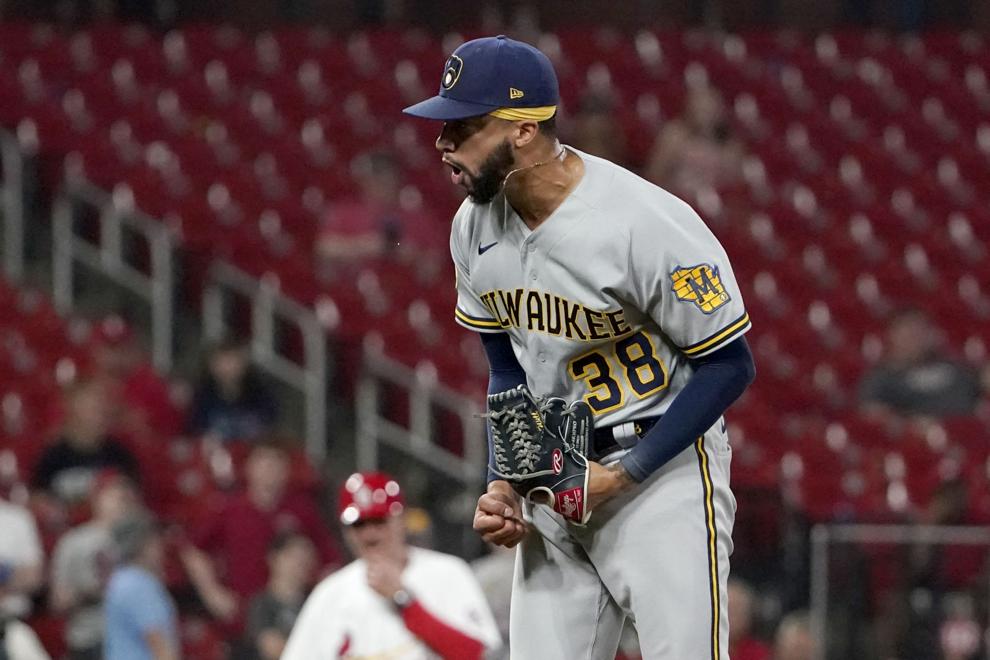 The reigning NL Rookie of the Year was untouchable during the abbreviated 60-game season in 2020 and while nobody expected him to be able to replicate those numbers over the course of 162 games this year, he's come as close as possible over the last few weeks.
Williams has allowed just a single unearned run over 13 August appearances while striking out 21 of 50 batters faced.
He hasn't allowed an earned run in his last 20 appearances and has a 0.32 ERA over his last 30 outings.
"Devin's been exceptional," Counsell said. "He's just throwing the ball well. He's in a good spot and he's been throwing the ball really good for a long period of time."
CHRISTIAN YELICH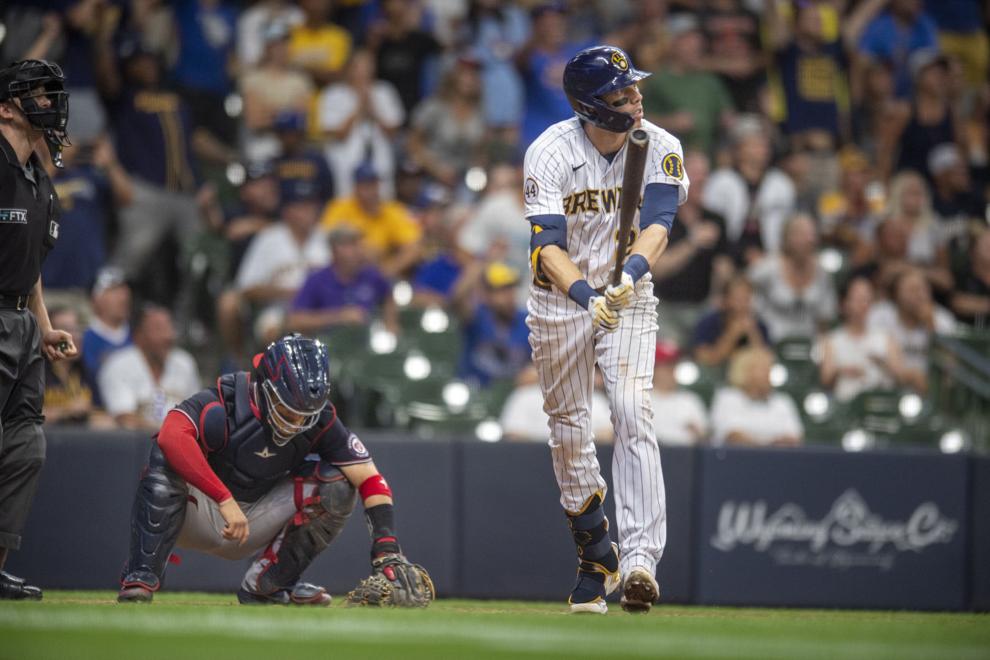 Since returning from a stint on the COVID-19 injured list, Yelich has looked much more like the two-time NL batting champ and 2018 NL Most Valuable Player than the player who batted just .235 through the first four months of the season.
In 21 August games, Yelich is batting .315 and has a .359 (23-for-64) average with two homes and 12 RBIs over his last 17 games.
"It's nice to contribute, for sure," Yelich said. "Obviously it hasn't been the greatest year, performance-wise, for myself but the story's not written yet. We have a long way to go. There's a lot of baseball yet to be played, not just in the regular season but hopefully the postseason. The season's far from over."
Yelich brings an 8-game hitting streak into the Giants series and is batting .414 (12-for-29) during that stretch.