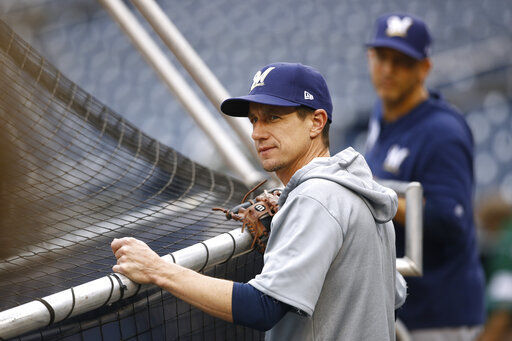 Milwaukee Brewers manager Craig Counsell has a pretty simple formula for boosting a lineup that struggled throughout the abbreviated 2020 season.
His hitters just need to produce the way they typically have throughout their careers.
"We had guys that just didn't perform last year offensively," Counsell said Thursday in his first media session since Brewers pitchers and catchers reported to spring training in Phoenix. "It was puzzling. It was out of the norm."
The most notable case involved 2018 NL MVP Christian Yelich, who hit just .205 last year after winning batting titles in 2018 and 2019.
But he wasn't the only Brewers hitter who failed to perform up to expectations.
Keston Hiura batted .212 and had an NL-high 85 strikeouts last year after posting a .938 OPS as a rookie in 2019. Omar Narváez batted .176 with a .562 OPS last year after hitting .278 with 22 homers and an .813 OPS in 2019 with the Seattle Mariners. Avisaíl García batted .238 with a .659 OPS last year after hitting .282 with a .796 OPS in 2019 with Tampa Bay.
"We had some tough seasons and some of the most down seasons that some established players have had," Counsell said. "You're hoping, you're planning on them getting back to norm, and that's going to create a pretty big improvement in our offense. That's a big part of this."
That starts with getting Yelich back to his usual form.
Yelich had a respectable .356 on-base percentage last year thanks to his 46 walks in 247 plate appearances. But he struck out 76 times. His .786 OPS was his lowest since 2014, a dramatic fall for someone who led the NL in that category in 2018 (1.000) and 2019 (1.100).
His .205 batting average was the first time he'd ever hit below .282 in a season.
"I think we're going to see a very motivated player," Counsell said. "He was disappointed in the results last year, disappointed in his performance. He wants to be better, and he's going to be better. I think (from our) offseason conversations, I've found Christian has been in just an incredibly optimistic place. That's kind of the thing that's struck me about him. Eager and optimistic, I guess would be the best way to say it."
The biggest key to improving the offense is getting better performances from the guys who slumped last year.
Any improvement from the lineup could go a long way toward helping the Brewers earn a fourth straight playoff berth because their pitching should rank among the best in the NL Central. Counsell confirmed Thursday that the Brewers have brought back free-agent pitcher Brett Anderson, though the team still hasn't officially announced the signing.
Anderson, who went 4-4 with a 4.21 ERA last year, will be part of a rotation that's headed by Brandon Woodruff (3-5, 3.05) and Corbin Burnes (4-1, 2.11).
Boxberger signs minor league deal
Former All-Star reliever Brad Boxberger has signed a minor league contract with the Milwaukee Brewers that includes an invitation to major league camp.
Boxberger, 32, went 1-0 with a 3.00 ERA in 23 appearances for the Miami Marlins last season.
The right-hander made the AL All-Star team in 2015, when he went 4-10 with a 3.71 ERA and an AL-leading 41 saves for the Tampa Bay Rays. He also had 32 saves for the Arizona Diamondbacks in 2018, when he went 3-7 with a 4.39 ERA.
He owns a 22-30 record, 77 saves and a 3.56 ERA in nine major league seasons with San Diego (2012-13), Tampa Bay (2014-17), Arizona (2018), Kansas City (2019) and Miami (2020). He has 413 strikeouts in 329 innings.
Lew Krausse dies
Lew Krausse, who pitched 12 years in the major leagues and started the first game in Milwaukee Brewers history, has died. He was 77.
Chad Krausse, Lew's youngest son, said his father died Tuesday of complications from cancer while in hospice care in Kansas City.
The expansion franchise originally known as the Seattle Pilots in 1969 moved to Milwaukee and became the Brewers the following year.
Krausse made his major league debut in 1961 at age 18 and went 2-5 with a 4.85 ERA for the Kansas City Athletics. He returned to the majors for good in 1964 with the A's.
He pitched with the A's through 1969, the final two seasons after the franchise moved to Oakland. He also pitched for Milwaukee (1970-71), the Boston Red Sox (1972), St. Louis Cardinals (1973) and Atlanta Braves (1974).
His best season came in 1966, when he went 14-9 with a 2.99 ERA.
Krausse's father, also named Lew Krausse, pitched in the majors for the Philadelphia Athletics from 1931-32. The elder Krausse died in 1988 at the age of 76.
---
Here's everything you need to know as Milwaukee Brewers kick off spring training in Arizona
Here's everything you need to know as Milwaukee Brewers kick off spring training in Arizona
WHO'S ON THIRD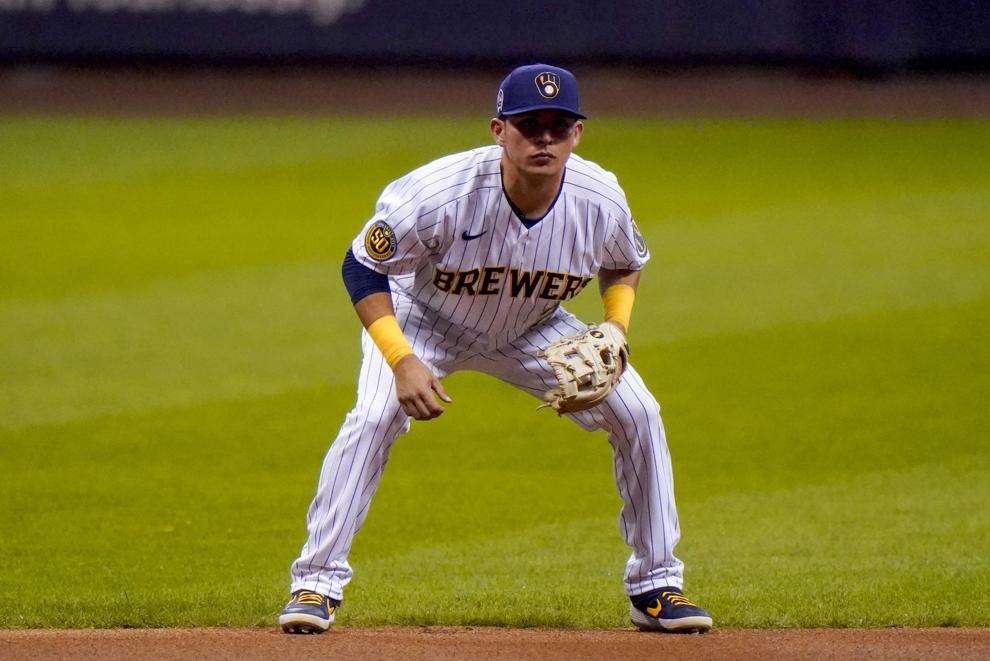 CATCHING CONUNDRUM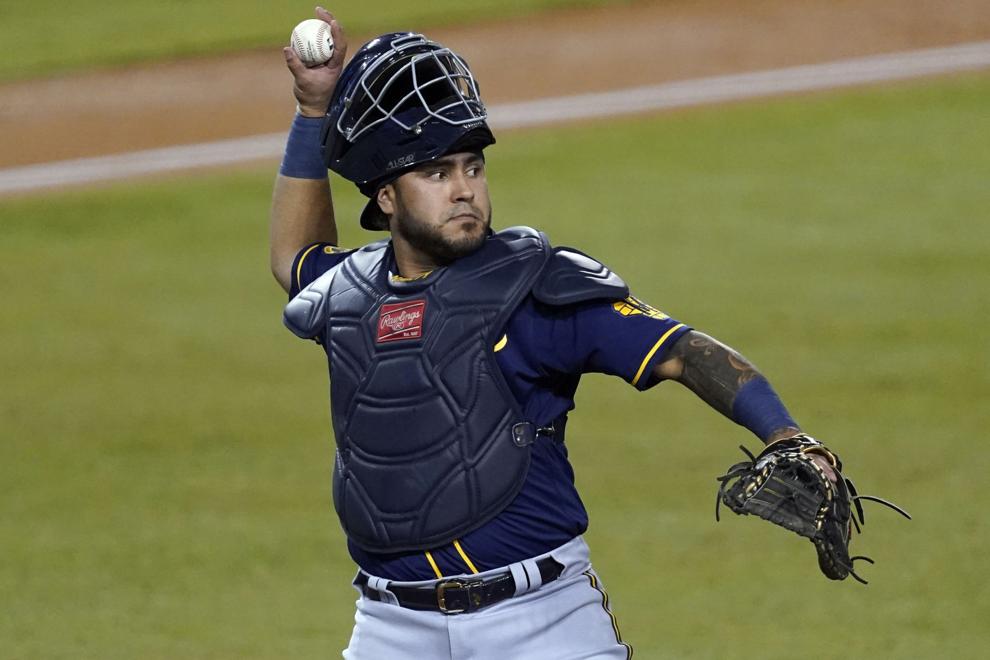 Acquired last winter in a trade with Seattle, Omar Narváez (above) was supposed to give the Brewers a much-needed offensive boost while admittedly being a work-in-progress behind the plate. Instead, Narvaez was one of many Brewers hitters to struggle last season but surprised the Brewers' coaching staff and front office with his defensive improvements. He's back again in 2021 but will have to battle for a job with the likes of Manny Piña, Jacob Nottingham and Luke Maile.
ROTATION SPOT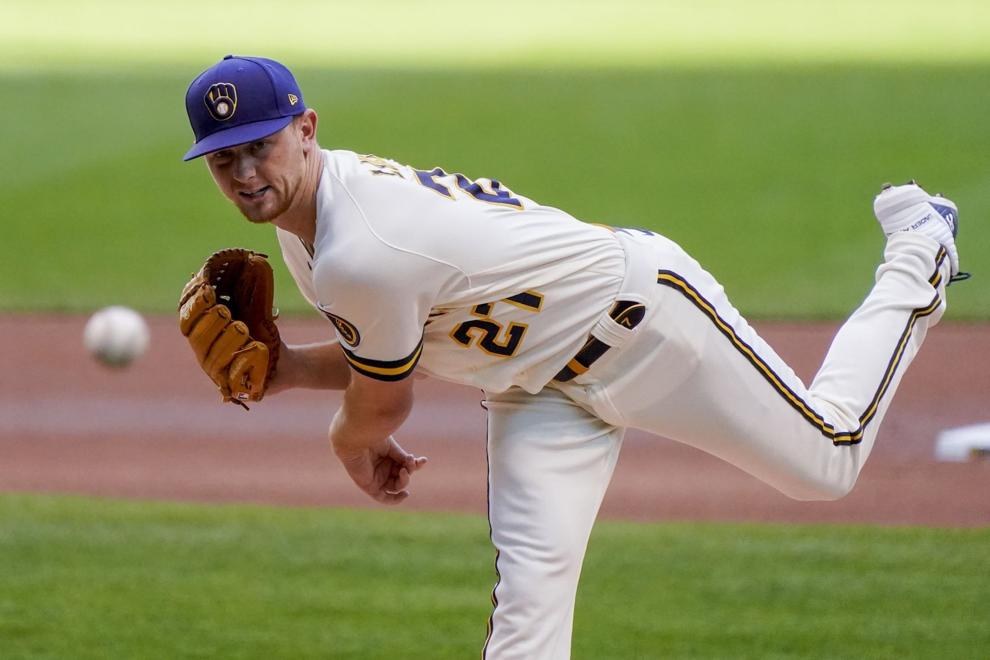 With Brett Anderson returning on a one-year deal, the Brewers will open camp with all five spots of their starting rotation seemingly filled. But as history has shown, it's rare to get through an entire season with just five starters. So who's waiting in the wings if and when the Brewers need a replacement? Eric Lauer (above) and Freddy Peralta will try to earn spots in the rotation this spring, as will former UW-Stevens Point standout Jordan Zimmermann, who is in camp on a minor league deal.
PLAYERS TO BE NAMED LATER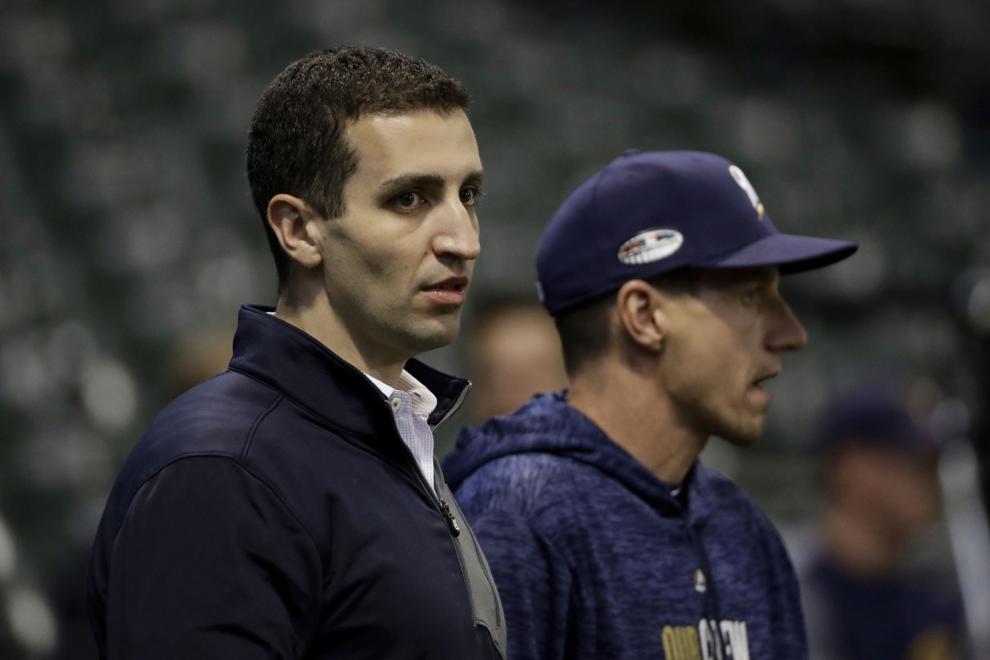 It was a quiet offseason for the Brewers, but they weren't unique in that regard. Across baseball, trades and signings seemed to be few and far between as players and teams both waited out a winter of uncertainty. Now that camps are open, there's a greater likelihood of trades and with more than 100 free agents still unsigned, the Brewers' roster could have a new face or two before the season gets underway.
WILL IT LAST?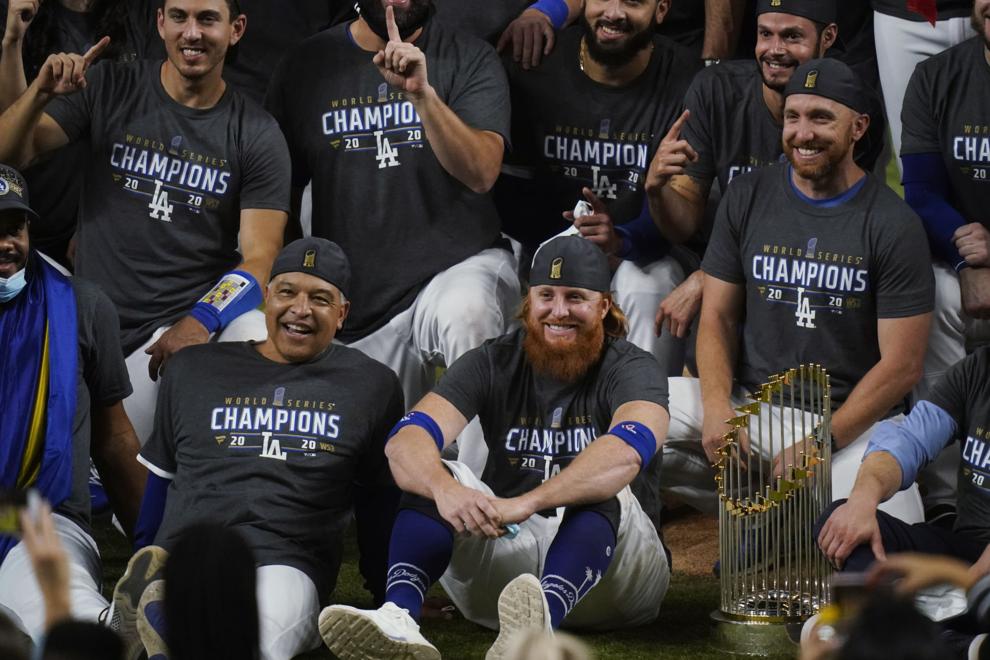 Baseball is back, but for how long? That might be the single biggest question this spring, not just for the Brewers but baseball as a whole. The pandemic still rages on and though vaccinations are on the rise, one infection can quickly become an outbreak that leaves an entire team sidelined indefinitely. Players resisted requests and suggestions to delay the start of spring training, and the regular season, by a month believing they proved last year they can complete a season safely. But the margin for error is still slim and another full-blown shutdown of spring training, which would ultimately impact the regular season, remains one large outbreak away.
SPRING TRAINING ROSTER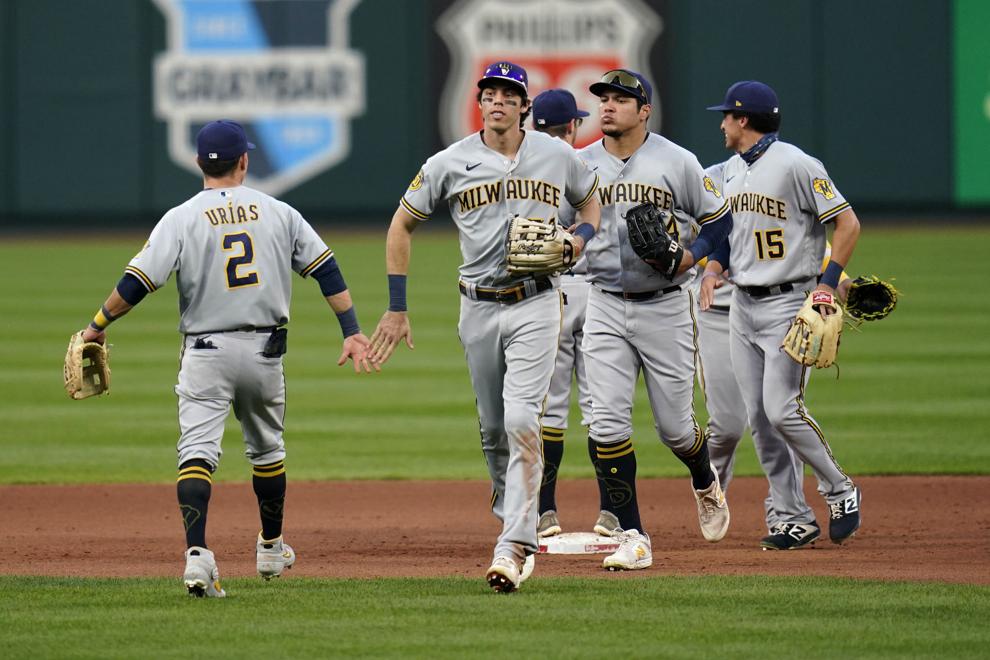 Teams are allowed to have up to 75 players in major league camp at any given time and the Brewers go into camp with all 40 of their roster spots filled along with 20 non-roster invitees. Once the regular season begins, active rosters will revert to the original 26-player limit that was planned for 2020 before the pandemic suspended operations. Teams still are allowed to add an additional player to the active roster for doubleheaders and can have a taxi squad of up to five players — including one catcher — on all road trips. Rosters will expand again in September, but only by two spots for a total of 28.
Pitchers (31): Brett Anderson, Clayton Andrews*, Aaron Ashby*, Alec Bettinger, Phil Bickford, Ray Black, Zach Brown*, Corbin Burnes, Jake Cousins*, J.P. Feyereisen, Dylan File, Josh Hader, Blaine Hardy*, Adrian Houser, Thomas Jankins*, Eric Lauer, Josh Lindblom, Hoby Milner*, Freddy Peralta, Angel Perdomo, Drew Rasmussen, Miguel Sanchez*, Ethan Small*, Brent Suter, Justin Topa, Quintin Torres-Costa*, Bobby Wahl, Devin Williams, Brandon Woodruff, Eric Yardley, Jordan Zimmermann*.
Catchers (6): Mario Feliciano, Payton Henry*, Luke Maile, Omar Narvaez, Jacob Nottingham, Manny Pina.
Infielders (11): Orlando Arcia, Zach Green*, Keston Hiura, Tim Lopes, Mark Mathias, Jace Peterson*, Daniel Robertson, Travis Shaw*, Brice Turang*, Luis Urias, Daniel Vogelbach, Kolten Wong.
Outfielders (11): Lorenzo Cain, Dylan Cozens*, Derek Fisher, Avisail Garcia, Tristen Lutz*, Billy McKinney, Garrett Mitchell*, Corey Ray, Pablo Reyes*, Tyrone Taylor, Christian Yelich.
COACHING STAFF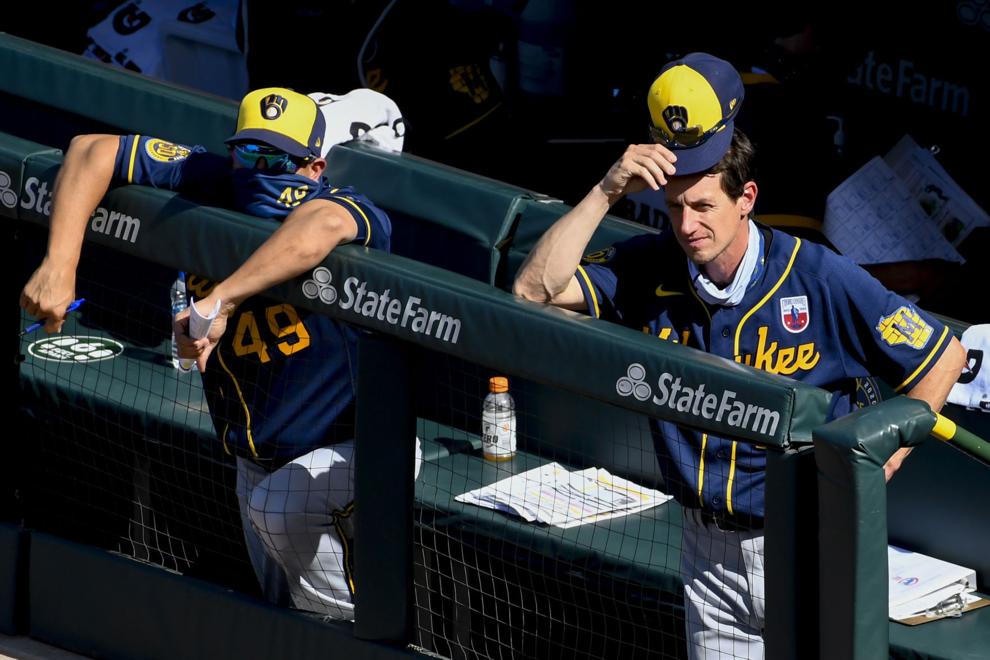 Manager Craig Counsell's coaching staff will have a different look in 2021. Third-base coach Ed Sedar has transitioned into a new, advisory role while longtime bullpen catcher Marcus Hanel's contract was not renewed by the team after last season.
Sedar will be replaced on the staff by Quintin Berry, who had been the Brewers' minor-league outfield and base-running coordinator for the last two seasons after concluding his 13-year playing career serving as a player/coach with Class AAA Colorado Springs in 2018.
Néstor Corredor and Adam Weisenburger will replace Hanel and Robinson Diaz as the team's bullpen catchers.
The rest of Counsell's staff will remain intact moving forward, including hitting coaches Andy Haines (above left) and Jacob Cruz. Chris Hook and Steve Karsay will handle Milwaukee's pitchers and bullpen, respectively, and Pat Murphy returns for a sixth season as Counsell's bench coach.
Jason Lane, the Brewers' first base coach last season, returns, too, though Counsell planned to decide during spring training where Lane and Berry would be used in games this season.
Manager — Craig Counsell (7th season). Bases — Quintin Berry (1st season), Jason Lane (5th season); Bullpen — Steve Karasy (3rd season); Bench — Pat Murphy (6th season); Hitting — Jacob Cruz (2nd season); Andy Haines (3rd season); Bullpen catchers — Néstor Corredor (1st season); Adam Weisenburger (1st season).
CACTUS LEAGUE SCHEDULE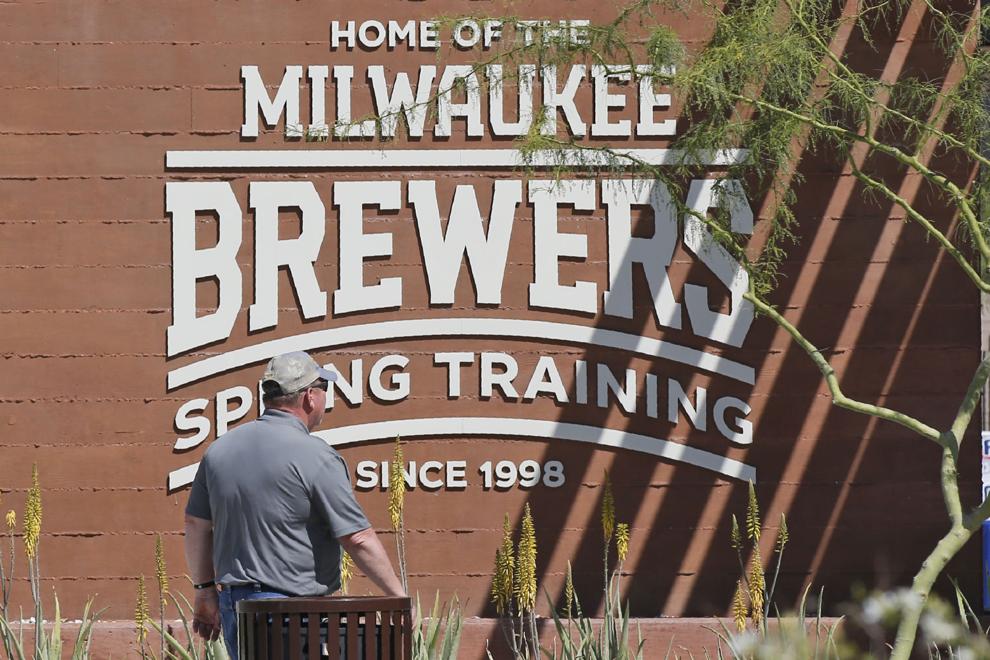 The Cactus League schedule underwent a last-minute adjustment earlier this month with the elimination of split-squad games. The Brewers will play 27 games in Arizona — 14 at American Family Fields and 13 on the road — and wrap up their exhibition slate with a pair of contests against the Rangers at Globe Life Park on March 29 and 30 before returning to Milwaukee ahead of their April 1 regular-season opener against the Twins at American Family Field.
February: 28 — @ Chicago White Sox. March: 1 — at Diamondbacks; 2 — vs. Athletics.; 3 — at Padres; 4 — vs. Cleveland.; 5 — at Rockies; 6 — vs Cubs; 7 — OFF; 8 — vs. Angels; 9 — vs. Giants; 10 — at Athletics; 11 — vs. Royals; 12 — at Cubs; 13 — vs. Rangers; 14 — at Mariners; 15 — vs. Padres; 16 — at Dodgers; 17 — OFF DAY; 18 — at Angels; 19 — vs. Diamondbacks; 20 — at Reds (7 p.m.); 21 — vs. Mariners; 22 — vs Cleveland; 23 — vs. Dodgers; 25 — at Giants (8 p.m.); 26 — vs. White Sox; 27 — at Royals; 28 — at Reds; 29 — vs. Rangers (Arlington, Texas); 30 — vs. Rangers (Arlington, Texas).
(NOTE: Unless otherwise noted, all games start at 2:10 p.m. local time prior to March 14 and 3:10 p.m. after, due to Arizona not observing Daylight Savings Time)
IF YOU GO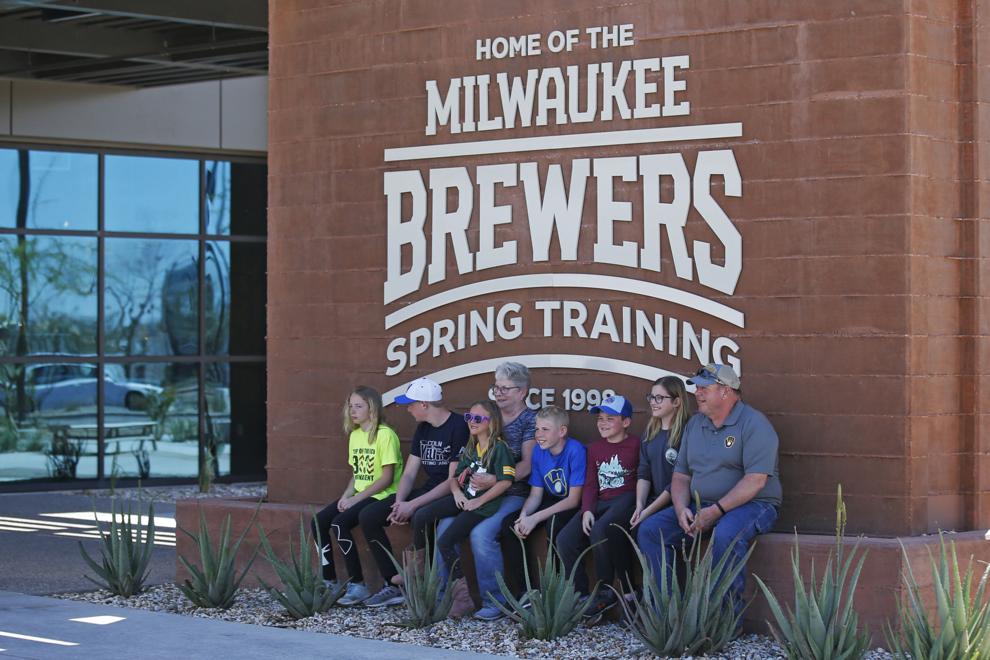 Unlike previous seasons, fans will not be able to watch the team's workouts, which take place on the complex's ancillary fields. That means no opportunities for kids — little and big alike — to get autographs and pictures. The team store at American Family Fields will be open and the team announced last week that a limited number of fans — up to 23% of capacity at the 10,000-seat stadium — will be allowed to attend games when Cactus League play gets underway.
Copyright 2021 The Associated Press. All rights reserved. This material may not be published, broadcast, rewritten or redistributed without permission.