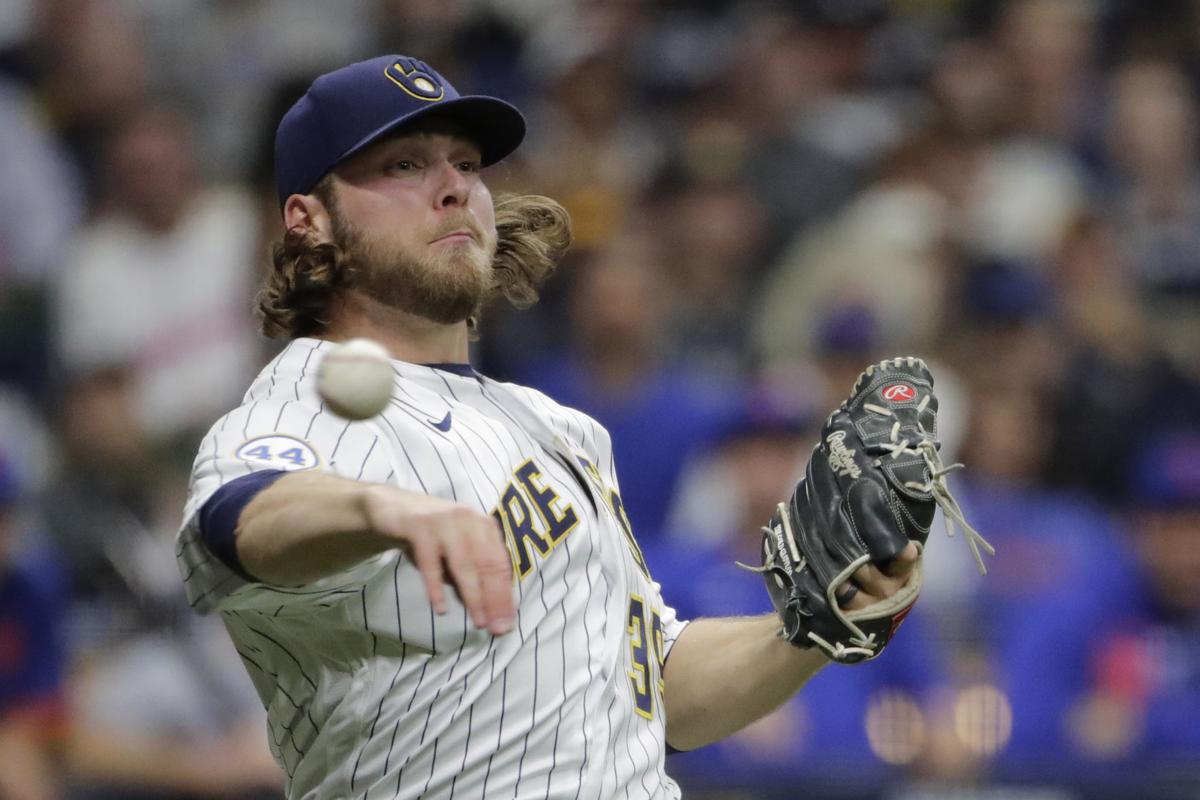 MILWAUKEE — Manager Craig Counsell won't hold his first media session until Wednesday, but the Milwaukee Brewers did announce their starters for Games 1 and 2 of the NL Division Series against the Atlanta Braves this weekend at American Family Field.
Corbin Burnes (11-5, 2.43 ERA) will take the mound Friday against Braves right-hander Charlie Morton (14-6, 3.34), while Brandon Woodruff (9-10, 2.56) will start Game 2 on Saturday afternoon opposite Atlanta lefty Max Fried (14-7, 3.04).
"We want to set the tone right away and what better way to do it than with our two horses right at the top," Brewers second baseman Kolten Wong said. "Those guys have been doing it for us all year and if they can do it for us in these first two games in Milwaukee, we're excited to go to Atlanta and try to seal (the series) there."
As good as Burnes and Woodruff have been this season, neither fared particularly well against the Braves.
Burnes allowed a season-high five earned runs on nine hits and two walks over four innings in Milwaukee's 9-5 victory July 30 at at Truist Park. Woodruff's lone start against Atlanta came one day later, when the Braves scored three runs on nine hits over 5⅓ innings as the Brewers fell 8-1.
The teams split their six-game season series, with each winning twice on the road.
Laid-back workout
Were it not for the chilly, overcast weather outside and the colossal roof keeping those conditions on the outside of American Family Field, one might have mistaken the Brewers' first postseason workout for one held during the early days of spring training.
Hitters took swings in the cage, pitchers threw side sessions at a leisurely pace while the coaching staff ran players through a series of drills.
The laid-back atmosphere of Tuesday's session was by design, and one of the perks of Milwaukee having clinched the NL Central title and avoiding the one-game wild card game.
As a result, Milwaukee gets four days off before opening the best-of-five series.
"It's huge," Wong said. "Getting four days off after playing 162 is huge for anybody, just to allow your body to get back to somewhat normal. You have your aches and pains and little things you're playing through so to just be able to get that out of the way, four days is usually enough to do the trick."
The Brewers are in the playoffs for a fourth consecutive season but are in the NLDS for the first time since 2018, when they swept the Colorado Rockies in three games. Milwaukee made the postseason as a wild card in each of the past two seasons — the Brewers blew a late lead to the Washington Nationals in the 2019 wild card game, then fell to the Los Angeles Dodgers in a two-game sweep last season when an expanded playoff field resulted in a three-game opening-round series.
"I think everybody wants to be in the postseason, but they would prefer to win their division just to avoid a one-game play-in because anything can happen," outfielder Christian Yelich said. "We've been in that game before and it didn't go our way. That's the thing about one game in baseball, so much random stuff can happen. You work so hard to get to that point that it's tough if it ends in one game, but it is what it is.
"We're fortunate to have won our division and we get to play a full series."
Williams rehabbing after surgery
Right-handed reliever Devin Williams underwent surgery to repair a fractured hand suffered when he punched a wall hours after Milwaukee clinched the division title on Sept. 18. He'll spend time recovering at his home in St. Louis before beginning his rehab at the Brewers' spring training complex in Phoenix.
"I think that that's the best place for him right now to hopefully expedite this," president of baseball operations David Stearns said. "Hopefully, if we're able to advance, and he gets a little bit closer, we may be able to change the setting a little bit."
Stearns said there has been no change to Williams' recovery timetable, leaving an outside chance he could return if the Brewers advance to the World Series.